Best Component Speakers For Car Audio [Reviews & Guide] 2023
One of the hidden joys in driving is that feeling where you blast your favorite tune with the windows down, carefree and full of cheer. We all have that playlist of our top songs, and the right song (with some volume behind it of course) can make an ordinary day on the road extraordinary.
That's why it's essential to make sure that your audio equipment is up to the task. After all, your auto is one of the most intimate places you can listen to music. Shouldn't you make sure your car speakers are the best available?
A component speaker is one matched for optimal sound quality, usually composed of two tweeters with a pair of mid-bass drivers, all matched with a crossover. The crossover limits the frequency range or each speaker, which all comes together to provide an optimized audio output.
But what speaker is best for you? We've compiled a list of the best component speakers so you can decide for yourself the best way to let your favorite driving song truly sing. Keep reading to learn which are the best component speakers for car and their most crucial attributes.
What to look for when buying component speakers?
There are a multitude of specs and qualities to look for when purchasing component speakers for your truck. However, we find that the following four are often the most fundamental factor in determining what car speaker system is right for you.
Power Handling
Your nominal power handling rating will expressed in Watts. Every coaxial speaker has RMS Power as well as Peak Power, otherwise known as MAX. These are the two numbers listed in wattage on the specs.
RMS, or the first one usually listed, is the most essential, as it expresses the amount of power the system can handle continuously, though it helps inform how high you can bring the system for a short period. It's crucial to look at power handling with your car's system needs.
You generally need a head unit that somewhat closely matches your current capacity, since anything that's much more powerful than the power your auto can provide will not be utilized to its fullest potential, while systems with lower RMS won't be able to properly function with cars that have high-powered systems.
"Bigger" doesn't necessarily mean "better" in this case. Make sure to determine what your automobile can handle in terms of power output, and make your decision with that information you are learning now.
Sensitivity Rating
The sensitivity of a set of component speakers is usually expressed in decibels (dB) and it tells you how much volume you can get with a certain amount of power going through the midrange speakers.
Essentially, the sensitivity records how efficient a speaker is. A higher sensitivity means that you will get more output than a less sensitive speaker when both are supplied with the same amount of power.
Again, you are not looking for the highest one. Instead, you should find the rating that best meets your system's requirements. If your amp is at 15 Watts RMS per channel or less, you should use a sensitivity of 90 dB or higher.
Accurate sound systems at 16 Watts RMS or more should go with a smaller sensitivity capacity, which will still afford them as great sounding speakers.
Frequency Range
Your frequency range is measured in Hertz (Hz) and is, not surprisingly, a range of frequencies that work on the stereo, from low-to-high. The low frequencies tells you the lowest bass register the separate speakers can reach (the lower it is going to be, the lower the base) while the top frecuencies illustrates the highest sounds, or treble.
Anything from 20 to 22,000 Hz are considered safe for the human ear, so keep that in mind when making your purchase. (Some people who don't mind a little ringing with their ears might still go with midrange speakers that tops out above 22K Hz.) If you are a fan of bass, you should aim for a device that is somewhere lower than 50 Hz.
Speaker Design
There are literally dozens of styles of the speakers, tweeters, and subwoofers that come with a component speaker, and each choice in terms of design can have an impact on your sounds.
In a general rule, the stiffer and lighter the material, the better your sound, since materials that can best keep their shape are able to provide clearer sound without any dissonance or reverb.
This is especially important with subwoofers, which often use polypropylene, a thermoplastic "addition polymer" though other that include kevlar, glass fibers, and titanium.
Surrounding the speakers, your specs should be durable, free-moving and lightweight. This material should change as the dedicated speakers themselves remain rigid. While foam and cloth are very common, the more expensive speakers surround the dedicated speakers with rubber, which is the best option if you can find it.
Top 10 Best Component Speakers For Sound Quality
| Rankings | Name | Price and More Details |
| --- | --- | --- |
| #1 | Hertz MPK 165.3 - Best Component Speakers | Click Here |
| #2 | Focal PS165FX Flax High Power Handling Speakers | Click Here |
| #3 | Rockford Fosgate T2652-S Set of Component Speakers | Click Here |
| #4 | JBL GTO609C Car Stereo High Quality Speakers | Click Here |
| #5 | Image Dynamics CXS64 V.2 Component Car Speakers | Click Here |
1. Hertz MPK 165.3 6.5 Component Speakers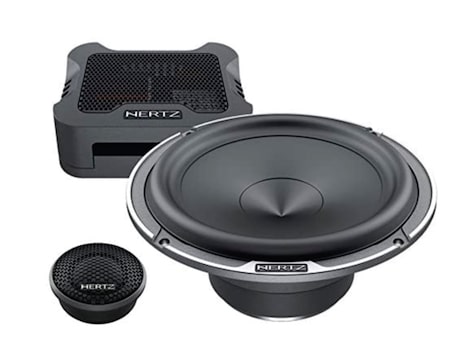 Key Features
Peak of 440 Watts per speaker
Two-way high end passive crossovers
6-1/2″ two-way factory speakers
Includes inverted soft dome tweeters
If you're hunting for a crystal clear speakers that gives you a whole lot of bang for your buck, you can do a lot worse than the Hertz MPK 165.3 Car Audio Speaker. Overall these are one of the best car component speakers for the money.
Part of the Mille Pro series, it comes in three different versions, depending on if you need a basic model, one with heavier mid-bass, or a deluxe version with an upgraded crossover.
While this set of speakers is very popular in Europe, it works well with American cars to brighten the sound of your music and really give you a great sonic. The speakers come in a pair to help fill your auto with a nice surround sound atmosphere that will be an obvious upgrade from the speakers you got from your dealership.
These speakers are best for mid-bass ranged music. If you desire heavy bass that overwhelms the rest of the audio, you should try adding a subwoofer. But if you love classic or bluegrass music, this is the perfect speaker for you. They sound ten times better that your factory speakers.
2. Focal PS165FX Flax – Best 6.5 Component Speakers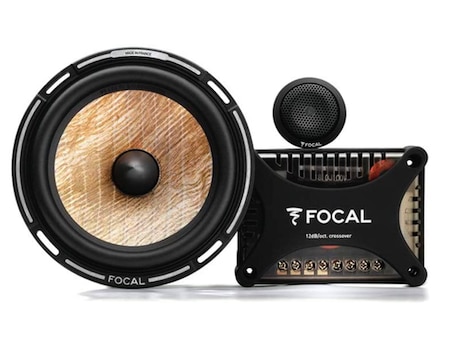 Key Features
Peak of 160 watts per speakers
Two-way crossover coaxial speakers
Factory installed polypropylene woofer cone
New speakers with bi-ampable crossovers
Focal has a reputation for trying to get the best sound possible, and they pulled out all the stops with the PS165FX Flax 6.5 speaker. Using hollow flax fibers (half the weight of fiberglass), these units are woven between thin glass membranes to create a lightweight, rigid cone for their speakers that delivers superior sound quality.
The unique composition of their inverted dome tweeters allows them to act as miniature woofers, which aims to create a soundscape that can best be described as perfectly understated and natural. Listening through these speakers can truly give you the impression that you're listening to your audio the way it was meant to be heard.
Furthermore, these speakers can be surface mounted to your vehicle for ease, or you can flush-mount them if you would love them to be fully integrated into your automobile. However you integrate them, you're bound to have an exquisite sounds every time you drive with these beautifully crafted speakers.
These systems are the epitome of affordable luxury. Not only does it offer a higher power handling than most component sets, this is also the kind of stock speakers that most audio enthusiasts dream about. There are no missing wires either. You can be sure that you will get everything and anything you need to install these speakers with ease.
3. Rockford Fosgate T2652-S 6.5 Component Speakers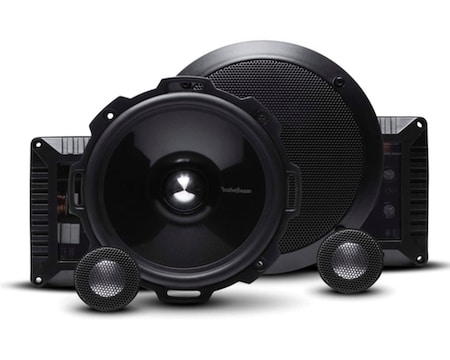 Key Features
Peak of 200 watts RMS power
Frequency response: 55-22,000 Hz
2-way component external crossover
Includes two 6-1/2″ set of component speakers
Brings two tweeters, and two external crossovers
While the last two systems are suitable for those who desire that nuanced, nimble sound, the T2652-S Aluminum set of component speakers delivers a stronger and forceful auditory performance.
Its polypropylene injection molded cone can best be described as "impactful." It really delivers a punch. Outside of their forceful nature, the unit also has the benefit of easy installation.
They feature a huge array of factory screw holes that should adjust to any make or model. And if it doesn't? They have their own Multi-OEM Adapter plate for OEM speakers and a Discreet Dual Clamp design for their tweeters.
And if that's not enough for you, you can get even more output and power from the speakers, thanks to their versatile external crossover that allows you to bi-amp the components to deliver superior power to your new component speakers and tweeters.
What does that mean for you? Additional power. If you're searching for a component system that roars, this device is for you. Overall, Rockford Fosgate has managed to produce a sound system in this package that is not just loud but also accurately reproduces bass and mid range frequencies as well.
4. Image Dynamics CXS64 V.2 6.5 Component Car Speakers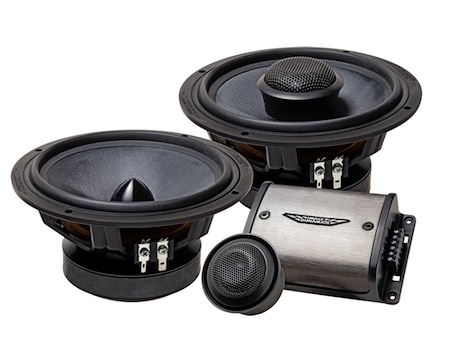 Key Features
RMS Power of 25-250 watts
Utilizes single or dual voice coil
Hearty 12.3 pound weight
Extended Frequency response: 65-25,000Hz
One of the most cost effective options on this list, the Image Dynamics CXS64 V.2 speakers are the best 6.5 component car speakers for those who demand that boom sound when listening to their favorite music on their radio. They provide an amazing listening experience.
Their tweeter mounting is adaptable and easy to change, allowing you flexibility in your unit placement to further ensure you hear the clear audio coming out of your speakers. In fact, this is a speaker that was specifically designed with installation ease in mind.
If you are someone who listens to lossless music (think WAV files, instead of MP3s) you'll immediately notice the difference if you switch to these speakers. So if you're an audio purist hunting for a deal, these speakers might be for you. The tweeter is capable of reproducing the high end sound with a smooth texture.
Furthermore, If you are looking for a way to get the best speaker sound out of your car audio system, these speakers could be just what you need. The sensitivity rating is excellent and they come in both black and white colors so that no matter if your car has neutral or bold color schemes, it will adapt right in with this component car speaker.
5. JBL Stadium GTO 600C Component Car Speakers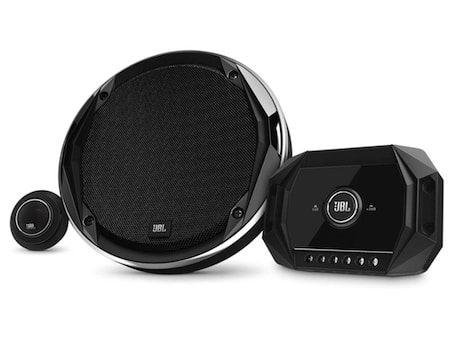 Key Features
High quality 350 watts Peak to subwoofer
Frequency response: 15-35,000 Hz
5-channel amplifier for sound quality
Wired remote bass level controller included
If you're searching to get serious with your audio output, you can do a lot worse than the JBL Stadium GTO 600C Component Speaker. Both the speaker and the tweeter come with cloth-wrapped all-weather cones that are extremely light and sturdy at the same time.
The 5-channel car amplifier means you can get some serious power through these speakers—think 75 watts to both the front and rear speakers, on top of the 350 to your subwoofer, with the option to connect a pair of performance speakers at 200 watts.
This used to be what you'd expect in a component system that would take up the entirety of your trunk, but the JBL Stadium GTO 600C can easily fit within most of your vehicles. It's impressively compact for the decibel level and intensity of sound it can generate.
With lots of sound coming from a small package, this are the best 6.5 component speakers for anyone who wants to really crank up their tunes without using up all the available space in their car. These component systems come with a Carbon/Chrome dome tweeter which produces an authentic sound with clarity.
6. Kicker 46CSS654 Component Full Range Stereo Speakers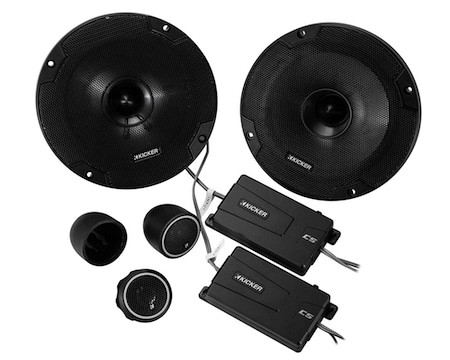 Key Features
Peak of 300 watts per speaker
Frequency responses: 35-21,000 Hz
Crossover network with 3 tweeter levels
 Two woofers with a balanced sound
If you're looking for a less expensive speaker that can still deliver a louder sound, look no further than the Kicker 46CSS654 Component Full Range speaker. The tweeters respond well to the high frequency range. It includes a tweeter that is exactly what every car stereo system requires.
Kicker designs their speakers to best match both the highs and lows of your sound, never distorting no matter how much you crank up the outputs. No matter how loud you go, the speaker will keep up with you. These car component speakers produce the best overall sound quality.
Moreover, the woofer cones are made from the same material as professional studio monitors, polypropylene-coated carbon fiber, so you know that they can handle whatever abuse you throw at them. And thanks to its butyl rubber surround along with extra-thick foam surround for a more accurate bass reproduction.
They also fit just about every automobile. The combination of price and adaptability make these one of the best selling component speakers on this entire list. And they've earned that popularity with a great product for audiophiles and car enthusiasts alike.
7. Infinity PR6510CS Primus Series – Best Car Speakers For Sound Quality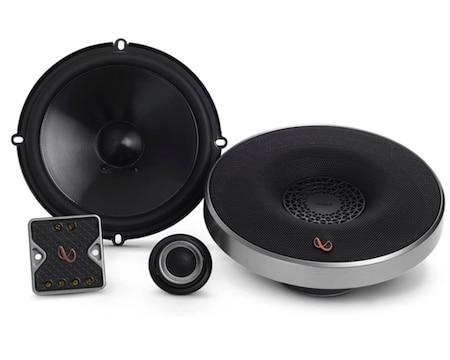 Key Features
Peak of 240 watts per speaker
Frequency response: 53-20,000 Hz
Edge-driven, textile tweeters
2.7-ohm impedance for extra power
Includes two woofers and 2 tweeters
One of the most competitively-priced speakers on the market, the PR6510CS Primus Series Component Speakers represents a great way to upgrade your head unit without the risk of spending hundreds, or even thousands of dollars.
They produce clean highs and are easy to install to your door panel. At just under $100 from most venders, this is the least expensive option so far on this list, but it has hundreds of rave reviews, especially if you like your speakers heavier on the bass side.
Infinitys proprietary Plus One+ woofer design promises to deliver punchy bass at a fraction of the price of its competition. While this is a great speaker for bassheads, don't expect the distortion or off-treble to ruin your tracks.
The Primus Series promises smooth, clean vocals and crisp clashing cymbals as well, leaving you with full, rich sound at a discount. Build with high quality specifications and it's well balanced.
8. CT Sounds Strato – Best 6.5 Inch Component Speakers
Key Features
Peak of 300W per speaker
Frequency response: 50-20,000 Hz
Voice coil of 1" (diameter) at each speaker
Extruded aluminum heat sink
CT Sounds Strato Component Full Range Speakers represent another bargain opportunity for anyone looking to upgrade their vehicle's audio system. In fact, many users of this system claim it's the best budget-friendly mid range system they've ever owned.
With a peak of 300 watt per speaker, this system has more power than most on this list, at a price similar to the Infinitys system. That means you can pump in some serious volume without worrying about levels becoming distorted, which is a must-have for any music lover.
The only thing to consider with this system, however, is that if you do not run it through an external amplifier, you are likely to get less-than-ideal output from the speakers. But if that's not an obstacle for you, this is a great value for the money you are paying to get this incredible woofer.
9. Infinity Kappa 60CSX 6.5 Component Speakers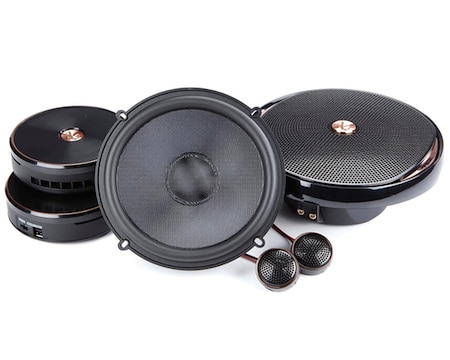 Key Features
Peak of 300 full watts per speaker
Responding frequencies: 45-35,000 Hz
Sensitivity Rating: 93 dB at 2.83 volts
Tweeters for high frequencies
Infinity is a legend in the component speakers game, and their Kappa 60CSX Speaker does not do their legacy a disservice. Their proprietary technology alone is enough of an excuse for the brands fanboys around the world to go back to their systems again and again.
Their soft dome tweeters are specifically designed to give you a clearly defined soundstage, offering responsive sound with minimal distortion, even at high volumes, with punchy, hard knocking bass aided by their glass fiber woofer.
While these work beautifully with any pre-existing system, we recommend using an amp here. Since these are able to take on greater power, you should give it that power, in order to really maximize your audio experience. Overall produces a great sound and can perform well.
10. JBL GTO609C High Quality Car Speakers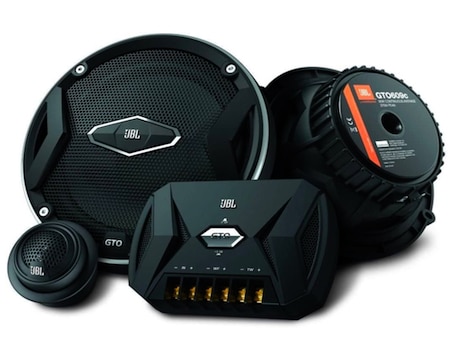 Key Features
Peak of 300 watts per speaker
Responding frequencies: 45-25,000 Hz
Includes 2 woofers, and 2 tweeters
Edge-driven PEI polymer dome tweeter
Butyl rubber surround for sound quality
Depending on the make and model of your vehicle, the JBL GTO609C model might require custom mounting. It's not as "one-size-fits-all" as some of the previous models in this article, and it is valued at one of the higher cost points of any speaker mentioned.
That said, it also is one of the finest speakers on the market. They boast versatile crossovers that give a rich, realistic natural sound, and their glass fiber woofer doesn't require a bunch of power to give you well-defined bass at any volume.
If you are looking to use your speakers to really blast out sound without distortion or losing any sonic nuances, you can do worse than JBL. The 2.5-ohm speakers are extra sensitive, which allows you the versatility to handle any system you might be replacing, be it factory settings or a previously installed component stereo system.
Even though the tweeters are very small, they pack quite the punch—don't let the size fool you, this system really does punch well above its weight. Lastly, get these speakers at a decent price point and they will be worth it, you'll get your money's value.
Best Component Speakers Buying Guide
You may currently have a list of speakers to buy, but how do you determine what speaker is best for you? After all, there are many reasons to purchase a woofer for your vehicle.
Some people will rather have their sound to be more nuanced and delicate, while others want the ability to blast music without distortion.
You want to have the ultimate sound quality possible so learn about what makes up a great sounding speaker before you buy anything!
There are many things that go into making a good sounding speaker. The most crucial thing is to evaluate if the unit has an amplifier or if you need an external amplifier to get that to performance you need.
Do you want to hear all of the highs and lows in your favorite songs? Combining these speakers with a single din head unit with good equalizer will produce better sound than one without an equalizer or amp.
Components should be build with high-quality materials like rubber surround cone and aluminum voice coil former which help give your speakers their tone of voice (i.e., bass).
You should be checking out the power rating, mounting depth and polypropylene cone. The power rating is how much power it can handle before distorting or breaking.
Mounting depth needs to go into your wall in order for it not break against the surface of your wall. Polypropylene cones are made from plastic that has been mixed with other materials like paper fibers and mineral fillers.
Each system handles a little differently, so it's crucial to know what you're searching for so that you can find the the right one for your vehicle. After all, if you're going through the trouble to replace your car's system, you should probably try to get it right the first time.
F.A.Q.
By now you've been introduced to ten component speakers, and have been given a guide of what to identify for when actually purchasing your system. However, you might still have a few questions.
Here are a few common questions from people as they consider purchasing a speaker.
What is the difference between component and coaxial?
Coaxial sound systems fit their entire 2-way car speakers into a single unit that you can install. Component speaker systems, on the other hand, require each part to be mounted individually.
What does this mean? Well, coaxial systems are more compact, easier to install, and take up less space within your vehicle. They also tend to be more affordable. But with this convenience has a compromise.
Component speakers have better sound quality, power handling, and installation options, which means that you will get a much better auditory performance with component speakers that also allows you to determine where your music comes from.
How do you install a set of component speakers?
Installing a set of component speakers is the most daunting for many vehicle owners. Thankfully, there are dozens of YouTube videos that can walk you through.
That said, you'll be installing each part of the system individually. First, the woofer, which you will be replacing from the vehicle. The woofer is usually located in either kick panels, doors, or your dashboard.
Your owner's manual should tell you where to find it. You can also ignore that location and place it in a more customized way—to do that, you'll be drilling holes directly into that location to place the woofer.
You should install the tweeter no further than 12 inches from the woofer, though you should be able to find where it is in your automobile currently. With any installation, look for screws or clips holding the panel that contains the part in place and remove it carefully. Follow the same step for the subwoofers.
Once that is done, now the wiring begins. Try to find wires coming directly from your battery through the opening of the firewall of your car—look for the metal wall just under your hood, closest to the windshield. Run as much wire through that hole as you can, making sure there's still enough to reach the battery.
Strip insulation off the wiring near the battery, and connect your sound system wires to that. Check out any user instructions for wiring the audio and the remote.
Finally, you'll screw in your speaker to their box, and set the speaker up, and once you wire the amp directly from the battery, you should be good to go. As always, be careful anytime you're doing anything with electricity, and be sure to follow directions from your component speaker system as closely as possible.
Are component speakers the best for bass?
In general, 2-way speakers are the best for bass in any setting, since the combination of a subwoofer and a tweeter (specifically the addition of the woofer) accounts for lower frequencies than a 1-way speaker would. Meaning that a component speaker system is by far the best option for any bass lovers out there.
Summary
Getting a component speaker system for your car is a major plus, and requires an installation that is complex enough that you should hire a professional to install it. But it also provides the richest, purest sound imaginable.
One of the most common ways drivers customize their car involves the installation of component speakers for car. If sound quality is important to you, then there's no other option than to go with a high-end component speaker for your car's audio requires.
Ultimately determining the best system for your vehicle is up to you. But we've provided ten high-quality systems, and a few features to consider when going on your component speaker journey.
Hopefully, you'll soon be cruising with the cleanest, powerful sound system that's perfect for every drive. Another great option that we forgot to mention is the JL Audio car speaker, the premium price on it outplays the quality. Now you know how the component audio system works if you want an audio upgrade.
Last Updated on: January 11, 2023