Best 12 Inch Subwoofer (Review & Buying Guide)
Let's face it, almost everybody that thinks about subwoofers is looking for the hardest punch in the market. That's what is all about right?
Upgrading your car audio system implies at least some basic knowledge about subwoofers, speakers, amplifiers, and pretty much the whole setup. A 12 -inch sub is a game-changer when it comes to hitting low frequencies while keeping efficiency, loudness and avoiding distortions for a clean, clear bass.
Top 10 Best 12 Inch Subwoofers for the Money
| Rankings | Name | Price and More Details |
| --- | --- | --- |
| #1 | Skar Audio EVL12 D2 - Best 12 Inch Subwoofer | Click Here |
| #2 | Rockford Fosgate P3D4-12 Punch P3 Car Subs | Click Here |
| #3 | Pioneer TSW3003D4 - Best Deep Bass Subwoofer | Click Here |
| #4 | JL Audio 12W0V3-4 - Best Subs for Clear Sound | Click Here |
| #5 | Kenwood KFCW3016ps High Power Subwoofer | Click Here |
We researched the brands with the highest reputation for providing quality audio. Within, we compiled a comprehensive list of the top 10 best 12 inch subwoofers for the money, so you can rest assured that here you can find big bangs, the lowest low's, long-lasting operation, without breaking your bank.
Pick the best choice according to your needs, budget, time, and space availability of your vehicle.
1. Skar audio EVL12 D2 – Best 12-Inch Subwoofer For Sound Quality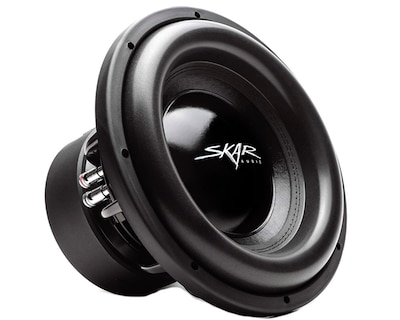 Key Features
1,250 Watts power handling
Extremely responsive bass good sound
High-temperature CCAW voice coil
Pressed paper cone and high roll foam surround
EVL Series Signature Red Two Layer Spider
Skar Audio EVL12 D2 is an absolute monster that delivers constant and stable bass at a whooping RMS of 1250 watts, with peak power reaching outstanding bangs at 2500 watts. Users shouldn't mind reaching its RMS power as it features a 3-inch high temperature dual 2-ohm voice coil with a black coating that maintains the subwoofer reproducing low tones easy.
The brand redefines the idea of low-end sound reproduction as it features a premium suspension and the EVL series signature red two-layer spider, which connects to the coil former with premium stitched lead wires, and advanced design allows a mirror shaking thumping bass while protecting the sub at the same time, for maximum efficiency.
Moreover, the high roll foam surround and the double-stack ferrite motor structure provides ultra-low-end frequencies with the highest responsiveness. Skar Audio EVL12 D2 brings deep, low, and extremely responsive bass all day long. Users recommend a ported box. It is by far is one of the best 12 inch subwoofers on the market.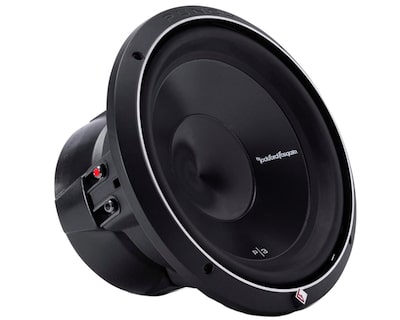 Key Features
High quality 4-ohms dual voice coil
1200 Watts peak power handling
Anodized aluminum cones and dust caps
Spider venting for motor cooling
10-AWG nickel plated push terminals
The P3 Series is Rockford Fosgate's best performing Punch subwoofer and an industry's reference when it comes to quality and clean bass. Their subs use anodized aluminum voice coil formers guaranteed to dissipate thermal build-up to 100° during full, high SPL conditions.
It is best used in standard sealed, but you can also use it for vented enclosures. Also, the product comes with an included cast aluminum trim ring. They also feature Vertical Connect Encompass Approach technology, "VAST, to increase surface cone area up to 25%, a FlexFit basket that allows installation in difficult areas, and a brand new hybrid stamp-cast basket that puts tremendous energy while minimizing weight and resonance.
Rockford Fosgate P3D4-12 Punch P3 subwoofer power handling complies with CEA-2031 industry standards, which means it can handle power under continuous demand. The model offers a loud and deep bass along with beautiful cosmetics and a full 1-year warranty when purchased from an authorized brand reseller. The P3D4-12 sub works great in sealed or ported enclosures.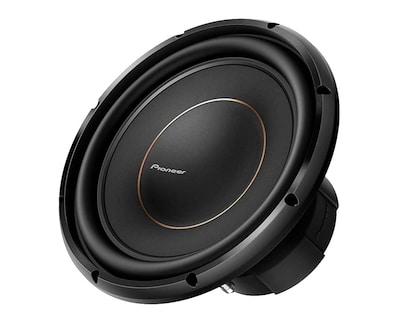 Key Features
Champion Series PRO Subwoofer
Dual 4-ohm voice coils
600 watts power handling
Composite seamless cone
Elastic polymer surround (dual-layer)
Anyone looking for an enhanced music experience on songs that contain a strong bass component, like hip-hop, needs to consider a subwoofer, as only high-end sound systems come with a built-in sub-woofer. Pioneer is a Japanese company known to produce quality products since 1938. Their recently designed Pioneer TSW3003D4 2000 watts of maximum power is surely an upgrade for the standard car owner.
These Champion Series PRO subwoofers are engineered to produce loud and powerful bass capable of 600 watts of continuous musical power. The design features a dual spider for improved linearity, a thicker wire for much more accurate bass, and allows a flexible installation capable of fitting a 0.85 cubic ft. to 1.75 cubic ft. enclosure.
It comes with Pioneer's patented seamless IMPP composite woofer cone for crystal clear bass that is also powerful and consistent. The composite cone is strong and also produces a massive amount of air movement required for the depth in bass sound, without flexing or buckling to ensure the sound does not distort.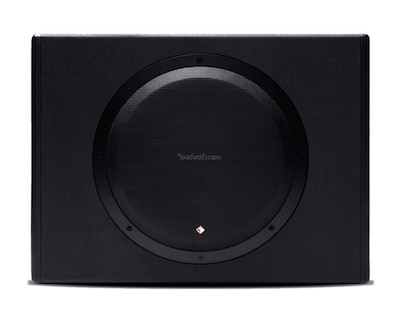 Key Features
All-in-one solution quality bass
Features a 300W amplifier
Heavy-duty closed-loop design
Adjustable bass boost EQ
 Manufacturer offers a 1-year warranty
The Rockford Fosgate Punch P300-12 is an all-in-one solution that features a Punch 12" subwoofer in a custom sealed enclosure, powered by a 300 Watt amplifier. This means that you only need to run ground, power, and a signal from the source to get this going.
This means that the closed-loop design guarantees top performance between the woofer, the amp, and the enclosure. It features a unique adjustable 12db/Octave low pass crossover, thermal and over-voltage protection, a remote bass level control, a built-in adjustable bass EQ, and a durable exterior that resists scrapes and bumps.
Rockford Fosgate P300 12-inch subwoofer is very well made and is known for its durability, simplicity, and for the clarity of its sound, packing a lot more value than both cheaper and more expensive units out in the market. Don't feel overwhelmed or worried about accidentally buying an amp that's too powerful. You can choose any type of subwoofer, but a sub like this is the best choice for you.
5. JL Audio 12W0V3-4 Dual 4-ohm Voice Coils 12 Inch Car Subwoofer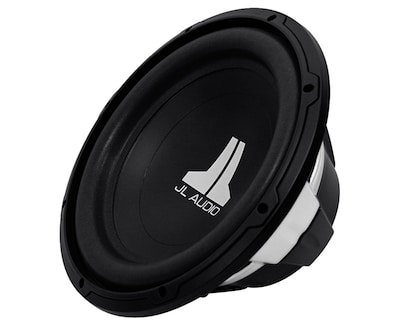 Key Features
Single W0V3 Series Subwoofer
Polypropylene cone woofer for durability
Elevated Frame Cooling subwoofer
Dynamic Motor Analysis system
Built for compact sealed enclosures
JL Audio 12W0V3-4 12″ 4 Ohm Subwoofer is at the top of its class because of its efficiency, excursion capability, and linearity, featuring a 2 in. diameter voice coil and JL's patented Elevated Frame Cooling brings air directly to the voice coil, for enhanced power handling and reliability.
The 12W0V3 provides power, clarity, and overall sound quality, able to handle up to 300 watts of RMS power and a total of 600 watts of peak power. Though it is not as powerful as other 12-inch subwoofers on the list, it provides more than enough boom for most users.
It has a durable, tough injection molded polypropylene cone that maximizes sheer power, built to last for years to use. This JL Audio model sensitivity is around 85 dB. While it takes a little more power to successfully drive, the benefit of such sensitivity ensures that it won't easily distort or blow. Overall, the JL Audio 12W0V3-4 is an outstanding 12-inch subwoofer for those who want cost-effective high-end sound quality.
6. Planet Audio AC12D Dual Voice Coils Subwoofer High Quality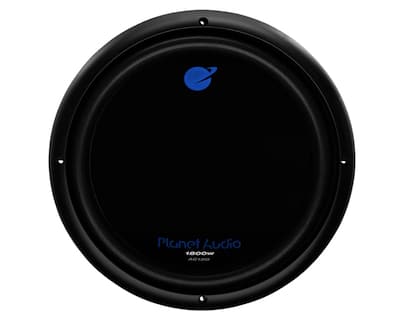 Key Features
Polypropylene cone-shaped
Dual 4-ohm 2" voice coil subwoofer
Flexible surround foam
Easy to install subwoofers in cars
High-temperature strength
The Planet Audio 12 Inch 1800 watts dual 4-ohm voice coil subwoofer is all about resilience, durability, great sound, and long-lasting bass pumps able to handle 900 watts of RMS power. Its 2-inch voice coils are technically designed to resist high temperatures while maintaining its strength and fatigue properties for longer playtimes with lower weights.
The sub has overall dimensions of 13 x 6 x 5.375 inches and a 12-inch driver that is easy to install on compact spaces in any vehicle. It is designed for premium car audio set systems and delivers excellent low-end frequencies at loud volumes with its thumping 1800 watts peak power handling.
Planet Audio subwoofers surround foam lasts longer and is a high-end product for speaker drivers that need a large excursion. This type of foam is flexible, highly efficient, and keeps the cone centered and yields a high excursion, built over a stamped basket that is both strong and rigid, that allows users to listen to a clean output. The brand's subs are meant for a great sound. Just make sure you complement it with a Planet Audio amplifier for the best experience.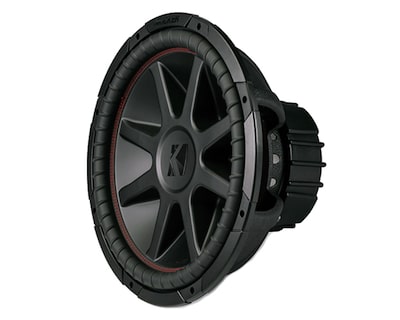 Key Features
800 Watts RMS power handling per pair
Dual 4-ohms dual voice coil subwoofer
Santoprene rubber surround
Top-notch perimeter venting subwoofer
UniPlate heat dissipation system
Kicker's 43CVR124 4-Ohm car power subwoofer is described by users as a "hard-hitting accurate, responsive sub." Indeed, the model brings raw power to the table thanks to its stamped steel basket, which holds vibration away while its high-temp voice coils create a strong, distortion-free bass.
This subwoofer has an UniPlate system that dissipates heat from the motor structure and an RMS power of 400 watts and peak power of 800 watts. This allows it to handle all types of music genres with ease by its dual voice coils and the 4-ohms impedance.
The stiff polypropylene cone offers a punchy, nuanced sound that is powerful and controlled, either in a closed or ported enclosure. Its red surround stitching sticks the suspension perfectly to the cone. Meanwhile, the unique SoloKon™ cone marries the woofer thanks to its 360-degree back bracing for one cohesive system. People purchase the Kicker 43CVR124 model because of its affordable price while it still provides plenty of value. In other words, maximum power on a budget.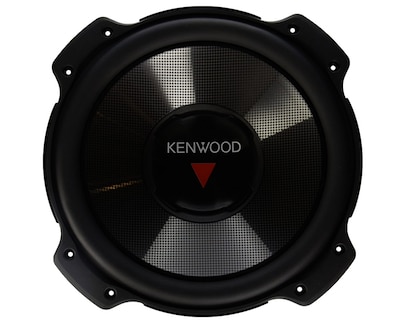 Key Features
High quality 800 watts RMS power per pair
Rubber surround square array pattern
Thermal Efficient Car Stereo System
2000W peak maximum power handling
Shallow design and oversized diaphragm
Kenwood is a brand known for its reliability and quality sound; their subwoofers follow the same pattern. The KFC-W3016PS 2000-watts 12 Subwoofer has an oversized polypropylene cone that is easy to install. No matter the musical genre of your choice, it produces recording studio-quality sound and a noticeably better experience.
The powerful 2,000-watts subwoofer is juicy enough to fill any passenger area with a rich sound, mainly because it has an oversize diaphragm that reproduces the sound while its rubber surround minimizes vibration. Each speaker is built on a shallow 5.19 mounting depth and has as a dual ventilation system, for maximum efficiency over long periods of playing time, especially in the heavy use bass.
Kenwood KFCW3016ps 2000 watts 12-inch subwoofer improved a previous model by adopting a "Stress-free Spider" and a "Thermal Efficient System" that increased its mechanical and thermal durability, for a smooth and plenty of thunder under the trunk of your car. Put this sub in a suitable enclosure, get a proper amp to power it, and get ready to turn some heads around.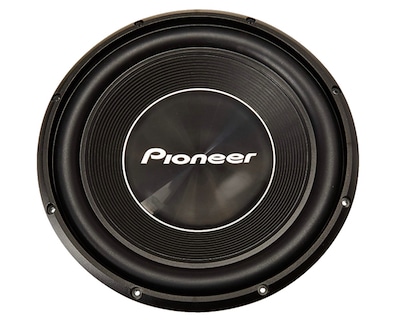 Key Features
350 watts RMS subwoofers cars power
Dual voice coil cooling system (VCCS)
IMPP cone woofer material for bass tightness
Vented pole yoke subwoofer sound system
Urethane surround of high quality
Pioneer scored a big one with the TSW126M. To start, the parameters provide superior audio system quality and reliability over a composite seamless cone woofer that offers listeners a rich bass and generous amounts of excursion thanks to its urethane surround.
The peak power handling tops 1500 wats, and its extended pole yoke improves linearity during long excursions. Overall power capabilities include a respectable 350 watts of continuous power for a deep blasting bass, while its vented pole yoke allows better heat dissipation and increased power handling. Its low-frequency response enables you to feel and hear the bass better, much more accurately than other budget subs. Fills great inside either a sealed or ported box.
Despite having a single voice coil, this subwoofer still provides a huge, full low-end that will shake your entire vehicle. If you are looking for a high-quality 12-inch subwoofer on a budget, you need to consider purchasing the Pioneer TS-W126M. It delivers high value in terms of power, efficient design, volume, and overall good quality of sound.
10. Audiopipe TXXBD212 4-ohm Voice Coil 12-Inch Subwoofer for Car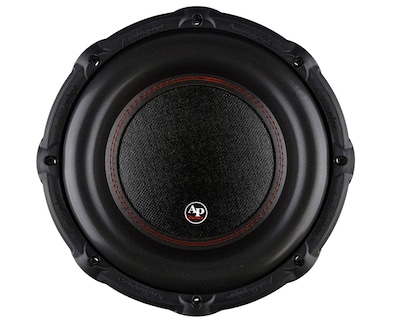 Key Features
Dual voice coil subwoofers for car
750 watts of RMS peaks at 1500W
Multi-connect terminal subwoofer
Dual stacked magnet design for extreme excursion
Air cushion foam surrounds the composite cone
Users enjoy their favorite tracks with Audiopipe TXXBD212 4-ohm voice coil 12-inch subwoofer. It has a reputation for delivering hard-hitting yet crystal clear, reliable bass performance. The dual ventilation system allows proper cooling and, thus a longer unit operation time.
According to the manufacturer, a vented enclosure is best to maximize SPL levels and efficiency. The vented design is less linear in response than the sealed type but with unmistakable added output at the tuning frequency, which by the way, is easy to adjust depending on the port length.
Audiopipe TXXBD212 4-ohm voice coil 12-inch subwoofer has a 150-ounce dual-stacked magnet design for an extreme excursion, a 2.5-inch 4-layer voice coil for an intense rather clear bass, a woven fiber cone with foam surround, and a vented pole piece for thermal efficiency. The 750-Watt RMS power makes this model one of the best subwoofers for hard-hitting bass.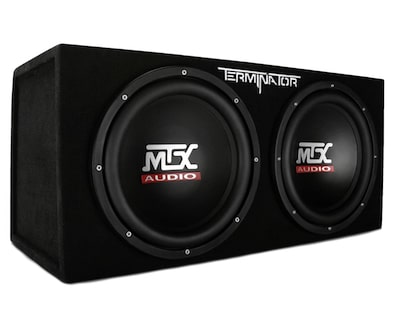 Key Features
Dual 12" Terminator Series subs
400 Watts RMS of pure power handling
Wired to a 2-ohm final load
2-inch Aluminum voice coil subwoofer
Asymmetrical Linear Drive System
MTX Audio Terminator Series TNE212D houses two 12-Inch Terminator subwoofers in a sealed enclosure, a perfect solution for those looking to add bass to their vehicle without the hassle of building your housing.  This 12-inch subwoofer provides superior power handling.
It is ruggedly constructed using 5/8″ MDF and aviation grade black carpet with a beautiful MTX Audio logo on the dust cap. The brand made it easy to connect to an external amp because it's internally wired to a 2-ohm final load. This monster subwoofer and enclosure combo is available for a mid-level price and is capable of supplying quite a bit of power and volume at 400 watts of total RMS.
While this is not the most powerful subwoofer on today's list, it certainly isn't the least powerful either.
Each of the subwoofer cones is made of tough, durable polypropylene to ensure long-lasting playing times. Overall, the sealed enclosure offers a controlled, punchy, and nuanced sound. Just add an amp and wiring, and get ready to pump it up.
Best 12 Inch Subwoofer Buying Guide
Adding a 12-inch is a great choice for those who want to pack the hardest punch and have enough space in their trunks.
The majority of the reviews on this list offer the loudest yet highest-quality subwoofers in the market from the best high-quality brands in the industry.
Some of the previous examples include subs that bring their enclosure, which can be a great solution that only requires a proper amplifier to get the most out of the equipment.
Any of these subwoofers, combo or not, deliver hard-hitting pumps, clean sound, and almost all have high-end technology for long-lasting pumps and subwoofer lifetime.
What to look for in a 12-inch subwoofer for a car
While stock automobile sound systems are ok, they are far from providing a great sound experience. A subwoofer is one of the key elements to upgrade a car sound system.
The sub is responsible for huge, low-frequency bass. It improves your overall music listening experience. Any of the subwoofers on the list helps take away the heavy lifting from your OEM speakers, the dynamics are more compelling, the soundstage widens, and the stereo imaging becomes more accurate.
Subwoofers come in many different sizes, but out of all, the most popular size is 12 inches. In general, a subwoofer helps produce a more vibrant, cleaner, and harder sound.
Peak power handling capacity
Every user looks for a stable and long-lasting operation of a subwoofer.
You may have noticed that all subwoofers have an RMS power and a peak power handling capacity. In contrast to the RMS, the peak power speaks of how much power the sub can handle. But, this is only for short periods.
For example: if the peak power of a sub is 1,000 watts, that means that the unit can reach that much power, but is it not something that you can access on a continuous, daily basis, rather for a quick burst. If you max the sub to its peak power constantly, best believe that the sub will get hurt and permanent damage is just around the corner.
Frequency response
People can hear sound in the range of 20 to 20,000 Hz. Frequency response is present in every single audio equipment that you purchase, at least as subwoofers, speakers, and amplifiers are a concern.
It is the audible periodic vibration measured in hertz, and the higher the frequency, the sharper the sound is.
Subwoofers are capable of producing frequencies from 20 to 200 Hz, but you should use a crossover filter to limit the frequency response to 100 Hz or lower, as recommended by audio experts.
Sensitivity rating
The sensitivity rating is defined as the speaker's ability to convert power to sound. In other words, it is how effectively the speaker converts power or watts into sound (decibels).
Sensitivity is not necessarily used to measure loudness rather the efficiency of the speaker. The higher the number, the better with 92 decibels, or dB, is ideal.
Now, a low sensitivity does not mean a bad subwoofer is just less efficient. There are very high-quality subwoofers that have a low sensitivity rating, on the 85 dB, because they require a lot of power. In this case, efficiency is translated into the amount of power going into the speaker that is converted into sound.
Reasonably priced
Most people are looking for an upgrade, but at the same time, they don't want to expend the kind of money that will get them in trouble. We understand, and for that reason, this review list compiles the best quality for the best price.
Take into consideration that a 12-inch subwoofer is legit sound equipment and "too good to be true" deals do not provide the best quality, pumps, and life expectancy of the unit. Unless it is a foreclosure deal or any other sort of justifiable offer, stay away from unknown brands that promote subwoofers for less than what is reasonable.
Polypropylene cone
A polypropylene cone is the number one choice for subwoofers and other equipment like speakers and home theaters and is responsible for reproducing any type of sound.
The bests features about polypropylene cones are their high damp and looseness, which translates into a smooth sound because of its flexibility.
They are very resistant, absorb moisture well, and have electronic insulation. The latter is a feature that you want in a subwoofer. Electronic insulation doesn't allow electrons to flow freely, which affects sound quality.
Impedance levels
Subwoofers have either 2 and 4 ohms impedance, and their job is to enhance the amplifier power output.
You can connect two 2 ohm subwoofers to create a 4-ohm load on the amplifier, but this will depend on the kind of bass you want to get out of it. For example, if you are looking for a decent bass volume with the highest sound quality, you should take a look at the subwoofers that feature 4-ohm.
In contrast, a sub with a 2-ohm carries less resistance, allowing the amplifier to pump more power to the unit.
Different between passive and active subwoofers
Subwoofers are categorized as active and passive.
An active subwoofer means that it has an internal/powered subwoofer. Some brands offer the subwoofer in a sealed enclosure powered by an internal amplifier. This simplifies connection properties and saves time for most users.
In contrast, a passive subwoofer must have an external source to power the unit, thus customizable. Your amplifier must be in a particular position to output and maintain bass effects produced by the sub. A good amp position reduces the chances of draining the supply of power.
It is necessary to merge the subwoofer with the rest of your car audio system. The way you connect a subwoofer to the rest of the equipment is determined by whether it is active or passive.
Single voice coil vs. dual voice coils
A voice coil is the coil of wire around the tube attached to the apex of the speaker cone. This provides the force to the cone via a magnetic field's reaction to the current passing through it.
Single voice coils
Single voice coils are very popular, and without a doubt, the most common type of coil featured in subwoofers.
It is composed of one length of wire around the former, another name used for the cylinder. To identify a single voice coil in your subwoofer, just check if it has one pair of wire entries, which is a positive and negative terminal.
A single voice coil is easy to identify because it has only one pair of speaker wire entries.
Dual voice coils
Instead of unidirectional, the dual coils are wound in opposite directions.
This type of coil handles a higher amount of power coming from the amplifier. Users connect them in series or parallel to get more versatility out of the equipment.
The primary difference between single and dual voice coil subwoofers is the multiple wiring options DVC subs offer, which include: parallel wiring, series wiring, or independent wiring.
Different type of subwoofer enclosure
The enclosure is the icing on the cake when it comes to sound quality. If you don't set your subwoofer to the proper enclosure, then there is no way they can deliver the best bass possible.
Most popular enclosures are sealed and ported. The latter reinforces the low bass response and provides more output. Also, you have bandpass enclosures for extra loudness.
Audio experts agree that ported enclosures hit a strong bass without needing a lot of power from an amplifier. This is achieved through a vent.
The sealed enclosure provides good transient response and is the simplest enclosure to build for your subwoofers. Sealed enclosure brings a tighter, more accurate bass. However, they need more power from an amplifier if you are looking for louder bass output.
What is a shallow mount subwoofer?
A shallow mount subwoofer is easy to install and provides hard-thumping bass without an amplifier.
Made with portability and space-saving features, a shallow mount sub is usually placed on the rear speaker deck.
Do I need to hire a professional to install 12-inch subwoofers?
Brands always suggest speaking with a professional technician for installment. Remember that you are going to deal with electricity, and it is always best to let an experienced audio expert handle this type of business.
If your subwoofer is not a shallow mount, you will need to build an enclosure that properly fits the sub, wire it, and test out the equipment. Most car owners seek a professional also because there are so many tools that you will need to assemble the subwoofer. In the end, the investment in these types of tools, the time, and the tools to buy it's just not worth the time and money.
Nevertheless, if you feel that you can handle it by watching tutorials online, go for it, but at your own risk.
What is a component subwoofer?
First and foremost, the sound quality depends on the kind of enclosure in which the sub is mounted, which is mostly either sealed or a ported enclosure.
A component sub is just the speaker itself. With that said, the unit needs to be placed in an enclosure for proper operation and maximum efficiency.
This type of subwoofer is designed to operate in different types of enclosures and requires an external amplifier for power. Component subwoofers are a great choice for those who want to build and customize their car audio system.
To produce a high-quality sound altogether, a component subwoofer is complemented by tweeters, crossovers, and speakers.
Summary
A couple of 12-inch subwoofers (or even one) makes a HUGE difference in your car audio sound. Any of the subwoofers reviewed is the real deal when it comes to a serious punch that rattles your mirrors and just makes you feel good about your driving experience.
Some of these subwoofers fit anybody's budget. However, you must take into consideration that these take a bit more space in the trunk, especially if you want a pair.
An all-in-one solution subwoofer, which also includes the amplifier and the enclosure, is one of the most valuable deals for those who don't have the skills and the time to assemble their own customized car audio system.
We hope that these reviews provide a good idea of how these monsters operate. Now is time to make a decision and take your audio set to a whole new level of punch.