Classic Morgan Cars [10 New and Old Models Offered Now]
Classic Morgan cars just cannot be unnoticed. The models of this manufacturer 3 Wheeler, Plus Four, Plus Six, Plus Eight, Morgan 4, and others make the smile even for those to whom things about cars are a hard nut to crack. Like love from first sight, just this one never ends.
History of The Morgan Motor Company
More than 110 years of experience. The Morgan Motor Company was initially founded by Henry Frederick Stanley Morgan in 1909 in Malvern, UK. The head of the company just built a car for his own use, but it seemed to be so good and eye-catching that others wanted to buy it.
After Morgan's death, his son continued to run the company. After the son's death – the founder's grandson took care of the business. Now the Morgan family business is bought by investment group Investindutrial. The company still produces automobiles in the same place and using the same methods, engineering, design, etc. as 110 years ago.
This makes it clear that a manufacturer that has kept pace with the path of improvement with evolving technology is selling a reliable and professionally made car. Experience is a great value, indeed.
Probably if one has the opportunity to choose, he (or she) will choose an item (or a car in this case) that is made by a more experienced manufacturer than that made by a novice.
Harry Morgan introduced motoring for the masses
After Morgan developed his first car to receive so much attention, he began considering taking over car manufacturing. Until then, however, he had no goal of commercial success. He did not even have the idea that he would make cars for sale.
He just had a couple of garages where he was working on car repairs at the time. However, Morgan's enthusiasm for engineering and favorable circumstances led to the start of the mass production of cars.
By the way, although Morgan worked with his close friend Leslie Bacon in the garages, he did not want to cooperate further after hearing the idea of a friend. To him, the idea of making cars seemed too risky and unrealistic to implement.
Who knows how things would have happened if Morgan himself had questioned himself? If he had asked his friend and stuck to a safe and already developed business option? But because of his decision made more than 110 years ago, today he is rightly called the first person to introduce cars for the masses.
Top 10 Most Popular Morgan Car Models Offered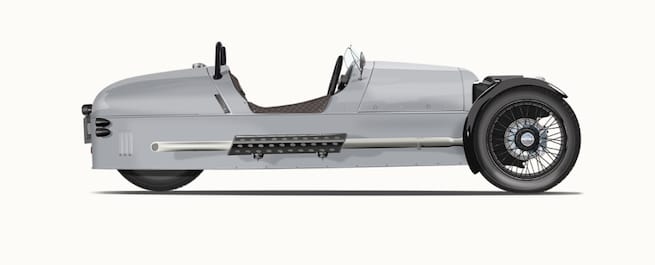 The Morgan Motor Company continues to deliver original automobiles that you can purchase directly from the dealer. Be prepared to pay a well deserved mid-range price for the four-seat or three-seater. Without a doubt, these models give the owner a classic feel.
There are two ways you can attract a lot of attention when you are driving. The first one is by driving a superfast car, and another one is driving a classic car. However, if you wish to enjoy both, it is better that you buy a Morgan car model.
Unlike other contemporary car manufacturers searching for modern designs and futuristic shapes, Morgan took a different path by bringing back classic cars' legendary design. The strategy has been assisted Morgan in attracting the interest of many people in the automotive industry. Below are the top 10 best Morgan car models.
Morgan Plus 8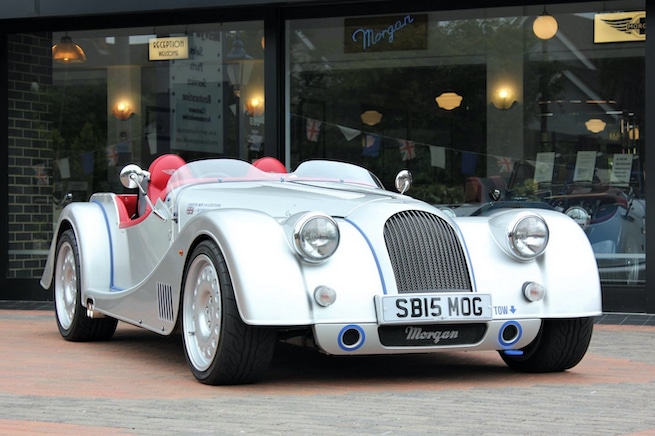 The Morgan Plus 8 is one of the best Morgan models powered by 4799cc V8 4.8 liter engines of a classic roadster. It has a maximum power of 270 kW and maximum torque of 490Nm. It combines with aircraft industry technology in its riveted and aluminum bonded chassis, providing one of Morgan models' stiffest chassis.
Also, the Plus 8 has wheel speed sensors that transform the electric control unit to provide a crisp throttle response and obtain the engine's best possible performance. It is the most comfortable classic Morgan model since it has a convertible mohair roof, easy to erect with a double thickness liner for insulation. It also has air condition systems and high-quality speakers.
Additionally, the Plus 8 is the only Morgan model with a 6-speed automatic transmission which operates in two modes (Auto and Sport). The throttle's blip helps the auto to downshift while the sport mode occurs at maximum speed at 6500 RPM.
Morgan Plus 4
The old Plus 4 is powered by a 2.0-liter Ford engine that produces a maximum power of 1115 kW. It had a maximum weight of 877 kg, and it can offer wonderful performance and fuel efficiency.
However, the new Plus 4 version using a new B48 BMW engine. A model that has a wider front and rear, a track that increases its stability. This Morgan 4 series does come with 255 bhp (Maximum horsepower) and an incredible 149 MPH top speed.
It has a reliable 4-cylinder engine that produces a maximum torque of 350 Nm. Without a doubt, the new upgrades have improved the performance of this four-seat vehicle. For the price that is being sold at the dealer, this vehicle is a super steal without a doubt.
The Morgan Plus 4 has an easily operated convertible roof and fuel tank size of 55 liters. Also, the Morgan Plus 4 model features include full bonnet louvers, painted dashboard with cargo net, reclining sports seats, silver or black wire wheels, and electrically heated window demister.
Morgan 3 Wheeler
The Morgan Three Wheeler features a tubular steel chassis, aluminum body panels, and a handcrafted ash wood frame, making it lightweight. Its centerpiece is a 1998 cc V-twin engine that helps propel it from 0 to 62 mph in 6 seconds. It only weighs about 525kg. The conventional 5-speed transmission enhances the driving experience.
The cockpit of this model is compact but tactile. Your senses can also be ignited by the varied textures, smells, and sounds. The quilted stitch leather seats enhance its feeling and look. You can purchase the three-wheeler directly from the dealer if you can afford the price.
For those interested in the power of Morgan's classic cars, it could be mentioned that not all of the models are as fast as they are expected to be. The Morgan Three Wheeler was loved by the founder of the company, although it wasn't as popular as it could be. Its new version keeps the traditional craftsmanship feel of the 1920's British vehicles.
The three-wheeler auto is not to be used when it comes to driving lots of miles. Hence, that's why Morgan introduced the vehicle with four seats. The automobiles were mostly had 34-39 horsepower engines. From 1963 Plus Four model was introduced.
Morgan Aero SuperSports
It has a BMW 4799cc 4.8-liter V8 engine that produces about 490 NM of torque and 279 kW of power. In the standard trim, it has a 6- speed automatic gearbox. However, there is also a manual gearbox. The aluminum bodywork of the Aero SuperSports is super-formed.
The passenger compartment contains an ash hardwood layer, sandwiched between the rigid aluminum chassis and the alloy outer body panels. Wood can absorb energy and assist in ensuring that the alloy body lasts longer.
Its lightweight chassis is a string and offers a sturdy basis for the all-independent suspension. Its lightweight construction (1180 kg) can sprint about 100 km/h in 4.5 seconds. Additionally, it has a fuel tank of 55 liters.
Morgan Aero 8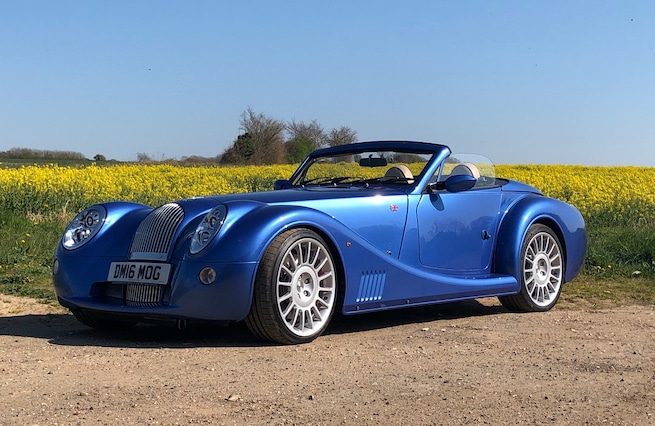 Morgan Aero 8 is the first Morgan vehicle with an aluminum frame and chassis instead of the traditional Morgan vehicles with an aluminum body on a steel chassis. It is also the only model that does not use roll bars.
The first engine of the Aero 8 was a 4.4-liter BMW M62 V8 with a 6-speed Getrag transmission. However, in 2007 Morgan released the series 4 Aero 8 with an upgraded motor of 4.8L BMW N62 V8 and an optional ZF automatic transmission.
Morgan Roadster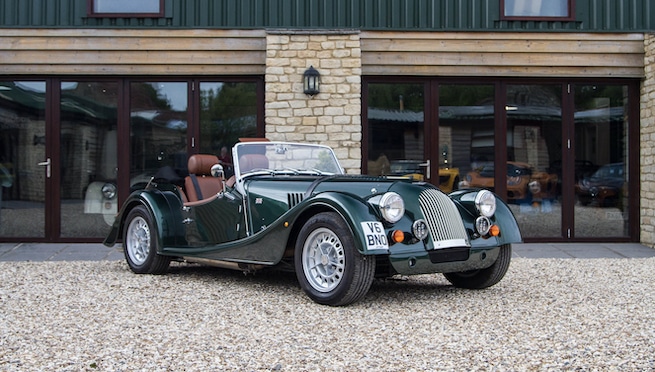 The Morgan Roadster is designed to provide a wonderful performance for those who like high powered sports cars. The power delivery is consistent and smooth as it manages to produce a maximum engine speed of 6850 rpm.
The four-seat Roadster has an aluminum chassis. It has an overall weight of 950 kg and a weight ratio of 300 bhp per tones, ensuring a smooth performance. Apart from its power V6 3.7-liter Ford engine, it also has a standard 6-speed manual gearbox.
It also has a track rod for the rear axle and a limited-slip differential. Its carbon emissions are extremely low. Additionally, it has a large, well-designed rev counter and speedometer fitted into the dashboard that features analog and digital displays and electronic warning systems. Its maximum power is 209 kW and maximum torque of 352 Nm. The fuel tank size is 55 liters.
Morgan 4/4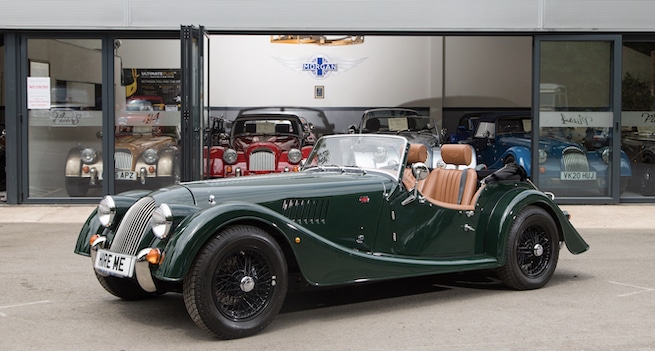 It was the first four-wheeled car to be produced by the Morgan company. Its name indicates that it has four cylinders and wheels. The early models had a motor capacity of 1122 cc, which was later improved to a 1.8-liter Ford engine in 2004.
Currently, many of the models come with an engine capacity of 1595 cc. A double overhead camshaft supplies the power. Its four cylinders have four valves, which produce torque and power figures at 112 ps/82 kW at 131 Nm and 6000 rpm.
Power is supplied to the wheels through a five-speed manual gearbox. The maximum speed of the car is 115 mph. Also, this Morgan 4 series version of the Morgan Motor Company provides that original classic feel that the brand produces.
Morgan Plus E
An electric sports car with a 5-speed manual gearbox, designed with British Technology support. The Plus E combines Morgan's traditional look with a powertrain and high technology construction, which delivers a substantial torque at any speed.
The Plus E has a lightweight aluminum chassis in a traditional body from a BMW V8 powered Morgan Plus 8. It produces a power figure at 70 kW at 300 Nm. The exterior design contains a series of round lines that flow evenly above the wheels. The Plus E is the best Morgan type with 1741 mm wide and 4010 mm long when it comes to size.
Morgan AeroMax
The AeroMax was unveiled at the 2005 Geneva Motor Show. It is a four-wheeled enclosed Morgan car model with a sloping rear, two doors, and a fixed door. A BMW V8 4.4-liter engine powers it. The split rear window of this model can be opened separately from both sides and provides clear views.
Morgan AeroMax is equipped with front and driver passenger airbags, temperature monitoring systems, tire air pressure, cruise control, and air conditioning system. The comfortable design also has a rolling 3-piece 20-inch light-alloy wheel, making it the lightest Morgan model.
Morgan Aero Two Seater Sport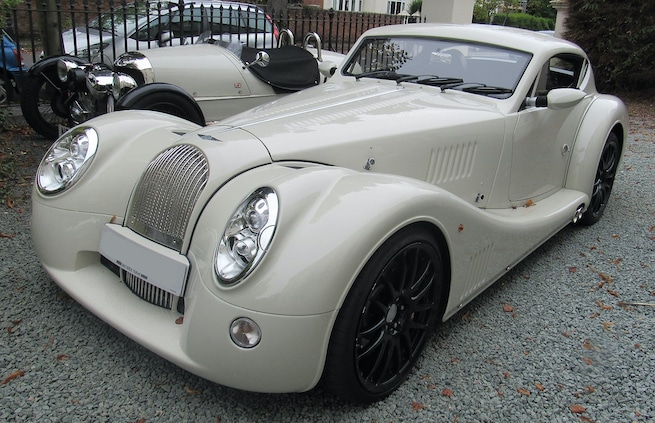 The Morgan Aero SuperSports is a semi-convertible car model with a full-width roll bar behind the seats, and it has a removable roof piece. It has a maximum weight of about 2600 pounds due to its aluminum body and chassis.
There is a wooden frame in the cabin area between the aluminum body panels and chassis, which acts as a protection mechanism. The Aero SuperSport is powered by a 4.8-liter V8 engine, which produces torque power of 361 pound-feet and horsepower of 363. Although its power is low, due to its low weight, it can provide a fast speed.
Handcrafted models
These Morgan Motor Company cars are worth trying not only because under the name Morgan lies a tradition longer than a century but also a special way of production. These autos are mostly made using three elements: wood, steel, and leather. Some are surprised to hear that wood is an integral part of a car, and they ask whether they have heard it correctly.
We can assure you that these autos have wooden parts. To be more specific, the Morgan motor company frames are made of ash wood. It is very light, and that is why it is used to hold the exterior aluminum body panels. The whole process of manufacturing a car takes time, but the professional and reliable work done later allows you to enjoy a car that is durable for many years.
Because the automobiles are not made automatically but by hand, the Morgan Roadster is produced in limited quantities per year. Today, with a large team of professionals, the company produces 800 autos a year. Just think how many autos with the available conditions were produced three, six, or nine decades ago? This means that these classic cars are a real rarity!
Extraordinary design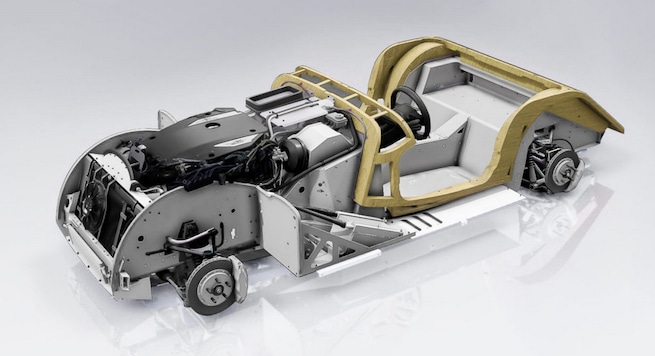 It should be mentioned that the design of autos has also changed little over the years. If in some cases, this could prove to be a dubious solution, in the case of Morgan cars, it is more than impressive. Sitting behind the wheels of one of the classic Morgan car models allows you to go back in time.
Take your time to see how everything is carefully and thoughtfully made both on the outside and on the inside of the one and only classic Morgan vehicle. Who would have thought that a handcrafted car could be so professional, impressive, and timeless?
By the way, such a car design that caught the eye of those around it a hundred years ago and still attracts now can be called genial. What other words can be applied to the car design that is timeless in this world of never-ending change? Simply genial!
Although new designs are being manufactured, they have managed to keep the traditional "craftsman and class auto feeling" offered by its founder. On their site, you can search for different models. Here you
Safety
One of the most frequently asked questions is, are these autos safe? This question is difficult to answer unambiguously. Therefore, the correct answer would be both yes and no. First of all, it should be mentioned that Morgan cars are crash tested and approved by European small series approval. So, on the one hand, it can be said that these automobiles are safe.
However, the Morgan Roadster is manufactured by hands, not in an automated way. This increases the likelihood of normal human error in manufacturing autos. Also, these vehicles do not have airbags. As mentioned earlier, these autos are built with authenticity and tradition. That is the reason why the airbags in these automobiles have not ever been started to be installed.
Of course, we may look at the bright side of it: the car having no airbags undoubtedly forces you to think twice and use the accelerator pedal more responsibly. Especially when going for a ride with others. On the other hand, it also becomes a kind of exotics and exclusivity in today's world.
New driving experience
This is where the turning point came, after which these vehicles are so valued both back in the days and today. The Morgan Plus Four sports car already could boast having 110 horsepower, and it could reach even 115 mph. Hopefully, you will not complain about the lack of speed, and you will also be able to boast sitting behind a handcrafted car that has a breathtaking design as well as long and rich history.
By the way, nowadays the Morgan roadster features an engine produced by BMW, Ford, and S&S. Those names should assure that the power is also sufficient in modern Morgan cars. And those who want to test their power on the race track also have the opportunity to do so.
As far as models that provide a nice driving experience, you can find the Morgan 4/4, Morgan 3 Wheeler, Morgan Aero Supersports, and the Morgan AeroMax. All of these automobiles that are offered by Morgan Motor provides the driver with a class and finesse feel when they open the door of their autos.
Morgan cars motorsport
If you think that classic Morgan cars are not for motorsport enthusiasts – you are wrong. Motorsport plays a large and significant part in the history of the Morgan roadster. These autos, manufactured since 1909, have been participated in rally events, sprints, hill climbing, trialing, and circuit racing.
As a result, the Morgan Roadster is also available for racing. How are such Morgan cars different? The main difference is that some of their details are made exclusively for the race. This is the result of long research and testing to find out how they affect the results on track or road.
Morgan Challenge racing is not a thing of the past. They take place every year and attract many Morgan car lovers and those who want to try their luck at the race track. Speaking about race, Morgan cars are divided into several different classes according to car type, year, and so on.
Every new automobile that is designed by Morgan Motor keeps improving, but also he manages to keep those finesse details that make you want to drive your auto. Maybe this Morgan Challenge race is your chance either to fall in love with these autos? Or to start adoring them so much that you can no longer delete them from your life?
Morgan cars hold their value
It is one of the most important features of Morgan cars. If some autos on the market cost a fortune, they depreciate fairly quickly. Therefore, it can be noticed that some people, instead of buying a new car from the dealer, choose to buy the used one. The reason is simple and convincing: as soon as the car leaves the car salon, it depreciates significantly. This means a decrease in its price. But Morgan automobiles are an exception.
These autos are said to be the best for holding their value. That's why sometimes these automobiles are being compared to wine: the older, the better. This really explains why some people choose to invest in Morgan cars as well as to earn from their investment after some time. So even if you're looking for classic automobiles, not for racing, collecting, or just enjoying them in your daily routine but using them for investment, Morgan cars are more than ideal for that.
Summary
From the engine to the outside auto bodywork, these automobiles are in their own class. Please visit the Morgan Motor Company website to see what type of models they have on stock. Check out the Morgan Three seater and the other automobiles they have for sale.
Most classic cars sold by the manufacturer have a record on file. If you are not buying directly from the website, give them a call to see if the seller and model you are buying is registered on their records.
No matter what version you are purchasing or how many miles apart you are from the dealer, the drive is worth it. If you have the money, visit the dealer directly to see what Morgan cars for sale they have in stock. Any Morgan 4 series or even the 3 wheeler can be purchased through their site or a referred dealer.
After this and the other arguments mentioned in this article, who wouldn't want to try this car? Rich history, impressive design and car parameters, new experience. Let's be honest, who could you suggest anything better?
Last Updated on: July 14, 2022