Best Car Amplifiers For Bass (Review & Guide)
For most owners, upgrading the car audio system is just as exciting as buying the vehicle itself. The excitement of driving down the highway with your favorite song pumping on the speakers is undoubtedly a thrill.
The emotion goes to another level when your car has an adequately set audio system that maximizes and enhances the listening experience. If you are decided to have a severe and powerful sound system, the chances are that you are going to need an amplifier upgrade as well.
Nowadays, it's not all about having the most expensive amplifier or a specific brand; it is about having the right amplifier that tailors to your component speakers, the sub-woofers, the stereo, and everything in between, so you can have a clean and smooth sound.
We have reviewed some of the best user-friendly and cost-effective options on the market, including Pioneer, Kenwood, Rockford Fosgate, JL Audio amplifiers, BOSS, Planet Audio, and Rockville car amplifier, to provide you with a thoughtful review on their best features and description.
Top 10 Best Car Amplifiers For Bass
| Rankings | Name | Price and More Details |
| --- | --- | --- |
| #1 | Alpine PDXV9 5 Channel Power Car Amps For Bass | Click Here |
| #2 | Rockford Fosgate Prime 4-Channel Amplifier For Bass | Click Here |
| #3 | Kenwood KAC9106D 2000W Monoblock Subwoofer Ampifier | Click Here |
| #4 | Rockford Fosgate R500X1D Car Amps For Low-end | Click Here |
| #5 | JL Audio XD600 Powerful Output Car Audio Amp | Click Here |
Before you buy an amplifier, you should consider the number of channels, the capacity, and other variables that can make or break your car audio system (or battery).
1. Alpine PDXV9 5 Channel Power Car Amps for Bass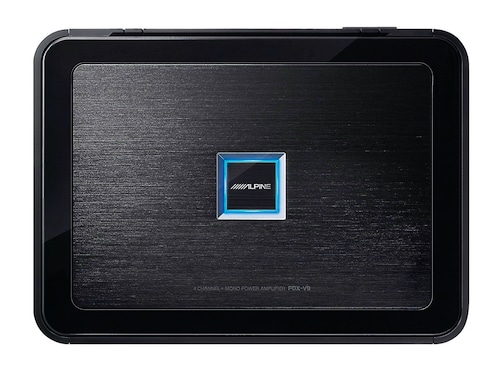 Key Features
RMS peak power output at 100 Watts x 4 Channels
Good quality 500 Watts x 1 Channel at 2 or 4 ohms
3-way protection circuitry (Speaker short protection)
PDX Technology for increased performance and durability
Pulse width modulated MOSFET power supply
Wired bass level remote control for the volume output
Alpine is an all-time great for car audio and multimedia products, ranging from speakers and sub-woofers to mobile sound processing, and with a reputation to enhance your listening experience. When customers speak about Alpine, they talk about sound quality.
Its PDXV9 5-Channel amplifier is easy to install a tool that pushes your whole system to another level. Small in size, the PDXV9 brings a clean yet powerful sound. Its wholly re-engineered for performance, sound quality, and reliability by delivering a whopping 100 watts of RMS to four speakers at the same time while blasting 500 watts RMS to your sub set-up.
This sleek design amplifier uses beefy internal components to keep the power output healthy and the noise low for superb fidelity and control. It holds many crossover points, allowing you to use this amp with component tweeters, midrange speakers, or midbass drivers. As an 8″ by 10″ footprint, it fits into hatchbacks, trunks, truck cabs, and vehicles with limited space.
Also, the front-mounted controls make post-installation adjustments easier than many amplifiers, even when multiple amps are stacked together. Their gold-plated RCA inputs, outputs, and power connections can resist corrosion and signal degradation.
2. Rockford Fosgate R300X4 Prime 4-Channel Amplifier For Bass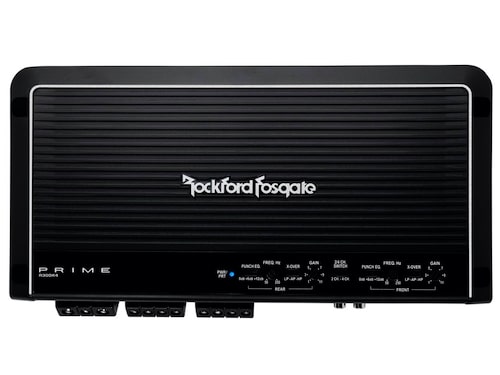 Key Features
RMS Peak power output: 50 Watts x 4 @ 4-Ohms
Medium power at 75 Watts x 4 @ 2-Ohms
Soft start RMS power at 150 Watts x 2 @ 4-Ohm Bridged
Accepts high level & RCA level input
Include new MOSFET power supply
The Rockford Fosgate car amplifier surpasses anybody's expectation at an unbelievable value. The R300X4 4-channel is versatile, and it may be the only amplifier your system needs.
It is a cost-effective option for the full range of covers component speakers on the front channels and a single 10″ or 12″ woofer bridged/mono on the rear, for powerful yet clean music experience.
This Rockford Fosgate model delivers balance without overheating, even in a relatively enclosed space. The R300X4 can punch and punch 6×8's with excellent fidelity and drive your speakers with 50 watts RMS each, so you'll feel your tunes banging.
You could also switch the R300X4 to 2-channel mode to run a couple of subs with 150 watts RMS each, which is excellent if you buy a bigger amp for your subs later on because you can still use this 4-channel to drive all your speakers.
One of the benefits of this amplifier is that you can use the high- and low-pass filters and Rockford Fosgate's famous Punch boost to get maximum performance from the speakers in your vehicle.
The R300X4 has a built-in sensor to keep track of the output current and power supply temperature. Its heavy cast-aluminum chassis draws heat away from its internal components, ensuring reliable, long-term play.
3. Kenwood KAC9106D 2000W Monoblock Subwoofer Amp For Bass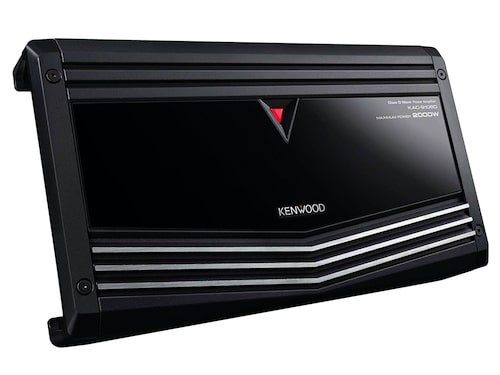 Key features
Max power output: 1000 watts at 2 ohms
Class D amplifier with mono channel operation
High-level inputs with signal sensing
Adjustable low-pass filter (50-200 Hz, 24 dB/octave)
Unique subsonic filter (24 dB at 20 Hz)
Kenwood is known to make amplifiers with a superior sound quality along with reliable performance. The KAC-9106D monoblock amp puts out up to 1,000 watts RMS to your subwoofer.
When you power your car's subwoofer with the KAC-9106D amplifier, you'll hear a great tonal color and all of the details in your bass drums. This little monster can rattle everything on your truck, even the interior lamp, at a quarter of its capacity.
You can feel the hard punch of the kick and also the sweep of an 808 bass. The onboard low-pass and subsonic filters let you adjust the signal so you'll get the best sound possible from your subwoofer/box combo amp.
It is a versatile amplifier that features speaker-level inputs and signal sensing turn-on, able to work in any kind of system. The aluminum cover plates cover and protect the tool's connections and controls, providing a neat, professional look.
The Kenwood KAC-9106D brings out low bass signals that you may have never heard before, and the higher bass is super clear. This CEA-2006 compliant levels a great sound at a reasonable price. Overall the best car amplifier for both sound quality and bass boost.
4. Rockford Fosgate R500X1D Car Amplifiers For Bass

Key features
Short circuit protection and up to 500 watts of RMS power
Onboard 12dB/octave LP/HP/AP crossover & Infrasonic filter
Real-time output and power supply thermal sensing
On-board punch EQ with +18dB boost @ 45Hz
Cast aluminum heatsink with stealth control panel
Rockford Fosgate brings unparalleled performance and one of the best technology for an amplifier, so you can get more out of your car audio. This model provides real-time output and power supply thermal sensing and a cast aluminum heatsink that prevents overheating for hardcore users.
The R500X1D is a quality-made Mono Class D car amplifier rated at 500 Watt x 1 Channel @ 2 Ohms RMS. It features a MOSFET power supply and RCA pass-thru outputs. It is made of a well designed cast aluminum heatsink, short circuit and over current protection, high-level inputs, and a phase switch.
This Class D amplifier is a perfect way to start if you want an excellent car amplifier system. The R500X1D includes onboard punchy bass and remote punch level control in a small package. It can run a 2-Ohm load and drive a sub between 300 watts to 500 watts RMS power.
It allows you to use Rockford Fosgate's brand's signature punch boost to get the most out of the subs, for maximum impact. The speaker-level inputs will enable you to connect the amp to pretty much any system, even a factory stereo.
5. JL Audio XD600 Powerful Output Car Audio Amplifiers For Bass

Key features
Class D 6-channel amplifier design with NextD™ switching amp
Advanced rollback protection system prevents thermal shut-down
Differential-balanced inputs eliminate any noise
Class D amplifier with low & high-pass filters
Wired remote for level control when it comes to power output
This JL Audio XD600 amp has the stellar NextD™ switching technology that debuted in the original XD amplifiers carry exceptional audio quality, unparalleled efficiency, and high power in a compact design chassis.
JL's team upgraded this amplifier with more flexibility and integration capabilities in comparison to previous versions of the model. One of the conveniences is the automatic turn-on (signal or DC-offset sensing) to make it easier for OEM system integration and accepts a variety of input signals, from line-level to high-power speaker level.
Another upgrade of the XD600 is the remote level circuit, which now brings a more linear behavior to deliver high power and exceptional value. The JL Audio XD600 packs a punch far beyond anybody's expectations in a small case. It holds fidelity, tremendous impact, without damaging your car's stock electrical system.
Heavy users are amazed by the cast alloy heatsink and the advanced cooling system that keeps the amplifier at optimal running temperature, with an integrated system that eliminates thermal shut-downs, so your favorite jams stay strong without interruption. You get a clean, powerful, and reliable sound.
6. Rockford Fosgate Punch P1000X5 5 Channel Amplifier For Bass

Key features
1000-Watt full-range 5-channel car amplifier
Optional punch level control ready for better power handling
Dynamic thermal management & MEHSA MOSFET cooling systems
Variable punch EQ2 bass/treble boost control
CLEAN gain set-up system for more power
The Punch P1000X5 is capable of running your entire system without excessive drain on your charging system, making it a perfect match to run front and rear systems and an exclusive subwoofer output.
Its technology allows its RCA inputs to accept high and low-level signals without a signal converter and holds, and tri-stage protection is covering thermal and over-current and short circuits. Don't forget that when we are speaking about a Rockford Fosgate, we are talking about quality.
This ultra-efficient 5-channel amplifier model features a TRANS-ana Class A/B + Class BD (Sub) topology. It allows the signal to travel through the car amplifier at a lower voltage. The on-board Punch EQ comes with +18dB boost @ 45Hz, and available 12 dB/Oct Butterworth crossovers. It features a CLEAN technology (Calibrated Level Eliminates Audible Noise) set-up system for maximum efficiency.
Rockford Fosgate's Punch P1000X5 amplifier delivers subsonic filters to get the right sound from your subwoofer at the end of the day. If needed, you can use the high-pass filters to remove the bass amp from your full-range speakers so they'll play more efficiently.
The new Punch EQ2 includes treble and bass boosts to mix it up a bit. The amp uses a Dynamic Thermal Management system, forcing air to dissipate heat evenly across the amp and out through the high-mass heatsink.
7. BOSS Audio Systems PF1800 4 Channel Car Amplifier For Bass

Key features
Full range amplifier to run speakers and subs
1800 Watts max power, over 300 Watts @2-Ohms x 4 Max
Variable bass boost for total pump control
Car amplifier that comes with MOSFET power supply
Thermal overload speaker and short circuit protection
BOSS honors the experience and the high-quality products with its PF1800 4-channel amplifier. To start, this model is a full range amplifier so you can run both your speakers and subwoofers. A/B topology holds a considerable amount of current flowing through its output transistors, along with the MOSFET power supply to control the output voltage and current precisely and eliminate all secondary feedback circuitry.
The lightweight 5-pound design of the PF1800 has a thermal overload speaker and short circuit protection, so you can peacefully enjoy your best music. Two of its best features are the variable bass boost, which allows you to control how much bass you want to pump, and the automatic shut-off protects the tool from getting too hot.
BOSS PF1800 carries a switchable input sensitivity that provides adjustable control over the head unit's input signal to achieve customized balance. Want more? The model has a variable low-pass filter that gives you control over the frequencies that pass through to the subwoofer. When installing this amplifier, it is essential to use the maximum gauge of wire that the power terminals will accommodate. Refer to the amplifier's owner's manual for correct wire gauge sizes.
8. Rockville dB15 6000 Watts Soft Starting Mono Car Amplifier Bass Boost

Key features
Dashboard subwoofer control and bass remote
Power ratings come with less than 1 % distortion
Brand new high-speed MOSFET power supply
Optical coupler "class D amplifier" technology
12dB / octave crossover with differential circuitry
The Rockville DB15 6000 Watt mono amplifiers carry a peaking equalization circuit with an equalizer control that allows you to add up to 12dB of bass boost and customize your bass response to your system's needs. This small casing amplifier is potent. Make sure your car speakers can handle the power output according to the Ohm ratings.
Rockville uses only accurate audio transistors in the audio section of these amplifiers, specifically made to produce high-quality clear sound with little to no distortion. The DB15 6000-watt model audio output sections of the Class D dB series amplifiers feature rugged, fast switching MOSFETs and a power And protection circuitry, so you can enjoy your playlists from A to Z.
It has two LEDs located on the amplifier's side that provide current operation status and advises of any potential threats. If the amplifier reaches an unsafe operating temperature of 80 degrees Celsius, it will turn off and again once it cools down to a safe temperature. The LED also indicates if your speaker's short circuit due to voice coil burns out or the amplifier senses an impedance too low to handle.
9. Pioneer GM-A6704 4 Channel With Variable Bass Boosting

Key features
4-channel bridgeable car amplifier with bass boost
1000 watts max RMS peak power @ 4 ohms
Automatic signal sensing and turn-on
High pass filter for better control of your bass power
Bass boost feature for more power output
Pioneer and excellent music experience have been related for decades. This 4-channel bridgeable GM-A6704 model amplifier with bass boost carries the GM series technology to push the functionality limits. The variable high pass filter allows for adjustable frequency, high-quality audio system flexibility, and personal preference.
The GM-A5702 integrates high-power performance greater than previous models in a space-efficient size that fits any car cabin. If you connect this amplifier to an OEM receiver or a receiver without RCA output and use speaker level output, the amp automatically senses the input mode and powers up in sync with the receiver.
Additionally, this Pioneer GM-A6704 4-channel amplifier improves your vehicle's sound quality and power up your front and rear speakers with 60 watts RMS each, which is far greater than the power supplied by a typical car radio. Once you complete the installation, you will sense the details in your music and the listening experience.
10. Planet Audio PL4000 Monoblock Car Amplifier With Mosfet Power Supply

Key features
Features low-level inputs, RCA pre-amp outputs
This particular car amplifier is strapping capable
Remote subwoofer control for more power output
Variable subsonic filter and variable bass boost
Thermal overload speaker and short protection
Planet Audio excelled with its PL4000 monoblock amplifier, which brings a minimum impedance of 1ohm to produce the most power possible from the tool. Note that an amplifier capable of delivering power at a 1-ohm load is usually reserved for serious subwoofers that can handle a greater bang.
As a class D amplifier, the PL4000 holds high-speed switching, and it comes with a more efficient amplifier technology. It generates less heat and draws way less power than traditional Class A/B amps. In the end, this is traduced in massive amounts of power in a relatively small footprint for clean and powerful bass.
One of the best features is the strapping capability, allowing you to link two amplifiers to create double the punch at an impedance of 2 ohms. Those who purchase this powerful amplifier model enjoy superior stability and sound quality.
Best Car Amplifier Buying Guide
Getting a car amplifier should be an enjoyable experience, but you need to be aware of some guidelines to get the best one for your specific needs.
An amplifier is a vital component of a sound system, bringing excitement and much better sound quality. Adding one upgrades your speakers to a power source that will not go pass by unnoticed.
Also, your subwoofers require significantly more power than what a brand-name or factory in-dash receiver can provide. Standard car stereos usually run about 10 watts of RMS maximum output power per channel, which is not impressive at all.
Keep in mind that amplifiers are not created equal, and the one for your car depends on your sound system as a whole. Good wiring, a good set of speakers, a strong sub, and proper wiring are the key to success when taking your sound system to the next level.
What to look for when buying a car amplifier for bass
When purchasing an amplifier, choose a model with "speaker-level inputs" as one of its features. Most amplifiers do not come with a wiring kit, one of the most important features to add when installing your piece. Proper wiring is equal to proper performance. Most amps come with a capacitor to store power and deliver it when your amp needs it most.
Do not exceed the RMS power ratings. Make sure to purchase an amplifier whose RMS output per channel is no higher than each speaker's top RMS rating.
The type of music genre that you listen to influences your choice of amplifiers. If you are a strong bass user, look for amplifiers that power bass speakers or a subwoofer.
Don't get caught on spending top dollar. Set a budget limit and hold on it to get the best deals and most for your cash. A second hand can still provide quality performance, and if you are a deep searcher, a great deal is down the corner.
Last but not least, don't forget the extra hardware for a truly professional installation: battery terminals, power distribution hardware, fuses, cables, transistors, and other elements.
RMS power rating
You want the bass to blend musically and be well-balanced with your system's rest. The RMS is an acronym that stands for "root mean square." The RMS number refers to the amount of power a particular subwoofer can handle continuously.
A car's factory stereo holds 50 to 200 watts RMS of power for the bass.
For an aftermarket receiver, you might want 200 to 300 watts RMS of power for your sub.
Amplified speakers with around 50 watts RMS per channel — plan on 250 to 500 watts RMS for bass.
A 100 watts RMS or higher per channel system — you'll want at least 1,000 watts RMS for your sub.
As with speakers, you'll need to make sure your subwoofer's top RMS rating is equal to or greater than the amp's top RMS output.
Sound quality
A good sound quality starts with replacing your car speakers. Even though the stock audio system has improved recently, most manufacturers still use inexpensive amps and speakers that don't deliver great sound. Once you replace your speakers, add a subwoofer, and upgrade with a decent amplifier, the sound quality will be ten times better.
After these enhancements, you are adding an equalized counters reflections from glass and plastic surfaces and "ear fatigue" from peaks. An external equalizer gives you multiple points for adjusting frequency response, so you can iron out those peaks in your system and increase bass response.
Most amplifiers feature subsonic filters that remove super-low bass. When turned on, your amp and sub will run cleaner without that subsonic sludge.
Low pass filter
A low pass filter is a filter that passes low-recurrence signals, hinders, or obstructs, high-recurrence signals.
As such, low-recurrence signals experience a lot simpler and with less opposition, and high-recurrence signals have a lot harder time overcoming, which is the reason it's a low pass filter.
A low pass filter can be developed utilizing resistors with either capacitors or inductors. A low pass filter made out of a resistor and a capacitor is known as a low pass RC channel.
Ohms rating (Impedance)
Technically, speaker impedance is the "resistance" a speaker offers to the current supplied by an amplifier. A combination of DC resistance plus any reactance in an AC circuit affects how much current is drawn from the amplifier.
"Impedance" is measured in "ohms," and this is represented with the Omega symbol (Ω) for shorthand. Unlike resistance, impedance changes with frequency. Make sure the speaker impedance of your speakers connected to an amp is within the capabilities of the amplifier.
Most amplifiers are designed for a speaker load impedance of 4 ohms to 16 ohms. As a general rule, the lower the impedance, the greater the current flowing through the speaker, and the greater the power available.
Circuit protection
Installing a powerful amplifier also brings some other responsibilities to protect your battery and the car sound system as a whole. That's where a circuit breaker reset fuse comes into the picture.
This tool stops power surges from damaging your amps and protects your motor from electrical damage. Most circuit breakers come with a firewall unique push-button reset that can also be used as a kill switch.
It holds two modes: current overload disconnection and manual disconnection. The bottom line, this cost-effective piece adds safety to your electric system. Works on Cars, RV's, trucks, and more.
Different Type of Car Amplifiers
There is a significant difference between the stock audio system and a custom aftermarket on in regards to sound quality and overall experience.
A can amplifier is a key component of a loud, clear, powerful, and efficient car amplifier system. This device pumps up the audio signal sent from your music player, either a cd/mp3 player or the newest touch screen multimedia players.
In general, a car amplifier is determined by the number of channels it holds. The channels are terminals, a positive and a negative, that supply a speaker's power. Each channel powers one speaker to the more channels you have, the more speaker you can feed. Some amps allow you to combine – bridge two or more channels to produce a more significant music output.
There are six main types of car amplifiers based on the number of channels and four classes (A, B, AB, and D). The classes indicate the circuitry inside an amplifier, that is, the construction and number of transistors used.
Here's the most common types of car amplifiers:
Mono Channel Amplifiers – one channel produces more power to a single source, like subwoofers.
2 Channel Amplifiers – ideal for feeding speakers or bridge to a single output, come in class A or class AB circuitry.
3 Channel Amplifiers – typically, two channels are used for speakers and one for a subwoofer.
4 Channel Amplifiers – they can pump four speakers or two speakers and one subwoofer with two channels' bridging.
5 Channel Amplifiers – holds enough channels to power four speakers and a subwoofer for an excellent car sound system.
6 Channel Amplifiers – mostly used in large trucks to power six individual speakers of four speakers and one big subwoofer by bridging two channels.
What hits harder 1 ohm, 2ohm or 4ohm?
Let's break down the difference between 1 ohm, 2 ohm, and 4 ohm. Each speaker and subwoofer has a voice coil. This is the gadget that sets up electrical resistance and performs.
Its opposing property is referred to as impedance. The lower the number of impedance, the easier the car amplifier can supply the audio output.
The main difference between a 2 ohms and 4 ohms is the amount of resistance the speaker's and the subwoofer voice coil apply to the amplifier's sound current.
Technically speaking, a subwoofer rated at 2-ohm hits harder and produces more output than a 4-ohm subwoofer because the impedance resistance lower. Do not try to connect a 1 ohm speaker to a 4-ohm load. You need to match your 1 ohm speaker to a 1 ohm amp load.
What are monoblock amplifiers?
The monoblock amplifiers are of a single channel and usually feed subwoofers. They almost always have more power than multichannel amps and are generally a "class D amplifier."
This type of amp has an efficiency of between 60 and 80%. That is, they make better use of the current than a class AB.
Some manufacturers add some circuits to improve sound quality. Another benefit of the class D amplifier or monoblock is that most are high current; the lower the impedance, the more the power increases. At 4 ohms, it can give 300 Watts of RMS, at 2 ohms it can provide 600 watts RMS, and 1 ohm can deliver up to 1,100 watts RMS of power.
Summary
We hope that now you have learned the basics of amplifiers and how these can improve your upcoming car sound system's sound quality. Now you can make a much more educated purchase based on your specific needs.
Remember that price is not the ultimate goal. Search for an amplifier that fits your speakers, subwoofers, and make sure that you also have complimentary equipment, like proper amp wiring kit and a capacitor, to withstand the power that will soon come out from your car.
You can now select any of the choices and prepare to turn some heads when you pass by. Remember that a class D amplifier is your best option. Now you can choose the best car amplifier for your needs.