Best 6×8 Speakers (Top Reviews & Buying Guide)
The best 6 x 8 speakers are an ideal choice if you are looking forward to upgrading or replacing your car's factory system. You must know that the 6 x 8 speakers maximally boost the car stereo's overall sound, including clarity and depth, because they are made from top-quality materials.
On the other hand, the industry is flooded with multiple 6 x 8 speakers, and it can be pretty challenging to pick the best that is likely to deliver extraordinary performance. Therefore, you must ensure that the device you are buying is of exceptional quality. This article will review the 10 best 6 X 8 speakers in the market currently.
Top 10 Best 6×8 Speakers For Your Cars Audio System
| Rankings | Name | Price and More Details |
| --- | --- | --- |
| #1 | Rockford Fosgate P1683 Punch 6×8 Inches Full Range Speaker | Click Here |
| #2 | Infinity Kappa 68211CF 6×8 Coaxial Car Speakers | Click Here |
| #3 | Kenwood KFCC6895PS 6×8 Component Speakers | Click Here |
| #4 | Pyle PL683BL 6×8 3way Speakers With Butyl Rubber Surround | Click Here |
| #5 | Cerwin Vega V468 6×8 2Way Coaxial Speaker For Bass | Click Here |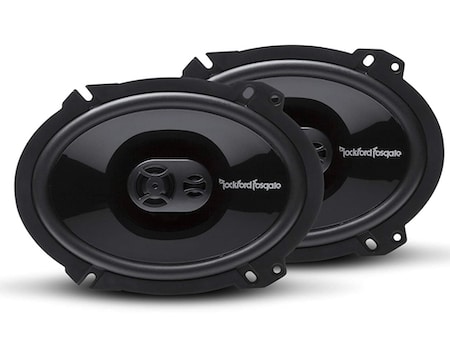 This device is a 3-way full-range speaker that is pretty impressive with a design that suits fanatics who need a top-quality factory replacement or upgrading. Most car owners love it because it is easy to install. Besides, this product comes as a pair and features 65 watts RMS/130 watts' maximum power handling.
Likewise, the Punch P1683 has a PEI dome tweeter with an injection-molded mineral-filled polypropylene cone and in-built crossover plus a butyl rubber surround to generate accurate frequency reproduction and maximum output. Moreover, it has a FlexFit basket design, which uses slots for a better fit instead of using single-sized screw holes.
It has a perfect build quality and guarantees you a one-year warranty only if you purchase it from an authorized Rockford Fosgate reseller. Therefore, consider it in your search for the best 6 x 8 speaker because it contains outstanding features, allowing it to deliver maximum performance without any disappointments.
2. Cerwin Vega V468 6×8 2Way Coaxial Car Audio Speaker System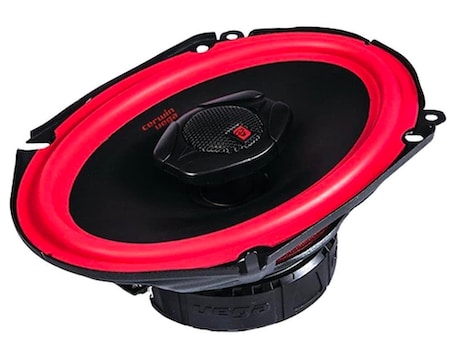 It has a visually appealing design and is from premium material, making it fall among the best 6 x 8 speakers in the industry. This product has heads turning with powerful and clean sound production. You must know that its beautiful design adds flair to the interior of your car.
Bear in mind that installing this device is a breeze and is effortless; you only need three screws to install. Its build quality is attractive, solid, and durable; hence many people opt for this speaker. Similarly, it has a mica-filled cone and a low-resonance composite basket for outstanding performance and durability.
These particular speakers functions significantly on a low wattage because it has a maximum sensitivity response of 94Db, which makes it distinguished among its entire qualities. Furthermore, several speakers can compete with this device. This feature makes this speaker usable with stereo systems of a broader range.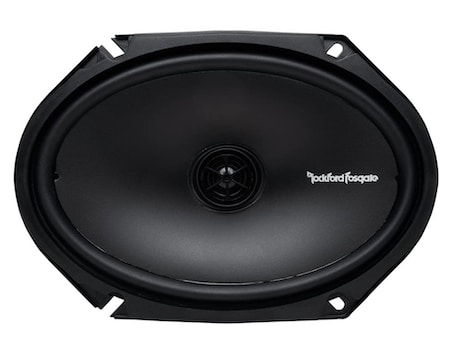 To upgrade your car speaker, it is ideal that you choose Rockford r168x2 prime 6×8 coaxial car speakers. This is because it is a 2-way full-range speaker that will leave you 100% satisfied. You must understand that this product incorporates an integrated crossover tweeter with 55 watts RMS/ 110 watts' maximum power handling.
This device comes with a 2.54 mounting depth plus mounting hardware. It is appropriate for factory speakers' replacement. On the other hand, it also features a silk dome tweeter as well as polypropylene. It has undoubtedly excellent build quality with a year warranty, but this warranty is only valid if you buy this device from an authorized Rockford Fosgate reseller.
Besides, they are also listed among the marine speakers because their design withstands harsh environments. This means they are more durable within your cars' confinement. Thanks to their excellent features, for making it outstanding and famous worldwide. Make it your number one choice and experience remarkable results with absolutely zero issues.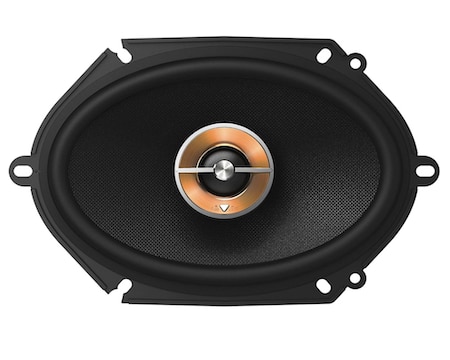 The Infinitys kappa 86CFX 2Way  6×8 speakers contain a lot in store to offer. Furthermore, it is a durable pair of speakers, which has met the Harman Standard Reliability Testing to showcase its worth. These speakers comprise patented together with a single cone technology to give the glass fiber woofer extra surface to generate better bass.
Its woofer finds assistance from an energetic UniPivot textile dome tweeter that is edge-driven. Additionally, it also features over-sized voice coils and has the maximum potential to resist thermal overloads. Infinitys kappa 86CFX 2Way 6×8 speakers can handle high output/input, delivering audio with crisp details and smooth balance.
You must know that this device has maximum sensitivity and features 100 Watts RMS power to 300watts maximum peak power handling. It also has 2.5 ohms' low impedance. The installation process is easy since it comes with all installation hardware and speed clips for easy mounting.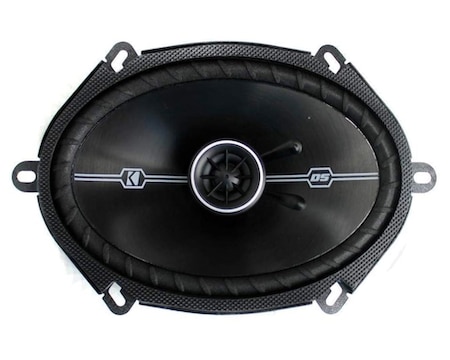 This is a two-way speaker. It features a 6 by 8 polypropylene woofer plus a ribbed polyester surround.  It has a half PEI dome tweeter with a power handling range of 2 to 50 watts RMS and peak power of 200 watts. Additionally, it has a frequency range of 45-20,000 Hz, 90dB sensitivity, and a top-mount depth of 2 5/16.
It does not have grilles and features an impedance of 4-ohms. This device guarantees you a warranty of one year.  On the other hand, it comes packaged with eight-speed clips, eight self-tapping screws, four red plastic butt connectors, and two coaxial speakers.
Many people love this product because it delivers excellent performance. Thus, make it your number one speaker and experience fantastic results. It generates top-quality sound and enables you to enjoy your music smoothly.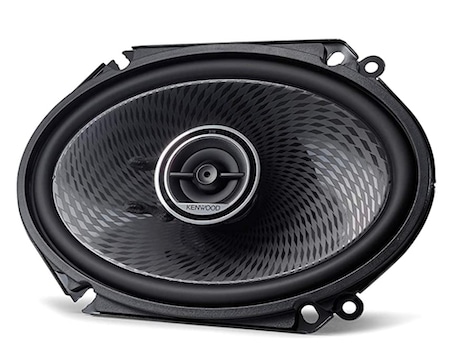 If you need the best 6 x 8 speaker, a performer for sound quality, choose kicker 41DSC684 d-series. It incorporates advanced modern technology, especially in the automotive audio system world. This product features a black steel basket, which enhances its performance. Additionally, its primary function is to minimize noise cancellation. Likewise, it incorporates tweeters, which helps it to generate impeccable sound quality.
It has an impedance of 4 ohms with a power handling of watts RMS/360 watts' maximum power. Bear in mind that these 6×8 component speakers produce a top-quality sound that is louder and clearer, more so when the music hits high and low notes, such as 63HZ. On the other hand, it has 1 3/16 pp cone and a super tweeter, which handles its entire musical details.
Moreover, this product contains an acoustic sound harmonizer as part of the design to enhance a smoother listening experience, more so when the music hits top notes. It has a paper woof cone that is waterproof with a rubber surround. You must understand that this cone has a modern radial rib pattern for maximized speaker strength and a more enhanced responsive bass. This device is durable and long-lasting because of the rubber surround
7. Kicker 40CSS684 6×8 3way Coaxial Speakers For Bass
It features two different woofers as well as two separate tweeters. These speakers are usually installed far from each other to bring out the sound's significance over the non-component systems. Besides, this speaker has 90dB sensitivity with a power output of 75 watts RMS plus a peak power of 225 watts. It has a speaker response of 40 to 21 000Hz.
The kicker 40css684 6×8 3way speaker is from top-quality materials since they use two ceramic tweeters. Ceramic tweeters help generate highs, which can maintain the speakers' clarity even on higher volumes. Similarly, the speaker's surroundings are from top formulated foam, which helps deliver smooth sound.
Therefore, if you need a 6 by 8 speaker with an exceptional build from top quality material, choose them. They produce an excellent treble response and smooth sound. Thanks to these features for making this device remarkable in the industry. Make it your priority today, and experience the maximum performance as you drive your car.
8. Pioneer TSA688OF 6×8 4way Coaxial Speakers 350 Watts Max RMS Power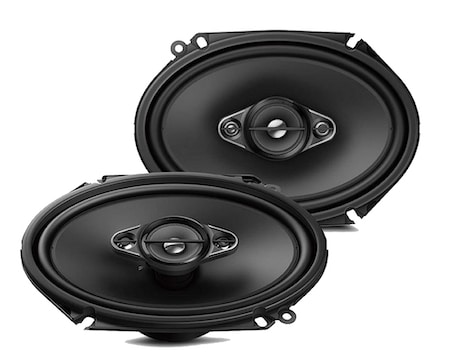 These speakers have a peak handling power of 80 RMS rating and 350 watts a pair, making them suitable for many car owners. Additionally, it incorporates 34 to 34,000 Hz frequency response and 88 decibels maximum sensitivity. You must know that these devices are lightweight and feature multilayer mica matrix cones, which guarantee you enhanced dynamic range and bass.
They have a sleek design combined with silver accents and some black coloring. Likewise, these devices are waterproof, and you do not need to worry about any spills that might occur accidentally in your car. In addition, these products usually work excellently with several factory sound systems.
You need to understand that these devices have an exceptional build quality since they are from 100% quality materials. To install them appropriately, you require an expert to experience fantastic results. It offers you a versatile playback as well as a dynamic sound range. Consider it on your list when searching for the best 6 by 8 speakers.
The Pyle pl683bl 6×8 three-way speakers have a frequency response of 70Hz to 20Khz with a magnet structure of 40 Oz and a single neodymium film dome midrange. This speaker is packed with 91dB decibels sensitivity that is incomparable. It has an impedance rating of 4-OHM, which covers the undersized wires in multiple cars.
Besides, it comprises 1 ASV voice coil that maximizes the efficiency and performance during heavy-duty play through higher and lower functioning temperatures. Moreover, it features 180 watts RMS & 360W peak power since it has a magnet structure of 40 Oz, as mentioned earlier, and 180-watt speakers guarantee you both high and low-end fuller range sound.
In case you want speakers that are loud and clear, then opt for Pyle pl683bl 6×8 three-way speakers, which have been combined with utmost care to generate a clear sound with outstanding responsiveness. These speakers have a non-fatiguing butyl rubber surround to enhance their durability and keep them secure.
10. Skar Audio RPX68 200 Watts Peak 6×8 Coaxial Car Speakers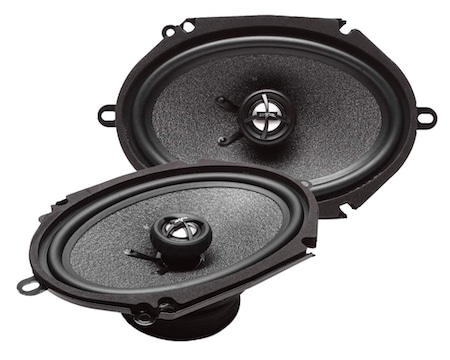 Skar Audio RPX68 200 watts peak 6×8 coaxial car speakers are excellent factory replacement speakers with maximum potential to generate robust, clear, and rich sound. They do a fabulous job on amplified power or factory radio power. Moreover, they contain maximum quality build materials, like the premium butyl rubber surround and microfiber paper cone.
Additionally, design aspects enable it to produce excellent sound as well as long-lasting reliability. Bear in mind that it incorporates 20mm silk dome tweeters with premium quality. These speakers have a frequency response of 32-20,000 Hz, an impedance of 4 ohms, 210 maximum power per pair, 70 watts RMS per pair, and 92 dB sensitivity.
Most car owners who need upgrading or replacement of speakers usually opt for these speakers because they deliver outstanding performance. Therefore, consider them on your list and have a similar experience. Thanks to their features for making them gain popularity worldwide.
Best 6×8 Speaker Buying Guide
You must know that several factors determine whether the 6 x 8 car speaker you want to purchase is suitable for your car. These factors also determine whether your choice goes hand in hand with the buyer's guide. Therefore, anytime you want to shop for 6 by 8 speakers, ensure that you need to consider these factors. Below you will look at several factors you should always consider.
What to look for when buying a 6×8 car sound speaker pair?
Sensitivity rating
Before buying your speaker, you need to consider its sensitivity. Furthermore, the sensitivity level you are likely to choose depends on the powering of your car stereo. Many factory-installed car stereos need speakers with a sensitivity of 90dB, while maximum powered speakers require lower sensitivity levels.
Overall sound quality
This is a primary factor that you need to consider because you need a sound quality that is 100% satisfactory and incredible. To acquire a product with maximum sound quality, you need to examine the material quality.
Build quality materials
When searching for the best 6 by 8 speakers, you need to make sure that the sound quality and durability of the speaker you need are satisfactory. Additionally, look for the build quality materials of surround, tweeter, and woofer cones if they are durable. The material used in the speaker's manufacturing affects the sound quality of the device. Ensure that you make a wise choice.
Power rating or power handling
Power rating and power handling make you knowledgeable on the amount of power the speaker you want to buy can handle. You must know that low-powered systems are not suitable for speakers meant to handle maximum power levels. In case the system features a strong, powerful external amp, you should find a speaker that can handle equal power as the amp output.
Frequency response
The speaker's frequency response is measured in Hertz (Hz); this showcases the range of tones it is likely to generate. Besides, the first number indicates how low your speaker can play and how deep the bass is. The second figure stands for a higher frequency, which is the upper, tonal range. A wider frequency gives you a full sound your speaker can produce.
Butyl rubber surround
Before you buy your 6 x 8 speaker, it is appropriate that you examine whether it features the butyl rubber surround, which keeps your speaker secure. On the other hand, it also extends your speaker's life; hence, it can serve you longer than you can imagine.
Polypropylene cone
You must consider these type of woofer cones (Polypropylene Injection Cone) when buying your speaker because it gives it a beautiful impression and enables your music to resonate with maximum power.
Mounting depth
This factor plays a crucial role when it comes to mounting your device. A speaker with a mounting depth of 2.54 inches fits a wide range of cars. It also features a mounting kit, which makes the installation of your device easier.
Difference Between Component Speakers And Coaxial Speakers
They both have a better performance. However, component speakers are famous for generating perfect sound, and they are costlier than coaxial speakers. In terms of sound quality, consider component speakers.
Similarly, coaxial speakers offer you perfect work, and they are easy to set up. In case you need cheaper speakers that are easy to install and are affordable, consider these speakers with good head units combination.
FAQs
Can I replace my 6×8 factory speakers myself?
Yes, you can replace your speaker, but it depends on your car type. In most cases, you only need to pry up your grilles and swap out your speakers. On the other hand, some require you to reach the trunk and run a disconnection there.
Therefore, replacing these speakers greatly depends on the model of your car. However, it is ideal that you have some basic electrician skills and have at least two people helping you.
This will help you to correct wire your device and mount it. In case you are not confident enough to replace it, get a professional to have it done correctly.
How do I know what cars use 6×8 speakers?
Most 6 by 8 speakers are used in many car models, especially Chrysler, Mazda, and Ford vehicles. In case you are not sure that these speakers will fit your care. Ensure that you go through your car fitment speaker guide. This will allow you to confirm your speaker sizes for its particular year, model as well as make.
Can 6×8 speakers be used as car door speakers?
Yes, this is because 6 x8 speakers are excellent car door speakers. However, when you are buying these speakers, you need to consider the speaker's mounting depth. Shallow mounting depth makes installation work easier since they need a little or no modification for your speakers to fit.
Likewise, the temperature in the interior of your car can be high than other components of your vehicle. This means you should buy speakers with durable materials that are strong to withstand maximum temperature.
How do I know if the 6×8 speakers are compatible with my car?
Finding a speaker that is compatible with your car should not be a hassle anymore. In most cases, you need to enter the year, model, and make of your vehicle.
This will help you get a speaker that is compatible with your car's speaker location. You can also seek help from the company to see what speakers are perfectly compatible with your vehicle.
Do 6×8 speakers need to get "broken in"?
No, but it is a popular misconception that your vehicle speaker requires some time to break in to function correctly. Remember that you do not require to play your speaker for a specified duration and a specific volume.
Ideally, it would help if you used them according to your needs and desire. You can play it at high or low volumes; it all rolls down to your preference.
Conclusion
This review has 100% covered the top 10 best 6 by 8 speakers in the industry. They guarantee you outstanding, dynamic sound quality making your car the best in town. Furthermore, these devices are pocket-friendly and deliver incredible performance.
Make your choice today and purchase the best that meets your demands efficiently. Some home audio bluetooth speakers are equipped with this size speaker. You can expect a good quality sound and a great bass response from all the above mention speakers.