Best 4X6 Speakers For Sound Quality [Reviews & Guide] 2023
The speakers are essential in your car since they are capable of entertaining you as you drive. Due to the advanced technology, the speakers manufactured today serve multiple purposes.
Most 4×6 speakers allow you to listen to audiobooks/ lectures. Additionally, it enables you to listen to music and converse on your phone through a Bluetooth connection. However, looking for the best speaker can be cumbersome because they are numerous models to choose from.
Therefore, you can consider the best in terms of sound quality, functionality, watts peak required, size, among other considerations. This review will keep you informed on the best 4X6 speakers.
Top 10 Best 4X6 Speakers For Your Car Sound System
| Rankings | Name | Price and More Details |
| --- | --- | --- |
| #1 | Rockford Fosgate P1462 Punch - Best Overall 4×6 Speaker | Click Here |
| #2 | Infinity Kappa 46211CFP 2way Full-Range Speaker | Click Here |
| #3 | Boss Audio CH4630 4x6 Car Speakers With Durable Butyl Rubber | Click Here |
| #4 | Pyle PL463bl Butyl Rubber Surround Component Speakers | Click Here |
| #5 | Skar Audio TX46 4×6 Coaxial Set of Speakers | Click Here |
1. Rockford Fosgate Punch P1462 4×6 Speakers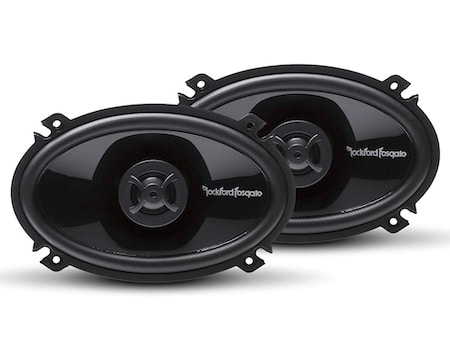 The Rockford Fosgate Punch is a two-way full-range speakers. It is designed for enthusiasts who require factory replacement in a package that is easy to install. Furthermore, this product comes as a pair and has 35 watts RMS/70 watts' max power handling.
This device comes packaged with an OEM adapter plate and mounting hardware. Moreover, it has an exceptional build quality and a year warranty if you buy it from the authorized reseller.
It features the FlexFit basket design, which uses slots instead of the single screw-sized holes to allow slight adjustment on the speaker, especially when aligning using the OEM mounting holes to give it an excellent fit.
Likewise, it incorporates the injection-molded mineral-filled polypropylene plus a surrounded butyl rubber and a PEI dome tweeter, which features an in-built crossover. All these generate loud output and a frequency reproduction that is more than accurate. It delivers top performance.
2. Infinity Kappa 46211CFP Speakers For Bass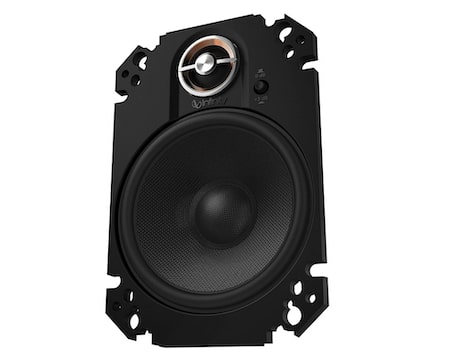 The glass fiber woofer cones of these great speakers are usually stiffer and lighter and have more than sufficient cone area compared to their competitor. On the other hand, they distribute higher efficiency and maximize a low-frequency output.
You must know that they comprise the edge-driven textile dome tweeters responsible for delivering smoother and broader frequency response. It generates a high output of 2 5-ohm architecture plus low impedance voice coils to allow the speaker to extract each watt from your amplifier.
In addition, this enables it to provide peak power effortlessly. Bear in mind that the Kappa 4×6 2way speakers have to undergo an examination process. This destroys lesser speakers, and the infinity shakes, bakes, blasts, and freezes them using ultraviolet light.
Therefore, thanks to these outstanding features for making this product emerge the best. Furthermore, these features have made it gain popularity worldwide. If you need the best 4 x 6 speakers, opt for Kappa 46211cfp speakers and experience excellent performance.
3. Pioneer TSA4676r 4X6 Car Speakers
This brand has served for quite a long time, and it still stands out today, and many uses love it. This product features a Multilayer Mica Matrix Cone modern structure maximally rigid, enabling it to distritube a wider sound dispersion with deeper bass.
It has mid to high frequencies improved because of its modern tweeter design. On the other hand, the materials are outstanding, and it uses varying components that are perfectly combined to generate a light and rigid diaphragm.
They offer fantastic responsive sensitivity and minimizes the level of internal loss. With these Pioneer speakers, you will be able to get a clear and vibrant sound quality. Besides, it has cooling baskets plus air vents, which allow it to stay cool under harsh conditions.
Pioneer tsa4676r 4×6 speakers have an appropriate capability of handling power. It might be costlier, but it is worth the investment because it serves you perfectly without any disappointments.
4. Kicker KSC4604 New Car Speakers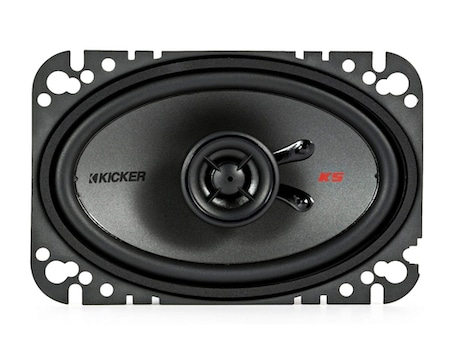 These Kicker speakers have been in the industry for about 50 years now. It falls among the best 4 x6 speakers, which are under $100. Moreover, this product has superb power handling; it has an RMS energy output of 75 watts, which seems to be the highest among all products.
You must know that it features tweeters to provide incredible performance and excellent sound quality, especially in a frequency range. Tweeters in this device generate clear and crisp audio.
It has a thin mount design to enable you to install it successfully behind the factory grilles smoothly. Besides, its clean impression can easily make you to like this aftermarket speaker.
Kickers ksc4604 new car speakers contain tough rubber surrounds and polypropylene speaker, making them more durable and delivering remarkable crisp and clear audio performance even when under stress. Make it your number one choice, and enjoy your entire audios maximally.
5. Polk Audio DB461P Speakers System For High Sound Output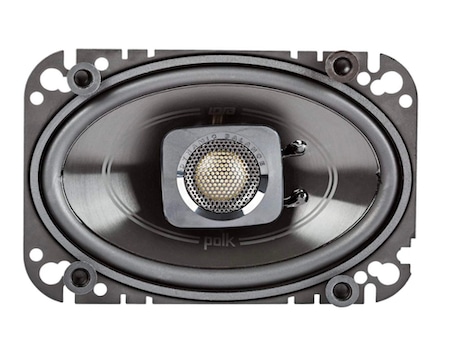 The Polk's audio db461p 4×6 speakers undoubtedly delivers excellent performance, and this has made it to become famous worldwide. It 100% guarantees you a solid sound experience plus the dB series speakers.
If you need the best aftermarket speakers that are pretty cheap, you better opt for Polk audio db461p 4×6 speakers. Furthermore, you can buy this speaker in an electronic store or online retailer for approximately $60. It generates loud sounds for mids as well as highs.
It has a speaker construction that is certified by marine, and this means you can also use the device on your boat. Similarly, it has been built with good materials that deliver incredible performance even in harsh conditions.
It features a large magnet, unlike other new speakers, but it has a low profile; hence it can easily fit multiple cars without any limitation. Thanks to these features for making this product gain popularity globally. Choose this product and have a wonderful experience when listening to your entire audio.
6. Boss Audio CH4630 4X6 Car Audio System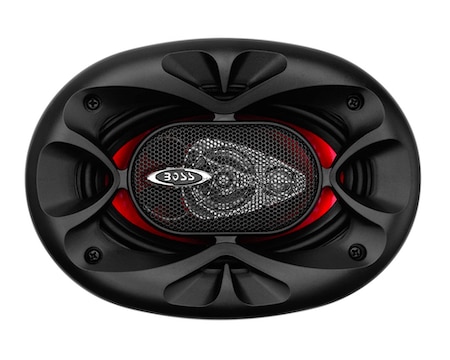 It has a cone made from polyurethane, which makes it deliver great sound. This product's materials make it resilient and durable, serving you for a longer duration. Similarly, it has a voice coil, which has the potential to withstand high temperatures.
Boss audio ch4630 4×6 car audio system weighs six pounds, and it is compact enough to fit any car or even track. However, ensure you are careful during the process of installation since it is fragile.
This device has an excellent audio quality and comes at an cheap price. Moreover, it has impressive visual aesthetics combined with black & red color, which captures your attention. Thus, if you require the best speakers with a modern and beautiful design, choose this product.
Bear in mind that it has a three-year warranty, which guarantees you peace of mind when you buy it. You do not need to worry about repair and maintenance with this kind of warranty since it is covered. This means you can use your money to invest in other things that you require.
7. Kicker 40CS464 2way Car Speakers With Good Sound Quality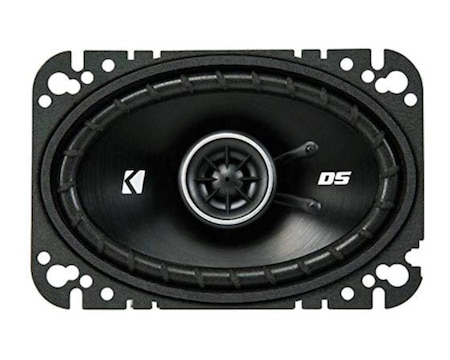 The AVGear sells 40cs464 2way coaxial speakers that incorporate durable polypropylene cones for control and power. Furthermore, polypropylene is resistant to temperature and moisture extremes, and it is situated in automotive applications.
This product is designed with Polyetherimide (PEI) Balanced Dome tweeter to enhance durability and remarkable clarity in pure automotive applications. Its tweeter features a robust neodymium magnetic tweeter motor structure for power handling.
You must understand that its power ranges from 2 to 50 watts each channel, and it has a peak power of 150 watts. Furthermore, it has an extended voice coil technology for thermal handling and guarantees you outstanding sound quality. Good speakers from CS are friendly when it comes to installation.
It is a low-profile speaker with a reduced mounting depth, and this makes it a suitable device for any given car. If you are worried about finding the best speaker that delivers outstanding performance, worry less because these 2way coaxial speakers have you covered 100%. They have great customer service that is usually available 24/7 to serve you efficiently.
8. Pyle PL463bl Butyl Rubber Surround Component Speakers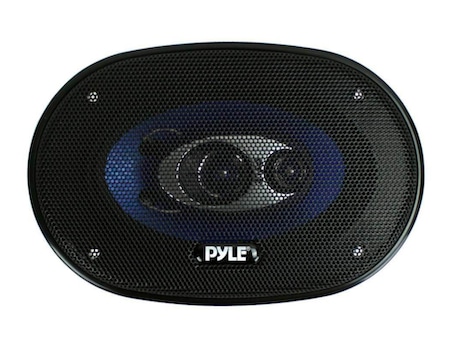 This coaxial speaker comprises a butyl rubber surround, which makes it durable and much secure. With this, it can serve you for cute a longer duration. It is packaged with an ASV voice coil 1-inch that can handle wattage conditions and hot temperature. Most people like it because of these key features.
On the other hand, it incorporates a flashy blue poly injection cone that is stiff and lightweight. Besides, it has a sturdy construction, which ensures that it functions under harsh environmental conditions. With this device, expect performance each time.
Pyle pl463bl butyl rubber surround component speakers have 3/4 – inch piezo tweeter and one-inch neodymium film dome midrange to offer you  performance in both the mids and highs. Luckily its audio quality is crisp, loud, smooth, and this makes it worth the investment.
9. Skar Audio TX46 4X6 Coaxial Speakers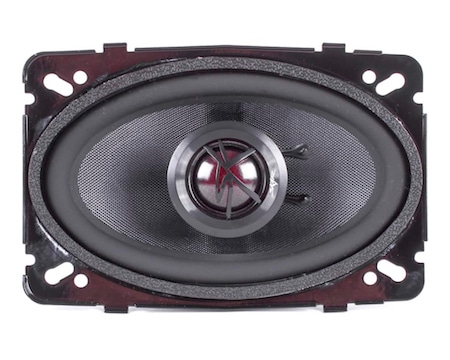 The skar audio TX46 4×6 coaxial speakers are designed and engineered for an audiophile for speaker's sound perfection. Moreover, TX speakers are maximally efficient and powerful, and they guarantee you an unrivaled listening experience at a louder volume.
It uses a copper voice coil of 1.25 inches and a premium ferrite magnet that produces sufficient live music power. This device features a fiberglass cone accompanied by a TPE surrounding a midrange portion that enhances it to be responsive across the frequencies' wide range.
It has top silk dome tweeters that enable it to deliver proper frequency and incredible rich sounds. Therefore, make it your number one option today and experience sweet audio as you drive your car. It goes at an affordable price and it has a top-quality installation hardware.
10. Kicker DSC46 4X6 Coaxial Speakers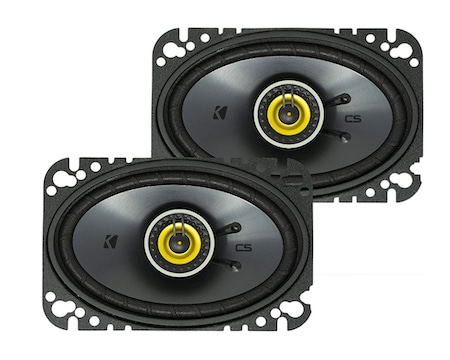 These speakers are a suitable replacement for the stock speakers because they are budget-friendly. On the other hand, they are also famous in today's market. This component speaker is familiar for generating excellent bass both in the mid and high range. However, it has a weak handling power.
They have a rating of 30 watts RMS rating, and this is quite low, unlike other speakers, which have an excellent watt and RMS. Likewise, it makes an ideal replacement for a factory stereo system powered. This product sounds fantastic, even at high volume level and in the low frequencies as well.
Make it your priority today, and enjoy great sound quality at the comfort of your car. Most users love it because it has exemplary features that make it unbeatable, and it is a top-quality device. Great dB sensitivity and it will perform excellent with a high-quality single din head unit.
Best 4X6 Car Speakers Buying Guide
Upgrading your cars audio equipment with the best 4X6 car speaker may not be as difficult as it might seem.
What to Look for on 4×6 Speakers Car's Audio System?
There are several factors you need to concentrate on, these include:
Frequency Response
Frequency response plays a crucial role when it comes to good bass notes. Ideally, it is appropriate that you choose a speaker that has the maximum potential to tackle a low frequency of 20 Hz – 20 kHz. Look for a wide frequency range so you can get an overall accurate sound.

RMS Power Handling
Before you purchase your product, ensure that you examine the speaker's power handling capacity. In case you have a low-powered stereo, there is no need to go for a high-power product. On the other hand, the powerful external amp needs a power handling capacity, which meets the amp's output.
Peak Power

Ensure that you know the maximum power it is likely to handle before buying your speaker. This should be in terms of RMS and Watts. More so, both RMS and peak power needs to be considered. If you have a low stereo power unit, it is suitable that you use 2 to 50 watt RMS.
Polypropylene Woofer Cone
Your woofer size can influence your speaker's low-end frequency directly. Bear in mind that speakers have limited size; hence manufacturers use different cone plastic to enhance the output.
Therefore, ensure that you are familiar with the model of material used before you settle on your 4×6 material.
Materials

The speaker's quality determines how long it is likely to serve you. If you search for a long-lasting speaker, you need to examine its components and build quality. Moreover, this product's coil and cone must have top-performance components to function even in harsh conditions.
Easy Installation
When buying your device, ensure that you choose that which is effortless to install. This will make to commence listening to your audios via Bluetooth within a short duration. Furthermore, a speaker that is easy to install saves time.
We recommend using these speakers in combination with a double din stereo system and 10 inch subwoofers.
FAQs
To be certain about the 4×6 speakers, you can comfortably go through the below frequently asked questions. They will keep you informed and clear your doubts about the products mentioned above.
Which is better, 2-way or 4-way speakers?
You must understand that a 2way speaker generates maximum high power output, unlike a 4-way speaker. On the other hand, a 2way speaker with dual maximum quality drivers is much better than a 4way speaker that features four cheap drivers.
Furthermore, it might have larger ranges, but none of those frequencies might sound excellent. A 4way speaker is likely to offer you a larger sound range, which will guarantee you more detail in mids as well as higher. Besides, this can also roll down to a personal preference.
How much power output does my 4×6 speakers need to be?
The speakers usually benefit from gaining more power than what a factory radio can generate. In the specification of your speaker, you are likely to find an RMS power.
Usually, the power rating ranges from 5- 60 watts RMS. Additionally, the maximum figure stands for the driving power that your speaker uses to play at its best and fullest, according to the producer.
What is the bass performance of a 4×6 speaker?
In case you are looking forward to boosting your factory's car audio system, you need to understand that the 4×6 speaker will guarantee you a remarkable amount of bass. If you install non-costly speakers in your car dash, it can offer you excellent uplifting tunes at a friendly budget.
It is ideal for those who love big bass to purchase bigger car speakers that generate punchier and bigger bass, unlike the 4 x 6s. The 4×6 speaker gives you a greater bass performance that suits your car perfectly, but if you do not find it suitable, you better opt for a bigger speaker that fits your car.
Should I get a marine certified 4×6 speaker?
Yes, you can get a certified 4 x6 speaker. Furthermore, most marine speakers can be perfectly used in the car since they have a standard speaker size suitable for the vehicle. Likewise, these speakers are water-resistant.
This means you will not have to worry about corrosion whenever you drive in the rain or crossing the river with your roof opened. Whether you should get it or opt for the other one, it depends on you. Ensure that you make a wise decision to enjoy quality music in your car.
Conclusion
If you require the best high end speakers, this review will help you settle on the best that delivers outstanding performance. You must know that each speaker mentioned above feature unique traits, which makes them worth an investment.
They work great if you wish to replace your factory speakers. Ideally, make your choice based on the audio purpose, design, and quality. The quality sound reproduction will drastically improve even if you have the factory car stereo installed.
Furthermore, these products are budget-friendly, and you will experience zero disappointment in terms of performance. Grab one from the market or the JBL club today and enjoy your audio efficiently. These speakers also work for home audio purposes. Follow our links to check current price.
Last Updated on: January 11, 2023