Best 6.5 Inch Speakers For Price & Performance [2023 Reviews]
You are here because you are a certified music lover. In line with that, you may be looking for a medium-sized speaker cone that delivers ideal bass and sound quality.
But, considering the number of best 6.5 car speakers, selecting the right one may not be easy. Adding the best 6.5 speakers to your car stereo system is a sure way to have a more memorable and enjoyable ride.
If you don't know what model or make high frequency sounds of speaker you need, you may end up spending your money on speakers that are not worth it. In this post, we will share with you our top 10 best 6.5 inch speakers that have been reviewed by many.
In addition, each speaker is made by top brands, so you can ensure that you will have the best speakers. So, if you want to know more about it, keep on reading.
What to Look For in 6.5 Speakers?
Before you start exploring the different options, there are a few factors that you have to consider. Here is a list of these factors:
Power Handling
This is an important feature as it determines the quality of sound and how loud your speaker can go. It also gives you a clue on how efficient the speakers will be in lessening the effects of distortion.
Frequency Response
This is another very important factor as it determines the quality of sound produced by your speakers. If you want clean, loud, and suitable sound reproduction, then you need to look for speakers that have a wide frequency response (75HZ – 20 kHz).
Voice coils material
Since the speakers generate sound by moving a magnet and coil, you have to look at this spec. Typically, they are made of either aluminum or copper. The durability and efficiency of each material vary from one woofer to another.
So, if you want a long-lasting speaker, then you have to choose a speaker that has a durable coil. Pure copper voice coils are great for loud sound, but they are not as reliable as the anodized aluminum ones.
Sound Quality
As a audio enthusiast, it is essential that you look for the best speakers. This means you have to check how the low and high frequencies to determine if they will be ideal for your system. A great sound will have a balance between high and low frequencies.
Mounting hardware
This is an important factor because it allows you to easily install your speaker on your car. Speakers with great mounting mechanisms that are easy to install, so you will save time.
Rubber surround
This is another important factor because it affects the speakers' durability. Speakers that have rubber surrounds are more durable, but they are priced a little bit extra compared to regular speakers with foam or cloth surround.
Top 10 Best 6.5 Inch Speaker
| Rankings | Name | Price and More Details |
| --- | --- | --- |
| #1 | JL Audio C2-650X Evolution Series Speakers | Click Here |
| #2 | Infinity Kappa 62.11 6.5 Inch Speakers | Click Here |
| #3 | Rockford Fosgate R165x3 Coaxial Speaker | Click Here |
| #4 | Alpine SPS-610 Component Speaker | Click Here |
| #5 | JBL GTO629 Budget 6.5 Speakers | Click Here |
#1 Infinity Kappa 62.11 6.5 Inch Speakers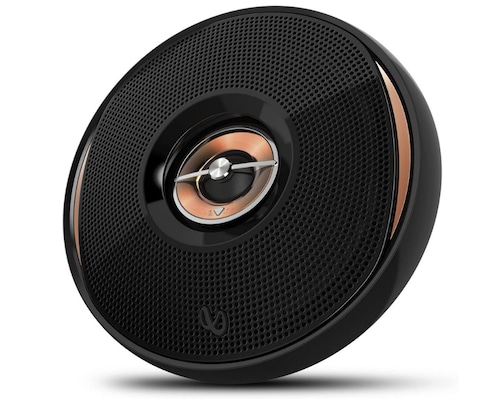 One of the best 6.5 speakers in this review is the Infinity Kappa 62.11, which is a type of coaxial car speaker. One of the good things about this mid-range woofer is that it has the highest fidelity and is a type of 2-way classified speaker. Beyond that, it also comes with an ultra-low impedance.
This woofer has a soft dome edge woven fabric tweeter, which helps to have an increased low-frequency output. Also, it can also function well even under pressure because it comes from a carbon injected glass fiber material.
Plus, this 2-way speaker comes with 75 watts RMS power, with a total of 150 watts of power handling. When it comes to fidelity, this model is one of the best. In general, even though this woofer is a 2-way classification, it can reproduce a full-range stereo spectrum.
One of the innovative technologies of this speaker is its Plus One cone technology that made it have unmatchable sound dispersion. Overall these speakers sound amazing and can definitely optimize your listening journey.
#2 Sony 4 XS-MP1611 6.5-Inch Marine Speakers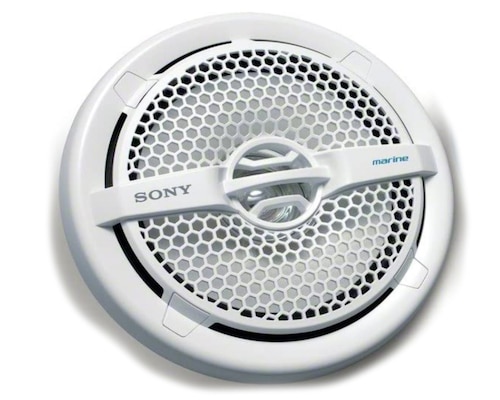 Are you in a look for a set of the best 6.5 speakers to upgrade your car's coaxial speaker system? If so, you will probably trust this Sony 4 XS-MP1611. This set is composed of 4 pieces 6.5-inch and dual cone speakers.
They are considered well balanced marine certified speakers because it is water-resistant, which make them perfect for boats. Sony has been producing quality 6.5 speakers for several decades. In most cases, their quality speakers with incredible sensitivity and power ratings.
Despite being lightweight, these 6.5 woofers are made with premium speakers. Thus, rest assured that you can enjoy good quality audio with these 6.5 car speakers for several years without experiencing any malfunctions. They are also low-impedance speakers.
In general, these 6.5 car speakers are known to provide clear and good resonant sound quality. Considering their mounting depth and size, you can install them on either rear or front end of your car with ease and convenience. These marine speakers come in white or black with a detachable grille.
#3 Kenwood KFC-1695PS Coaxial Car Speakers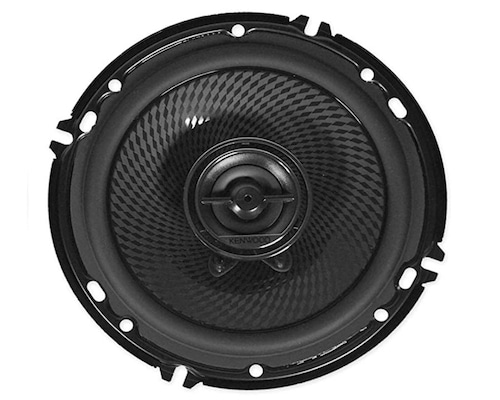 Of course, our top 10 best 6.5 speakers will never be complete without the 6.5-inch speaker by Kenwood. Kenwood speaker is a set of two pieces of high-performing 3-way classification coaxial and component speakers.
Each coaxial speaker has 320 peaks and uses 150 wattages. It also comes with the original flush mounting depth design of this corporation. If you are looking for high-quality speakers but don't have enough budget to invest in fancy speakers, this brand has your back.
These two-piece speakers are available at an affordable price that has ½-inch ceramic super tweeter, 1-9/16-inch fiber reinforced paper cone tweeter and 2-1/2-inch paper cone. These specs are engineered to ensure that Kenwood speakers will be an huge upgrade for your car's speakers.
One of the best specifications about these mid-range woofers is that it reproduces good and deep bass output. More so, it also comes with low impedance. Their superb frequency response ranges from 75 to 20,000Hz.
Since it comes with a super tweeter feature, these speakers can blast a crystal clear sound and are known to be high-powered sounding speakers. By far, these are great sounding speakers thanks to their acoustic harmonizer technology and how much power they can provide.
#4 Alpine SPS-610 Component Car Speakers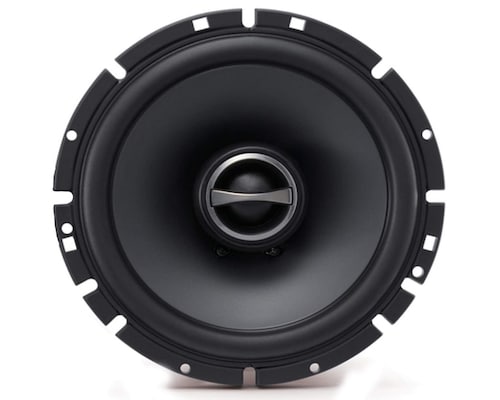 Another affordable set of replacing factory speakers available today is the Alpine SPS-610 car speakers. This is an amazing alternative you can use to replace your factory car speakers. Known to boost the mid range frequencies for a very reasonable price.
Alpine SPS-610 contains two pieces of coaxial speakers featuring 2-way class specs. Another thing you will like about it is that it comes with a mid-frequency response range output. Since this set has two pieces of coaxial speakers, each coaxial car speaker can blast 80 wattages RMS power.
In other words, it has a total of 240 peak power handling. This is one of the best alternatives to a more expensive set of Alpines speakers when it comes to the SPR frequency range. Indeed, this is one of the must-buy car speakers and they are well known in the car audio world.
Alpine is known to build speakers with dual processing well balanced high notes and mid-range output with full-bodied frequency range sounds. The good thing about their speakers is that they feature smooth and natural sound depth.
It comes with a basket design that offers enough cooling to achieve the best high frequencies. These speakers are easy to install and very lightweight. Great for those audio enthusiasts that are looking for that extreme loudness coming out from their stock sound system.
#5 BOSS Audio CH6530 6.5 Speakers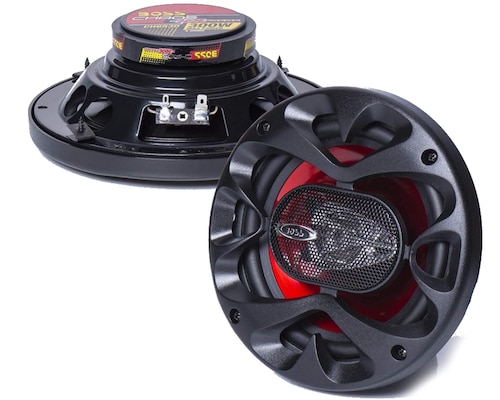 Does a 3-way class 6.5-inch woofer sounds good to you? If yes, you will probably enjoy this BOSS Audio CH6530. It does not overload easily and comes with a piezoelectric tweeter, which contains a positively-charged element.
It does not need a crossover and contains high-frequency drivers that can enhance different sounds. It comes with sturdy poly injected cones wrapped with rubber that provides an outstanding performance. Furthermore, these new car audio speakers are also low impedance.
Since this speaker wire is a 3-way class, it can recreate a full range and clear punchy bass reproduction. With that in mind, it is considered an unbeatable speaker considering its price range. This 3-way class replacement speakers sound comes with black and red aesthetics, which make it look more appealing.
Furthermore, each woofer feature has 150 watts. This factory speaker upgrade also comes with a heat-resistant high-temperature voice coil. In addition, you don't also need special sets of mounting accessories to install this woofer.
#6 Pioneer TSA1676R 6.5 Coaxial Car Speakers
This particular brand is another well-known manufacturer of high sound quality replacement speakers and acoustic sound harmonizers that provides a superior quality and precise sound in the car audio industry. This is because they spent several years in consumer electronics.
Pioneer is a company based in Tokyo, and their journey as a big-time coaxial speakers-producer started in a small repair shop. Currently, Pioneer has become one of the most popular manufacturers of aftermarket speakers worldwide.
Pioneer TSA1676R is a 6.5-inch speaker that produces 320 watts of maximum output peak power. With its innovative features, would you believe that this 3-way speaker is available at a meager cost? It has the TS-A series of the brand, which is developed to achieve optimal and refined audio quality.
Plus, this 3-way class woofer also comes with a multi-layer Mica Matrix cone design that is wrapped by an elastic polymer. Despite that, its weight maintains to be at a minimum. The cone is made with durable materials, which ensures a wide sound stage and full-range audio dispersion.
Moreover, it also has a radically-improved tweeter design. The woofer cone has a rubber surround, which makes it durable and flexible even when playing high-end audio sounds for a longer period. Boost the high frequency sounds and get more power with these speakers.
#7 JBL GTO629 Coaxial Car Speakers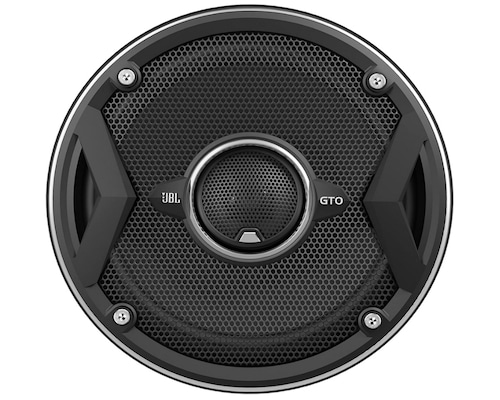 Another 6.5-inch speaker included in our list is the JBL speakers. This is one of the ideal coaxial speakers you can add to your automobile. It comes with carbo-injected cones, which ensures that it has lesser air in comparison to other 6.5-inch aftermarket speakers available in the market.
In line with that, it can create deep bass. Another specification people trust about this woofer is that it comes with improved UniPivot tweeters. This feature allows you to bounce the sound to the part of the room you want. Beyond that, it also has a dual-level volume adjustment.
This means that you can use it to achieve lesser idyllic placement. The materials used for these coaxial speakers are well-manufactured that replicates premium sound quality. Beyond that, it can also direct lows and highs to their dedicated speakers.
Another key point about it is that it can be mounted easily and conveniently. This OEM head unit also produces low impedance and weighs less than six pounds. It is a steal if you try to compare it to the price of other speakers in the market right now. You are going to be able to achieve loud volumes for almost half of the cost.
#8 Kicker 43DSC6504 6.5 Coaxial Speakers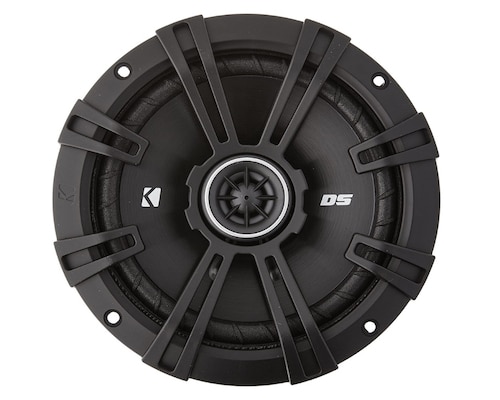 Another 6.5-inch set that has 2-way coaxial speakers is the Kicker 43DSC6504. This is a cost-effective investment because it is made by a well-known manufacturer using well-built materials. The UV-treated cones can achieve high volumes without any distortion.
If you prefer small-sized speakers instead of booming subwoofers for your car audio aftermarket stereo system, we highly recommend you this woofer with a voice coil from Kicker. Unfortunately, after browsing some of its reviews, we notice that a few of its users rate this coaxial speaker low, which we think is kind of unfair.
This is because, according to our research, Kicker creates high-frequency sound speakers available at an affordable cost. With that, we think that the negative reviews of this woofer came from bass-heads. One of the good things about this one is that its maximum peak power rating is 240 watts of power handling.
Beyond that, it comes with exceptional sound quality and bass response with dynamic tech. It also has a low-end handling design, which allows you to set it up in your car stereo conveniently.
#9 Rockford Fosgate R165X3 6.5 Inch Coaxial Speakers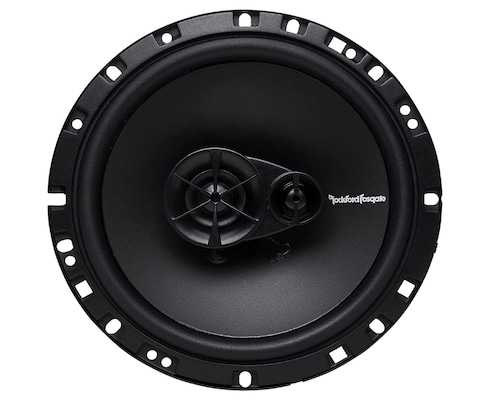 The second to the last woofer we will share with you is composed of four pieces 3-way coaxial stereo speakers. The Rockford Fosgate speakers are an ideal set of speakers you can mount to your car audio system. Moreso, three-ohm speakers compensate for the losses of your factory speakers.
Plus, this set features a dynamic balance technology – an innovative feature among new durable speakers. Each speaker has a peak power of 90 watts of power handling. Just like the other 6.5-inch speakers we reviewed above, this one also comes with small silk PEI balanced dome tweeters.
This feature is engineered to solve problems with high-frequency audio. Considering its size, we highly recommend this woofer be mounted near the car door. The high-temperature coils of this speaker can handle high power without cooling down.
It also comes with a laser-etched logo, which is another good thing about this coaxial speaker set is that it comes with simple mounting capabilities. This allows you to customize it if you want. People also benefit from the fact that it is made of durable components.
#10 JL Audio C2-650X Evolution Series Speakers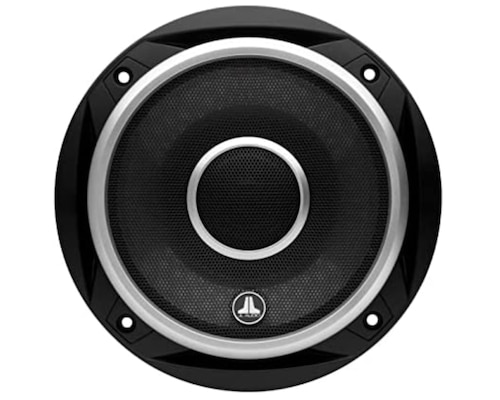 The last, but definitely not the least in our list, is the JL Audio C2-650X that features rotary high frequency contours. This set features two 6.5 speakers. This component speaker is made with versatile and durable materials, perfect for your car stereo.
Thus they are great for outdoor and indoor uses. Plus, they are also stylish with the white and black matte finish you will love. This JL Audio C2-650X has a full-range frequency response that can go up to 20KHz. It has a ported enclosure, which allows it to have a higher bass frequency response.
Since you can use it outdoors, these stock speakers feature duly protected and completely sealed internal component speakers to avoid any malfunctioning and short circuits. Its power output can range from 10 to 150 wattages. Additionally, it also has an impressive driver.
Despite all these innovative features, these speakers remained to be lightweight and compact. The package of this speaker comes with mounting brackets that you can rotate 180 degrees. Thus, you can ensure to install it without the help of a professional.
Best 6.5 Speakers Buying Guide
Do long driving trips with your family and friends sound great for you? If so, you probably have a speaker system installed in your car. But as time goes on, you may notice that your regular car's speaker system does not reproduce the best sound quality you will love.
Setting up the speaker volume to the highest level may resonate irritating sounds. In that case, you may be asking how you can fix this. Well, the only solution for that problem is installing the best 6.5 car speakers.
If you are planning to purchase the best 6.5 inch car speakers, one of the most important factors you need to consider is the material type of the speaker. In most cases, 6.5 speakers are mostly made using polypropylene.
Moreover, other speaker manufacturers use a combination of polypropylene and mica materials to obtain a better sound pressure level.
These top-selling speakers made with this material are patronized by many music lovers because of their damping abilities. Aside from that, a combined polypropylene and mica are stiff but remain portable and lightweight.
Since the combination of these two materials keeps the best 6.5 speakers lightweight, it can create sounds with minimal or no distortion at all. On the other hand, other materials used for making 6.5 speakers include fabrics.
Different Types Of Speakers
The more speakers you put in your vehicle, the better quality of music you can get. Remember that factory-installed speakers are not sufficient enough to produce an extreme sound.
Factory speakers
These are the stock speakers that come with your car or vehicle. It is usually mounted on the front doors, rear deck, and soundbar. These speakers are designed to provide you with enough music, especially if you drive for short distances.
Component Speakers
This is the most expensive speaker set you can purchase. The main difference with this type of car speaker is that they are composed of three separate speaker types, which include woofers, tweeters, and midranges.
What's great about component speakers is that each one has its own amplifier for better sound quality. These higher-end components tend to produce a very detailed sound that is much better compared to the other speakers.
Coaxial Speakers
These are basically two-way speakers with the same size as woofer and tweeter, so you will not feel any hassle in setting them up. You can install coaxial speakers at the door or rear deck location.
Tweeter
This is the speaker responsible for high frequencies, namely treble sounds, which you hear while tuning to your favorite music. Since coaxial speakers have one woofer and tweeter, these are mostly used in factory-installed speaker systems.
Woofer
A subwoofer or woofer is the speaker responsible for low-frequency sounds or bass in your music. For an excellent sound, you will need to use two different speakers, which include a woofer and a tweeter. Thus, splitting the frequencies into high and low.
Mid-range vs. Full-range speakers
A midrange speaker is the one that handles mid-range sounds, meaning everything in between high and low frequencies. On the other hand, full-range coaxial speakers are able to handle both low and high-range frequencies.
The difference between midrange and full-range speakers is usually seen in their sizes. The midrange speakers are slightly larger than the full-range ones, which can fit in any 6.5-inch slot. Your sound system needs a proper enclosure.
Since the components of your speakers are sensitive, you have to give them protection from factors that can cause distortions. A secure and soundproof enclosure will keep everything in place while letting the sounds out.
Apart from investing in high-quality car speaker enclosures, it would also be best if you add an amplifier for better sound quality. An amplifier can really improve the overall listening experience of any sound system.
Summary
When looking for factory speakers or coaxial speakers, make sure that it produces good sound quality. With several brands that produce factory speakers that can be used as car speakers, you can be overwhelmed easily.
Fortunately, the top car speakers we mentioned above have high power handling and can make a high-quality sound. Beyond that, each car speaker features a unique and wide frequency range and frequency response.
So, if you are still in search of the best 6.5 car speakers, we highly recommend you consider the component speakers we have mentioned above. Each car speaker is equipped with high-power handling and frequency response that you will surely love.
Last Updated on: January 11, 2023