Best 10 Inch Subwoofer (Reviews & Buying Guide)
Purchasing a subwoofer is one of the best decisions for car owners. It is the moment when you have enough resources to give yourself a treat that you might hold for years and probably first thought after getting your car.
With so many brands, models, and types of subwoofers, it may be hard to understand which one is the one that's technically best according to your needs.
We plan to make this a seamless experience where you learn about features and make an informed decision that leaves you happy and satisfied. After all, it's all about having a hard-hitting bass upgrade for many rides to come.
Top 10 Best 10 Inch Subwoofer Reviews For Cars
| Rankings | Name | Price and More Details |
| --- | --- | --- |
| #1 | Rockford Fosgate P3D410 Punch – Best 10 Inch Sub | Click Here |
| #2 | JL Audio 10W0V3-4 – Best Deep Bass 10 Inch Sub | Click Here |
| #3 | Rockford Fosgate P30010 300 Watts – Best Sound Quality Subs | Click Here |
| #4 | Skar Audio SDR-10 D4 – Best 10 Inch Sub For Low End | Click Here |
| #5 | Kicker CompRT 43CWR104 800 Watts Power Handling | Click Here |
We researched the most reputable brands in the market to deliver a compelling summary of the best features of each subwoofer.
Some of the options include shallow mount subs for easy installment and just the right bass without further equipment. However, we included the hardest hitting subwoofers for hardcore users who love serious pumps.
Join us as we review the top 10 best 10-inch subwoofers in cars.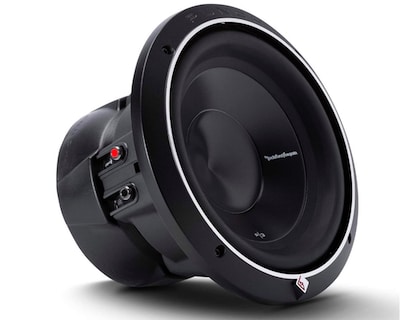 Key Features
Dual voice coil with 500 Watts RMS
Unique spider venting cooling design
Hybrid stamp-cast basket for maximum strength
VAST technology produces an amazing sound
Sub comes with anodized aluminum voice coils
The P3D4-10 10-inch, dual 4-ohm dual voice coil subwoofer is one of Rockford Fosgate's top Punch P3 series, delivering a hard-hitting 1000 watts of peak power handling and featuring anodized aluminum cones and dust caps, as well as a unique spider venting that keeps the motor cool and functional.
This Rockford Fosgate model contains a Vertical Attach Surround Technique (VAST) to increase the surface cone area up to 25%, and its FlexFit basket allows extreme installations by utilizing slots (where feasible) instead of single screw sized holes. It carries a custom 10-AWG nickel plated push terminals and a new hybrid stamp-cast basket that offers super strength while minimizing the weight and resonance of the sub.
Rockford Fosgate P3D4-10 Punch subwoofer is best used in standard sealed or vented enclosures on a top mounting depth of 6.18 inches. It's built for power thanks to its high-temp voice coil with a spun-laced Nomex reinforcement collar. Punch subwoofers deliver deep, loud, and aggressive bass surrounded by eye-catching cosmetic hardware. The speaker can take it for hours on end without any sign of distortion or fatigue.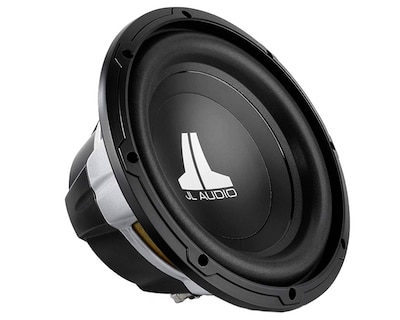 Key Features
Single 4-Ohm subwoofer sounds great
Patented elevated frame design
Peak power handling 600 watts
Unique polypropylene cone design
Long-lasting performance sub
JL Audio's 10W0V3-2 subwoofer hits the lows like a pro, and users can appreciate the accurate sound reproduction that delivers. The model holds several patented technologies like an optimized motor system that pushes a precise, linear cone movement, plus high-tech cooling systems throughout the frame for fast heat dissipation and efficiency.
The brand is popular because it delivers high-quality sound, and the 10W0V3-4 10" subwoofer doesn't come up short when delivering trademark JL Audio performance. It features a massive 2 in. diameter voice coil and is best used with amplifier power in the 75W – 300W in a compact sealed or medium-sized ported enclosure. Plus, it offers an optional grill that'll protect your JL Audio sub in its box.
Additionally, the JL Audio 10W0V3 is an overall excellent performer that features a tough polypropylene cone to resists flexing and a durable foam surround that' stands for hardcore use. Specifically, the cone's extra-long excursion capability lets it hit truly deep notes without distorting. You should expect great pumps and a beautifully rich, precise, pure thumping, and clean bass.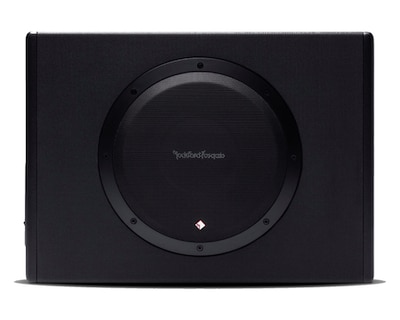 Key Features
Custom sealed enclosure sub
Adjustable 12db/Octave low pass crossover
Top-notch bass boost EQ
Smart auto turn on/off function
Large AWG input terminals
Another Punch series subwoofers that deliver an all-in-one solution for some serious bass to your ride on a custom sealed enclosure and powered by a superb 300 Watts amplifier. Rockford Fosgate P300-10 is a perfect match of the enclosure, sub, and amp that makes your life simple while delivering an optimal performance of one of the industry's best brands.
The Rockford Fosgate all-inclusive system only requires users to run power, ground, and a signal from the source to get it going, thanks to its detachable power/ground connector. It features an adjustable 12db/Octave low pass crossover, a built-in 0°/180° phase switch, a built-in adjustable bass EQ, and includes a remote bass level control.
Rockford Fosgate P300-10 closed-loop engineering ensures top performance while easily integrating itself with an OEM audio systems using RCA or speaker level signals. The speaker brings a smart auto turn on/off function and a thermal and over/under voltage protection, so you can enjoy your tracks without any worries. This powerful sub is designed to provide great sound quality over an industrial vinyl coating. Authorized resellers offer a full 1-year warranty.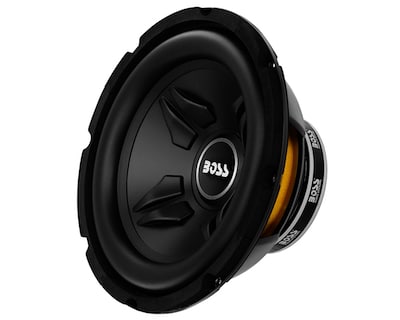 Key Features
Product provides single 4-ohm impedance
Build with a high-temperature voice coil
The stamped basket structure is amazing
Sub comes with 2.5-inch voice coils
Pretty good quality rubber surround
The CXX10 is a 3.5 round inch port circumference subwoofer designed to work in a medium-sized sealed or ported enclosure. Because of its pole vent, it needs a 0.75 (19mm) minimum clearance from the rear wall of the enclosure to deliver one of the best sound quality and bass in the market.
The single voice coil subwoofer is generally ideal for low to medium-power applications and can be powered by a matched amplifier or combined with multiple single voice coil subwoofers to achieve a variety of impedances in your car audio amplifier set up.
It comes with a polypropylene cone, which allows great sound quality. The voice coils are made for low density and anti-corrosion. Also, its butyl rubber connects the cone to the basket and brings air impermeability, endurance, and resistance to many weather fronts. Users recommend a short process of break-in before the sub reaches is run under extreme conditions. This process includes low-to-medium volume levels for 3-4 hours in the enclosure to prevent voice coil damage and extend its operating life.
5. Skar Audio SDR-10 D4 Dual 4-ohm Voice Coils 10-Inch Subwoofer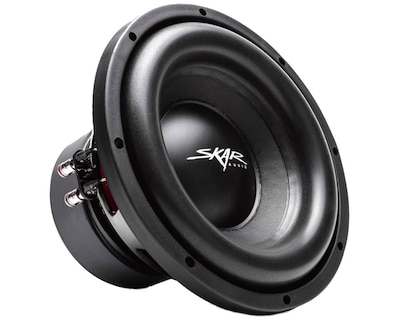 Key Features
1,200 Watts of peak power handling
Dual 4-ohm with 600 watts RMS Power
Competition grade pressed paper cone
4-layer high-temperature copper voice coils
High flux ferrite motor for unique sound
Skar Audio is a new and upcoming brand to the audio industry, as it was founded in 2012. Nevertheless, it shows lots of promise. It is also considered one of the fastest-growing car audio brands in the world. The Skar Audio SDR-10 is a hard-hitting 10-inch subwoofer with an outstanding sound reproduction and a tight midbass.
The surround on the SDR-10 allows the woofer to produce a riveting low-end bass response, thanks to its high roll foam surround. Moreover, it brings reliable, hard-hitting bass sound. It features a high flux ferrite motor for extreme power handling for extended periods of time.
Skar Audio has built a good reputation for quality speakers for any budget, which performs best when the enclosure is built according to the specifications listed on the brands' website or the manual that comes in the box. Overall, the sound is great, the quality is outstanding, and the output volume, when matched with the monoblock amplifier, surpasses anybody's expectations.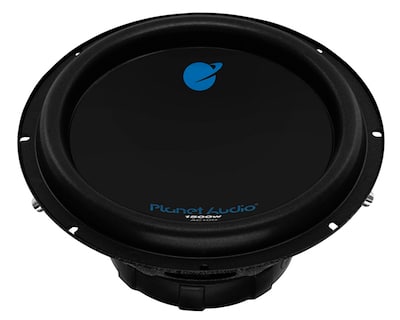 Key Features
1500 Watts max power handling per sub
Dual 4-Ohm high temperature-resistant voice coils
Flexible surround foam for maximum efficiency
Strong stamped basked and polypropylene cone
Easily customizable trim ring for better sound
The AC10D 10-inch car subwoofer features a polypropylene cone that provides resilience and durability while giving you great sound and long-lasting performance. This is one of the most powerful 10-inch subwoofers in the market, with its 1500 max power handling per sub and an outstanding 3000 watts per pair. The RMS power handling tops a superb 750 watts per sub.
This particular 10-inch sub is the ideal choice for heavy users who love loud and clean bass. Planet Audio's AC10D dual voice coils are able to undertake high temperatures yet maintaining its strength and fatigue properties, which translates into longer play times with lower weights.
It has a very flexible foam that provides the subwoofer with higher efficiency and better excursion. Moreover, the stamped basket is built as a strong and rigid platform to allow the listener to hear clean and clear music output. Planet Audio provides a powerful 3-year platinum online dealer warranty through Amazon.com and encourages a sealed or ported box for best performance. Professional installation and break-in are recommended.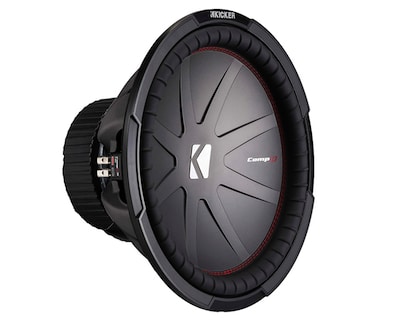 Key Features
Dual 4-Ohm high-temperature voice coils
Amazing 800 watts max power handling
400 watts RMS for system flexibility
Santoprene surround doe better overall sound
Mineral filled polypropylene cone technology
The Kicker CompR Series 10" Dual 4-Ohm subwoofer was built with a stamped steel basket, brass spring-loaded push terminals, and equipped with a tough polypropylene cone that takes it like a champ during intense play sessions while delivering an accurate, strong bass.
It has a custom-designed back and top plate, which gives the speaker room to travel, while the rubber surround controls cone movement during heavy sessions. This particular model uses extensive sub venting to keep the heat away for maximum performance and a powerful, deep, and consistent basis.
Kicker took another step in regards to engineering and technology improvements with the CompR 10 inch subwoofer, like larger magnets, a thicker 10-inch cone, and an improved suspension system for increased fidelity and accuracy. The brand's motto is: Play them loud; Play them hard; Play them all day. They hit hard and are worth every penny.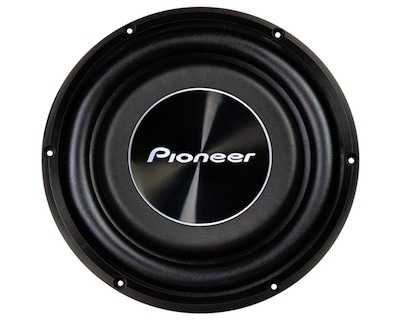 Key Features
Single 4-ohms shallow mount series subwoofer
Compact design and 300 watts high power
Oversized cone surface for deeper bass
MICA injection molded resin sub
This sub is ideal for behind or below seats
Pioneer's TS-SW2502S4 10-inch subwoofer delivers full depth quality bass that tops 1200 watts of max power and 300 watts of RMS power. Its MICA-injected molded resin cone offers more accurate bass, and the oversized surface structure provides greater cone and gasket surface for a louder, deeper bass without varying the overall dimensions.
The shallow compact built design performs in small enclosures or spaces that traditional subwoofers can't fit, which translates into a lot of basses without having to sacrifice space in a trunk or truck cab. Its cone surface allows the sub to produce louder and deeper bass by moving more air. The mounting depth ( 3-1/8) is less than half a typical subwoofer in this class.
Pioneer brings a reinforced cone structure with multiple patent-pending features to deliver the big bass performance of a full-size subwoofer. This model brings a hard, thumping bass sound in a small package. On this list price range, these are one of the most affordable woofers. This subwoofer can handle lots of continuous hours of bumping time.
9. American Bass XFL1022 2000 Watt 10 Inch Subwoofer For Car Audio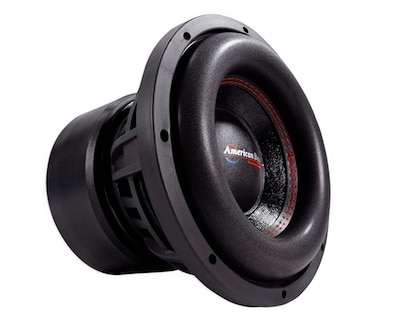 Key Features
Strong carbon-Kevlar nonpressed paper cone
High-temperature 3-inch, 4-layer voice coil with long windings
Sub comes with multiple hi-energy magnets
T-yoke with high-extended pole piece
Unique CONEX spiders car audio system
American Bass built one of the most advanced 10-inch subwoofers in the world. The cooling pump motor design and the uni-rubber gasket and rubber magnet boot allow this monster to deliver 1000W RMS, 2000W max, on a frequency range of 31.6 Hz to 300Hz, for the lowest bass possible.
This XFLseries subwoofer features a black powder finish heavy-duty stamped basket and perimeter vents for a cleaner, distortion-free bass experience. It holds many world records at different competition arenas and because it executes power and sound quality like no other.
With its rock-solid structure and clean power output, the XFL 1023 2000 watts 10-inch subwoofer reliable XFL subwoofers will make your brain jar, without any disappointment. It features a 220-ounce magnet, a 3-inch voice coil, and pre-wired terminals with tinned ends. At the end of the day, you'll get amazing low notes far better than almost all in its class. Users call this the next best speaker to sundown audio.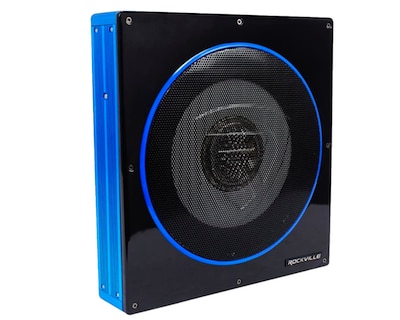 Key Features
800 Watt peak power 10" slim subwoofer.
PWM MOSFET Power Supply 10 inch subs
High-Level Inputs with auto turn-on technology.
Thermal, overload, and short protection circuit.
Subsonic filter to control the low bass
Rockville's RW10CA is easy to install and features high-level inputs, which makes it remote wire-free to trigger the unit on and off. That is, once you turn off your music signal, the system's built-in amplifier automatically turns itself off. You're looking at a sub that has a wide frequency range.
All the inputs and outputs are on one side, which makes wiring neater and easier. The user experience is enhanced with controls so you can tweak the sound to your needs. It comes with a unique level control for the volume and a fantastic subsonic filter to filter out those muddy low frequencies that the human ear can not hear. Also, a low pass crossover filter, phase control, and bass boost.
Speaking about power, the Rockville RW10CA 10 inch subwoofer has a stellar 800 watts of peak power and 200 watts RMS. The sub enclosure is only 2.7 inches thick that fits under your seat, one of the only slim under seat subs on the market that is CEA-2006 compliant. Great sounding bass to shake yourself while driving without taking much space.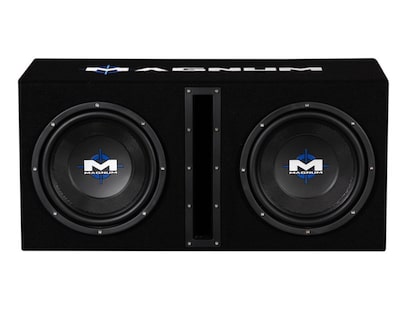 Key Features
Preamp- and speaker-level inputs
1,000 watts peak power handling
Overload, thermal, and short protection
Magnum ported dual 10" enclosure
Sub comes with aviation-grade carpet
MTX Magnum MB210SP features a 5/8" particle-board construction with aviation-grade carpet and two Magnum 10" 8-ohm subwoofers wired for 4-ohm impedance for outstanding bass and clean sound. The polypropylene cone has a large-roll foam surround that provides maximum output even under high stress.
The model adds bottom-end punchy bass to any vehicle without putting breaking your finances, all engineered in a unique style that grabs anyone's attention with its embroidered Magnum logo. One of the best features of the MB210SP is that it includes a matching amplifier for the enclosure. After purchasing one of these, all you need is a speaker wire and an amp kit, and you are ready to go.
The Magnum Bass mono amplifier delivers 250 watts RMS to the two subs, subject to adjustments to the built-in low-pass filter and bass boost for hard-hitting performance. The sub uses a lightweight dust cap, and a large rubber surrounds to generate excellent SPL, and its large port on the front of the enclosure adds additional SPL, especially when a deeper resonating bass sound is preferred.
Best 10-Inch Subwoofer Buying Guide
A 10-inch subwoofer is a great choice for those who want to upgrade their car, boat, or home audio system, as they pack a great punch that is more than enough for a great audio experience.
Some of these examples include subwoofers that bring their own amplifier and enclosure, which can be the best solution when it comes to proper matching properties.
Any of these 10 inch subwoofers, combo or not, deliver hard-hitting pumps, clean sound, and almost all have high-end technology that sides off heat, so you can enjoy your jams for hours without a problem.
What to look for in a 10-inch subwoofer
Subwoofers are speakers that are mainly focused on reproducing low frequencies or bass notes. On the other hand, car speakers most times are small and are not made to reproduce enough low-frequency sound to provide a fantastic listening experience.
While you may hear some bass from your bookshelf speakers, a subwoofer improves your overall music listening experience. Listening to bass-heavy music like hip hop leaves plenty of room to fill. Plus, you're not experiencing the song the way the artist intended.
A great powerful subwoofer helps take away the heavy lifting from your loudspeakers. Adding a subwoofer would quickly improve the stereo imaging, and the sound becomes more accurate. In general, a subwoofer helps produce a more vibrant, cleaner, and harder sound.
Here are some ideas of the features to look for when choosing a 10 inch sub:
Peak power handling
Don't be confused by "peak power handling" and "RMS power" ratings. Peak power doesn't reflect realistic operation rather a measure of how much power can be generated or handled for very short bursts.
Some manufacturers emphasize peak power ratings by stamping these ratings on their subwoofers and amplifiers. As we noted before, peak power ratings don't speak for the true power capabilities of the equipment for long periods.
After comparing the RMS power rating of the subwoofer and the RMS power rating of the amp, you'll have everything you need to pick the right equipment and the correct power handling.
RMS rating
Do not be mistaken: the RMS power is the key feature of all subwoofers.
The RMS determines how much power and sound your subwoofer can produce at a stable and optimum rate for extended periods without distortion or damage to the unit.
Users need to pair the RMS power of their subwoofers with the RMS output of the amplifier. It is crucial to make a match in order to protect the subwoofer and to get the best performance and sound quality. If you purchase a sub at an RMS rating of 800 watts, make sure that your amplifier feeds at 800 watts of RMS as well.
Frequency response
Frequency response is measured in Hertz. Human beings are capable of perceiving sounds from 20 to 20,000 hertz. Therefore, the frequency response is basically the audible vibration measured in Hertz.
The goal of a subwoofer is to generate low frequencies from 20 to 200 Hz, though it is recommended to limit this to below 100 Hz with a crossover filter.
You should consider the frequency response when purchasing your sub or any other sound device like car speakers.
Sensitivity rating
The sensitivity rating is the sound at 1 meter from the speaker with 1 watt of power coming from the amplifier.
This particular rating is measured in decibels (dB), and if the subwoofer has a high sensitivity rating, it will play louder once it surpasses a certain wattage.
Also, it helps you determine how much power you need from an amplifier.
Mounting depth
Follow the manufacturer's recommended enclosure size, especially if you don't have much room. The box volume will indicate the size of your enclosure for proper performance. Ideally, you determine the minimum depth of your box by adding 2 inches to the subwoofer's depth.
Sound quality
To get the highest and best sound quality from your subwoofer, please understand that other factors are involved besides the brand or your subwoofer RMS or any other feature.
These factors include the frequency range, the type of enclosure, your car stereo, and even if it's properly wired to a matching amplifier as well.
For your convenience, we included some options that offer an all-in-one combo that has the subwoofer, the amplifier, and the enclosure, which offers perfect sound system matching that delivers a great sound quality from the manufacturer's.
Different types of voice coils
Voice coils are the wires wrapped around a metal cylinder that make your speaker thump. Their main strength is extreme accuracy and high movement speed.
When current is put through the coil (from an amplifier by example), it turns into an electromagnet, making either be repelled or attracted to the magnetic field, creating a force.
Single voice coils
Single voice coils are the most popular and common type of coil. It is composed of one length of wire around the former, another name used for the cylinder. To identity, a single voice coil in your subwoofer just checks if it has one pair of wire entries, which is a positive and negative terminal.
Dual voice coils 
Dual coils handle higher amounts of power and have two coils of wire wrapped around the cylinder.
It holds two pairs of wire entries, that is, two positive and two negative terminals, one for each coil. The cost of a dual voice coil is relatively higher, although the performance is much more high end in comparison to a single voice coil sub.
FAQ
As a newcomer, we understand that you may have common questions about subwoofers. In this guide, we the most frequently asked questions with regards to 10-inch subwoofers for your convenience.
Which is the hardest hitting 10-inch subwoofer?
American Bass XFL1022 is the most powerful 10-inch subwoofer in the market. The cooling pump motor design and the uni-rubber gasket and rubber magnet boot allow this monster to deliver 1000W RMS, 2000W max continuous power, on a frequency range of 31.6 Hz to 300Hz, for the lowest bass possible.
This XFLseries subwoofers come with a black powder finish heavy-duty stamped basket and perimeter vents for a cleaner, distortion-free bass experience. It holds many world records at different competition arenas and because it executes power and sound quality like no other.
With its rock-solid structure and clean power output, the XFL 1023 2000 watts 10-inch subwoofer reliable XFL subwoofers will make your brain jar, without any disappointment. It features a 220-ounce magnet, a 3-inch voice coil, and pre-wired terminals with tinned ends. At the end of the day, you'll get amazing low notes far better than almost all in its class. Users call this the next best speaker to sundown.
Should I get 10 or 12 subs?
That depends. First, consider the space in your car, where you will fit the subwoofers. Remember that subwoofers need enclosures for the best performance.
One of the few tiny differences between the two is that the 12-inch subwoofers have a bit more total bass output because of the cone surface area. Besides that, you can barely feel the sonic difference, especially if you compare the same subfamily (like a Rockford Fosgate Punch series) as they both hit hard and have superb sound quality.
In general terms, a 12″ driver will move more air than a 10″ one and is technically capable of more accurately producing lower frequencies. The only reason to use a smaller sized bass subwoofer is for space, weight, and potential power considerations. In other words, it's a matter of personal taste and space capacity in your vehicle and enclosure type.
What is a shallow mount subwoofer?
A regular subwoofer, like most of the ones reviewed in this post, is designed to produce hard and clear low-pitched audio frequencies. In contrast, the shallow mount subwoofers are made with portability and space-saving attribute in mind.
Basically, a shallow mount subwoofer is a type designed to have a low mounting depth. That is, ideally designed to fit in small, tight spaces like doors or behind the backseat. These subwoofers are lighter and appropriate for users who want a decent hitting bass and limited space in their cars.
A shallow mount sub is easy to install and provides enjoyable bass and sub-bass without investing in other audio equipment, like an amplifier.
Summary
These reviews cover the best 10-inch subwoofers in the market from the top brands. Upgrading your car sound system requires proper knowledge to make the best out of your investment.
Having the right subwoofers depends on your budget, taste, type of car, and many other variables that you must understand.  Any sub over the 500 watts would provide a sufficient amount of power to boost the quality of your car sound systems. However, if you want to compete on a professional level, then you will need subs on a higher power range.
A fantastic bass product for those who want to avoid the learning curve of an audio sound system is to purchase a combo that holds the sub, the amplifier, and the enclosure. Just make sure you have space and proper wiring for the best results.
Shallow mount subwoofers are another option that is easy to install and brings the right bass for a good ride on the highway.