Best 8 Inch Subwoofers [Top 10 Reviews & Buying Guide] 2023
Deciding on purchasing a subwoofer is somewhat overwhelming. We agree. There are so many brands and types of subwoofers that choosing one can take days or weeks. But this myth can be busted, and it doesn't have to be like that.
Purchasing, and subsequently, turning up the notch on your car's sound system should be an exciting and learning adventure. After all, it's all about having a decent bass for an enjoyable ride. We researched and compiled the best 8 inch subwoofers currently on the market.
Read carefully so you can make the right decision, and please understand that a sub is not a standalone tool; they are one of the main audio components to build a clean, deep, hard-pounding bass in your car, boat, or pickup truck.
Top 10 Best 8 Inch Subwoofers On The Market
| Rankings | Name | Price and More Details |
| --- | --- | --- |
| #1 | Rockford Fosgate P3SD2-8 8 Inch Subwoofers | Click Here |
| #2 | Kicker CompR 8 Inch Sub For Cars | Click Here |
| #3 | Skar Audio SVR-8 D4 8 Inch Subwoofers For Bass | Click Here |
| #4 | Polk Audio MM1-Series Marine Audio Subs | Click Here |
| #5 | CT Sounds Meso 8 Competition Grade Subs | Click Here |
They play a key role in providing those punches that make your mirror more. So hop in and read the entire list for a better understanding of the brands and other key information. Find the best 8 inch subwoofer available on the market down below:
1. Rockford Fosgate P3SD2-8 8 Inch Car Subwoofer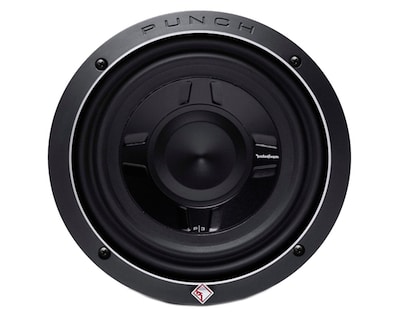 Key Features
Santoprene™ M-Roll surround featuring VAST
Aluminum diamond-cut cast
Spider venting stamp-cast contruction
16 AWG tinsel leads stitched to dual linear spiders
Rockford Fosgate's Punch Stage 3 product brings a solid performance from one of the global leaders in audio systems innovation. It has anodized aluminum voice coil formers that dissipate heat up to 100° at full power levels), keeping your sub cool during high pressure level or SPL.
On top of it, the speaker holds a great appearance on high-quality engineering, and it provides a solid 150 watts RMS. Its stitched tinsel lead reduces fatigue and shorting, therefore improving the subwoofer's overall maximum output.
These Rockford Fosgate subwoofers come with a shallow assembly that is optimized for both sealed and vented enclosures, giving you some options to play with when it comes to choosing the proper one for your vehicle. It is designed to provide an efficient audio signal.
Customers' feedback is clear: Rockford Fosgate P3S 8″ provides real and deeper bass via its Vertical Attach Surround Technique or VAST, which an increase of 25% of the effective radiating cone area, with an impressive low end in hard-to-fit vehicles.
We truly believe that this is the best 8 inch subwoofer on the market that can add a powerful sound to you current stereo system. These speakers produce loud outputs and they comes at an affordable price. They can also be easily installed to boost your output.
2. Kicker CompR 8 Inch Dual Voice Coil Subwoofer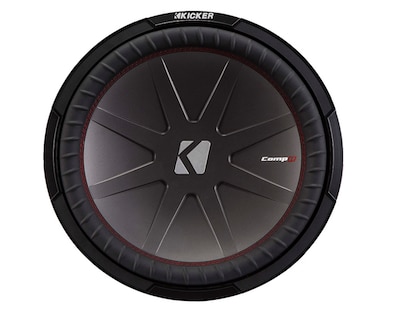 Key Features
Dual 4-ohm voice coil and 300 watts RMS
Excellent thermal management system
Yellow Surround Stitching
Spiralead™ Tinsel Leads for increased strength
The Kicker CompR subwoofer kicks while providing great audio quality and maximum output, so you just relax and enjoy the tight bass. This model applies massive venting in its steel basket to fade off the heatting temps for reliable performance.
Although it only comes with 300W RMS, it comes with a solid back plate that drives optimal low end sound. The sub produces a nice thumping bass, and it's surely an upgrade for anybody's audio system.
The item is equipped with a hard polypropylene cone that provides stability during intense usage for an accurate bass. Its 4-ohm dual voice coil design makes it easy to get the best deal out of your amp while providing optimum control thanks to its magnet structure.
Kicker CompR 8 inch works best with Kicker KX mono amplifiers and a sealed enclosure powered at a minimum of 300 watts. Its UniPlate™ backplate and pole piece serve as one solid unit for optimal thermal management.
3. Skar Audio VVC 8v3 Dual 2ohm 8inch Car Subwoofer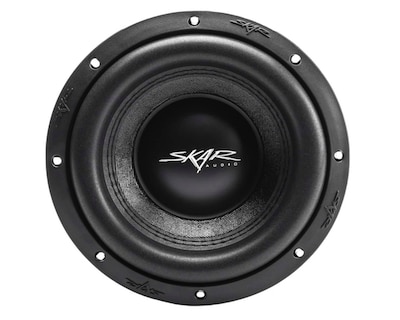 Key Features
800 watts peak power and 400 Watts RMS
2-ohm dual copper voice coil
Wide 30 – 350 Hz frequency response
Double stacked ferrite motor for ultra-responsiveness
This subwoofer has a solid high-temperature 4-layer copper voice coil for impeccable performance. It comes with an advanced cooling system to dissipate the heat and protect the sub while providing a seamless peak power rating of 800 watts at its peak.
One of the best specs of this sub is the double stacked ferrite motor, the key behind the ultra-responsive lows. Moreover, the VVX suspension design known as the Skar Audio signature red, single-layer spider that connects to the coil former with premium stitched lead wires.
The VVX also comes with a competition grade paper cone to help provide powerful bass with undeniable accuracy. This company states that its mission is to manufacture audio products.
Customers agree that the lower notes are as pronounced as the higher ones while being of great value. These are one of the greatest 8 inch subwoofers that money can buy. Moreover, this subwoofer is great for those looking for a punchy bass.
4. BOSS Audio CXX8 Dual 4ohm Subwoofer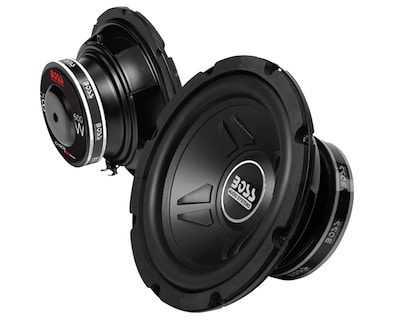 Key Features
Peak power at 600 Watts subs
Voice coil can support the highest temperatures
Cast aluminum basket for best energy transfer
Rubber surround, and 83 dB sensitivity
BOSS Audio's CXX8 sub is a car owner's dream: a great look and a powerful sound. This model has a special cone design with a durable material that allows great and long-lasting sounds productive life spam.
The manufacturer notes that the sub must go through a quick yet key process of "break-in" before you proceed to pump it up to its top, as a way to perform as its best. Do not worry. It's just a 3-4 hour process that includes subjecting the sub to no more than medium volume levels.
CXX8 has super-clean lows built on a metallic black finish that highlights any interior while holding a superb 600 watts peak power handling, clearly above many competitors of its kind.
Its voice coils can withstand high temperatures and fatigue that also increases performance and audio efficiency, over a rigid platform held on a stamped basket that transfers much of the energy produced for clear bass.
This is a good-quality replacement sub, which is a great option for most people who want a good-sounding system on a budget. Also, the installation is fairly easy, and when it is combined with an amp it produces clean bass.
5. Polk Audio MM1 Marine Audio Subwoofer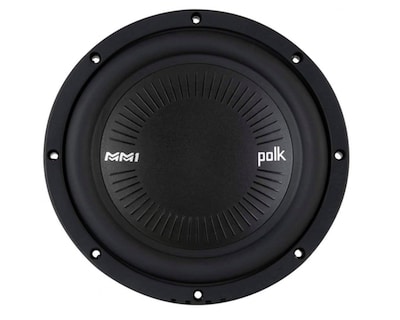 Key Features
IP56 protection with sonic precision
ABS basket reinforced with fiberglass
Composite cone made of titanium
Engineered for high-performance bass
Unique dynamic balance tech
Imagine having your friend's over for a boat trip to circle the shore on a Sunday morning without any kind of ambient tracks. Not very exciting, right? Well, there's a solution for that: the Polk MM1 900 Watt Subwoofer.
The model is claimed as the next generation of the Mobile Motor by Polk, created to produce high-quality audio and loud bass. Its Dynamic Balance Tech brings a fuller range at a 300 watts of RMS power for a core-pounding crisp bass on a durable yet classy construction.
One of the main specifications is the IP56 marine protection with sonic accuracy, which eliminates unwanted distortions and resonant frequencies while protecting the sub from moisture.
The Polk Audio MM1 has a high-fidelity, and a multilayered voice coil for a tighter bass, outperforming your OEM factory setup. These are one of the best 8 inch subs that are produced by the Polk Audio brand. For a complete audio production you should also add an external amp.
6. Planet Audio AC8D Subwoofer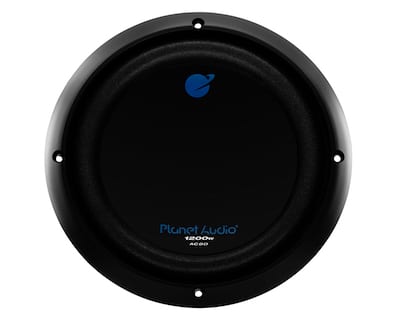 Key Features
Flexible foam for an enhanced excursion
Stamped basket offers clean sound
20 – 14000Hz of frequency response
Built with high quality materials
Planet Audio's AC8D 8″ sub is a synonym of subwoofer power on a budget, ideal for car owners who want to upgrade their audio on a compact enclosure. It peaks at 1200 watts and a 600-watt RMS, and if you get a pair, it accepts single wiring to 1-ohm for a power feed from your amp.
This sub offers resilience thanks to its polypropylene cone for a excellent bass on a durable material that holds strong voice coils that sustains high temperatures without breaking down for longer playing times.
Its foam surround promises to supply stability and performance on sealed enclosures for your car's stereo system. Plus, the break-in process takes no more than a few hours in which you put the sub under low-to-medium volume levels.
The dual 4-ohm voice coil sub allows the listener to hear a clean sound because of its stamped basket, with an audio sensitivity of 85dB and a resonant frequency of 39 Hz. As a new sub, it needs a "break-in" for optimum performance.
7. Pioneer TS-SWX2002 Shallow Mount Car Subwoofer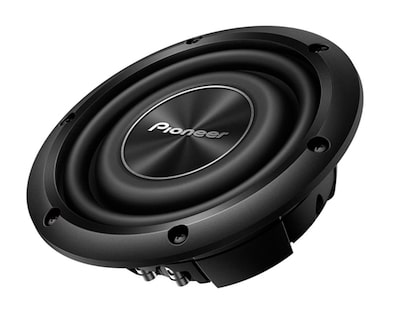 Key Features
MICA injected molded resin and paper cone style
2-5/8 in. top mount depth on a small enclosure
250 watts RMS and a peak power at 700 watts
Free-air or sealed subwoofers
Pioneer TS-SW2002 holds a rigid and durable cone for an accurate sound on a shallow mount that provides the same big bass performance when compared to a full-size sub. Thanks to its 2-5/8″ mounting depth compact design, this particular model can be installed behind or under seats.
It handles 600 watts and a 150 watts nominal power, which delivers high-quality bass. Comes with the Pioneer's MICA injection-molded resin for a booming bass.
The TS-SW2002D2 uses an enlarged cone structure that contributes to a greater cone and gasket surface without modifying the sub's standard external dimension.
The space-saving enclosure design of this shallow-mount subs makes it easy to install in a broad range of pickup truck cabins and car trunks. The manufactured recommends a sealed enclosure on a box of 0.15 ft³ to 0.5 ft³, with 0.5 ft³ as an ideal size.
8. CT Sound Meso 8 Competition Grade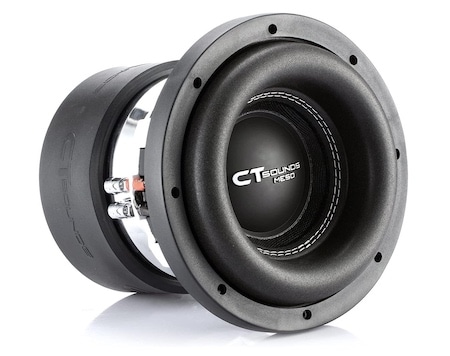 Key Features
Dual 2-ohm voice coils with lots of power capacity
Y35 graded triple-stacked ferrite magnet
High-powered audio frequency capability
No distortions, and wide frequency range
CT Sound Meso competition grade is a versatile, and hard-hitting subwoofer that packs a serious punch for any type of fan, capable of handling high and mid-low sound frequencies with ease.
Produces high sound resonance, and users get a clean bass without any distortions. The model comes with durable arms firmly attached to the construction frame to aid minimize the sub movement and protect the unit.
Just like the Tropo subwoofers, the Meso 8 sub stands out with an elegant design that has a double-stitched nylon fabric cone able to produce ultra-low notes without compromising the audio quality.
The composite foam assures seamless tracks and a Y35 graded powerful ferrite magnet, one of the best magnets for your car's audio system. Furthermore, this workhorse has a dual 4-ohm 1600W maximum power capacity, for tremendous RMS even at high volumes, for serious, hard-hitting bass yet smooth and crisp bass.
9. JBL Stage 810 Car Audio System Powerful 8 Inch Subwoofer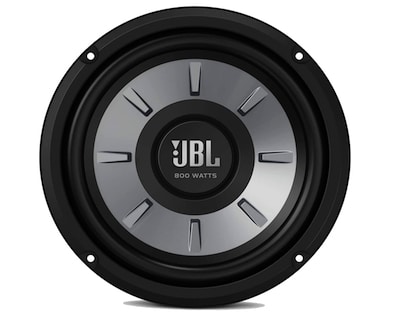 Key Features
Versatility with 200 Watts of RMS
These subs have 800 watts of peak power
Impedance of 4-ohm with improved s
Frequency response of 38 – 200 Hz
JBL Stage810 is one of the most cost-effective choices on the list, built to give the user a high and distorted sounds. The woofer provides lots of power at 200W RMS and peaks at 800W, on a lightweight yet durable polypropylene cone and a rubber surround, for enhanced efficiency and durability.
The sub is tuned by some of the world's best transducer engineers to guarantee the unmistakably JBL signature performance, fit for every size vehicle from compact to pickup.
Additionally, the huge 1.5″ voice coil adds impressive peak power handling. The JBL Stage810 is a perfect replacement for your factory system. Performs great for its size, and it's just the right amount of sub to not overpower your stereo speakers.
The company designed the Stage810 for audio enthusiasts that want to step their game up even with a great sounding sub that works well in ported enclosures. If you're looking for a great performance that is very simple to install, this is the sub you need to purchase.
10. JL Audio 8W7AE3 8 Inch Subwoofers For Cars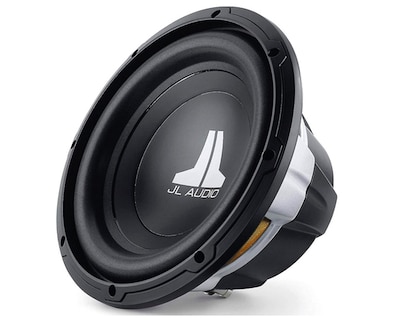 Key Features
Single 150 Watts RMS 8 inches sub
Aluminum alloy frame with an air cooling system
DMA optimized motor, and paper cone style
Best surround anodized clamp ring
W-cone for optimun stiffness
JL Audio's own Dynamic Motor Analysis (DMA) is the company's signature feature when it comes to subwoofer technology. First developed by JL Audio in 1997, the DMA handles the issue of woofer motor linearity, which results in a vastly reduced distortion and tight, clean, articulate bass.
This is possible by considering the shifts in the circuit elements, specifically the dynamic variations of the "fixed" magnetic field. Another great feature of the 8W7AE3 is the W-Cone, a patented unit-body cone assembly that holds incredible stiffness on a minimal mass build.
The shape of this product provides superb torsional rigidity. A feature that is critical to maintaining voice coil alignment at the suspension limits. Its rotating ear-cup allows both single-sided or shoulder rest wearing styles.
JL Audio 8W7AE3 subwoofer carries a patented Elevated Frame Cooling design manufactured to deliver cool air via slots above the top-plate to the speaker's coil, for enhanced peak power handling by reducing the compression.
Also, the OverRoll™ technology permits the full usage of the speaker's footprint, delivering a outstanding sound and optimized to operate in either a ported enclosures.
Best 8 Inch Subwoofer Car Audio Buyers Guide
An 8-inch subwoofer is an ideal choice for those who want to upgrade their car, boat, or home audio system without over expending, and they pack a great punch that is more than enough for the majority.
Please know that all the reviews focus on the speakers. Take into consideration the enclosures you need and the proper wiring to connect with your car stereo and amplifier.
The average sub adds some serious kicks to any type of genre. Remember to select the sub that matches your car's audio system as a whole, for maximum efficiency and durability.
What to look for when choosing an 8 inch subwoofers?
Subwoofers are speakers focused on reproducing low to medium frequencies. In contrast, car speakers are small and do not have the technology to reproduce enough low-frequency sound to provide you with an intense bass.
A quality sub improves your overall listening experience. Here are some ideas of what to look for when choosing an the best 8 inch sub:
Frequency response
Frequency response is an audible periodic vibration measured in hertz. Sharper signals are related to higher frequencies. On average, most people can hear tones in the frequency range of 20 to 20,000 Hz.
Subwoofers capacities vary but are overall capable of producing 20 to 200 Hz. It is recommended to limit the range of a subwoofer from 100 Hz downwards by using a crossover filter.
RMS power rating
The RMS power is the amount of power that the subwoofer handles. This means that they can produce more output if they handle more power, almost always aided by an amplifier.
Sound quality
Great sound quality does not rely entirely on the subwoofer. You need to consider size, power, and frequency range. The type of enclosure, the sub's location in the vehicle, and the type of amplifier you use can make a huge difference in the quality.
Mounting depth
Make sure you follow the manufacturer's recommended enclosure size, especially if you don't have much room. The box volume will indicate the size of your enclosure for proper performance. Ideally, you determine the minimum depth of your box by adding 2 inches to the subwoofer's depth.
Enclosure type
A strong, tightly-constructed enclosure is what gives subwoofers their optimum performance. Without one, these cannot deliver great sound because the performance from the back cancels out the bass frequencies coming from the front of the speaker.
The enclosure range from:
Sealed boxes for deep, accurate bass
Ported boxes to reinforce bass response
Bandpass boxes for maximum kick or extra loudness
Free-air woofers for an isolated performance from the back of the unit
Underseat enclosure for those vehicles with no trunk space
Polypropylene cone
This type of cone is what most of the subwoofers in the market are made. It provided a full sound quality and is capable of reproducing any type of sound, depending on its assembly and power.
This type of cone is humidity resistant and is composed of a plastic that is pressed yet flexible to keep over excursions and avoid breakage.
Sensitivity rating
The sensitivity rating is the sound generated by the loudspeaker (dB), generally 1 (W) of power at 1m (meter). The higher the sensitivity rating of a speaker is, the louder it plays at a certain amount of wattage.
Types of voice coils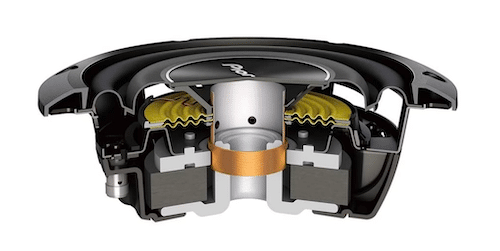 Voice coils are the windings around the cone of a speaker.
When current from an amplifier is coupled to the coil, a small magnetic field is formed. The magnet surrounding the coil opposes this field, driving the horn back and forth in a piston motion.
Without voice coils, modern speaker design would not be possible.
There are a few different coils, mainly related to the different winding methods and different materials of the coil.
Copper coils
Copper is the most common material for making voice coils.
It is a naturally abundant material and easy to work with due to its malleability. It is also an outstanding conductor and is widely used in speaker cables, AC power (Alternating Current) wiring, and interconnects for audio/video equipment.
Typically, the copper coil is coated with a polymer sheath and an adhesive coating. Copper handles hot temperatures exceptionally well and is suited for high power handling applications.
Kapton coils
Kapton is essentially a plastic material; it is wrapped with fiberglass resin to increase its thermal handling.
Modern Kapton coils perform high when faced with high operating temperatures. Kapton coils often withstand better under thermal stress than the former wraps around. This is in stark contrast to the original versions of Kapton brackets, which often melt under high-temperature stress circumstances.
Aluminum coil
Aluminum coils are cheap. They act as excellent thermal conductors. This can be detrimental from a power handling perspective, as the heat exposed to aluminum transfers very well to this element.
Consequently, the adhesives used to assemble the horn tend to disintegrate more quickly. This is why an aluminum voice coil is suitable for tweeters and ribbon horns that require less power to move due to being extremely light.
Single voice coils
Individual voice coils are the most common coils. These are wound in one direction around the cone.
Each winding is so tight that the coil leads touch. A single voice coil is easy to identify because it has only one pair of speaker wire entries.
Dual voice coils
Dual coils are wound in opposite directions. Winding posts in the rear help represent DVC speakers.
These speakers generally handle higher power; they are more versatile in impedance settings when connected in series or parallel with other speakers.
Difference between component or non-component
There are subtle yet important differences between the two of them.
Installation
Component speakers use separate tweeters, crossovers, and woofers to reproduce a loud sound. In comparison to the non-component system, you need to invest time and effort into installing these speakers.
Sound quality
Without a doubt, the use of a couple of tweeters, subtweets, and other tools, this system reproduces a clear sound.
The non-component speakers are unable to put out a good bass and are of bad quality.
Power handling capacity
One of the main differences between these speakers is that the latter is designed to handle up to 250 watts of peak power and 110 watts of RMS power.
Different between 2ohm versus 4ohm subs
There's no rocket science in this subject: car audio subwoofers have either 2 and 4 ohms impedance.
These speakers are usually connected to enhance the amplifier power output. Commonly, car owners connect two 2 ohm subwoofers to create a 4-ohm load on the amplifier.
Either option is acceptable. However, the bass you get t is determined by this option.
If you want a moderate volume bass with the highest quality, then a 4-ohm subwoofer will be your choice.
A 2-ohm rating doesn't have much resistance in its circuit. Plus, the amplifier can feed the subwoofer with more power without much resistance. So, since the resistance is less, the subwoofer is louder.
Subwoofer 8 Inch FAQ
As a newcomer to the world of subwoofers, we understand that you may have common questions about the speaker. We compiled the frequently asked questions for your convenience.
Should I get a specific enclosure?
Indeed, you need to get a specific enclosure to get the most out of your subwoofer. The quality and the performance of your subwoofer depends on a tightly-constructed enclosure that is strong enough to hold serious sound kicks.
Just purchase a pre-made enclosure to fit your subwoofer unless you are a highly-talented craftsman with a deep understanding and experience of enclosure volumes and sizes.
Refer to your manufacturer's manual to know which enclosure your subs need: sealed, ported, bandpass.
Do I need an amplifier for my 8 inch subwoofer?
Subwoofers are engineered to reproduce sounds located at the low frequencies, and this, takes a power source, meaning an amplifier.
An amplifier allows the subwoofer to work at its best by providing the kind of power it needs to reproduce its maximum sound output and deliver a deep bass.
If you can't buy an amplifier, you are still able to connect the speaker without an amplifier, depending on the subwoofer type. Just keep in mind that it involves a deeper knowledge of sound system and the sound quality is never the same.
What are the best settings for my 8 inch subwoofer?
Here are a few basic guidelines for your subwoofer:
Begin with your speaker level
Distorted signals can destroy speakers, subs, and eardrums, and it interferes with the sounds of musical instruments.
If you decide to power your subs with an amplifier, make sure that the amp's gain is properly tuned to prevent distortion.
Play some tunes and turn up your receiver's volume until you hear the sound distorting; then, lower the volume until the music sounds clean again. Take note of where the receiver volume is when there is no distortions happening.
Open the low-pass filter and flatten the signal
Turn the subwoofers amp's knob to its lowest, most counter-clockwise position.
Switch the low-pass filter on and point it as high, clockwise, as it can be.
Turn off the bass knob all the way down.
Reset the remote control to a middle position. After this, you will now have the choice of boosting or cutting the bass on depending on the song.
Change the receiver's bass tone to its middle, zero, or "flat" setting. If it has a subwoofer level control, program it to "no gains" or middle.
Make sure that you turned off the crossover, low-pass filter, or boost on the subwoofer output.
As a general rule, low-pass filters, crossovers, or bass boosts on the receiver and the amplifier are not met to be used all together. Pick one or the other to avoid phase distortion.
Adjust the bass and subsonic filter
Carefully turn up the bass knob to drum sound likeness.
Bass boost is where distortion comes in, so be careful. If present, lower the sub amp's gain until it goes away.
If you have ported subwoofers, use a subsonic filter to counter overly loud low notes and help decrease the note levels at which the enclosure resonates.
By fine-tuning all the filters, your bass drum sounds should be dry or loose, depending on your preference.
Match the receiver volume and the subwoofer level
Start by turning up the receiver's volume to a maximum, distortion-free position. Then, begin to slowly turn up the subwoofer amp's gain until you recognize that the bass sounds balanced in comparison to the rest of the music.
Summary
Upgrading your car sound system is a serious business that requires proper knowledge to make the best out of your hard-earned investment. If you don't need a lot of bass get 150 watts to start up.
Getting 8 inch subwoofers depends on your budget, taste, type of car, and many other variables that you must understand. Make sure that the woofer has a wide low frequency response.
There's no other sound better than a properly set-up subwoofer that's part of a complete sound system. Not all subwoofers are created with the same specs, and the price is not always the right choice.
Last Updated on: January 11, 2023