How to Adjust Car Stereo for Best Sound? [6 Tune EQ Settings]
A car can be a nice place to enjoy music, but it can get disappointing when the car stereo doesn't meet your expectations.
Common installation mistakes and failing to take time to tune your system can make even sophisticated stereo systems not deliver their full potential.
However, the best part is that sometimes it all takes some simple setting changes or replacement of some parts to improve the sound quality and enhance your listening experience.
These measures can be pretty expensive, but fortunately, you may not need to undertake some of these steps.
So, how can you get the most out of your car stereo without spending a lot of money in the process? Here's a few ways on how to adjust the car stereo for the best sound.
How to properly adjust your car stereo equalizer for best sound
Even if you get new speakers or all-new sound components for your car, your sound quality will remain poor if you don't tune your stereo system properly.
You can start with the audio equalizer and make sure that it is set according to the type of music you play most.
Always remember to make small adjustments only when you need them most. Wrong EQ settings can make a perfect system sound terrible.
Understanding sound frequency range
Sound is created by different vibrations in the air that can be interpreted as pitches or frequencies. As humans, we can only hear sound frequencies between 20 and 20,000 hertz (Hz).
A low frequency will represent a low pitch instrument, and a high frequency will represent a high pitch instrument. Here is a table that matches the different frequency range values to the respective sound range:
| | |
| --- | --- |
| Frequency Range | Frequency Values |
| Sub-bass | 20 to 60 Hz |
| Bass | 60 to 250 Hz |
| Low mid-range | 250 to 500 Hz |
| Midrange | 500 Hz to 2 kHz |
| Upper mid-range | 2 to 4 kHz |
| Presence | 4 to 6 kHz |
| Brilliance | 6 to 20 kHz |
Now that you understand the basics about frequency range, you can adjust any different types of stereo receivers. When you start adjusting the levels, make sure you make slight changes to each frequency.
Also, always adjust the equalizer using the same type of input that you will normally use to listen to music on your vehicle.
For example, if you are going to be streaming music from a mobile phone application or Apple Carplay via Bluetooth, then play your favorite song and start making the adjustments. The treble settings will allow you to adjust the brilliance of the frequency range.
Proper tuning of your car stereo equalizer step by step guide
Turn on your car stereo system and go to the sound settings. Find the equalizer or tone controls for the stereo and speakers. Depending on the type of audio equipment that you have, you will either get 3 band, 5 band, 10 band or 13 band equalizer set. The more bands your equalizer has, the more control you will have over the output sound.
Each band will let you tune the fade of different sound frequencies to get the preferred sound that you would like to hear coming out from your speakers. Fine tuning the equalizer should be done with slightly and comparing the before and after sound.
Start with the EQ set at "flat" and tune one thing or two at a single time until you figure out what's missing or what you need to add until everything is dialed just right. And for obvious reasons, it is never a good idea to tamper with EQ while driving, as this might create some distortion.
If you are using tweeters, you can try and play around with their placement to get the best sound. You can start with the tweeters placed at your ear level and adjust them to get the best direction as you deem fit. The high frequencies in the tweeters should always stand out, but they should not do so annoyingly.
On the other hand, if you like to listen to energetic or hip-hop music, you may want to tune your bass a little bit high. You don't want to set the bass too high, especially when you are listening to the car radio or slow music. However, most aftermarket stereo systems are designed with pre-set options, so you only need to select the one you like the most.
Adjust the bass according to your taste. Try not to add too much bass to avoid creating a muddy environment. If you feel that there is not enough bass, then you should consider some audio upgrades. Adding front and rear speakers with a quality amplifier will increase the overall volume. It also allows you to tune your car with additional volume control features.
Watch how to adjust an aftermarket equalizer sound settings:
Adjust the amps gains properly
You may be experiencing bad sounds from your audio system because the amp gain control is set too high. Most people assume that the gain control is used to control the volume levels, but this is not the cause.
On the contrary, the amp gain controls the amount of signal sent into the amplifier so, cranking it too high can results in nasty sound distortion.
Every amp will have instructions on how to set the gain on your amplifier, so you may want to check with the manual for specific instructions.
If you feel that the environment is muddy, try to adjust the subwoofer output fade control by negative 2dB. Here is where the audio experience plays an important role.
Add bass in your music for best sound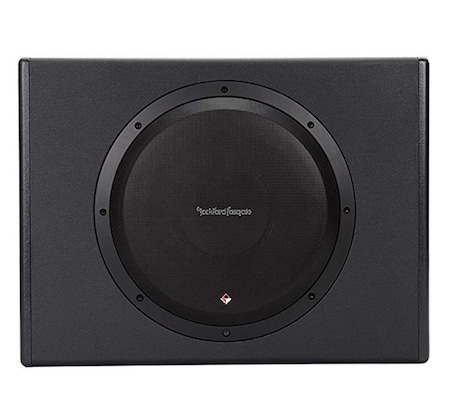 A great subwoofer will add the right amount of bass in your music, so if you are a fan of reggae, rap, or just classical music, then you should not skip this step. Car subwoofers came in different types and sizes, so you'll need to check the one compatible with your car stereo.
Some people dislike the idea of sitting next to a thumping car, but it is important to emphasize that subs are not all about the boom. Subwoofers can be adjusted to fit your preference, and once you get one, you can never get to drive without a subwoofer.
A subwoofer improves music levels in your car while adding the richness and impact that you may have been missing. When you play music featuring some powerful bass notes, all the parts should punch out in an even manner even when listening at low volume levels.
However, when you hear a drop in bass notes or booming bass, check the phase of your subs and experiment with different connections until everything is smoothed out.
The Rockford Fosgate or Marine Audio brands have some products that allow you to adjust subwoofer volumes with ease. You can also try different equalization controls to make other minor adjustments.
However, remember to keep your equalization to the minimum and avoid cranking your bass way up as this only hinders your system impact and robs it of its effective power.
Pro Tip: You might need to purchase a special car audio battery if you're adding a subwoofer to your car sound systems.
Car sound deadening materials
Exterior and interior car noise detract from your overall music sound quality, so it is an area that you can't take for granted when looking for ways to make your car stereo sound better.
Since most car speakers are mounted on the car doors and beneath the seats, the speakers' vibrations can make the car noisy and reduce the music's quality.
However, sound deadening materials helps to absorb the interior noise by creating a stable platform for the speakers so that the vibrations do not impair their performance.
Plus, the noise dampening materials can help to reduce exterior noise coming from the road and wind, especially at highway speeds. That way, you don't need to turn your volumes up when speeding to compensate for the uncontrollable road noise.
Some aftermarket car stereos come with a speaker phasing feature. This particular equalizer feature allows you to adjust how the sound comes out of the speakers. You can make the sound wider, or you can also optimize it to a specific section of the car.
Pro Tip: Experts use bass blockers to improve the overall sound quality of a room in both cars and home audio environments.
Car stereo accessories
Besides car speakers, adding other car audio accessories can be a great way to improve your car audio quality.
Such components include car amplifiers that are used to amplify electrical signals and provide extra power to your car audio, thus improving the sound quality.
Although most car stereos come with inbuilt amps, they do not provide adequate power required by your custom car stereo.
Consequently, an external amplifier is necessary if you want more clean power for much higher quality sound from your car stereo and other car audio components in general.
A good amp can make a night and day difference in sound output, and it is an essential component in getting better sound in your car.
If your sound system does not come with integrated Bluetooth, you can purchase a Bluetooth car adapter to connect your phone to your car wirelessly.
Check and adjust all your speakers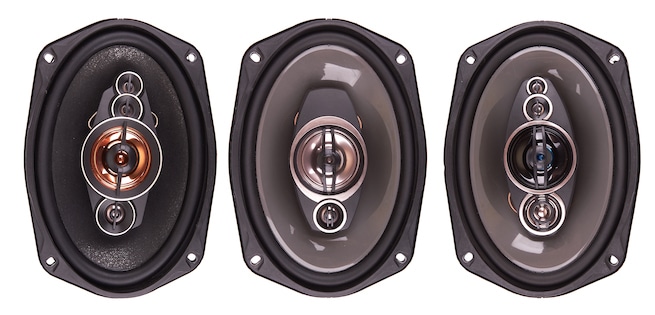 The car speakers are responsible for the actual sound within the confines of your vehicle, and this is crucial to get a better music sound.
While your factory speakers may provide you with treble, bass, and mid-range sounds, getting a set of aftermarket speakers will ensure that you get other components like woofers and tweeters that produce quality and distinct audio.
Also, most aftermarket speakers are made of durable and long-lasting materials that enable them to produce deep and the best car audio sound.
Other than that, you should also check if your speakers are firing in phase, i.e., check if the cones are moving in and out simultaneously. If the speakers are not in phase, your system may lose some sounds and be disoriented in lower frequencies resulting in a drop in sound quality.
A quick way to know if your speakers are synced is by playing heavy bass music and turn the volume balance to either right or left side. Observe the bass when the volume balance is returned to the center, and if you hear more bass, it means the speakers are in phase.
If you don't hear a significant difference, the speakers are not in phase. As such, you'll need to play around with the speakers by switching positive and negative wires and testing the response each time until the speakers are wired in phase with each other.
You will probably need to reverse the wires connected to the sub for more bass response. For better quality component speakers, and sound try purchasing full-range speakers.
Pro Tip: If you have multiple subs, ensure that they are also wired in phase with each other.
Replace your car stereo
If the above tips do not give you the desired results, maybe the best solution is to change your car stereo system. Once you have taken the time to adjust the equalizer settings, you'll know whether or not to expand/replace your system.
A new car stereo will assure you of update features and added functionalities, like a better car radio, and improved equalizer, or even an MP3 player and DVD players with CD capability. However, for ultimate improvement in your sound quality, your system needs more than just a new car stereo.
Pro tip:
Make sure you do not compromise the quality of your music files. For instance, whenever you transfer music from one device to another, it is compressed, which may compromise the quality. So, if you plan to transfer your music, always use minimum compression to enjoy the best sound.
If you are using any stereo software or any car app like Android Auto, always keep them updated. You should also keep the car stereo and other components free from dust, as this could potentially compromise your sound quality.
Wrapping up!
These adjustments will help you bring out the richness in your music and achieve the desired sound quality. Whether it is buying new car audio speakers or even a new stereo system or adjusting your stereo settings, the results will blow your mind away.
Further, getting a custom car audio system is a great way to achieve better sound and maximize sound quality in your car. Remember, bass can break or make your stereo system, so always adjust your bass settings and get an additional subwoofer for powerful and neat bass.
Some features to look for when buying new car stereo head units are good quality car audio equalizers, builtin crossover, gold audio capacitors, and Bluetooth capabilities.
Adding an extra front speaker to each side can improve the output levels significantly. You are now ready to start making all the adjustments necessary to your car audio system.
Last Updated on: February 17, 2023