Best Blind Spot Detection System For Reliability [Guide] 2022
Our modern cars have been improving every year with new safety features that alert the driver and protect us in accident situations, .e.g., airbags, seat belts, even car seats, and energy absorption technology.
There are many enhancements that we take for granted that help prevents accidents in the first place, .e.g., turn signals, side mirrors, backup cameras. Adaptive cruise control, self-parking, and collision detection systems are beginning to be offered.
Features such as blind spot detection systems exist in many new model vehicles and are being enhanced with new features every year. But older cars lack these safety features, placing the drivers at a disadvantage.
However, car owners of older vehicles are finding aftermarket solutions to enhance their safety, improve reaction time, and prevent accidents. There is a wide range of blind spots monitoring products available to detect vehicles with a variety of features available, including visual and sonar warnings. These systems utilize radar based technology.
Top 10 Best Blind Spot Detection Systems On The Market
Our search for blind spot detection systems has turned up the following systems that are currently rated in the top 10 categories based on features, pricing, and customer feedback. They all utilize the cigarette lighter to supply power. Most require mounting the sensors on you car's bumper.
1. BrandMotion RDBS1500 Radar Blind Spot System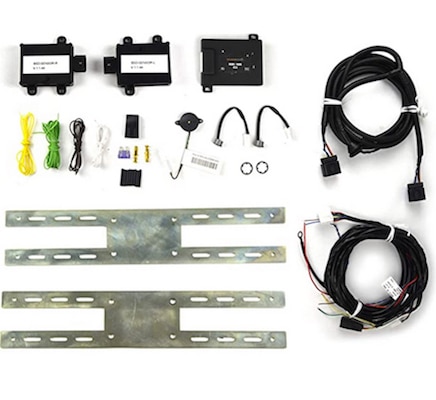 Key Features
Day and night indicators are bright, no exposed wires
Activates when speeds are greater than 15mph
Rear distance observation increased by 15 feet to 40 feet
Warns of pedestrians or vehicles while reversing
The brand motion blindspot detector has a range of up to 40 feet, can detect vehicles, and provides both an audio alert as well as visual indication. There are day and night lights. The daylight visual indicators are bright and easily seen. Warning lights and tone will alert the driver upon turn signal activation.
The monitoring system uses the CAN data to get the automobile speed for better accuracy. Also, the technology is helpful when you are backing up in a parking lot that is busy. Overall this aftermarket blind spot monitor has excellent accuracy. The finish on this device blends in with most vehicle interior finishes. The device does not activate unless you are traveling more than 15 miles per hour.
According to our experts, installing this system is easy. However, professional installation can be arranged. Seventy percent of consumers rated this monitoring system four stars or better. Professional installation is nor mandatory, if you have the capability you can do the installation yourself. The BrandMotion RDBS-1500 LED indicators works great when you want to change between lanes.
2. Accele BSS200 Blind-Spot With Sound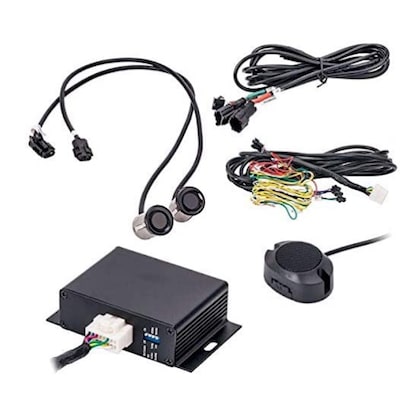 Key Features
Blind spot detection – OEM style
Two LED warning indicators
Easy to install on most vehicles
Left and right detection system
The Accele BSS200 blindspot sensor kit comes with two sensors and is an affordable solution for drivers looking for a device that is relatively easy to install. There are two LED indicator lights to mount on the dash for visible indication in addition to warning sounds. Most buyers very satisfied with the way this detection systems work.
Also, the Accele electronics system can be configured to operate only when the turn signal is activated or work all of the time. This kit is an OEM system that comes with 3M adhesive installation for the warning indicators. Some consumers, however, found the device difficult to install due to unclear instructions. Also, it brings an extra extension harness if you need it for installation.
The sensors have a paintable surface and can be painted to match the color of your bumper. However, they can only be mounted on plastic bumpers. There were no current customer feedback available for this device. Also, remember that the sensor that comes with this aftermarket blind spot monitor is only compatible with plastic bumpers.
3. Rydeen BSS1 Blind Spot Detection System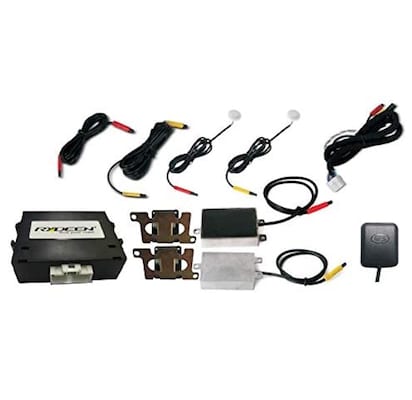 Key Features
Two radar pucks, LED and Buzzer for audible alerts
Highly accurate microwave digital radar
LED indicates visual alerts with two color options
Speed Sensing GPS antenna
The Rydeen BSS1 is one of the best blind spot detection devices that comes with visual LED lights that offer two distinct color options, a buzzer speaker option for audible alerts. There is also a GPS antenna that is used for sensing speeds. Comes with a radar that detects objects moving into your vehicle sides when you want to change between lanes.
Additionally, there are two radar pucks, one for each side of your car. The indicators can be installed with a 3m adhesive that comes with this monitoring system. Also, these systems alerts you to cross traffic when you are backing up. This radar system, like many blind spot systems, does not work on metal bumpers.
There is no drilling required during installation. These systems are fairly new and have very little customer reviews available online. However, there were some concerns with regards to the false alarms and the detection capabilities of this aftermarket blind spot monitor. Consult a professional before buying these aftermarket blind spot monitoring systems.
4. EWAY Universal Car Radar Blind Spot Detectors

Key Features
Microwave radar sensor for side and rear view safety
Detects objects up to 50 feet behind the vehicle
Radar detectors work in fog, snow, rain
Assistant warns drivers of side objects
The EWAY universal car radar blindspot detectors work good when monitoring vehicles from ten to fifty feet from your vehicle. This detection system uses a combination of blinking LEDs and buzzer sound to warn drivers of an approaching car. Additionallly, the buzzer sound level cannot be adjusted.
We like the amount of range this radar system has for detecting objects. There are three assistance technologies standard on this device for your safety – Open door warning, Lane Change Assistance, , and Rear Cross Traffic. We love this detection system for its ability to assist drivers when changing lanes and it also detects cross traffic.
Customers with metal bumpers will find that this system does not work well with these types of bumpers. Plastic bumpers are preferred for installation. Also, It comes with two different installation options for the LED indicator which are 3m adhesive or hole drilling. This detection system detects objects up to 50 feet behind the vehicle.
5. CarBest Ultrasonic Blind Spot Detection System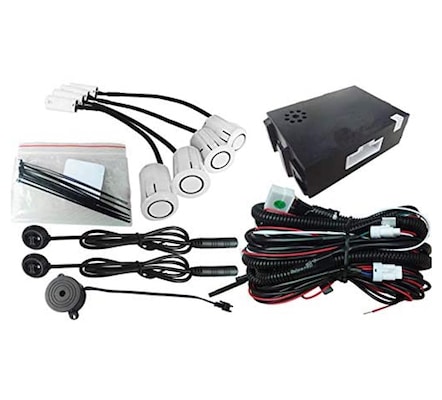 Key Features
Provides assistance for blind spots and back up support
Includes high-speed frequency sensors for left & right of the vehicle
Buzzer for audible warning and lights illuminate
The system warns the driver when the signal to turn is engaged
The CarBest ultrasonic blind spot detection system comes with 2 sensors. There are two LED indicators to mount on the dash for visible indication in addition to the audible buzzer. The system only works when you're your turn signal is activated. Some consumers, including professional installers, found the system difficult to install due to unclear instructions. However, it has a good 3 meters of detection range with an 80 degree angle.
In addition, several customers reported that one or more of the sensors quit working. The sensors can be painted so that they can match the color of your bumper. Only 19% of consumers rated this blindspot detector four stars or better. It is always good to have visual warnings helping us make better decisions when driving. Also, the kit comes with 2 BSD sensor that are industry standard when it comes to accuracy and detection capability.
6. Crimestopper Universal Blind Spot Sensor Kit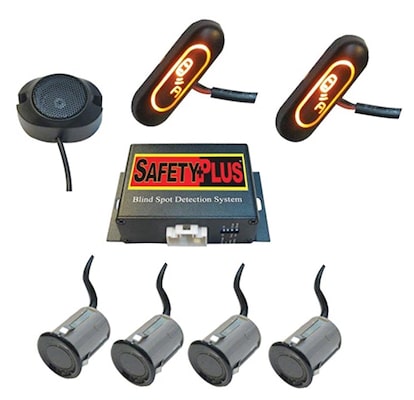 Key Features
Includes four sensors, 2 for front and back
Activates once turn signal is engaged
Blind spot detection range is 3 to 10 feet
Editor's rating of 3.9 out of 5 by one buyer
The Crimestopper universal system has four sensors, two each for the front and rear bumpers. All four vehicle corners are covered and can provide driver assistance when changing lanes. Each sensor has a detection range of three to ten feet.
They are waterproof. The system activates as soon as the turn signal is activated, providing protection and warnings if there is an automobile in your blindspot.
If an automobile is detected, the system alerts the driver by an audible sound, which can be adjusted, as well as by LED indicators. The sensors can also be painted to match the color of the bumper. Consumers indicate the system is easy to install but requires some drilling. The audible sound level can be adjusted.
7. STEEL MATE Universal Blind Spot Detection System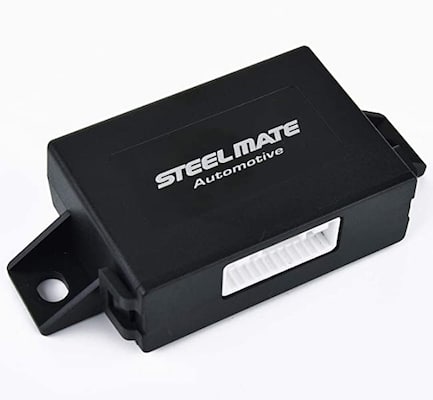 Key Features
With turn signal activated, the system indicates an approaching vehicle
If the turn-signal is not activated a warning will be flashed
System is functional when hazard warning lights are activated
The device detects objects other than a vehicle on the sides
The STEEL Mate Universal is one of the more expensive units available for blindspot protection. There are 2 sensors to be mounted on the rear bumper. If a vehicle triggers the system to issue an alarm, an LED and a sound will be emitted.
Also, we like the warning indicators design which looks pretty sleek.  The BSD lane change assistant works with cars or objects moving over 5 kilometers per hour. The sensor kit comes with a technology that detects objects within five meters.
A warning is also provided if a vehicle enters the detection area with the turn signals off. When the turn signals are on, both a warning sound and flash will warn the driver that there is a vehicle in the detection area.
There were no customer feedbacks available for this system. According to manufacturer the monitoring system works good under snow weather conditions. We like the warning indicator lights on this model.
8. Five Bananas Aftermarket Blind Spot Monitoring System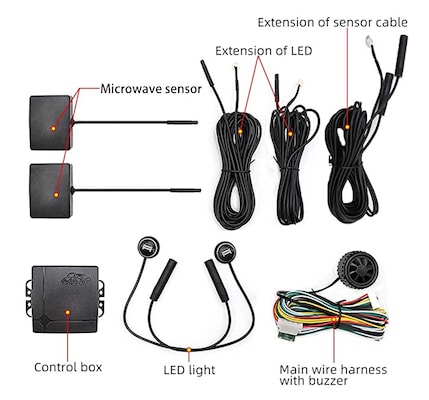 Key Features
24GHz microwave sensor for rear and side of the vehicle
Monitors closing vehicles on the inside lane from 6-12 meters
LED lights flash and buzzer beeps to alert the driver
Detailed instructions in English are included
The Five Bananas blind spot monitor works good for monitoring the rear side from one foot to 33 feet from your car. There are 2 sensors, two LEDs and a buzzer shipped with the system. With a lateral range of four meters, and rear side range of 10 meters this system is among the top monitoring systems available.
Additionally, it comes with a microwave sensor, and a extension harness. The system is shipped with English instructions, double sided stickers to mount the various components. An audible alarm, as well as the appropriate LED, illuminates whenever a vehicle is in the detection zone.
Forty-three percent of drivers rated this system with four stars or better. All the specifications that this product offers including the 24Ghz sensor are worth every penny. Also, this detection system provides alerts for objects and vehicles from 6 to 12 meters.
9. GreenYi Blind Spot System and Camera

Key Features
Blindspot camera, high definition screen – 800*480
Anti-glare, works with NTSC and PAL video formats
Easy installation, the power is provided by cigarette lighter outlet
No drilling, adhesive pad provided
The Green Yi HD Camera has audio and visual, and up to 16 feet of clear night vision maximizes the review radius. The screen adheres to your dashboard and it has 5 inches of screen size, anti-glare. It also works with several video formats. The HD screen provides a detailed view, however, must be installed near the driver.
We like this amazing side view camera that can show a mirror image on an aftermarket blind spot monitor, and the installation does not require any drilling. You can use the cigarette socket as a power source. The screen can be configured to allow a blindspot mirror image as well as a non-mirror image to enhance your safety. It is easy to install.
However, there seem to be wires everywhere. The monitor has anti-glare properties. Fifty-eight percent of drivers rated the Green Yi Camera blindspot sensor system four stars or better. Also, the monitor can be fixed on the windshield or the dashboard of the car. This camera can alert drivers if a car is coming when they want to change lanes.
10. Audiovox PSD-100 Blind Spot Detection System

Key Features
Two sensors alert on obstacles six feet from bumper
Install system as a front or rear sensor system
Connectors at the bumper are waterproof
The system can be upgraded to a four-sensor system
The Audiovox PSD-100 has front and back sensors, providing a detection radius of 6 feet. The connections are waterproof, and the system can learn various mounting situations and save this information in flash memory. Many drivers would consider the radius as being too short and may also find it difficult to install.
Also, the Audiovox systems has a buzzing sound as well as LED indicators to indicate something is in your blind spot assist. Car owners can purchase additional sensors to compliment the two sensors that are shipped with the box.
This blind spot information system is a radar based system and it comes with two radar sensors. Buyers can install the sensors on the rear or front bumper or upgrade to 4 sensors for wider detection range. The sensor kit provides great specs including LED indicators.
Blind Spot Detection Systems Buying Guide
New cars are arriving with all of the latest features. However, older model cars lack of technology such as blindspot detectors. There are newer systems and products available on the market which can be installed professionally as well as by DYI.
Many drivers of older model vehicles can now add these devices to their cars with little expense. There are specifications and capabilities that everyone should consider for their safety.
What to look for in a blind spot detection systems?
Many systems do not work on cars with steel bumpers. Other considerations include ease of installation, range of detection, indicators, false alarms, adjusting sound levels. Most systems include two bumper sensors, while a few offer four sensors to cover all four corners. The following provides a little more detail.
Easy installation and setup
Ease of installation is important whether you intend to install it yourself or hire a professional. Some kits require holes to be drilled and canwire connection to be run, while others require less work using 3m adhesive to secure the sensors and time, which is important for a professional installation. It is important to use waterproof connectors when installing blind spot systems.
Range and detecting distance
Short detection distances very little warning of nearby vehicles in blind spots. Longer distances of up to 50 feet gives ample warning of cars approaching on either side of your car on a multilane highway. When looking for range capability make sure you understand both the side and rear range.
Type of indicator
Systems may include adjustable sound buzzers, LED systems, and even cameras. LED systems have additional indications, especially in situations where there is noise in or around your vehicle. Usually, the indicators are on a round form and they come with 3M adhesive for installation.
Amount of false alarm
Blind spot systems should be evaluated for false alarms caused by your vehicle passing stationary objects at high speeds. Many systems have algorithms to filter out false alarms.
How does a blind spot detection systems work?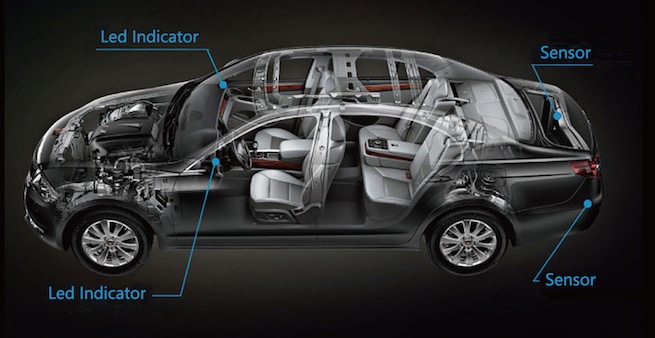 A blind spot system consists of a control box to manage the signals received from the radar sensors, interpret them and make decisions to trigger either sounds or LED lights to indicate something is in your blindspot. This feature allows for false triggers at times. Better systems will filter out false triggers for your safety.
Different type of blind spot sensor kits
The two main type of blind spot systems is those which are installed by the automotive manufacturers as original equipment and aftermarket systems that can be installed on older vehicles to add safety for their drivers.
OEM systems
Original equipment manufactured is a term given to items that are intended to be offered as standard equipment or upgrades by manufacturers at certain trim levels. Original or OEM blindspot mirror indicators might be available depending on your car model.
Aftermarket blind spot systems
Aftermarket blind spot systems are meant to be added to vehicles of older vintage. This would also include custom-designed kits and underglow kits designed to fit many models after they are driven off the dealer's lot. Make sure you read the instruction manual prior to the installation.
F.A.Q
Can you trust a blind spot device?
This system should be treated as an assist. Some systems will offer many false detections or false triggers, while in specific conditions, some may miss threats from vehicles in your blindspot. Always check rearview mirrors, side mirrors, and look over your shoulder before changing lanes. The range and the blind spot warning system play a crucial role.
Do I have to clean the sensors?
Generally, the sensors do not have to be cleaned. However, if your driving in very dusty, muddy, or icy conditions, the material could build up on the sensor making it less accurate and effective. Even some of the best blind spot detection systems might need some sensor cleaning. Look for a monitoring device design with good detection capabilities, and that does not require constant sensor cleaning.
Wrapping It UP
Blindspot sensor kits can be installed by DYI consumers as well as professionals. They offer a variety of features. e.g., sonar and visual LED warnings, as well as cameras. More sophisticated blindspot detection models will filter out false triggers, ensuring higher accuracy levels. Remember to look for 3m adhesive and adjustable sensors for ease of installation.
Most come with visual indicators. However, they do not provide parallel parking assistance, speed detection, or alerts to cross traffic. Never rely on these detectors 100%, always check mirrors and check over your shoulder before you change lanes. Blindspot mirrors are another cheap and less effective solution for blindspot detection in cars for extra safety.
On our previous aftermarket blind spot monitoring comparison table that you saw up top, you can choose from the top 5 systems on the market. I hope you now know how to choose the best blind spot detection device. Do yourself a favor and get a monitoring product included next time you go out car buying.
Last Updated on: January 18, 2023