What Is An FM Transmitter? Explained By An Expert 2023
Before all these streaming technologies were developed, back in the day, the only way to listen to music was either through radios, cassette players, or CDs. The first Bluetooth was developed in 1994, but it wasn't until after 2000 that this technology started to take off.
For cars, before this period, it was difficult to connect your phone to the car audio system. You would have to use a cassette adapter or FM transmitter to play music from your phone through the car's stereo system. So, What is an FM transmitter?
An FM transmitter is basically a device that transmits audio signals over FM frequencies. This means that you can use a personal FM transmitter to play music from your phone, laptop, or any other audio device, through a car's stereo system or any other audio system with an FM receiver.
There are a few different types of FM transmitters available on the market. Some FM transmitters come as standalone devices, while others can be integrated into other devices such as phones and laptops.
In this post, we are going to cover everything you need to know about FM transmitters, how does an FM transmitter work, and how to choose the right one for you.
What is the purpose of FM transmitters?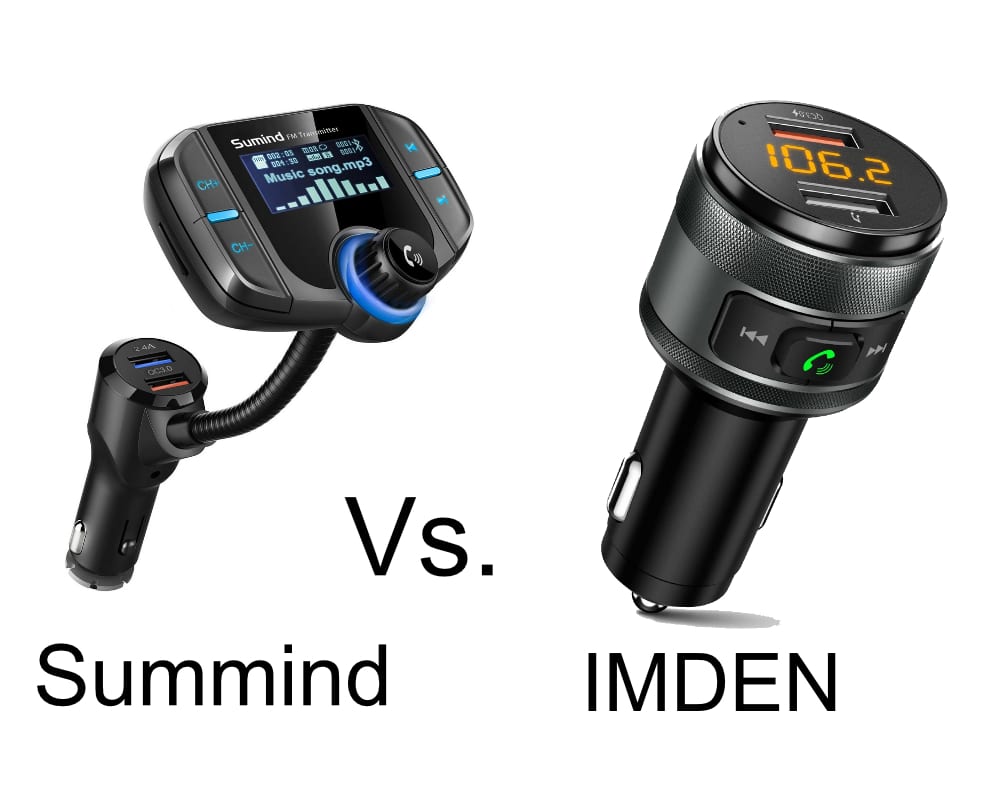 The purpose of an FM transmitter is to allow you to play audio from one device over another device's speakers. This can be useful in several different situations.
For example, if you want to listen to music from your smart device while you are driving, you can use this specific device to play the music through your car's radio. This is considerably safer than attempting to connect your smart devices directly to your head unit via a hardwire connection.
FM transmitters can also be used in other settings, such as at work or in your home. If you have an older stereo system that doesn't have Bluetooth connectivity, you can use an FM transmitter to play music from your smartphone by transmitting the audio output via radio waves or FM radio frequencies.
What does an FM transmitter do?
The FM transmitter was designed specifically to transmit music wirelessly via FM radios. It broadcasts a signal that can be picked up by any device with an FM receiver, similar to how high-powered versions of radio stations work.
Basically, FM transmitters take an existing audio output from a pre-existing audio source such as a smartphone device and convert it into an analog signal. Thanks to the transmitter's FM modulation technology, these signals are then converted to new FM radio waves that can be picked up by your car radio. This allows car owners to match their radio frequency to the one that has been set up on the device.
The FM radio transmitter allows you to connect almost any smart device that has built-in Bluetooth. Most transmitters also come with USB ports and even an auxiliary input that can be helpful when you are trying to plug an audio signal from a device that does not have wireless capabilities.
How do car FM transmitters work?
An FM transmitter works by broadcasting audio signals over FM frequencies. These signals can be received by any device with an FM receiver, such as a car stereo system, home stereo system, or portable speaker.
There are different styles of FM modulators. No matter which model you choose, they all work very similarly. The transmitter will plug into the audio output of your smartphone, MP3 player, or other devices. This signal is then broadcast over FM frequencies and can be received by your car radio or head unit.
One of the most fundamental components in radio transmission is an oscillator, which generates a carrier signal at a specific frequency. This voltage modulator can regulate and reshape this desired waveshape into any other form needed for modulation such as FM or AM signals with their corresponding kHz assigned by regulatory bodies like the American Federal Communications Commission (FCC).
Once the signal is processed by the FM radio transmitter, it can be picked up by the closest receivers. You will then have to adjust or tune your radio to the same frequency that the FM transmitter is broadcasting to. Most Bluetooth FM transmitters will allow you to set multiple frequencies, which can lead to a better sound quality without any interference.
Other basic models will have a predetermined frequency range that could not be compatible with the available frequencies in your area. This can turn to be problematic for those older cars that do not have a digital display on their head units.
What To Look When Buying FM Transmitters For Your Car Stereo?
Many FM transmitters nowadays offer a lot of convenient features. They all come with some form of Bluetooth connectivity and even auxiliary inputs.
FM transmitters allow you to stream music from any device wirelessly using compatible frequency ranges. It can be very useful for older vehicles that do not have built-in entertainment systems or CD players.
Two USB Ports
A USB port is a place to plug-in electronic devices like a printer, scanner, or thumb drive. FM transmitters with two USB ports can let you play music and charge your devices at the same time.
Wireless phone calls
Some FM transmitters come with built-in microphones that allow you to make hands-free phone calls. This is a convenient feature if you need to take a call while driving. Having this function is great for those who live in states with road restrictions.
Low power consumption
FM transmitters with low power consumption are a great choice for those who are looking to get a transmitter with low interference. Most models now will connect directly to the cigarette lighter with an adapter.
Built-in antenna
An antenna is a necessary component in radio transmission. Some of these transmitters come with built-in antennas, while some do not. If you are looking for a transmitter with a higher range, then you should get one with an antenna attached to it. This will improve your listening experience.
What Is The Best Bluetooth FM Transmitter?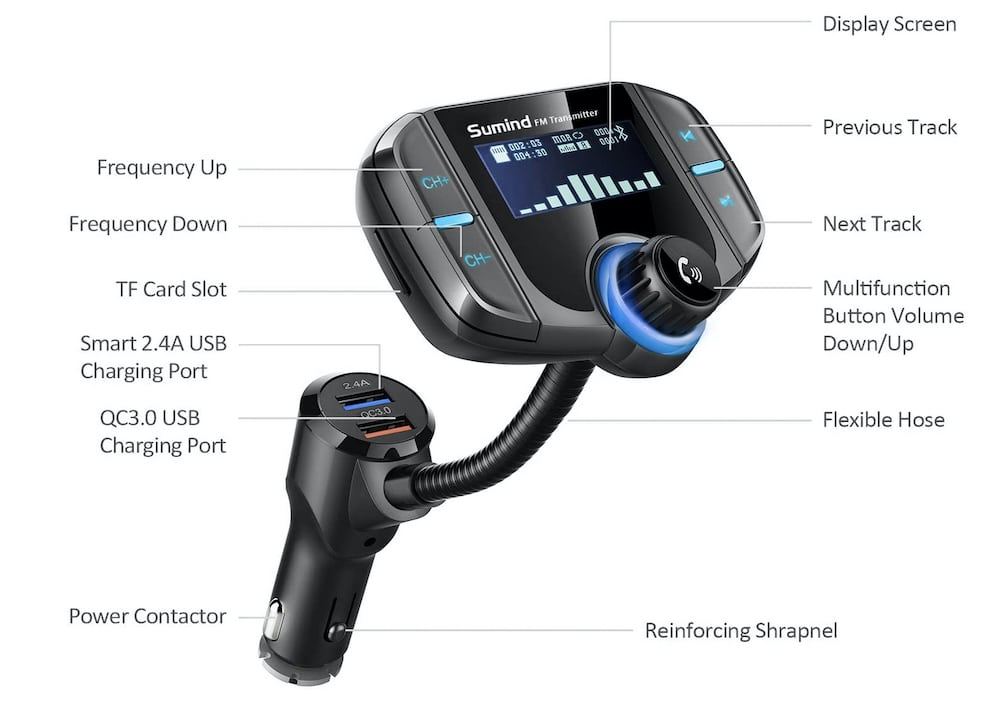 The Sumind Wireless Bluetooth FM transmitter is one of the most popular devices on the market. It is fully compatible with most car models, and it comes with a built-in antenna for better signal quality. It also has two USB charging ports and an aux input for non-Bluetooth devices.
Plus, this Bluetooth FM transmitter can broadcast in three different presets, which allows you to find the best frequency in your area without any interference. Not all Bluetooth FM transmitters can deliver a clean sound.
That is why this product comes with an advanced noise reduction system that reduces static when broadcasting. It can also be paired with two devices simultaneously and comes with a 12-month warranty for your peace of mind.
FAQ
Is an FM transmitter the same as Bluetooth?
Bluetooth streaming is a clear, more reliable alternative to FM transmitters. Bluetooth offers the ability for listeners without an internet connection or data plan on their phone and allows them access even in remote spots with no cell service.
For the FM transmitter to work, you will need to sync your mobile device to the radio on your car. Just like Bluetooth, you will be able to hear the sound on your car speakers thanks to the transmitter. However, there is one major difference between Bluetooth and FM transmitters: they both use different frequencies to communicate with your car head units.
Do FM transmitters work without an antenna?
Yes. Almost all FM radio transmitters will produce a signal that is strong enough for any receiver to reproduce. The only time an antenna is necessary is when there is a lot of radio traffic nearby.
According to the latest news and updates, the range on these antennas can vary depending on the model that you purchase. Don't over-stress about the antenna too much because most antennas that come with transmitters are fairly high-quality.
What are the best frequencies for these transmitters?
The range of FM transmitters varies depending on the capacity of each type. However, most can pick up signals from 87.5 – 108MHz globally and will emit their own unique signal, which could potentially interfere with other broadcasts if they're not broadcasting at a lower volume than another station nearby or higher power output naturally.
Summary
Most modern cars will come with a head unit that has Bluetooth capabilities. This will allow easy connectivity from your phone to the car and make hands-free calls. If your car does not have this feature, then an FM transmitter could be the perfect solution.
Now you understand a new way to reproduce any sound on your car speakers thanks to this magnificent technology. Furthermore, you have been introduced to the best models on the market and their unique features. Check the rest of our blog for other related topics.
Last Updated on: February 17, 2023