Best Car Vacuum Cleaners [Top Reviews & Buying Guide] 2023
Have you ever been stuck without a vacuum cleaner when your car starts to get messy? It's not fun trying to clean up the mess with just a few paper towels or napkins. Even worst, when you try removing dog hair with just your hand!
Most owners want flexibility, and reliability while keeping their vehicles clean. Most of all, they want to be able to quickly utilize their vacuum to remove dust from their car's interior without having to unwrap cords, find an extension cord and spend a lot of time looking for attachments needed for the job.
For example, crevice tools that are stored on the housing are convenient and easy to connect. There are tons of options for consumers. We're going to review 10 of the best car vacuum cleaners for the price that will make it easy for you!
What to look for in a Car Vacuum Cleaner?
The following criteria should be considered by most consumers when they purchase a car vacuum. Compare these criteria to your specific needs and select a vacuum that meets those needs.
Suction Power
Strong suction power is important to take into account. There should be sufficient power to get the task completed quickly without needing many passes. Power is measured in many ways, e.g., amps, watts, air watts, and/or airflow.
The more power the better when it comes to vacuums. However, check for consumer reviews to see how much power the vacuum has since cheaper models often perform at a lower level. You want to make sure you get a high-quality car vacuum that would allow you to vacuum your car with one pass.
Tank Capacity
All vacuums have sufficient capacity to vacuum a car, even with cookie crumbs and other larger items. Some vacuums do have larger tanks, which may be of interest to some consumers. We suggest emptying the tank each time to keep it clean.
Most car owners prefer vacuums that do not have bags. The amount of dirt that is going to pick up is limited by the capacity of the vacuum. Bags are often difficult to clean and need replacement as they fill up. Hence, for car vacuums with bags, pick a high-quality one that has enough storage space so you don't have to replace them in a few months.
Filtration System
Car vacuums use a filter system and should not be used with wet items or liquids that could leak. This can cause it to stop functioning or be damaged. The three stage filtration system is important for car vacuums as they are notorious for getting into crevices, even with cookie crumbs and other larger items.
Filtration of small debris may be of interest to consumers with allergies to dust and pollen. Purchase a vacuum with a three stage filtration system to avoid dust in the micron size being redistributed throughout your car as it is being swiped.
Power Source
The power source is truly a matter of preference. Power from a rechargeable lithium battery or your 12V car plugin lets you vacuum your car anytime, anywhere. The smaller vacuums can be put away in your car for emergency use.
Also, the corded option is always something to consider if you are constantly cleaning multiple vehicles. Some of our previous product recommendations include a car cigarette socket chord as a power source. Other models come with a USB port for charging.
Easy to Clean
The dust storage tank should be easy to remove and empty so that you won't get your hands dirty. The tanks should also be easy to wash. Filters may need to be replaced and/or cleaned from time to time.
Most handheld vacuums come with decent size tanks, but it's always good to take a look at the size of the container and how much fine debris you are going to be able to store. Smaller units are awesome because they can be stored in your car for emergency use.
Battery Life
Battery-powered models should last long enough to enable vacuuming the entire car. Most meet this need easily; however, if you have several autos to vacuum, longer running periods are crucial.
Overall the average battery life of cordless vacuums should be at least 20 minutes. An important thing to note with cordless models is their ability to recharge in a reasonable amount of time. You don't want to be stuck with a vacuum that takes too long to charge.
Top 10 Best Car Vacuums For The Money

| Rankings | Name | Price and More Details |
| --- | --- | --- |
| #1 | BISSELL Multi Auto Cordless Vacuum Cleaner | Click Here |
| #2 | BlackDecker 20v Max Flex Handheld Vacuum | Click Here |
| #3 | Dyson V7 Cordless Trigger Hand Vac | Click Here |
| #4 | Dirt Devil Scorpion Quick Flip Handheld Vacuum Cleaner | Click Here |
| #5 | Armor All AA255 Wet Dry Car Vacuums | Click Here |
We have looked at the top 10 best car vacuums on the market based on consumer ratings, and features. These vacuums have all been on the market for some time and usually have hundreds of ratings that add confidence in the products.
Not all vacuums for cars are the same, and there may be criteria that are more important to some individuals. Keep in mind, onboard storage in your car vs. multi usability in cleaning your vehicle's interior as well as around the home. Most of these vacuum models are specifically designed for car cleaning sessions, and here they are:
1. BISSELL Cordless Car Hand Vacuum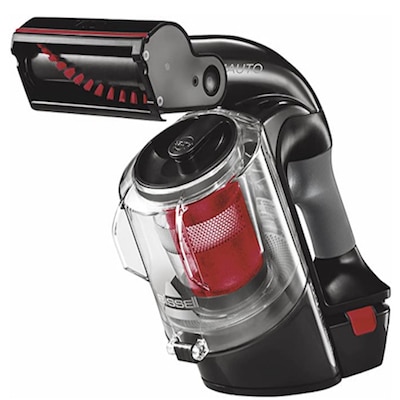 This Bissell portable car vacuum brings a 22-volt lithium battery, motorized turbo brush, two-foot extension hose, and a flexible crevice tool. All attachements are stored onboard for convenience. There are also LED lights for illuminating on dark scenarios, and a filter cleaning brush for deep cleaning.
As a cordless vacuum, it gives you greater flexibility than a conventional corded model. Also, this cordless car vacuum has passed rigorous testing that allowed this brand to give a longer battery life and optimal performance. Experts like the crevice tool, which will enable them to clean tight spots between each seat.
The 20 minutes of continuous use of the battery supplies you with enough time to clean all debris from your car. Also, the filter on this cordless car vacuum works on removing allergens. It comes with a fantastic flex hose that allows you to clean those tight spaces and other upholstered fabrics.
Furthermore, the motorized brush tool is also a superb feature that will enable you to clean the fabric upholstery. This particular vacuum is suited for people living in an apartment or small house because it's very lightweight. The vacuum works on different fabrics, with no need to concern about damaging them.
2. BLACK+DECKER 20V Max Flex Handheld Vacuum with Pet Hair Brush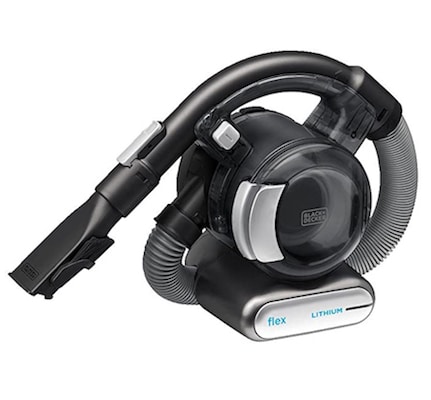 The Black and Decker portable car vacuum has a capacity of 20.6 ounces, includes a dusting brush with a washable bowl and filter, and weighs 3.2 pounds. The 3 stage filter that comes with this vacuum prevents dust from escaping. This car vacuum is known because the person that needs to incorporate two hands when utilizing it.
Like coffee makers, vacuums are essential, especially a hand vac like the Black+Decker max lithium pivot flex, which is the best cordless car vacuum that has a fantastic flexible hose to allow you to tackle your vehicle interiors in detail. Also, this portable car vacuum comes with a recharging base that simplifies things for car owners. It gives outstanding flexibility to the end-user.
The flex hose does allow ease of use when it comes to reaching weird angles and underneath your car seat. However, it only lasts 15 minutes of continuous use for every full battery charge. Also, some past buyers have been complaining about this particular car vaccum not having the best suction.
Despite having a little less battery life than other cordless car vacuums, the price is a fantastic benefit for this cordless car vacuum. One of the best qualities about this product that most desire is the pet tool. This hose attachment is fantastic for pet hair removal off of your carpet.
The suction is a little less powerful than other models, but the features that this product offers in comparison to others outweighs any cons. It also includes a crevice tool that can help with hard-to-reach places like under car seats or between cushions on your vehicle.
3. Armor All AA255 Wet/Dry 12-volt Vacuum Cleaner

Consumers can use this vacuum to pick up both wet and dry debris with a two-hp motor and a 2.5 gallon wet/dry vacuum storage container. There are a 6-foot hose and a 10-foot electrical cord. The hose can be stored inside the tank when the vacuum is not operating.
Although this particular Armor All model comes with a sweet handle, it is not considered a handheld model. More so, these corded vacuums give the client the latest reusable cloth filters, which saves money. Know that you will need extension cords when using this AA255 model since it does not include a battery.
The advantage of having a corded vaccum that you will get more suction than any other portable car vacuum. It has an on/off switch for turning the power off when not in use. The customer reviews are outstanding, with a rating of more than four stars overall, which means it will do outstanding as you clean your car not having to worry about being icky and wet.
You won't have to worry about large debris because this vacuum has a powerful suction. Due to the small size of the vacuum, it is considered a handheld powerful car vacuum, and it has the latest reusable cloth filters that save money. Be aware you will need an extension cord when using this device since it does not include a battery.
4. Dyson V6 Cordless Trigger – Best Handheld Vacuum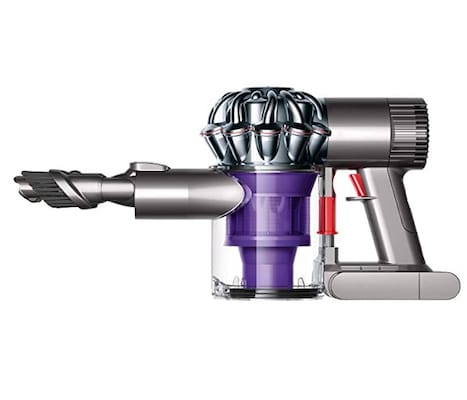 The Dyson V6 cordless trigger vacuum comes with up to 20 minutes of continuous operation. Power is conserved whenever the trigger is released. The battery offers up to six minutes of power at max power mode. Consumers prefer this powerful car vacuum because it is lightweight, offers a long runtime, and high power.
Experts enjoy using these cordless car vacuums because of the incredible 100 AW power for suction and modern look. Although it only brings two adapters, the versatility of these unique models passes any conventional hand vac. Its ergonomic design has a one-touch design to empty the tank and offers a strong grip.
This is not your average car vacuum, and it comes with a wide variety of cleaning tools like the crevice tool, pet hair power brush, and extension wand. It has a lightweight design that can stay upright on its own, and it does not  stick to any part in your car or truck. The amount of suction is awesome for picking up all sand, and lint from carpets too!
For those who are looking for convenience with their car vacuums, we recommend these devices as they will work anywhere you charge them before getting into your vehicle. They offer plenty of run-times when fully charged, so you can vacuum your entire car. It comes with lots of brush attachments for cleaning hard-to-reach spots.
5. Dirt Devil Scorpion Quick Flip Corded Car Vacuums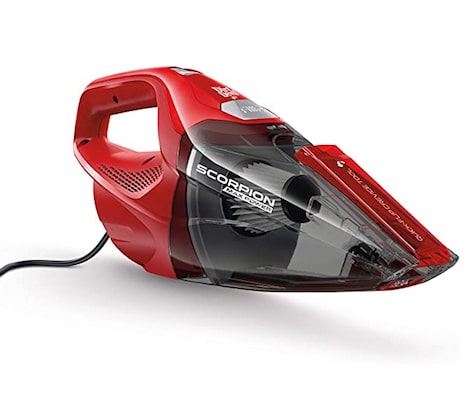 Accessories for the Dirt Devil Scorpion vacuum include a crevice tool, dusting brush, a hose, a shoulder strap, and an extension. The 7-amp motor is controlled by the fingertip on and off button. The Dirt Devil Scorpion is bagless and comes with a 16-foot cord.
Most experts like the 2.5-foot long hose that allows you to reach tight spaces when cleaning your car. Cleaning your car's carpet can be more comfortable with the upholstery tool. However, for a corded vacuum, it does not have the flexibility that other cordless models have. But, everyone really love the rinsable filter and the overall portability of this model.
This corded vacuum is smaller than all the other corded models. It weighs less than five pounds, which is easy to carry around. The telescoping handle will allow you to adjust the height of your vacuum. Do not expect less suction out of this vacuum. However, this model is not perfect at picking up pet hair.
The design of this model seems to be more suited for quick cleanups and light use. Another benefit of this model is that it comes with a canister-style bagless dirt cup and has an extendable hose so that you don't have to crouch down in order to reach under hard-to-reach areas. Suitable for anyone looking to tackle those routine cleaning sections.
6. Dyson V7 Car Handheld Vacuum Cleaner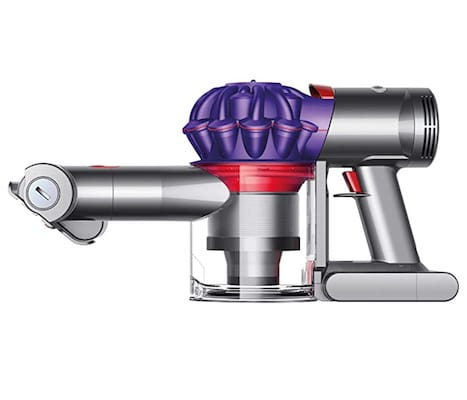 The cordless Dyson V7 vacuum includes a car charger, an extension hose, a mini motorized tool and has up to 30 minutes of operation. The two-year warranty covers components and labor. Seventy-nine percent of consumers rated this cordless vacuum four stars or better.
With an outstanding 15-gallon tank, it could be reused before having to dump the trash. Although the battery only lasts for 30 minutes, with the powerful suction this vacuum has, that is enough time to go thru the entire vehicle. The high price of this item is totally worth it.
The motor that the company Dyson uses on their vacuums is unique in the market. Most Dyson models come with a two-year factory warranty that covers most parts. If you are looking for a vacuum for both your house and to sweep your car, then look no further. The crevice tool allows you to clean the inner components of your car's seats and to get those tough debris off.
This powerful car vacuum has a longer battery life than any other cordless vacuum out there. You will have plenty of time to clean any car or truck. Additionally, the cordless vacuum was created for home detailing also. It has such strong suction that it could suck dirt from under your couch and from big rugs if you wanted it to.
Considering its price tag, this machine may not be ideal for everyone but will last forever and work beautifully every day without dropping power over time. You can clean all around the vehicle thanks to its scrubbing brush tool attachment. When shopping around for a cordless option, this is the best bang for the buck.
7. HOTOR Corded Car Vacuum 4S – Best Car Vacuums

The HOTOR corded car vacuum comes with an extension tube, crevice nozzle, and brush. This vacuum works off your car's battery and comes equipped with a cigarette lighter plugin. Seventy-nine percent of customers rated this vacuum four stars or higher. It is lightweight, and the stainless steel HEPA filter is washable and durable.
We think that this Hotor car vacuum is an fantastic option for Uber drivers. The cigarette power outlet source works for those who are continually driving around always. With its design, this model has a secure storage option for those vehicle owners who want to keep their car clean. Also, it comes with a handy carry bag for portability and storage.
It has a built-in crevice tool that allows it to clean up that stubborn dirt that accumulates in the tightest spaces. This vacuum has powerful suction and is able to pick up dust, animal fur, and more from every nook and cranny of your car. This model is an superb choice for drivers who want a lightweight yet robust option for their vehicle's interior cleaning needs.
The cordless design also makes this product easy to put away or carry around with you as wish. The problem with many car vacuums that are corded is that they will give you problems when you try to clean larger vehicles. However, this car vacuum comes with included attachments that allow you to clean up your car without any problems.
8. Black Decker Dustbuster Handheld Vacuum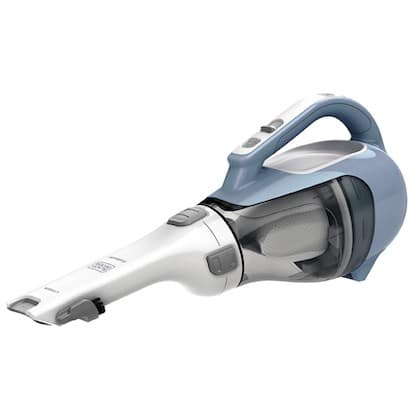 Accessories such as the brush and crevice tool are located on the Black and Decker CHV1410L dustbuster vacuum. The utility nozzle rotates to get into tight spaces. There is a two-year limited warranty which allows you to replace the vacuum if it comes with a factory problem. When the battery dies, it only takes 4 hours to fully charge.
With over 15 watts, this model offers outstanding suction performance and long-life durability. The battery can hold a full charge for multiple cycles over a two-year period. Also, the washable filters and bowls provide clients with the ability to save money. It also comes with a charging base for simple use.
This handheld car vacuum provides outstanding performance for every single charge. It has an extendable hose with all sorts of useful attachments to clean the upholstery, vents, and crevices. The size is also a huge plus for those who want to vacuum every inch of their car without taking too much time.
Furthermore, the cordless design offers freedom from an electrical outlet while using it to suck in dirt or other debris that may be present on your car's mats, or under them. These machines are fitted for humans with allergies because they don't have any loose parts made out of metal as traditional vacuums do, so there is no worry about causing an allergic reaction when cleaning the interior of your vehicle.
9. Shark Rocket Pet Pro with Self-Cleaning Brushroll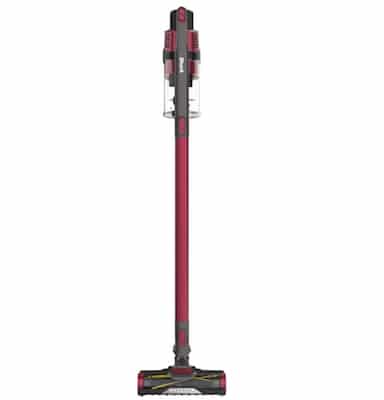 The lithium-ion battery provides up to 40 minutes of runtime for the Shark Rocket Pet pro. The battery can be charged in and out of the vaccum. It picks up long hair and pet hair with the powerful suction self-cleaning brush head. We found that it works really good when it comes to wet debris and heavy dirt.
This particular model was designed to clean pet hair and debris. For those shopping for a vacuum that can clean your car and your house, then the Shark Rocket model could be a true fit. A HEPA filter allows this model to trap any dust that accumulate on that tough area that is in between your car seat.
Furthermore, this product does not come with a base or wall mount. Also, it cannot stand alone, making it a little uncomfortable to put away. More so, there has been complaints about how difficult emptying the tank or container is due to the design. We believe this product is a great fit for a Barber or a hair salon artist.
They provide great performance for all detailing areas like the vinyl materials, as well as hardwoods and tile. It has a pivoting nozzle which helps to clean the under your car's seats. We were impressed with the 40 minutes of runtime and how lightweight they are. These cordless handheld vacuums have easy push-button control switches that are not only comfortable but simple enough for anyone to use it.
10. HOLIFE Handheld Vacuum Cleaner – Best Vacuum For The Money

The Holife handheld vacuum comes with several accessories such as a crevice tool, extension hose, and brush. It is powered by 12V from your car's car accessory cigarette lighter with a 14.8 power cord. The filter is removable and washable. A lot of customers found that the extra brush nozzle works well on delicate fabrics.
With a 100 watt motor, this machine gives you excellent suction power to clean dust on your auto. After charging the device for several hours, you can expect 30 minute run times, which is extremely good for such a tiny device. It comes with three different attachments such as a liquid nozzle to clean wet surfaces easily.
The brush attachment helps when cleaning pet hair, and the crevice tool provides easy access to tight corners. This cordless vacuum cleaner has a built-in lithium battery that charges in just three hours with its own charger that plugs into any standard outlet. It's also lightweight for carrying around the car.
The HEPA filter is great at trapping dust particles inside, so they don't get all over your interior fabrics while you're cleaning out the vehicle. You can even detach this part of the brush nozzle and use it as an actual portable vacuum on other areas like stairs or countertops when needed too! The best part about this car vacuum? The price you pay is a fraction of what you might pay for other models.
Best Car Vacuum Cleaner Buying Guide
A vacuum cleaner is a machine that sucks up dirt and debris from floors, furniture, and other surfaces. It does this by creating an area of low air pressure near the nozzle via a fan or turbine, which pulls dust particles out of the air. The dirt is then collected in the bag or bin for disposal.
A vacuum cleaner is most often used to clean hard floorings such as tile or wood, but they can also clean rugs and curtains if desired. They are sometimes referred to as "hoovers." Car vacuums come at many different price points, but all have similar functions: enough suction power, motorized brush roll, HEPA filter, and handy design.
Most vacuum cleaners use a fan on the front that sucks air through the working part of the cleaner and into a filter. The filtered clean air is then blown out the back of the device. Near the back of an electric vacuum cleaner is a suction motor that sucks dirt in from the outside and towards the filter.
Moreover, this motor runs on electricity from an outlet in your home. The airflow created by this fan gets sucked into the dirt container and pushed up through a tube where it comes out to get rid of any dirt stuck inside it and then go right out all clean air that you have just too.
There are numerous independent guides and assessments online about which portable car vacuums consumers should think about using to clean their cars. Buyer guides highlight many criteria that were evaluated and considered. While these criteria are all important, many consumers will place more value on a subset of these criteria.
If there is no AC power outlet close by, it is imperative that the vacuum run on a 12-volt outlet from your car or on a rechargeable battery. Perhaps storing your vacuum in your car is one of the most important criteria, which means that even rechargeable batteries are not the right solution.
How to Vacuum Your Car Step by Step
There is a step-by-step process to clean the interior of a car for owners when they clean inside their vehicles to enable an efficient cleaning process.
Open all of the doors, including the trunk.
Clear out any loose trash that may block cleaning efforts.
Remove the floor mats and wash them separately.
Vacuum the floor of the car thoroughly.
Make sure to also vacuum the floorboards.
Vacuum the car seats, get into the crevices.
Use a brush tool and vacuum the dashboard and instrument panel.
Remove all tools from the trunk.
Vacuum the trunk
After vacuuming, thoroughly wipe down the seats, steering wheel, and dashboard to remove any dirt that was not dislodged during vacuuming.
Different Type of Car Vacuum
There are four types of vacuums that are available for use to vacuum your vehicle. Some like the shop vac and wet-dry vacuums are multi-use. Many can be used in the car as well as in your home.
Shop vacuums
A Shop Vac is an electric vacuum cleaner. It's often used by workers who produce a lot of sawdust or other fine particles in their workshop but don't want to invest in a home vacuum cleaner.
Shop vacs are high-powered vacuums used on construction sites with a larger tank and hose to pick up dirt and debris. Their high suction power makes them very useful for deep cleaning your car mats, although they are not as portable as a car vac.
Wet-dry vacuum
A wet dry vacuum can be used to vacuum liquids as well as dust and dirt. These utility wet/dry vacuums are very useful for sweeping cars after liquid spills in cars or in climates where snow and slush have accumulated on the floor of the car.
Portable handheld vacuums
Portable handheld units are ideal for car vacuums. They are petite, portable, and come with multiple attachments. Many draw their power from the car's cigarette lighter or from a rechargeable lithium-ion battery.
Stick vacuums
A stick vacuum is suitable for household use as well as for car use. The stick is removable, enabling a smaller footprint suitable for getting into the nooks and crannies of your car.
Why should you consider getting a car vacuum?
You should buy a car vacuum because it will save you a lot of time and hassle. You can also use the vacuum to dry your car after you wash it, saving yourself an extra step when drying off all the water with towels or cloths. The two most notable benefits of owning a car vacuum are that it saves time and helps keep dirt out of the floor mats.
However, a car vacuum is an expensive investment. There are many brands to choose from, including Dyson and Hoover. If you're looking for a cheaper alternative, then check out the HOLIFE Vacuum.
The reviews will cover how each vacuum cleaner performs in various areas of what makes up a good car vacuum – battery life, power output, suction capability on bare surfaces, dust capacity. We'll also include our personal thoughts about these vacuums as well!
We recommend that you purchase a small hand vacuum if you own a vehicle with leather or cloth seats because pet hair can become embedded into the fabric over time without proper care and maintenance, which could lead to irreversible damage.
Also, remember that cordless units require regular charging, which may be inconvenient depending on where you park your car at night and how often you drive long distances during the day.
Many users of cordless vacuums are those that own a large car or van. Vacuum cleaners with long cords can be cumbersome. The average vacuum will have about an eight-foot cord. A cordless car vacuum and its designs is wonderful for cleaning up small messes, such as spills from children or pets, without all the messy wires.
What is a wet-dry vacuum and how does it work?
A wet-dry vacuum is one of the best car vacuums because it is versatile, affordable, and easy to use. Wet dry vacuums are the most popular type of vacuum cleaner because they can be used as a blower or in conjunction with an air compressor for wet spills on the garage floor.
Most commonly referred to as "wet/dry vacs" these machines have two hoses, one that sucks up debris from carpeting (the suction hose) and another that blows dust away from bare floors (or other dirtier surfaces). This variety delivers convenience by having both options available at all times, which makes them great for cleaning cars!
The wet-dry vacuum's design is what makes it so versatile when it comes to using it. The vacuum has a container at the bottom, which can be filled with water and then filtered as needed. This also serves as an area for the washable filter to be washed. After the water has been drained from the container, it can be used for external purposes like cleaning furniture.
Wrapping It Up
There are several criteria consumers may want to consider when purchasing car vacs. Initially, consider how the vacuum will be used? Car only or in the house as well. Dry dust situations only or a combination of liquids and dry material. Other models to consider are the Eureka Easyclean, Bissell Cleanview Deluxe, and the Shark Navigator.
Are brushes attached and carried onboard? Do you need a unit that has its own power source, i.e., cordless handhelds that are rechargeable? Or power from the car's power system? Do they come with flexible hoses to reach hard to get at areas? Where will you store the car vacuum? Perhaps in your car, garage, or in the house? Also, how long must the battery provide power before recharging?
Try not to buy a car vacuum that has short battery life. Consider reviews from previous customers for helpful hints as you narrow down your selection to help keep your car interior clean. We hope this car vacuum guide can help you choose wisely.
Last Updated on: January 11, 2023