Best Steam Cleaners For Cars [Top 10 Reviews & Guide] 2023
The best aspect of owning a car is the freedom it affords the driver. You're able to drive where you want, when you want, in a vehicle that will keep you safe and secure. Of course, in exchange for this freedom comes responsibility.
You just got back from a long day at work, and you're ready to get into your vehicle. But wait, the inside of the car is covered in dirt, coffee stains, and it smells like old french fries! What do you do? Well, if this sounds like an all too familiar scenario for you, then we have good news: just one steam cleaner can help with this!
Whether it's performing routine jobs such as oil changes or just by ensuring to keep your vehicle clean, car ownership requires work. So, what are the best steam cleaners for cars?
Speaking of keeping your vehicle clean—many car owners feel content to do the bare minimum when it comes to taking care of their vehicle. But they're doing a disservice to their vehicle as well as their own comfort by failing to utilize the best and most efficient tool to clean their steam cleaner.
But even car owners who are aware of the unparalleled efficiency of a steam cleaner might not know what to purchase. That's why we've researched to find you 10 of the best the industry has to offer.
What to Look for When Choosing Steam Cleaners?
There is a good quantity of features to consider when choosing a steam cleaner. Typically, the following aspects are going to be the features you'll pay the most attention to.
Water Tank Size
Steam cleaners typically work by super-heating water into steam, which is then forced out through a hose or nozzle to the cleaning surface, which both cleans and disinfects the area. The larger the tank is, the more water you can convert into steam, and the longer you can use it between refilling.
A smaller tank is fine if you anticipate using your steamer occasionally for small clean-ups, but a larger tank will be helpful if you adquire a long, thirty, or forty-minutes type cleaning project.
Steam Power
Additionally, the power of the steam that your steam cleaner produces is an important consideration when getting one. The "stronger" the steam produced by the steamer, the cleaner you can get to your surface.
You'll want to make sure that your steam cleaner is able to produce steam with some amount of force so that it can actually penetrate various surfaces to get them as clean as possible.
Ease of use
There are lots of high-power, commercial steamers out there, but many of them are big, clunky, and best left to the professionals.
You want to make sure your steam cleaner is mobile, so it can get out to your vehicle and easy to use, so you can access any and all hard-to-reach areas. The size, weight, design, cord length, and type of nozzle can all dictate how easy or hard it would be to use your cleaner.
Top 10 Best Car Steam Cleaners Reviews
| Rankings | Name | Price and More Details |
| --- | --- | --- |
| #1 | McCulloch MC1385 Deluxe Canister | Click Here |
| #2 | Dupray Hill Injection Commercial | Click Here |
| #3 | PurSteam Handheld Pressurized | Click Here |
| #4 | McCulloch MC1275 Heavy-Duty | Click Here |
| #5 | Steamfast SF-370 Cleaning Tool | Click Here |
McCulloch MC1385 Deluxe Canister Steam Cleaner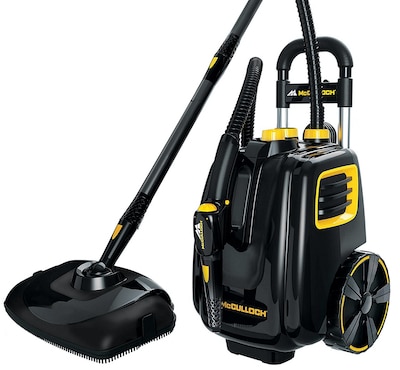 Key Features
18-foot cord for reach
64-ounce water tank size
Integrated handles and cable wrap
12-minutes heating time
McCulloch is one of the industry leaders, and their product shows you how they earned that reputation. This steamer is a powerful and efficient way to clean stains, dirt, and grime naturally, with no chemicals or caustic agents. It also comes equipped with an integrated handle and cable wrap, which makes it easy to take on the go.
Steamer's 18-foot power cord provides lots of reach for even the farthest reaches of your vehicle, while its 12-minute heating time ensures that you'll be able to deep clean sections when needed (no more waiting around). It makes the cleaning process a lot simpler with its built-in handle, and easy storage.
The MC1385 sets itself apart in several noteworthy ways. With a 64-ounce water tanks, you're able to clean for much longer than other steam cleaners, which often max out at 48-ounces. And with an long power cord that wraps into the handle, you're better able to plug the cleaner into an outlet and take it out to your vehicle.
The combination of tank capacity and extra-long reach makes this the perfect steam cleaner to make your vehicle seem brand new. Plus, this model promises to kill 99.9% of all bacteria, which is it ideal to clean up your automobile. All this combined makes McCulloch one of our top picks.
Dupray Neat Steam Cleaner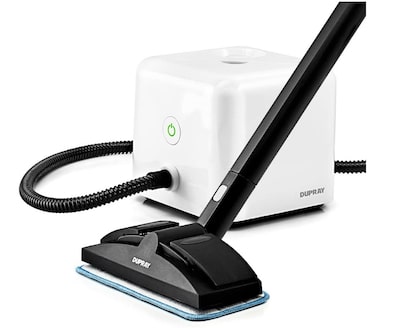 Key Features
Reaches 275 degree Fahrenheit
50 minutes of cleaning per fill up
54-ounce large tank size
Super-quick 7-minute get hot
While the MC1385 gives a strong, high-quality steam cleaner looks and performance, Dupray's Neat offers a much more modern and sleek design that reminds many users of various Apple products. This no-fuss cleaner consists of a simple white cube with a retractable handle and has controls no more complicated than a single on/off button.
The Dupray Neat model also comes with a 16-feet power cord and smooth wheels that make this the perfect steamer to roll out to your car when your interior has had a run-in with some mud-covered shoes. Can't go wrong purchasing this multi-purpose Dupray Neat steam cleaner.
The steamer has two different settings to adjust the hot steam temperatures you want it to get and offers 50 minutes worth of continuous steaming between refills – more than enough time to clean the entire car upholstery.
A 1500-watt of cleaning power gets things going quickly, as does the 54-ounce water tank capacity, which means fewer stops at gas stations or grocery store bathrooms. Quick heating function cuts down on wait times considerably while also saving energy when compared to other models that take their sweet time getting started.
With its large cleaning tank, ease of use (just fill it up with water, and start it!), and chic aesthetic appearance, this steam cleaner is a welcome addition to any car owner's cleaning arsenal. When it comes to car cleaning in a chemical-free way, these steamers will get the job done.
McCulloch MC1275 Heavy-Duty Steam Cleaner

Key Features
45 minutes of continuous steam
8-minutes heating for car detailing
Powerful steam jet nozzle
48-ounce large capacity tank
Coming in at an incredibly lower price point than the McCulloch MC1385, this model sacrifices some tank capacity but more than makes up for it with its improved heat up time. Once you've turned it on, you'll be ready to clean in just eight minutes, and you'll be blasting away viruses with 200-degree jets of steam.
You don't need to use harsh chemicals to get your car as clean and fresh as possible. These devices will remove dirt, grease stains, odor-causing bacteria, and allergens from all of the surfaces inside a vehicle. Most users are impressed with the powerful force that allows you to blast away germs on contact with its 200-degree jets of direct steam.
This steam cleaner also features an eight-minute heat up time so you can quickly use it for any quick cleaning need or have less downtime in between uses due to waiting for water to warm up again after just 45 minutes of continuous usage without having to refill continuously like other models requiring refills every 20 minutes at best.
With a 15-foot long cord and a 10-foot hose, you should have plenty of reaches to clean all the little nooks and crannies within your vehicle's dashboard. It also comes with 18 accessories, including their famous nylon brushes, so you can clean up spills and stains literally anywhere they may be.
The MC1275 also is conveniently portable, so you can take it anywhere and store it with ease. At ten pounds, this isn't the lightest steamer on the market, but it's still light and convenient, and it packs a lot of punch for its small size. Their adjustable steam control is also one of the best out there.
Dupray Hill Injection Commercial Steam Cleaner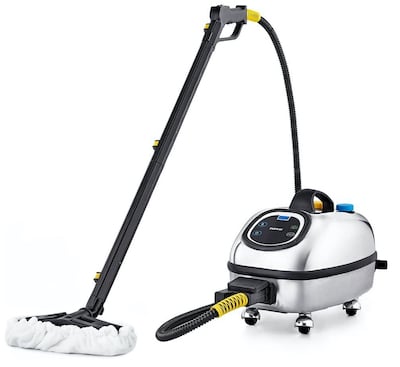 Key Features
Unlimited cleaning time
20-ounce tank for faster cleaning
Heats up in less than 8 minutes
Reaches 345-degree Fahrenheit
For those looking to spend more money on a top-of-the-line model, the Dupray Hill commercial steam cleaner is for you. The most expensive steamer on this review, Dupray Hill's cleaner, boasts a beautiful stainless steel boiler and casing and is as powerful as the best commercial steam cleaner out there.
Has a minimal setup time of less than ten minutes and a top steam temperature exceeding 345-degree Fahrenheit. It is though to beat some of these really impressive features like its stainless steel casing designed to withstand high temps, and having virtually no scalding risk ("touch-safe"), this cleaner should suit even the most demanding customer's wishes!
The cleaner can, in theory, be used indefinitely since you can refill the tank while still using it. It also comes with a detergent tank, meaning it offers a much deeper clean than those using just steam. Looking for perfection? This is like the Ferrari of all steam cleaner systems.
Finally, there's the actual heat that the steamer generates. At 345 degrees, this is easily one of the hottest cleaners on the market. If you're serious about heavy-duty cleaning in your car, this is the car steamer for you.
PurSteam Handheld Pressurized Steam Cleaner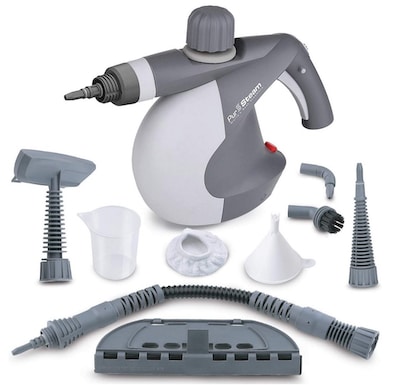 Key Features
A low-cost for this cleaning tool
Fast 3 to 4 minute heat up fast
Lightweight and portable 2.2-pound design
Steam temp of 289.4-degree Fahrenheit
While the Dupray Hill cleaner represents one of the most expensive steam cleaners on this review, the most affordable option comes from the PurSteam Handheld Pressurized device, which is a great low-weight, low-cost steamer for someone looking for a casual, easy way to steam clean their auto.
Most users found this steamer to work well to clean multiple surfaces. What is the best part about owning this steamer? You can use it anywhere you need it – whether that means in your bathroom or even to remove those smudges on dashboards or car windows.
The best steam cleaners are a great way to freshen up your car and remove dirt, odor, bacteria, and allergens from almost all surfaces in your vehicle. Steaming is an especially good method because it doesn't leave behind toxic fumes after cleaning as a chemical cleaning solution will do.
While it lacks the power and tank size of all the previous steam cleaners, the PurSteam Handheld Pressurized steamer is a great tool for occasional touch-up and quick clean-ups of stains, spills, grime, and dirt within your vehicle. You can easily remove stains in just 10 minutes.
Weighing just 2.2, with a 9.8-foot power cable, this is a great lighweight option for someone who doesn't want their device to take up a lot of space within their home and wants to save some money in the process. We enjoy the chemical-free process that this steam cleaner provides.
COSTWAY Multipurpose Steam Cleaner

Key Features
Large 51-ounces water tank
226 degrees of steam pressure
16-feet long power cord
45 minutes of continuous steam
The COSTWAY Multipurpose rests on two rollable wheels with a convenient handle, making moving it out to clean your automobile a breeze, and at 10.8 pounds, the steam cleaner is lightweight and easy to handle. It allows you to clean your car completely in just 10 minutes.
It has a fairly quick heat-up time, reaching scalding temps of 226 degrees in eight to nine minutes. And its 16-ft power cord and long, flexible hose give you the freedom to take the steam cleaner out to your car and clean all the hard-to-reach places inside.
As far as the units on this top 10 go, this is a great middle-of-the-road cleaner. Many steam cleaners in a more expensive category, but there are still affordable cleaners that are strong as the COSTWAY. If you're looking for a safe, easy, and effective cleaner that won't break the bank, this is a great choice.
You can remove those greasy hand smears on the steering wheel using the special scrub pad that comes with the unit. The steamer can be used both indoors and outdoors; just be careful when using this device when there's too much water around. Also, the price is affordable, so if you are on a budget, this could be the right choice.
Steamfast SF-370 Canister Steam Cleaner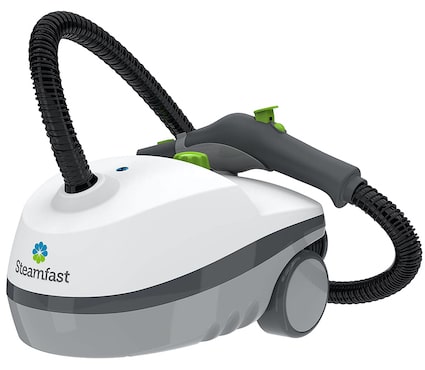 Key Features
Lightweight 8.4-pound design
45-ounces water tank capacity
45 minutes of continuous steam time
15-ft long cord and especial jet nozzle
With a 15-foot long power cord, along with a 6.5-foot long hose, to go along with its 8.4-pound size, the Steamfast SF-370 offers a superior mobile cleaning experience for your vehicle at a competitive price. This steam cleaner helps killing bacteria and cleaning your car easily.
When the unit is super hot, you'll need to be careful. Otherwise, the high temperature will damage any material not meant for steam cleaning. One thing to think about is its weight; at just over eight pounds, you might find yourself dragging some tired muscles in no time when using this machine extensively.
The Steamfast SF-370 can heat the water in its 45-ounce tank up to 200 degrees Fahrenheit in just eight minutes, offering a speedy heat-up time that makes this an ideal device to clear out any unwanted stains or messes from your vehicle's upholstery. It help's you remove stains when cleaning your car.
With 15 different accessories, the Steamfast 370 cleaner can be formatted to fit around tough corners and reach small spaces, shooting powerful super-heated jets of steam that'll obliterate any contaminants lurking in your car at a price lower than the industry standard.
McCulloch MC1230 Handheld Steam Cleaner

Key Features
3 minute heat-up time at high temps
34-inch long extension hose for cleaning
Portable, handheld chemical-free device
Reaches temps over 200 degrees
Another less expensive, portable, and handheld option lies in the McCullochs MC1230 Handheld Steam Cleaner. With a 15-inch power cord and a staggering 34-long extension hose, this has one of the best ranges of any good steam cleaner, making it perfect for use inside your car.
This small handheld steam cleaner is perfect for a spot clean on your car seat or for removing stubborn stains from leather seats. However, this cleaner will not help when you need deeper upholstery cleansing on your seats or carpets.
They come with the added benefit of being able to scrub more than just your vehicle's upholstery. In fact, one of its attachments gives it added scrubbing power, which can be used to scrub off caked-on dirt from the exterior of your car or even the actual engine.
While the six-ounce water tank makes this the smallest of their units, its three-pound weight renders it incredibly easy to use, and it takes just three minutes to heat up, allowing you ten minutes of deep cleaning every use. This is a great tool for quick clean-ups to the inside and outside of your car.
Wagner Spraytech On-Demand Steam Cleaner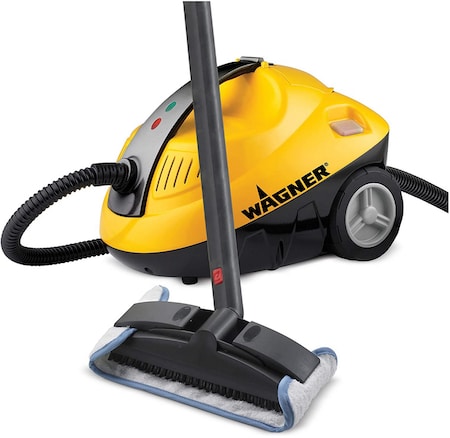 Key Features
48-ounce chemical-free water tank
212 degrees of high-temperature steam
Comes with two extension tubes
Two wheels for increased mobility
First, the bad news—the Wagner Spraytech On-Demand is one of the heavier units on this review, weighing in at over 13 pounds, and takes somewhere between 10 and 15 minutes to heat up, making it slower than most steam cleaners as well.
The good news is that, with temps that reach up to 212 degrees Fahrenheit, as well as the various brushes and attachments that come with it, this serves as a powerful tool that can blast dirt, grime, mud, and stains from your car's interior.
While this cleaner wasn't designed with automotive cleaning in mind, like some other items on this review, it's still a mobile, solid car steam cleaner that can run for 45 minutes on a single tank, and which is sure to make the inside of your vehicle sparkle.
Being a household steam cleaner, you should not be surprised if it has a stronger steam power and a bigger tank. One adjustable head to allow you to get into tight places and under seats, as well as fingertip trigger control, so you never have dirty hands while cleaning your vehicle's interior
Pure Enrichment PureClean Multi-Purpose Steam Cleaner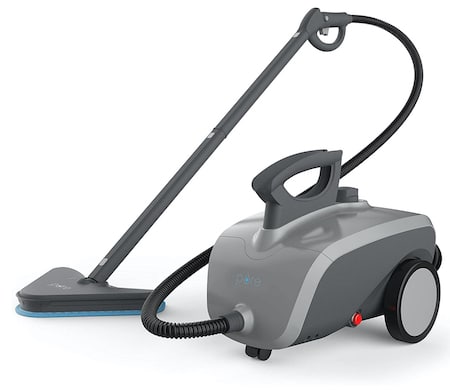 Key Factors
16-foot extension cord
Compact design for clutter-free storage
Holds 1.5 liters (50 ounces) of water
18-piece multi-purpose set
Of all of the portable steam cleaners on this list, the Pure Enrichment PureClean looks the most like what you'd expect a powerful steam cleaner to look like. Overall, It's got that "classic" look that you'd expect for such a product. This cleaning steamer allows almost 50 minutes of continuous cleaning.
Don't be fooled by the futuristic look, though. The PureClean looks like a classic, but it's as powerful and effective as any other product on this list. Another thing that sets it apart? Its compact size—so you can store it in narrow spaces easily without losing much space at home or work.
But it's not just a pretty face. It brings a 16-foot extension cord, and a long nozzle gives it enough room to move out to your car for your interior cleaning needs. While it weighs over 15 pounds, its two-wheeled frame grants it easy mobility to get it where it's needed.
Best Steam Cleaner for Cars Buying Guide
Making the decision to purchase a steam cleaner for your car is a choice that constantly rewards you. Every time you step into your fresh, clean vehicle, you can appreciate the time you took to really determine what car steam cleaner is best for you.
After all, a steam cleaner can do more to keep your automobile pristine than just about anything. But first, you have to have to explain the different types of cleaners and help you select which one is right for your needs.
Different Types of Steam Cleaner for Cars
Before you even consider a steam cleaner's ease of use, and tank size, it's essential that you determine what kind of steam cleaner you'll want to use for your car.
Some steam cleaners might be better suited for home use than cleaning your vehicle's interior, and knowing what specific type you're looking for will help narrow down your research from the very start.
Handheld
Handheld steam cleaners are small, lightweight options that are great for mobility and reach when used on a car. They also have the tendency to be less expensive than their multi-purpose counterparts, which might be appealing to some buyers.
Heavy Duty
While handheld steam cleaners are small and inexpensive, but with small tanks and less power, heavy-duty steam cleaners are more, well, strong for auto detailing.
Important Tips When To Follow Using a Steam Cleaner
If you are unsure of how to use the cleaner, please follow the instructions in the user manual before utilizing it. Do not ever leave children or pets unattended around a steam cleaner that is running.
Always ensure that there is adequate ventilation when using your steamer – do not cover up vent slots or air holes with curtains, pillows, towels, etc., as these items can block airflow and lead to breakage down the line due to overheating.
F.A.Q
You may still have some questions about steam cleaners, or steam cleaning in general, before deciding to purchase one for your vehicle. That's understandable! Some common questions include:
How does a steam cleaner work?
The physics behind a steam cleaner is both simple and incredible to behold. When you turn on a steam cleaner, the water in your tank is heated. Once it passes a boiling point, it's now time to use it.
The cleaner will force this super-heated steam through a nozzle, brush, or whatever attachment you've provided. That steam and vapor, in turn, loosens dirt and stains that it encounters while killing dust mites, mold, harmful bacteria, and various allergens.
Due to the high temp, the moisture dries almost instantaneously after use. This means you won't need to use harsh chemicals to remove dirt, grime, and stains from your car. Once the water tank heats, you will be able to kill all bacterias and germs.
What kind of water is recommended to use for a steam cleaner?
Some steam cleaners on this list specifically say that you can use tap water with them. And while it's true that technically you can use tap water for steam cleaning, we wouldn't recommend that.
Tap water contains various minerals and impurities that can build up over time. For this reason, it is somewhat generally recommended that you use distilled water for steam cleaning.
Should I buy a vacuum cleaner or a steam cleaner?
So you currently have a vacuum cleaner and want to make the upgrade to a steam cleaner, should you get it? The answer is it depends! If you're in the market for a device that removes bacterias and can be used for deep cleaning, then it's best if you go with a steamer.
Most car interiors do not require that amount of cleaning unless you are an Uber driver. A vacuum cleaner will be sufficient to clean your car seats and floor mats.
Summary
When looking for the best models, you should consider a lightweight, portable system that has enough cleaning power and provides a long run time. Clean your car mats or any other salt stains that are present in any of the hard surfaces of the car interior.
Ultimately, a high-pressure steam cleaner is an incredible tool to keep your vehicle clean (and your home too). But there are plenty of considerations to evaluate before choosing which device is right for you.
Last Updated on: January 11, 2023