Top 10 Best Automotive HVLP Spray Gun For The Money
If you've ever spent hours trying to get that perfect shine on your car, you'll know just how painful it can be to repaint the body. By using an HVLP (High Volume, Low Pressure) paint sprayer, you can shave hours off work off DIY and professional projects.
HVLP sprayers are ideal for providing a smooth, high quality finish that will make your car stand out from the rest. As a plus, not only will they save you money on paint, but according to Connecticut's Department of Environmental Protection, they will also save the environment with a high transfer efficiency.
How to Choose Best HVLP Automotive Spray Gun?
Choosing a sprayer can be a tricky process, and it depends on what you need. You'll need to consider these 4 things:
Quality – How long are you going to use your car paint sprayer for? Is it just for one or two projects, or will you be spraying all the furniture in the house? Deciding on the quality you require will lead you to the next question.
Cost – With great quality comes great cost. If you are trying to find the best deal, I suggest you look at customer reviews online. These should help you decide if that too good to be true' sprayer, actually does what it says it does.
Reputation – Everyone who uses tools have their favorite brands. Personally I trust Rockler as a good all rounder. Not to expensive, but not going to break on the first try.
Your needs – Make sure that the viscosity of the material you are spraying is supported by the chosen gun. Some HPLV sprayers do better with certain materials. It all depends on your personal needs.
Best Brands
This depends on your price range. I've narrowed it down to Low (under $100), Medium ($100-200) and High (Over $300). Low I would suggest for those who have one or two projects every few months, such as painting a door or table. Medium would be consistent use on the weekends and larger projects such as an entire room. High price would be for contractors or those using the gun on a regular basis.
Best Low price range brands ($50-150)
Astro, TCP Global, Wagner
Best Medium price range brands ($150-300)
Euro, Rockler
Best High price range brands ($300+)
Blinks, Apollo, Wagner, Fuji
What Are the Prices of hvlp automotive spray guns?
Anywhere from $50 to $1000, so you'll have to find what suits your budget and project best.
Top 10 Automotive HVLP Paint Guns
| Rankings | Name | Price and More Details |
| --- | --- | --- |
| #1 | Devilbiss Finishline 4 DEV-704532 Solvent Based HVLP Gravity Feed Paint Gun | Click Here |
| #2 | Tekna TEK-905042 1.3mm/1.4mm/1.5mm Fluid Tip Prolite Spray Gun | Click Here |
| #3 | TCP Global Complete Professional 9 Piece HVLP Spray Gun Set with 2 Full Size Spray Guns | Click Here |
| #4 | Graco-Sharpe 289200A Mini-HVLP FX1000 Paint Spray Gun | Click Here |
| #5 | TCP Global Brand Professional New 2.5mm Hvlp Spray Gun-auto Paint | Click Here |
Get ready to enjoy the best auto paint gun review down below:
TEKNA 703567 ProLite – Best Spray Gun For Painting Cars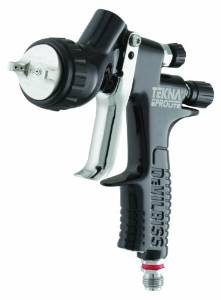 The TEKNA ProLite is a superior performance spray gun that features quality air caps as well as 1.2, 1.3 and 1.4 fluid tips. These air cups are made with an advanced fluid technology that ensures maximum atomization.
They are packaged as a solution with several components enabling the painter to use it in changing environments. It allows you to paint with a steady rhythm, and you would not have to worry about overheating. Your arms would not get tired since the sprayer is very lightweight.
Moreover, it has high transfer efficiency that ensures material is saved. TEKNA is most suitable for solvent-based coatings and waterborne. When it comes to maintenance, you barely have to do anything. Regular cleaning will just be enough because they are built tough. Also, the special adapter goes a long way by allowing the user to reuse different types of cups.
Pros
It is protected for high corrosion resistance and contain non- stick properties

Best automotive hvlp paint gun for the money
Cons
Hard to set up for spray painting
>>> Check price and availability on Amazon >>>
Graco-Sharpe 289200A Mini-HVLP FX1000 HVLP Gun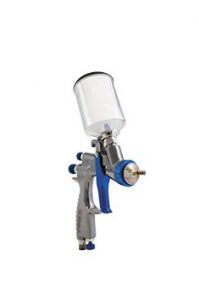 Graco-Sharpe Mini-HVLP FX1000 is a reliable car spray gun that delivers high quality finish and unmatched spraying pattern size. It features a wrench, FX1000gun, cleaning brush and 125cc cup.
It can make large pattern sizes of about 9 inches. It's fan and needle controls are tight enabling ease of use. The professional automotive spray gun comes equipped with a high quality stainless steel cup that can be used with acetone based cleaning agents without causing corrosion.
The Graco brand is very reputable and reliable. When it comes to producing high-end HVLP systems, they are a very trustworthy company. In this kit, you can expect to have a special design cup lid that allows the user to monitor how much paint they have left. This becomes very convenient for new painters, and it improves their workflow from day one.
Pros
It comes in a compact design and is light weight
Constant feed spray for better car paint performance
Cons
The spray gun is a bit expensive
>>> Check price and availability on Amazon >>>
3M 16570 Accuspray Model HG09 –

Best Automotive Paint Gun for the Money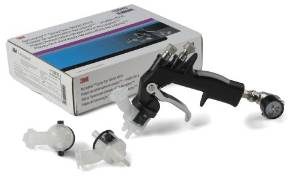 The 3M™ Accuspray™ System is a High-Volume Low Pressure spray gun that features disposable atomizing nozzles that make it as effective as a new primer spay gun. When using this gun you will not need to worry about overspray as the gun leaves a clean place and saves on materials.
The spray gun can deliver a wide variety of spray patterns. It can be used for numerous applications including woodworking, refinishing, furniture, industrial, sign shops cabinet making and architectural. They are known to deliver a higher quality finish than other paint guns.
Pros
It saves on time and materials
These semi pro paint guns are cheap
Cons
>>> Check price and availability on Amazon >>>
TCP Global Brand HVPL Spray Gun Set (HVLP Set)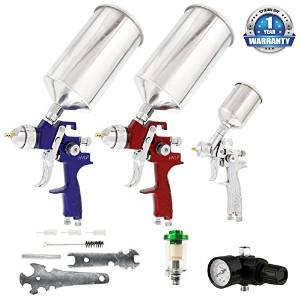 This kit inkludes:
3 Spray paint guns with Cups
Air regulators
Maintenance Kit for all Auto Paint, Primer, Topcoat & Touch-Up
One Year Warranty
TCP Global® Brand HVLP is a high performance HVLP spray gun that is made of high quality and durable stainless steel material. The spray gun features excellent knobs for easy adjustment over your spray pattern. The easy adjustment also enhances fluid control as well as air pressure.
The spray gun comes with nozzle sets. They are equipped with standard size ¼ Air Inlets. It is one of the most effective car paint gun with an incredible operating pressure of about 29- 50PSI.
For automotive painting, this TCP Global kit should be the starting point of any newbie. The automotive paint sprayers that come with the kit are made out of high-quality materials that cover against rust overtime.
It comes with an instruction manual to help in guiding you on how to tackle bigger jobs. A complete kit that allows the painter to apply clear coats or other tasks using the adjustable spray pattern feature.
Pros
These auto paint guns have a one year warranty
Great for clear coats spray painting
Consistent gravity feed system
Cons
Some guns produce better quality finish than TCP Global
>>> Check price and availability on Amazon >>>
TCP Global® Professional Kit For DIY Projects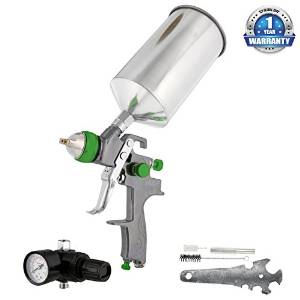 This kit includes:
2.5mm Hvlp Spray Gun – (auto Paint Primer, metal Flake)
Air regulators for painting a car
Fan pattern control
TCP Global Brand Spray gun is designed to deliver diverse spray patterns without compromising on the quality of the spray. It features a 2.5 mm fluid tip size that can be used in spraying thick materials such as Polyester Primers, Thick enamels, Chip guard, latex paints, gel coats and Extreme High Build. It also comes equipped with an Air regulator and I Liter Aluminum cup.
It features control knobs that provide full adjustment over a spray pattern. The gun's baffle head assembly is designed to deliver atomized and consistent spray pattern giving your work that elegant professional finish. These professional painting tools are also designed to apply touch ups on different surfaces using less paint.
We found this particular system to be powerful and accurate at the same time. You can cover more areas with different surfaces in a very efficient way. These gravity feed guns are designed to protect against overspray, keeping your margin error to a minimum. Overall a great product that is going to allow you to achieve a smooth finish.
Pro
Can spray thick materials for heavy duty paint jobs
Semi pro gravity feed paint spray guns
Cons
>>> Check price and availability on Amazon >>>
Devilbiss Finishline 4 FLG-670 Solvent Based HVLP Gravity Feed Paint Gun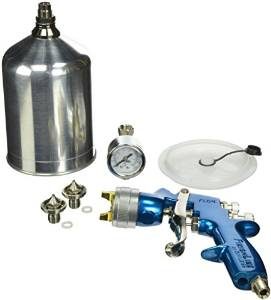 Devilbiss Finishline 4 FLG-670 is a new and enhanced automotive spray gun that offers maximum automation delivering soft uniform patterns. It is made of high grade and durable stainless steel that is resistant. It also has an in-built air adjusting valve with a gauge for accuracy.
The professional spray gun has a high level of precision that most spray guns due to its machined air caps. Its high quality fluid nozzles ensure an excellent finish. The internal passages of the gun are anodized making it easy to clean.
Pros
It produces an easy to clean and anodized finish
This auto paint gun is great to spray paint base coats
>>> Check price and availability on Amazon >>>
DeVilbiss 802343 Auto Painting Kit – Best Automotive Paint Gun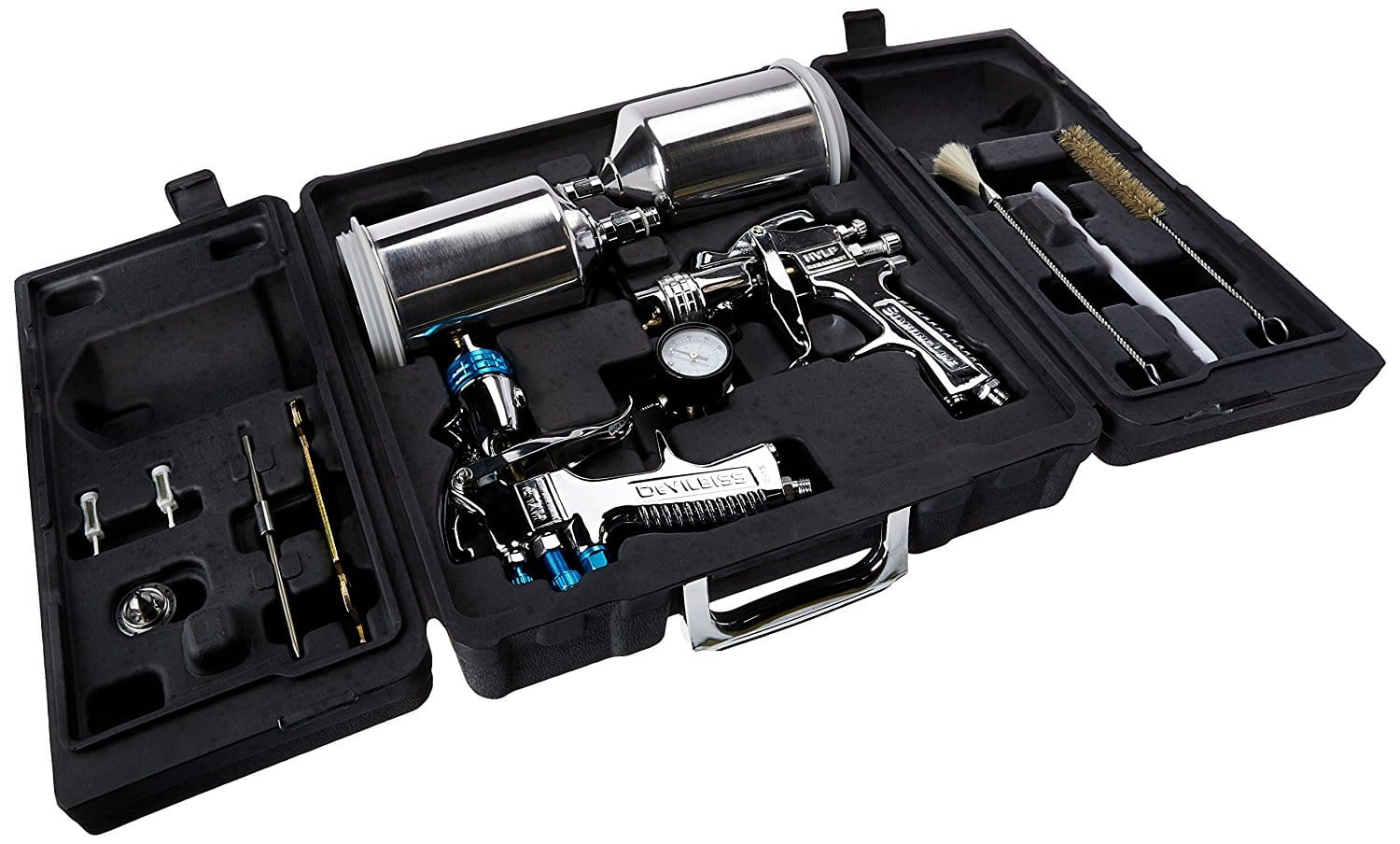 DeVilbiss 802343 is an car painting and priming system that enables you to effectively spray full spectrum of coatings for a wide range of project sizes. The spray gun is fully equipped with maintenance wrench, air regulator with gauge, carrying case, gun blow-molded storage and gun cleaning brush set.
The feed gun is most suitable for a craftsman or handyman. The 1.3mm can be used atomization of clear coats, base coats and light viscosity coatings. Plus, the 1.5mm is set up for sealers, single stage, medium viscosity coatings and primers. The 1.8mm is ideal for atomization of sealers, primers, medium and heavy viscosity settings, thinned latex.
Pros
Can be used on a full spectrum of coatings
Best automotive paint spray guns
One of the best overall automotive gun kit
>>> Check price and availability on Amazon >>>
DeVilbiss 802405 StartingLine HVLP Detail and Touch-Up Gravity Spray Gun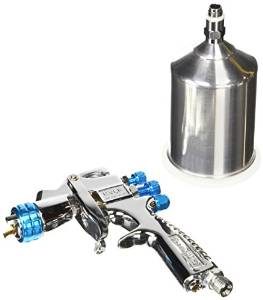 DeVilbiss 802405 StartingLine HVLP is a high performance spray gun that enables fine details and quality finish. The spray gun is not only easy to maintain but also comes with a maintenance wrench and a brush for cleaning.
It features a 1.0mm fluid tip that can be used to spray a wide range of materials. The 1.0 set-up is also excellent for sports repairs by employing different coatings. DeVilbiss 802405 produces high quality results and is sold at a low price.
Pros
The spray gun has a one-year warranty
Comes with an easy to clean

stainless steel

paint cup
Gravity feed auto body paint gun
>>> Check price and availability on Amazon >>>
DeVilbiss (GFG670) Plus High Efficiency Gravity Feed Spray Gun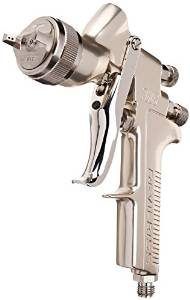 DeVilbiss Plus GFG670 is a high technology spray gun that delivers powerful automation and high energy than other spray guns. It has about twice the energy of HVLP guns. The high automation produced by the spray gun makes it easy to spray high-solids clear coats producing an exceptional glass-like finish.
It has high fluid flow making the painting job fast and easy without compromising on the quality of the result. The ozone-friendly technology used in making the spray is approved by SCAQMD. The gun is dish washer safe. It has a large 32oz aluminum cup eliminating the need for frequent refills.
Pros
The spray gun is fast and easy to use
You can achieve professional results
Cons
These hvlp guns are expensive
>>> Check price and availability on Amazon >>>
Astro 2PG7S 2 Quart Pressure Pot with Gun and Hose Paint and Body Spray Guns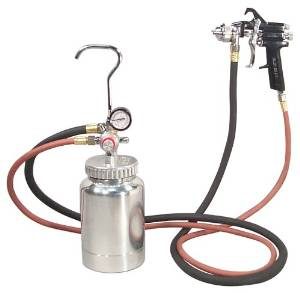 The Astro Pneumatic 2PG7S 2 Quart spray gun features a pressure cup, 6ft fluid hose, 6 feet air hose and a spray gun. The fluid pressure and pressure gauge regulators ensure that a user makes accurate settings easily. You can mix both mix and paint about 2 quarts at the same time.
The 6 Ft hose of this automotive paint spray gun permits twin set is specifically designed to enhance operation and movement of the spray gun making it extremely easy to use. This spray gun is most suitable for spraying trucks, vans and buses among other large areas.
Pros
They are easy to use paint guns
Comes with automotive

stainless steel

paint cup

Best automotive paint guns
Cons
Not suitable for small spaces
>>> Check price and availability on Amazon >>>
Automotive Paint Gun Buyer's Guide
What is a HVLP Paint Sprayer?
An HVLP spray paint gun, sprays paint using compressed air to get an even finish. The tool typically comes in two parts, a compressor and the spray gun's main body. The compressor is connected to the gun via a flexible rubber pipe and forces highly compressed air through the through to the spray gun. The spray gun is attached to a to a paint can, and the paint is then sprayed out at low pressures.
The HV (High volume of air) is responsible for the flow and direction of the paint while the LP (lower air pressure) reduces the atomization of the paint sprayed out. The low pressure is the advantage to this particular type of spray gun as it allows for good, even coverage of surface areas. Many choose this type of spray gun as it reduces air pollution, paint wastage and reduces overspray.
HPVL paint sprayers like most things, can be expensive or cheap. The cheap kind usually results in many plastic components, making it light and maneuverable, but easily breakable. The more expensive options are tougher and long lasting, but are only necessary for heavy or regular users.
Advantages and Disadvantages of HVLP paint sprayers
Even though both professionals and amatuers love this type of sprayer, it comes with a few cons. Very few cons. The benefits far outway the negatives, making this type of sprayer my personal favorite.
Cons:
1. Slower application than traditional sprayers
Due to the low pressure, this type of paint sprayer is a little on the slow side. I wouldn't use it for a large outside wall for example. But inside the home, the reduction in mess and accidental spray is so little, it may be worth the faster clean up time.
2. Can have trouble with thicker paint
HVLP is not great when working with thick paint of a high viscosity. It's not much of a problem if you are using the right paint though.
Pros:
1. Reduced overall wastage.
Due to the low pressure, you could reduce your paint consumption anywhere from 50% to 80%, a massive saving.
2. Less air pollution.
If you've found yourself inhaling massive amounts of paint during your projects, you'll be happy to know that there is a solution. HVLP sprayers were designed to minimize air pollution, and keep the paint where it belongs; in the can or on the wall.
3. Reduced overspray.
When the pressure of a paint sprayer is too high, the paint will naturally bounce off the wall and onto you, your car, and probably the tree outside. When I started using these sprayers, I was relieved to have such a pleasant clean up.
4. Easy to control spray
Due to their application accuracy,, these guns are easy to control for delicate projects. They are maneuverable and precise.
5. Portability and cleanup
Easy to setup, easy to disassemble and quick to clean. Relatively painless in comparison to other sprayers. All manufacturers provide clear, simple instructions that even a novice can follow.
HVLP vs LVLP, which is better?
LVLP stands for Low Volume Low Pressure,making the LVLP even more economic. Perfected by the japanese, this system is slightly more refined that HVLP. LVLP requires a higher psi and gives the lowest amount of overspray. Compared to the HVLP, both sprayers can be quite slow to paint as they are both LP. The finish quality is better, and paint will hold soft fan patterns easier. LVLP's are newer to the market, and require a bit more upkeep and tender loving care
The difference between the two is minimal, and I would suggest taking into consideration what your project is. If you have to spray a large surface for example, I'd suggest an HVLP. But if you wanted to get the finest, lightest spray possible for a delicate project, LVLP is the way to go.
How Do I Use an HVLP paint sprayer?
Each paint sprayer differs slightly, as all are manufactured by different companies. Refer to the instructions provided with your device to get the most optimal performance out of it. There are a few basics steps that will stay the same.
Set-up
1. Masking
It's so important to mask your painting area up. Cover important areas with plastic or old newspapers to ensure they will not get dirty. Even though the HVLP is not as messy as traditional sprayers, covering up is still necessary for any automotive paint job. Don't forget to place some newspaper on the floor too!
2. Mix your coating to the manufacturer's specifications
It is incredibly important to get the ratios correct. Mix your coating very well, and you won't have any issues when spraying
3. Fill the paint cup
Make sure not to overfill the cup, if you need more coverage than what the cup allows, you can always refill it. After filling, reattach the cup lid.
4. Turn the Fluid knob anticlockwise
This will prevent fluid needle movement.
5. Turn the spreader valve adjusting knob counterclockwise
This will fully open the valve allowing paint to go through the system.
6. Turn the trigger on and adjust air inlet pressure
The inlet pressure depends on your gun and application. You should be able to find this information included with your gun.
7. Turn the fluid adjusting knob counterclockwise.
Stop when the first thread shows.
Spraying
1. Test Spray
Do a little test spray on a piece of newspaper or random surface to test it out. If the finish is too dry, reduce the airflow by reducing inlet pressure. If the finish is too wet, reduce the fluid flow by turning the fluid adjusting knob. If the atomization is too fine, reduce inlet pressure, increase inlet pressure if it's to coarse. The pattern size can be adjusted by turning the the spreader valve adjustment knob clockwise. I can't stress enough how important this step it. If you don't test your application, your entire spray could be messed up.
2. Hold the HVLP Sprayer perpendicular
Arcing or tilting could result in an uneven and thus undesirable coating. The recommended spray distance is 150-200mm or 6 – 8 inches.
3. Spray the edges first.
With a smooth motion, spray the edges with a minimum overlap of 75%. Make sure you move the gun at a constant speed and don't spray to much on one area.
Clean up
1. Turn off the air supply.
Make sure you always turn off the air supply and relieve the pressure when the gun in not in used.
2. Follow cleaning instructions from manufacturer
Always clean your sprayer immediately when you are finished. This will increase the life of your tool and ensure you always get a smooth finish.
Note: The HVLP sprayer is a tool and can be dangerous in the wrong hands. Make sure no small children get their hands on it, or are in the vicinity without a spray mask when you are painting. Paint products can be dangerous when inhaled, so be careful. Always turn off the the air supply and relieve the pressure of the sprayer when you are not using it. This includes when you take a break to wait for a coat to dry.
Spray Gun vs Spray Gun System – What Is the Difference?
A common misunderstanding, a spray gun of any kind, will use a specific spray gun kit. There are several types of spray gun systems, HVLP for example, is one of them. It is up to you to decide which type of system will suit your project best. LVLP is another type of paint gun system. You can choose to have either turbine or compressor powered systems. Personally I always go for turbine as it's more convenient.
Features of HVLP Paint Sprayers
Apart from the pros already mentioned above, there are a few other features of an HPLV sprayer. Most sprayers feature low-wattage motors, various aircap sets, and turbine motors. Features on HVLP systems should not distract you from the core functionality, as this is what will provide that mirror, perfect finish.
Different brands will offer different features, for example Fuji Spray offers a sprayer with non-Bleed functions and a Fan Control Knob to adjust pattern size from small circular to wide. Campbell on the other hand offers the Hausfeld HV2002 HVLP Turbine Paint Sprayer, which can handle paints of differing viscosity.
Turbine HVLP Vs Compressor HVLP
A turbine HVLP system is a self contained, independent spray system. The system utilizes a turbine to generate air pressure required for the spray gun to atomize the paint. The air from the turbine is transferred via a flexible rubber hose connected to the paint area.
A HVLP system that uses a compressor is much bigger than the turbine version, as it requires an actual separate compressor. There are various sizes of compressors for different hvlp spray guns with specific applications.
I personally enjoy using a turbine HVLP as the whole machine is much smaller and maneuverable. It's easy to use it anywhere, and doesn't require much effort to move. They also have the benefit of being significantly cheaper than the compressor versions, sometimes by as much as 50%.
A compressor would be useful to a professional who has a dedicated workspace and does not need to move around much. Although the initial price of a compressor might be high, the lifetime is significantly longer. The compressor may also be used for multiple sprayers or other jobs if it is large enough.
Necessary equipment for HVLP
If you buy a turbine system, there is no need for extra equipment. If you purchase a system that requires a compressor, there is a chance that you will need to buy that compressor separately. A hvlp spray system is the best way for painting your car. Make sure that the air tool and paint filters are cleaned. Air pressure is important when your spray car paint.
Choose an hvlp automotive paint gun that can be easily attached to an air compressor. Find out what is the right size air compressor you need to use with your automotive paint gun here. Make sure the automotive paint gun reviews say that it can be used to apply base coats.
Last Updated on: April 14, 2023