Best Winter Wiper Blades (Review & Guide)
Windshield wipers are a very important feature of a car. However, most drivers focus on horsepower, miles per gallon, technological features, and more.
A good set of new windshield wiper blades is a key accessory to maintain a clear view of the road and keep you safe when the weather is not optimal.
On that thought, winter season is narrowing on many states in the United States, which brings ice and snow, fog, rainstorms, and other conditions that reduce proper driver visibility, especially when driving on the interstates.
If this sounds familiar, now would be a good time to replace your traditional wipers with the best wiper blade that fits your needs.
We are going to describe the ten best winter wiper blades, so you can learn more and purchase a good set of specialized wipers that hold a covered framework and a thicker body that enhances their ability to handle heavy snow or an ice buildup.
What to look for when buying winter wiper blades?
In this post, we have covered the most significant brands: Anco, Michelin, Rain-X, Trico, Bosch, and AERO. Their cost varies depending on the brand, type, and size.
First, it is advised to check your vehicle's manual, measure the sharp edge, or approach at a car parts store for the correct fit for your vehicle.
Blade material
These are the different types of wiper blade material:
Rubber
Silicon
Teflon
Graphite rubber coating
Attachment
Refer back to your car manual to know the exact attachment style of your wipers. Most wipers come with a standard J-Hook attachment style, a style compatible with most vehicles.
Nevertheless, some wiper blades may lack this universal design.
Blade size
You need to install the correct wiper blade size for the best performance and durability.
Compare the actual blade to the stock one or get one that's slightly smaller than your windshield to determine the actual size.
The wipers on the passenger side and the driver's side should be a different size so that they don't crash each other when you activate them.
Best practices to get the right size include:
Check the owner's manual
Visit any auto parts store and use their "blades size finder."
Measure the current wipers on your vehicle
Easy Installation
Find a high quality blade that has a simple installation system. You do not want to spend hours of your life trying to figure out how to install these wipers.
Top 10 Best Winter Wiper Blades For Cold Weather
| Rankings | Name | Price and More Details |
| --- | --- | --- |
| #1 | Bosch Icon 26A Wiper Blades (Top Pick) | Click Here |
| #2 | TRICO Chill Winter Wiper Blades | Click Here |
| #3 | Michelin Stealth Hybrid Wiper Blades | Click Here |
| #4 | RainX Latitude Water Repellency Blade | Click Here |
| #5 | TRICO Extreme Weather Blade | Click Here |
1. Michelin Stealth Hybrid Wiper Blade For Winter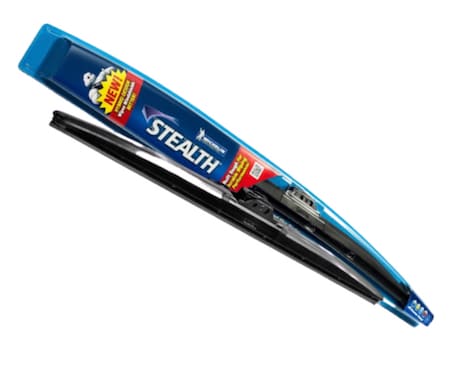 These lightweight winter wipers bring one of the best technology in the market, specially engineered for the harshest weather conditions. It has a sleek, aerodynamic design cover that prevents the wiper frame from snow, ice, and debris.
Additionally, it brings the patented SmartFlex construction that conforms to the front window curve for superior windshield contact with proven hybrid blade design aim for clog-free performance in rain, ice, and snow, helping you steer clear on the road ahead.
The blade cover is designed to prevent dirt and debris buildup. Also, the coated natural rubber allows a quiet, outstanding performance. It is very easy to install, with no attachments needed. Takes less than 2 minutes just snap off and snap-on.
The Independent suspension adjusts to the front window shape for maximum surface contact for the entire length of the wiper element. Overall we consider these to be the best winter wiper blades for the money.
Key Features
Durable design: According to independent tests, after 300,000 wiping cycles, Michelin hybrid blades outperform all industry competitors.
Fitting: This accessory hybrid fits 98% of vehicles.
Smart Flex Technology: Automatically adapts wiper blade contact pressure across the windshield's curvature to deliver outstanding blade wiping performance.
2. RainX Latitude Water Repellency Winter Blades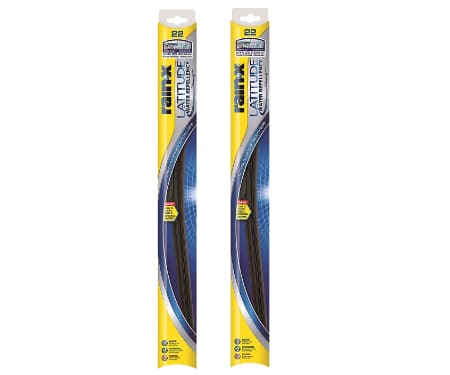 The Rain-X Latitude water repellent brushes do more than just handle the rain. These 2-in-1 wipers provide an innovative solution to clean rain for ultimate driving visibility.
On that thought, Rain-X Latitude water repellent blades work by transferring a Rain-X water repellency coating from the winter wiper to the windshield during initial use. Easy to use, and fits 96% of vehicles. It can be installed at home in minutes.
The Rain-X water-repellent coating will also help clean your windshield from the driving elements of winter weather, such as ice, snow, and sleet. Also, the synthetic rubber scraper with a special coating offers stronger durability to withstand extreme weather conditions.
Out of all Rain-X offerings, these windshield wiper blades offer the best performance and is more affordable than the Bosch ICON blades and certain PIAA Silicone wipers. They come with dual rubber technology, which is proven to be of high quality.
Key Features
Innovative coating: Wiper blades apply a waterproof repelling coating to your windshield and last for months.
Driving visibility: The 2-in-1 + wipers clears rain and repels elements for ultimate driving visibility.
Technology: Advanced beam technology adapts to the curvature of the front window for a soft sweep.
3. TRICO Chill Winter Wiper Blades For Extreme Weather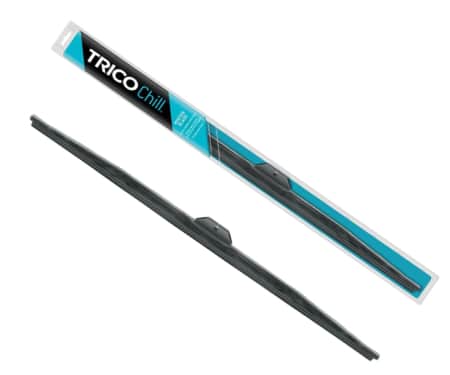 This is the best wiper cutting edge for extraordinary climate execution. You can securely drive while it is snowing or pouring vigorously. It accompanies a tough metal casing that makes it sufficiently able to clear snow off.
It is anything but difficult to introduce and fits a huge assortment of vehicles. It is accessible in a wide scope of cutting edge measures whose length is 11 crawls to 28 inches. They are built to effectively handle intense winter weather accumulation.
The wiper sharp edges are made with precisely cut regular elastic that wipes the windshield surface clean. Moreover, the maker gives a rundown of vehicles whose wiper arms are viable with the sharp edges.
Made from strong material encased in a protective boot to prevent snow and ice buildup. Produced using solid metal encased in a defensive boot to resist snow amassing and provide an outstanding performance.
Key features
Protective Rubber Boot: Prevents the blade from clogging due to snow or ice.
Precision Cut Edge: Delivers a superior performance thanks to a precision-cut natural rubber wiping element.
Easy to install: Allows for quick and super easy installation.
4. Bosch Icon 26A Best Wiper Blades For Snow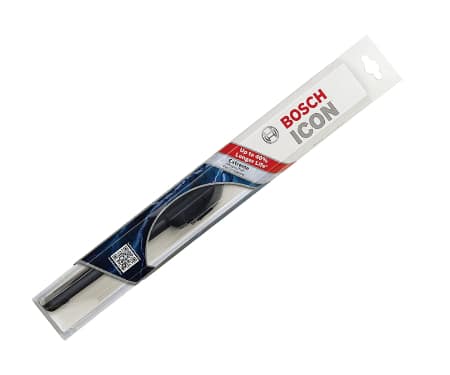 The answer for all-season execution is the ICON bar cutting edge. By configuration, shaft cutting edges are not influenced by snow and ice development.
Bosch bracketless wiper sharp edges are structured without sections or pivots, offering improved plan and execution over the conventional ones. The asymmetrical spoiler that is has performs well at high speed.
The award-winning structure of Bosch ICON circulates more uniform weight along the whole length of the cutting edge for extreme execution that endures up to 40% longer than other premium wiper edges.
The coordinated wind spoiler configuration builds the down power on the wiper sharp edge to prevent lift-off at expressway speeds. The bracketless plan and encased pressure springs give prevalent cleaning execution in every single climate condition.
Bosch ICON edges are as well as can be expected purchase! The encased pressure springs help keep the sharp edge adaptable and successful in every single climate condition. Natural rubber coating for consistent, clean, and quiet wiping.
Key features
Exclusive FX dual rubber compound for up to 40% longer life.
Easy installation with original equipment adapters.
Patented beam design for optimum visibility.
5. TRICO Extreme Weather Winter Wiper Blade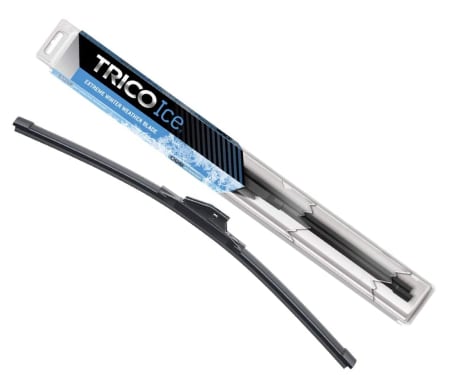 These blades featured a rough construction and built with a synthetic-blended armor. These blades are designed to provide an even slide during harsh weather.
Its covering is adaptable and works by shielding key wiper segments from ice and snow, with edges sufficiently strong to withstand even the most outrageous conditions.
Additionally, these blades come with a built defensive layer shields the edge from a serious climate and shields basic wiper segments from ice and snow. The blades resist tearing in sub-zero cold temperatures.
All around assembled, one-piece, adaptable structure cozily adjusts to the windshield. SWIFT's one-click connection system allows for quick installation. Features five distinct connectors so they work regardless of what kind of system you have.
Key features
Unmatched winter execution combined with a soft style.
Teflon implanted a wiper component for a level, and calm wipe.
A wedge-formed spoiler cleans up snow and ice.
6. Anco Winter Windshield Wipers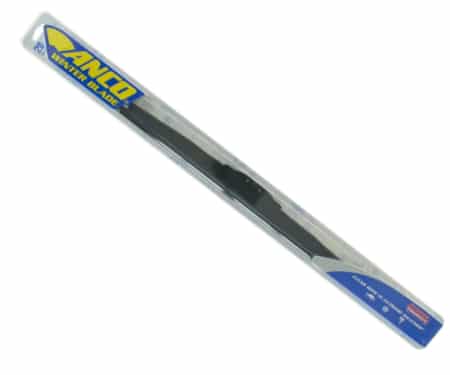 These 20-inch winter wiper sharp edges have a special design to make them strong and successful at cleaning your windshield. It includes the DuraKlear rubber compound that guarantees the edges adaptability. Users get a streak-free sweep for a clear view while driving.
These car winter wipers provide a remarkable experience in an extraordinary climate. It utilizes selective structures and materials to guarantee clear windshields and a safe view in any driving condition.
The best part about the ANCO edges is that they are accessible in various lengths. This implies that they are compatible with over 95% of vehicle models. Furthermore, the rugged rubber cover is made over a heavy-duty frame to prevent slush from freezing hinge joints.
An out-of-the-box fitment for vehicles equipped with a beam style blade technology. Install is simple and uses the KwikConnect Installation framework. All you need is to hear a tick to affirm that the wiper edges are set up.
Key Features
KwikConnect Installation System has easy wipers replacement.
Exclusive extra-thick rubber compound delivers a consistent streak-free wipe.
7. Michelin Stealth Ultra Windshield Wiper Blades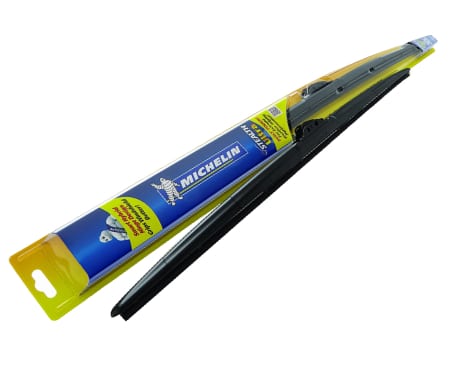 One of the best winter wipers available that features the exclusive Smart-Flex technology adjusts the blade to the shape of your windshield, channeling away water, snow, and ice to see clearly and drive safely.
The blades feature a mix of graphite elastic coatings that not just shield the sharp edge from the components. It gives accuracy to contact the glass while diminishing grating, so the elastic keeps going longer and keeps up a cleaner wipe.
They are designed for strong cleaning in extreme climate conditions. The wiper edge and suspension framework are secured to shield the cutting edges from obstructing with ice and snow for ultimate performance in all seasons.
Independent tests show Michelin Ultra wipers outperform all industry competitors. They are built to perform over 500,000 cycles. Also, the blades come with an EZ Lok connector system for quick replacement. Plus the premium rubber holds an advanced coating for flat and quiet wipe arms.
Key features
Exclusive Smart-Flex™ Design with multi pressure point surface contact.
Maximum flexibility and protects from clogging with snow and ice.
Engineered for all-weather performance and durable wiping in extreme weather conditions.
Feature independent suspension to adjust to your windshield's shape.
8. AERO OEM Quality All Season Beam Blade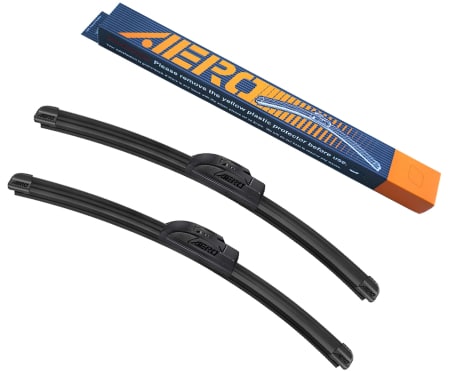 AERO is a wiper blade company that is UK based. They describe themselves as a "revolutionary of wiper blade technology." The AERO wipers eliminate the need for summer or winter blades, which saves you time and money.
Its durable material offers longer execution over other traditional blades. This particular wiper model comes with a six-month warranty and is easy to install.
Just one swipe leaves your windshield dry, thanks to its dual-tensioned springs strip that distributes a uniform downward force to reduce shock and noises. AERO blades are made with good quality materials and fitment are ensured.
The AERO micro-precision-cut wiping edge that delivers the ultimate level, clean, streak-free, and chatter-free wipers. Also, its aerodynamic design significantly reduces drag, noise, and wind lift.
One of the best features of the AERO OEM Quality All Season Beam Blade is its longevity. The specially blended plastic flex element resists heat and ozone deterioration to remain flexible in all climate conditions. After six months of 60,000 wipes, the AERO shows no sign of wear and tear, just as new.
Key features
Specially blended rubber delivers the ultimate chatter-free wipe.
Designed to reduce drag, noise, and wind.
Forestalls snow and ice development.
9. RainX Weatherbeater Winter Wiper Blades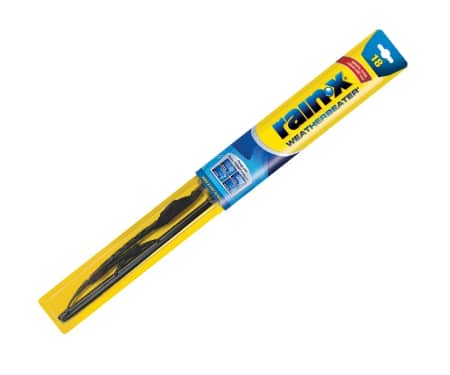 Rain-X is by far one of the most popular products of this automotive company, which produces a range of glass care products, including wiper blades and glass cleaners.
This wiper blade is still running strong after 15 years in the market, known and trusted for its quality, durability, and value. Its steel offers strength and durability, and prevents rust and corrosion.
It holds a sturdy galvanized all-steel frame, and the traditional wiper blade improves visibility. The design utilizes an all-steel frame with multiple pressure points for a quality wipe.
The Rain-X Weatherbeater Winter Wiper Blade has fortified covering elastic sharp edges, offering strength and endurance. Rain-X has been in the market for over 15 years and delivering top-notch products for millions of customers.
These wipers come pre-installed with a small j-hook adapter and contain multi-adapter for side pin and bayonet wiper blade arm. Provides a smooth, clean, streak-free wipe because of its multiple press points that tailor to your windshield.
Note: These blades are curved, so if measured with a straight tape measure, part of the curved surface will be missed, and therefore the measurement will not be true instead 18″.
Key features
Durability:

It is made with a natural rubber squeegee that resists cracking, splitting, and tearing caused by heat, cold, wiper fluid, and salt.

Quality:

Although a traditional blade, it meets or exceeds all original manufacturer's standards for quality and construction.
10. AERO Premium Beam Windshield Wiper Blades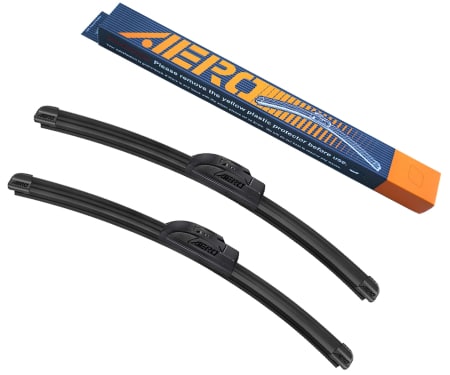 The AERO wipers utilize good quality materials and offer comparable durability and sturdiness of the major brand names, but rather at a fraction of the cost. It is developed to reduce drag, noise, and wind lift.
These wipers can be easily installed in five minutes and deliver as promised, no jitters or squeal with a wiping action that is both smooth and efficient. It comes with a specially blended rubber that delivers a smooth, clean, streak-free, and chatter-free wipe.
Users find that the AERO Premium All-Season Beam Blades exceeds expectations as they can be used in adverse weather conditions: snow, rain, and freezing rain. The style is curved and tailors to the surface of the windshield profile.
They also won't squeak or leave streaks on your windshield like other types of windshield wipers. These wipers are designed specifically for each vehicle model, ensuring an exact fit every time!
Key features
OEM replacement that provides quality and fitment, and is known to use durable material.
These are all-Season blades, no need to replace for winter or summer season.
Best Winter Wiper Blades Buying Guide
Let's face it: wiper blade is an item that most of us ignore and forget… until they wear out and you see multiple streak lines or the rubber completely rips off. You must look at your windshield wipers as a security feature of the vehicle, just like the brakes and the alarm system.
Choosing the right set of wiper blades for winter can make the difference when snow hits your state, and you need to travel for any reason. It allows you to see the road ahead and provides a sense of wellness and safety as you make turns and stops.
Most wiper blades have a service life, as they perform a hazardous duty. Remember that it is important to buy winter blades before the season knocks on your door beyond your view range. A torn wiper blade rubs against the glass, possibly scratching and ruining the windshield.
What are the different types of blades?
There are four major types of wiper blades in the market: standard, flat, winter, and beam blades.
Conventional wipers have an articulated metal frame with the blade attached. If you are concerned about price and happy with their performance so far, these are the blades to look for as they represent a cost-effective choice for most drivers.
Flat wipers are comprised of a thick rubber blade with a connection block in the middle. These blades do not have a solid shaped frame. Instead, they have a tensioned strip running within the rubber structure of the wiper blade, allowing a flatter aerodynamic shape that reduces wind noise. Being smaller than a conventional blade also provides less obstruction to the driver's field of vision.
Next are the Beam wipers. The beam blade act as an aerodynamic spoiler, which pushes the blades onto the screen, with no external frame and costs twice as much as conventional wiper blades.They provide an enhanced performance worth the investment and offer the best option for curved windshields because of their flexibility.
Winter wiper blades stand the ice weather and harsh winter conditions. Some winter-ready blades are infused with Teflon for extra strength and cost more than conventional wipers. The construction uses a standard blade style to keep snow out, which improves their lifespan.
Winter wiper blade vs. Conventional blade
As a vehicle owner, you need to understand when to replace your wiper blades. Now, if you live in an area that is subject to harsh ice weather, the responsibility is even bigger.
Unlike conventional blades, winter wiper blades provide a higher protective layer that allows them to withstand snow and other conditions derived from frozen weather.
Winter blades are heavier and stronger as they are built to handle heavy snow and freezing rain. Remember that blades are another security feature of your vehicle. Failing to change them at the right time can be very dangerous.
Worn-out blades will make your commute much longer and can also be at risk if a serious storm comes your way when you're on the road.
Compared to conventional models, winter wiper blades have a specially coated wiping edge that provides more flexibility to winter conditions changes for improved perceptibility.
F.A.Q.
These wipers are designed specifically for colder temperatures so that they will last longer and perform better than other types of blades during these icy months. We reviewed a wide range of sizes at an affordable price point so there's something for everyone! Now is time to answer some questions.
How to install a replacement wiper blade?
The first thing is to remove the old blades and have the new ones ready to install.
Pull the old wiper arm away from the windshield in a steady position perpendicular to the windshield. Be careful, the wiper arm is spring-loaded, and it could snap back and crack your windshield.
Locate the release tab from the arm. Unhook the old winter wiper. There should be a tiny plastic stopper holding the blade in place.
Make sure one hand is holding the wiper away from the windshield during this entire process to protect your windshield.
Remember that not all wipers have a universal release tab. Some will need a simple perpendicular turn of the blade and a pull-down.
Also, keep in mind that the driver's and the passenger blades differ in size if you are installing a set of blades.
Press and pull the blade down. Press the stopper and unhook the old wiper blade to separate it from the arm.
Insert the replacement beam blades. Slide the new wiper into the same end of the arm where you pulled the old wiper out.
Pivot the new wiper until you hear some sort of audible click or snap to confirmed is properly installed. Gently lay each wiper back against the windshield. Test out your new blades with wiper fluid.
When is it time to replace your wipers?
As a rule of thumb, the wiper blades should be replaced every six months to a year. Nevertheless, this is subject to change depending on the conditions to which the wipers are exposed.
For example, when the blades are reducing your driving view range, they are no longer making proper contact with the windshield surface, and it's time for a replacement.
Typical signs of a windshield wiper change:
Skipping
Streaking
Splitting
Squeaking
When speaking about the winter season, it is ideal for preparing six weeks in advance of harsh driving conditions from snow, heavy rain, fog, or freezing rain.
Car owners should be the first line of maintenance of windshield wipers. When you check your wiper blades, look for the following:
A detachment of frame arms at joints or connection points.
Any sign of metal corrosion at joints and claws.
Visible cracks and missing pieces in the rubber edge.
Are there any bracketless wiper blades?
Wiper blade has made substantial technological improvements over time. A few years ago, automotive companies developed bracketless' wiper blades.
These blades significantly improve driving visibility in any weather all year round. One of these models is the Bosch ICON wiper, which uses a dual internal precision-tensioned steel spring enclosed under an aerodynamic wind spoiler.
They distribute uniform pressure along the blade's entire length, helping the blades conform more precisely to the curvature of the windshield. The bracketless option is by far the best winter wiper blades for quick installation purposes.
Why do wipers have a squeaking sound?
Many reasons cause a windshield wipers to squeak. It may be from normal use of the tool to cracked or worn out assembly. Do not ignore squeaky wiper blades because the problem can escalate if you don't fix it at the right time.
Sometimes, squeaks could be the result of tight or loose screws on the assembly. This may happen as a result of temperature changes, snow or ice buildups, and debris deposits. Replace the assembly if the problem persists.
The wiper blades need proper lubrication for gliding across the windshield without making any noise.
Are you tired of having to replace your wiper blade so often? Is it annoying that they make squeaking noises and don't do a good job clearing the water off your windshield? Your best bet is to switch to silicone wiper blades.
A silicone wiper blade is an innovative new product that can help you avoid all those problems. They are made out of a silicone rubber, which means they will last much longer than traditional rubber wiper blades.
Why you should try beam style wipers?
Winter is a time when people are more likely to have accidents, so it's important to make sure your car is in tip-top shape. New wipers are an easy way to ensure your safety on the road.
You don't want to drive in a blizzard with your old wipers. When it comes to winter driving, you need a windshield wiper blade that can handle the weather and keep your view clear.
Beam style wipers are designed for extreme winter conditions like snow accumulation or ice buildup on the windshield. They're easy to install and remove, so you'll be able to swap them out quickly when they get worn down during harsh winters.
The wiper arm has a super silicone rubber that is engineered for optimal performance in freezing temperatures, which means fewer streaks on the window no matter how bad the weather gets!
The best part about these wipers is that they last longer than regular ones! They can withstand icy conditions and still provide excellent view while driving through rain or heavy snowfall.
Plus, they're made with rubber technology so you don't have to worry about them freezing up in cool temperatures like other brands might do.
Summary
Winter wiper blades should be one of the most important security features to take care of. They are designed to provide a clear view of the road in many adverse weather conditions.
There are several models and styles of wiper blades. The perfect match for your car depends on your vehicle manufacturer, so make sure that you read the owner's manual before expending any hard-earned money on them.
In general, most models endure use that ranges from six to twelve months. However, the time you put out on your car's maintenance plays a key role in your wiper blades' durability and performance.
Include them in your routine check-up to prolong their usage. If you live on a state subject to chilli weather, replace your standard model for a specially-made wiper windshield. You are now ready to choose the best windshield wipers according to your needs.