Top 15 Essential Things to Look For When Buying a Used Car
The car buying process can be quite tedious, especially if you're not familiar with all the ins and outs of car ownership. There are a lot of things to look for when considering a used car, but these can depend on many factors such as budget, purpose, and availability.
You should have a checklist of what you want from the vehicle, so it's easier to focus on each area during the inspection process. Do some research first prior to going out looking at cars so you know what features they must have, or else you'll end up adjusting your expectations by the time you get there.
A good rule of thumb is if you can't afford a new car, you should look at least a year old to have any chance of getting something in decent shape. You can find some really good deals, but unless the car is rare or has been taken care of, it won't be much different from another model, so older is usually better.
One of the benefits of buying a used car is that the car insurance should be cheaper because the car is less valuable and usually has a lower insurance class. If you buy from a dealership, they should also take care of all registration details, but it's generally easier to buy privately.
What Are the things to look for when buying a used car?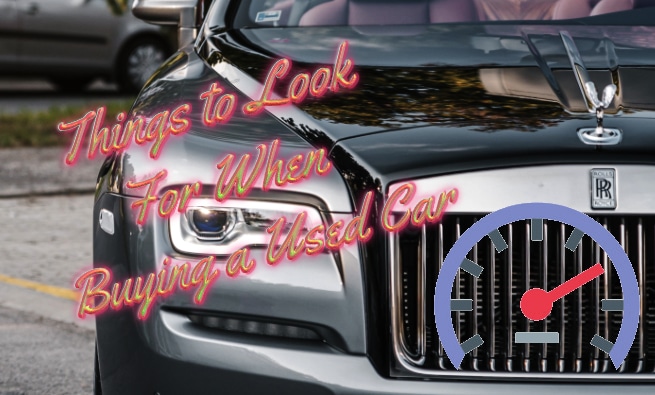 With all the things that are involved with buying used cars, it's difficult to determine the best way to go about shopping for a car. There are things that have been ingrained into our heads from past experiences and other things we've heard through word of mouth from friends and family, but how much of this is really true?
In fact, not all of the advice you hear will actually be beneficial to you as a buyer. In order to give yourself the best chance at buying a used car that won't turn out to be a complete headache, here are some tips and tricks that will help you find and buy your next used car:
#1 Vehicle history report
With the car's vehicle identification number (VIN number) or license plate number, you can get access to the latest vehicle history reports online. These reports are the best way to know if the car you're looking at has already been in an accident, had issues with recall campaigns, or even stolen.
The vehicle's history is very important. You would like to see that the previous owners have been responsible and, if there have been issues with safety or other problems, you will be aware of them before you buy the car.
If the vehicle has been involved in an accident before, you should hire an independent mechanic so you can get the car inspected. At all times, this will help you ensure that you are making a smart investment and an informed choice.
#2 Damages on the steering wheel or dashboard
Most vehicles tend to lose their appeal once they have been used for a long time, either through extensive wear & tear or simply because of increased mileage. If you notice damages on the steering wheel or dashboard, that's because this usually means the driver has steered aggressively during their time with the car.
If there are other similar signs of damage to body panels, carefully inspect them for any further problems. Typically these signs tell you that the current owner has been reckless with their car, so you might want to think twice before buying as the issue might have been difficult for them to control.
Try to look up as much information as possible on the vehicle's history. If the car had some repair work done before the purchase, ask them why. In the end, you are trying to get a second-hand car that is working properly, and that is going to represent a good deal for you.
#3 Check the mileage on the vehicle
Used car shopping involves a large amount of research. The mileage on a vehicle is very important because it has a direct relationship to the life expectancy of the car's engine and other components.
For example, if you buy a used car that has been driven for 100k miles more than yours, your engine will have to work harder, and there'll be increased chances of problems. You should try to purchase a vehicle with low mileage because then you know that it has been driven less, requiring much less maintenance in the form of repairs.
It's a good idea to look up the average life expectancy of components and compare it with the mileage. Usually, an excessive amount of mileage can be a sign that the car was used in conditions that may have been very difficult on it.
In these cases, you will want to get the car independently verified so you can have peace of mind. Remember, when it comes to buying a used car, patience is key and knowing what information you need is the best way to avoid getting ripped off.
#4 Floor mats and upholstery
The interior of the vehicle plays an important role when it comes to used car purchases. You are supposed to sit in the car, so you will have to smell it and feel how the upholstery feels.
Make sure that there aren't any floor mats on the floor, as this might mean that something has been spilled or even spilled inside. This is why you'd want to take a look under them before making an offer because if the spillage has dried up, it might be difficult to remove.
You should also check how old the car's interior components are because damaged parts can make your ride quite uncomfortable even if they don't affect its performance. If you come across stains on fabric or leather seats, make sure that they have been properly cleaned after you purchase the car.
Try to stay away from used cars that have interior problems because they can turn out to be expensive repairs. As mentioned, these are just some of the things to look for when buying used vehicles. It is always best to research more beforehand so you can gain insight into what you need.
#5 Extended warranty options
The manufacturer's warranty lasts for a limited time, and it might not be long enough for your taste. In this case, you can purchase an extension of the warranty, so you know that any issues related to the car's engine or other components will be addressed.
You should also look into what kind of coverage is offered because this can help give you an idea about how much money you can spend on a used car. Many dealers will offer this option, especially if you are purchasing certified pre-owned motor vehicles.
#6 Make use to test drive the car
When it comes down to actually looking at the vehicle and deciding whether or not it will work for what you need, nothing is more important than getting behind the wheel for a test drive. The only way you'll really know how well (or badly) the car will run for your daily commute, school runs, and everything else you need it to do is by taking it out on the road.
The test drive should be taken seriously, though; don't rush through it or skip corners just because you think you already know this particular make and model and look for any red flag. If you notice any previous accidents on the vehicle history report, now is a good time to bring them up with the dealer, as it can affect your purchase decision.
#7 Check under the hood
Not only do you have to check the interior, but you also want to take a good look at the undercarriage of the vehicle. This is exactly where you'll find out whether or not there are any leaks or other problems that need to be addressed.
Taking your time before agreeing to buy a used car will require you to check things like power steering fluid levels, brake fluid levels, transmission fluid levels, engine block, and the car battery. Most used cars will have some problems, but this is the best way to check how costly it will be to fix them when you get home with your new reliable vehicle.
#8 Body panels for dents
Fixing the car's exterior is one of the most expensive things to do for a used car, and it is the reason why you should check the car for dents and scratches. If you see any, this might mean that there have been issues in some of these parts, or they might have been poorly fitted by the previous owner who tried to fix them.
Car dents can significantly lower the price of cars, especially if they are caused by hail damage. These types of repairs are super expensive to fix, so be sure to stay away from them even if you are getting a deal-breaker from a private party. Also, you would want to avoid vehicles that have been declared a total loss from any insurance company.
#9 Check any warning lights
When it comes to finding the right car, you need to make sure that the check engine light is not on. If it does, this might mean that there are problems with the car's emissions system or other components. You would want to take your new vehicle to a garage so they can tell you what exactly is wrong and how much it will cost you to fix it.
Verify the account log on the vehicle history report to see if the repairs have already been done. This can help you confirm it is not a simple fix like a loose oil cap. If this was not taken care of by the previous owner, there is a chance that you might need to ask the seller to lower the price of the car.
#10 Inspect tires for wear and tear
An uneven tread on the tires is one of the signs that you need to take a closer look at before purchasing a used car. This can mean that there are some issues with the suspension system or other areas.
You don't want to drive away in a vehicle where it might fail you in case there is an emergency, and you might find yourself struggling to keep it on during daylight hours.
You won't typically see this problem with vehicles that have low mileage or those that are being sold by a private party that works from home. Car tire replacement can come at an expensive price tag.
#11 Verify engine conditions
The first thing you want to do is take a close look under the hood and inspect everything as best you can. You don't need an expert. Just use your eyes and common sense. Look closely at all hoses and belts. Make sure there aren't any broken clips or missing clamps holding things together.
Make sure all fluids are mixed together; check their levels and color. If the combination is not right or if they are dark when compared to normal colors, you'll need to investigate further before signing off on the purchase. You don't want to buy a used car that has lots of electrical problems either. This can mean that there are faulty parts that will cost you lots of money.
#12 Infotainment system
Most of the time, your car will come equipped with a decent car stereo and a nice speaker system. You often see cars that are the same make and model but have different stereo systems. Some have the top of line models, while others are just standard setups.
When you're at a car dealership, this doesn't matter much since all cars come with relatively decent stereo systems, but when getting a used car from private parties, it's something that might play to your advantage if they do not mention them.
#13 Inspect air conditioning unit
Another car part you want to test out is the AC unit. Look at the vents and check if they are releasing cold air. Also, depending on where you live, summer can be a great time to negotiate a better price for a used car since most people don't want to buy them during these months.
#14 Inspect on rust and corrosion
Rust and corrosion are two things you would want to stay away from. This can be a sign of accidents or even aging, so it's important that you do your research on the vehicle history report before buying one.
#15 Check for weird smells or leaks
An oil stain under a car might not mean much, but it can also mean that there is an issue with the car's engine. When checking out used cars, you should make an offer if you see any staining because this might indicate that the oil pan has been leaking. Also, a burning oil smell, if any, can also mean that there is an issue with the engine.
Leaking oil pans are hard to detect, but they can lead to bigger problems like engine failure and repairs down the road. The only way you'll know whether or not there's an issue is by having a mechanic take a quick look at it before buying it, which will still give you a good insight into how much money you'll need to fix it.
Should I buy a certified pre-owned vehicle?
CPO vehicles are a great option for those who want a quality vehicle at a much more affordable price tag. They are often used cars that have been inspected by mechanics and fixed by the previous owner in order to make them brand new again.
Getting one of these cars can really help you out since they typically come with a warranty, meaning that there is no risk on your end when buying it. You are getting the same brand and model for a lower price. Ask your dealer to see if they have any options.
Should you get a loan or buy it in cash?
A car loan is a great way to get a new car when you don't have the money to buy it in cash. As long as you can afford the monthly payments, a loan can help you out by not only giving you the money to buy a vehicle but also allowing for space in your monthly budget. You have to pay back what was received, though.
You can also get a personal loan through a company like quick lightning loans, which can help you get the money to buy a car. With quick lightning loans, you'll get the money right away and it is just like if you were buying in cash.
When buying a used car with cash on hand, this is going to give you more control since there won't be any monthly fees attached. However, you want to negotiate the price of the car before mentioning the word "cash" to the dealer.
Remember that your credit score plays a huge role when getting approved, so make sure you check yours beforehand and fix anything if there is an issue with it.
Last Updated on: September 22, 2022