How Much Does Paintless Dent Repair Cost? | 2023 Price Comps
The cost for paintless dent repair in a car can vary greatly. In this article, we will talk about the different prices to fix dents and dings in a local shop or with do-it-yourself methods.
Below you can find a pricing table answering how much does paintless dent repair costs when the work is done at a local body shop. The most important thing when it comes to using a paintless dent repair service is the fact that your car's paint will not suffer any damage.
This is a huge advantage because paint work is one of the most expensive expenses that can come up when you are trying to repair a car with dents.
How much does paintless dent repair cost on average?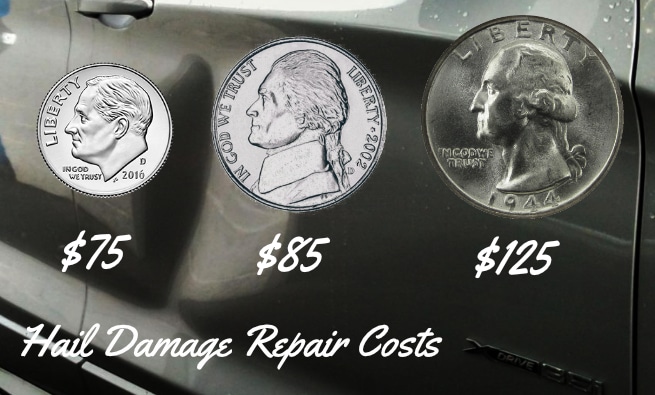 Though paintless dent repair is a cheap way to get good-looking results, the price can vary a lot. For small door dings, it may cost between $75 and $125. For a large door ding that can be fixed, such as collision dents, it may cost between $150 and $450.
Dents closer to the body line are more expensive to repair. You also have the option to purchase a paintless dent repair kit and fix the dent yourself. This option may cost around $100 depending on what kit you purchase and if other tools are required to finish the project.
What is the average cost of dent removal at a body shop?
| Dent Repair Sizes | Price Range |
| --- | --- |
| Dime size dents | $75 - $85 |
| Nickel size dents | $85 - $100 |
| Quarter size dents | $100 - $150 |
| Fifty cent size dents | $150 - $400 |
| Baseball size dents | $400 and up |
Paintless dent repair is a cheap way to get good-looking results, and the price can vary a lot. For minor dents, it may cost between $75 and $125. For larger dents that can be repaired, such as collision dents, it may cost between $125 and $450.
Price varies depending on auto body work repair and location. Larger dents will require more paint and time to repair. Hail damage car dents tend to be costly to fix because of the need for more paint and labor. Furthermore, hail damage repair costs can run up to $2500 or more depending on the amount of dents found in the quarter panel or roof.
All of these prices are estimates and can vary greatly based on your location, demand, condition of the car, etc. Dents that require the use of Bondo typically cost more than those that can be repaired by paintless dent removal. The use of Bondo is an invasive procedure that will require repainting of the entire body damage.
What affects the cost of repairing dent damage?
Not all damage that is caused by sharp objects can be fixed with paintless dent removal. Once there is visible paint damage, paintless dent repair would not be enough to restore your vehicle to its original factory look.
Here are some of the most important factors that will impact the estimated cost of fixing a vehicle with dent damage:
Number of dents
The auto industry average for fixing lots of dents caused by hail damages is around $2500. If you only have a single dent in one panel, you can probably expect to pay from $75 to $200, depending on the size and location of the dent.
Now, if your vehicle has multiple dents, the paintless dent repair cost will be pretty expensive. In this case, you should try to purchase a dent repair kit so you can try to fix the car dents yourself and save some money.
Size of the dent
The size of the dent is an important fact when calculating the estimate or overall costs of dent damage. If the impact visible is the diameter of a dime or nickel, it is considered a minor dent, and the dent repair cost will be lower.
On the other hand, if the dent is the size of a baseball or larger, then it is considered a large dent, and the dent repair cost will be above the $200 mark. Large dents typically require more time and labor to remove.
Location of the dent
The location of the dents is another important factor when estimating or calculating an average cost for fixing a vehicle with dent damage. Dents that are in hard-to-reach areas, such as on-door handles, usually require more time and have higher repair prices because they need to be fixed by experts.
Depth of the dent
The depth of a dent can be categorized by size and shape, depending on how the damage is done. For example, a shallow dent is less than one inch in depth. These depressions have little to no structural integrity, and not only are they easy to fix, but you can repair them without hurting your car's paint.
The Year of Your Vehicle
Older vehicles were made out of harder metals, and this is why they can be more difficult to fix. Modern vehicles are made of softer metals, which means that paintless dent removal is easier on them.
Old-school traditional dent repair used to take more time. Now that technicians have specialized tools, they can fix a car dent in less than an hour.
How is the paintless dent repair process like?
The dent repair paintless process is affordable, efficient, and easy to do. The dent repair process has been simplified with kits that come with tools such as the suction cup, rods, bridge dent puller, or slide hammers, which includes all you need for pulling out dents from your car's surface.
Using dent pulling tools
Overall this repair process is rather simple. Basically, a technician or person will use a PDR glue and a dent pulling tool to remove the dent. The person typically places the glue on the front-side of the vehicle body panels and then uses a dent puller to pull out one side of that glue in order to create tension.
This tension lifts up the dent without peeling paint or having to do any repainting of the body panel. This process is repeated until there are no more visible repairs. A reflector board is used to ensure that the panel is flat.
If you are trying to remove a dent yourself, it's best to try to use paintless dent repair tools with minimal pressure when possible. It can be tempting to try and pry out large dents quickly, but this could cause more damage than good in some cases.
Using PDR rods to repair small dings
In some cases, most body shops use PDR rods to fix minor dents from the inside of your vehicle's panel. When the dent is located on an auto body panel, it can be pressed outwards by this tool. Also, the PDR rods are typically used to repair the hail damage dents.
Regular people are able to use this tool without any help from an auto body shop. With the help of a reflector board, you can find a dent and push up on the metal with minimal force. Utilizing a repair paintless dent tool like a whale tail will make a big difference.
Another important factor of using rods is that you won't require to do any kind of paint finish or paint work at all. That is why a collision dent repair shop will use this technique as their go-to when it comes to removing hail damage dents. It reduces the repair time and the overall repair cost.
Do paintless dent repair tools really work?
Yes, paintless dent repair tools work to remove small to medium-sized dents. Bigger dents can be repaired, but the repair will take longer and require more effort on the technician's part.
Paintless dent repair works by pushing or pulling the metal surface with a PDR tool. Pushing upward and outward against the opposite side of the dent allows it to reach its peak. You can achieve professional results without hurting the car's paint.
Can dents be completely removed with paintless dent repair?
A car dent can be completely removed with paintless dent repair. The results will look like the car has never been damaged or even pulled out of a dealer shop!
It works best on small and mid-sized dings that are located on the car's body panels. Some dents can be removed without any trace left behind, while others may leave a small indent in the metal.
Can you do PDR yourself with paintless dent removal tools?
There are plenty of paintless dent repair kits that allow you to do the job yourself. You can grab some of these cheap kits for under $50, or you could purchase a complete PDR set for around $100 dollars.
The paint of your car will not suffer any damage, as you are only using tools to push the metal back into place. One of the most important things to remember when doing paintless dent repair is to clean the area before you start working on it.
Some people have expressed concern with paintless dent repair, as they believe that a car's paint will be damaged if the tool is used incorrectly.
Is paintless dent repair covered by insurance?
The question is complicated and depends on your individual circumstances. Insurance providers will often cover the impact repair costs of fixing dents through insurance if it was caused by an accident or theft. However, they may only cover a percentage of the repair or estimate that the price exceeds current estimations.
Comprehensive coverage typically covers paintless dent repair, and the cost for this can be found by contacting your insurance provider. Additionally, to add this coverage to your policy, you're going to have to contact your insurance company or agent as well.
How long does paintless dent repair take?
Paintless dent repair is complicated, and it can take a long time. It depends on different factors, such as the size of the dent, how deep it is, and how much damage has been done to surrounding areas.
It can take from a few hours to a few days to fix a smaller dent and may take up to four days for larger damage. This is without taking into account if your car needs a touch-up when it comes to paint work.
Summary
The extent of the damage to your vehicle will determine the final estimated cost for the paintless dent repair. For small dings, it may cost you as a client between $75 and $125. For larger damages, the cost can run up to $400 dollars.
If you are an active person, try using dent repair paintless tools to remove the dents yourself. This will save you some money, and it's a great way to build your skills.
The number of dents, location, and sizes will determine the final estimate price that you will pay to remove a dent from your vehicle.
Last Updated on: March 3, 2023