Best Car Seat Covers (Top Reviews & Guide)
Great car seat covers are handy in safeguarding your seats from spills, dirt, sweat, and mud. Some come with fancy patterns and colors that spice up your car's interiors, in addition to keeping its top-notch condition for longer. Car seat covers come in various materials, but they are all designed to offer superior protection. There are those designed for the make and model of your car, while others are universally sized to fit virtually any car seat.
Regardless of your budget, you will find an outstanding, high-quality, and comfortable car seat cover. Here are some of the top car seat covers available on the market.
Top 10 Best Car Seat Covers For The Money
| Rankings | Name | Price and More Details |
| --- | --- | --- |
| #1 | Oasis Auto Best Leather Set of Seat Covers | Click Here |
| #2 | INCH EMPIRE 2 Best Front Car Seat Cover | Click Here |
| #3 | Infina Neoprene 100 Waterproof Car Seat Cover | Click Here |
| #4 | FH Group Universal Fit Flat Cloth Seat Cover | Click Here |
| #5 | Super PDR Luxury PU Leather Car Seat Covers | Click Here |
Just like any other seat, the car seat cover is one of the mainstreams used in cars. These covers offer a different range of textures, colors, materials, and even patterns. Thus, you have to choose within a wide range of varieties or by customized specifications to match the interior of the car. Since the vehicle is used for transportation, it is significant for us to travel with style and comfort. You can achieve this by having a relaxed and comfortable seat cover.
1. OASIS AUTO Leather Car Seat Covers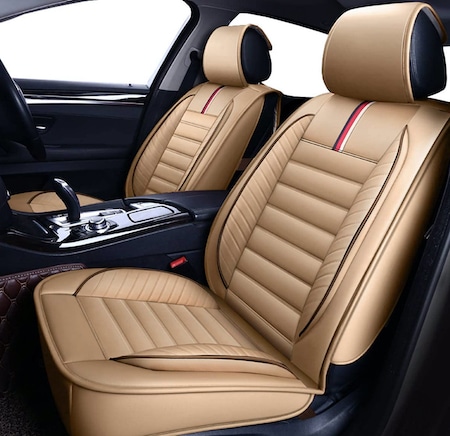 If you are looking for a top-notch car seat cover that will ultimately protect your seats and offer an unprecedented feel, look no other than the Oasis Auto OS-001 Leather Car seat cover. It is a universal auto cushion cover designed to perfectly fit all Sedan, virtual all SUVs, and small pick-up trucks.
OASIS AUTO leather seat covers come in a variety of colors, including tan, burgundy, black, and black/red. Customers are sure to get something that blends with their taste and a hue to coordinate with their car interior. These great seat covers are extremely easy to install. Unlike most brands, the manufacturer provides step-by-step installation videos to ensure you do it easily, comfortably, and successfully.
The material is soft, comfortable, and offers comprehensively premium protection. You can choose to order front seat covers or a full set. Rear covers are made for rear seats whose bottom cushion is less than 57 inches. Set includes high-end headrest covers attached with a special foam padding.
2. LUCKYMAN CLUB 2 PC Front Car Seat Covers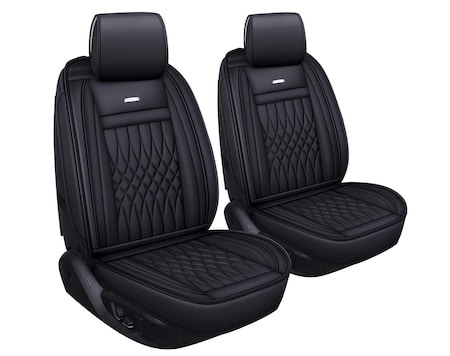 Some drivers will only be interested in protecting the front seats with great seat covers. If you belong to this group, you might consider keeping your car's interior covered with LUCKYMAN CLUB 2 PC Front Car Seat Covers. You will get a pair of attractive seat covers universally designed to fit nearly all Sedan, trucks, and SUVs. If you own a Titan or Tundra, please DO NOT buy because they will not fit in your car seats.
This seat cover set is engineered from durable, waterproof faux leather, which makes cleaning easier. You can easily clean with a dumb towel. Also, the technology used is very breathable and comfortable. Features a non-slip backing material, which makes this set one of the best car seat cover on this list.
LUCKYMAN CLUB 2 front seat covers are easy to install and come with a detachable headrest cover. They do not completely cover the sides of the seats, allowing you to access the safety belt. The high-density sitting sponge offers ultimate comfort and prevents possible wrinkling.
3. INCH EMPIRE Car Seat Cover Water Proof Material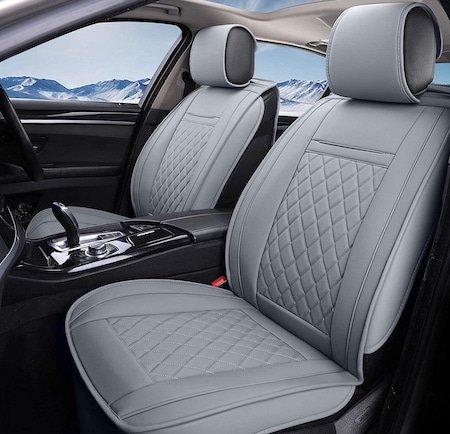 If you are looking for sleek, attractive, and performance-oriented car seat covers, INCH EMPIRE car seat covers are all you want. You have the option to buy covers for your car front seats or a full set. These covers come with an incredibly subtle style that works for most vehicles. Like most car seat covers, INCH EMPIRE covers are universal to fit most Sedans, SUV, and trucks.
They are made from thick synthetic leather to make them more wear-resistant but still give a soft touch. With a 9mm thick center sponge layer, these covers will provide superb comfort. A suede-like fabric backs the bottom layer for added gentleness.
INCH EMPIRE seat covers are seat belt compatible. The rear seat covers feature a velcro connect design with zippers for adjusting. There are convenient pockets to keep keys, phones, or books. If you find any defect, you will get a free replacement without returning the original piece. They can be used with your interior heated seats.
4. FH Group Ultra Comfort Leatherette Front Seat Covers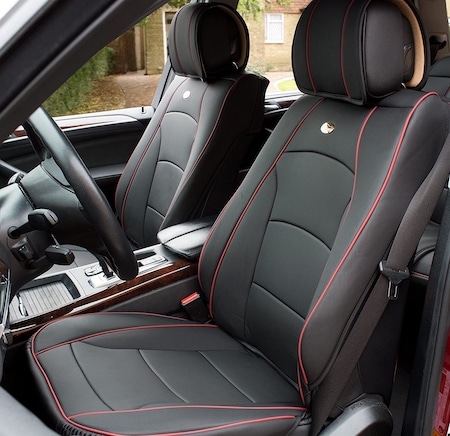 FH Group is committed to manufacturer outstanding seat covers, among other car accessories that exceed customer's expectations. The FH Group Ultra Comfort Leatherette Front Seat Covers are a great selection for every driver who wants something to sync with their car's aesthetic.
With their sideless designs, these covers are compatible with integrated airbags. The design pairs ultra-thick cushions with high-density foam for ultimate comfort and breathability. If you are used to longer car rides, these covers will be a perfect choice.
These top-quality faux leather covers are backed with non-slip silicone to keep them solidly in place. The covers are semi-universal to fit a vast range of SUVs, trucks, and cars. However, they are limited to people driving vehicles with detachable headrests – Do not buy if your headrests can't be detached. Step-by-step installation instructions are available on the manufacturer's website.
5. INCH EMPIRE 2 Front Car Seat Cover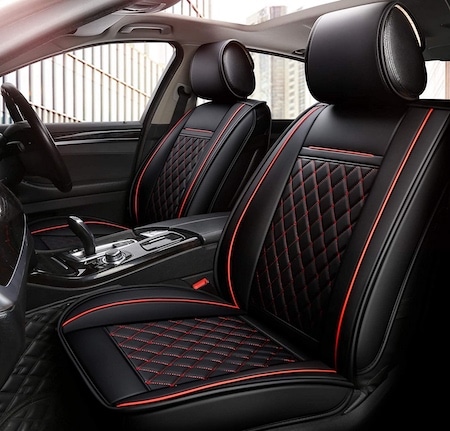 INCH EMPIRE 2 Front Car Seat Covers are outstanding with their high-quality PU waterproof and anti-wrinkle leather material. Because of their waterproof property, these car seat covers are extremely easy to clean. They are elegantly designed with a no-slip pedestal and suede backing that keeps them in place.
The surface layer is a high-quality 0.9 mm thick synthetic leather, making it more wear-resistant. INCH EMPIRE 2 covers are easy to install and do ship with instructions to support easy DIY installation. They are a great option for beginners who want to experience the wonders of excellent seat covers.
You can adjust their length, and they are airbag compatible. The grid design provides ultimate comfort while giving your car's interior a classic, sophisticated look. Although tagged universal for fabric and leather seats, confirm if it fits your vehicle before buying.
6. Super PDR Luxury PU Leather Car Seat Covers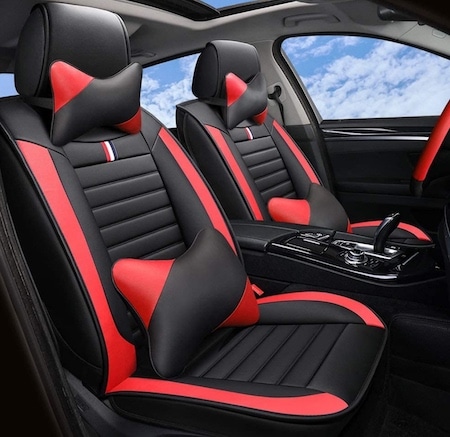 The elegantly designed Super PDR Luxury PU Leather Seat Covers provide the most comfortable experience ever. You will get a complete universal fit made from wear-resistant leather and filled with eco-friendly cotton to make it breathable, comfortable, and, most importantly, durable.
This cover set features ten pieces that will provide superior protection to your car seats. You will find included waist pillow meant to elevate your comfort in all seasons. Super PDR seat covers are suitable for a wide range of 5-seat car models, including trucks, SUVs, and vans.
You will find sizable pockets where you can conveniently store your belongings. These covers are compatible with airbags and safety belts; therefore, they promote safe driving. The rear seat covers are detachable and adjustable, which increases its compatibility. If you want some covers that will literary change the look of your car's interior to a luxurious model, Super PDR Luxury PU Leather car seat is likely to be your perfect option.
The Super PDR Luxury Seat Covers are designed to provide the most comfortable experience. It is made with a sponge and a smooth and delicate non-woven fabric that is antibacterial and anti-static. The cover set comes with 13 pieces that protect your car from spills and stains. You can literally change the look of the interior of your car into a luxurious model.
7. AutoDecorun Genuine Leather & Leatherette Car Seat Cover
These premium car seat covers are made from a combination of genuine leather and high-quality leatherette for unprecedented durability. The manufacturer includes a sponge and non-woven 3-layer composite layer to offer comfort and retain the cover's shape even after prolonged use.
You will find several styles that are designed to fit different vehicle models. Basically, these covers are made for three rows 7 and 8 seat vehicles like Toyota Estima/Previa. They are as elegant as the models they cover. You will need to check your model before buying to ensure you get the right cover for your car. The manufacturer also releases the covers upon approval that it is suitable for your model.
AutoDecorum Genuine Leather & Leatherette car seat covers are easy to install and are not-slip to stay in place. They are compatible with airbags and will always give your car's interior a personalized appearance. Also, this seat cover is easy to maintain and provides added comfort.
8. Gorla Premium Universal Fit Neoprene Car Seat Cover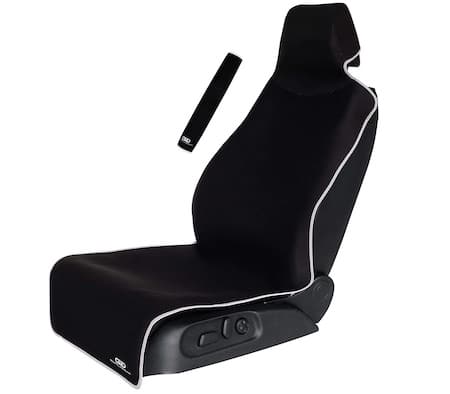 This is a premium and elegantly designed universal seat cover that fits all vehicles virtually. It is by far the best car seat cover made from neoprene and ultimately protects your car seats from pets dander and fur, dirt, and grime. The material making these incredible covers is also waterproof and sun-protected.
It features a unique, anti-slip backing that pairs with integrated straps to keep the covers in place regardless of how much you move around in your seat. Besides the comfort offered by these seats, the manufacturer includes a bonus of seat belt protector. These covers protect your belts from sweat and wearing out.
The seating surface is made of nylon with 0.12 inches of neoprene blend for ultimate comfort, and it won't stick to your skin. Gorla Premium Universal Fit Neoprene Seat Cover is a significant investment that will protect your car and give its elegant look.
9. Aierxuan 5pcs Car Seat Covers Full Set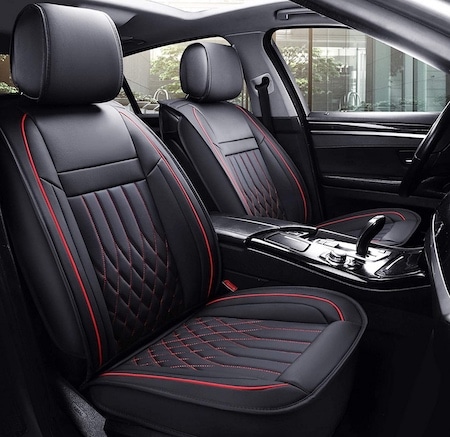 This eye-catching car seat cover is designed with almost all car models in mind. Aierxuan 5pcs Car Seat Covers Full Set is made from high-quality, waterproof leather for durability and easy cleaning. The straps used to secure this seat cover are highly resilient, which makes them ideal for a vast range of vehicles, including Sedan, SUVs, trucks, and vans.
The faux leather construction gives a soft touch while promoting scratch resistance. They are compatible with airbags, and you can upgrade the seat pillow to be detachable. You will also find convenient pockets where you can keep your valuables.
Aierxuan seat covers are extremely easy to install, making them an excellent option for beginners who want to enjoy the benefits of car seat covers. The thick sponge couples with the premium leather fabric for ultimate comfort and keeping the cover's appealing shape. Everything is designed to release fatigue during driving, even for long rides.
10. Black Panther 1 Pair Car Seat Covers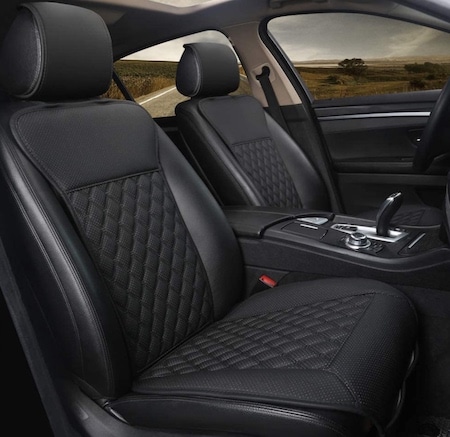 Although appearing last in the list, Black Panther 1 pair Car Seat Covers are a great option featuring embroidery technology and luxury-themed elegant pattern. The design gives these seat cover breathable comfort that every driver craves. You will also find convenient pockets where you can keep keys, phones, or your favorite novels.
Because they are airbag compatibles, you don't have to worry about interfering with any airbag deployment. The back is a non-slip rubber granule fabric that will never damage your front car seats. You will find rebound sponge and non-woven fabric that makes these covers exceptionally durable.
Black Panther seat covers have a buckle and elastic band at the top; this makes them relatively simple to install. There are plastic buckles and metal hooks handy in fastening the cover to the seat. The covers will fit in nearly all vehicles including Trucks, Vans, and SUVs. Overall very easy to maintain and protects against normal wear and tear.
Extra FH Group Universal Fit Flat Cloth Seat Cover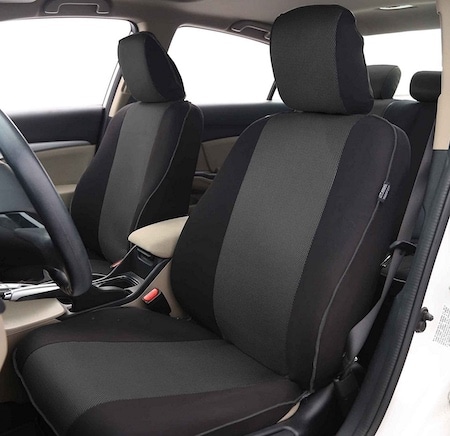 The FH Group universal fit full set includes a front bucket seat cover and a rear bench seat set. This product is an affordable solution to protect your seats. Also, anyone can follow the installation instructions, and this universal fit set can be used on most of the seats, including cars, trucks, and SUVs.
When it comes to making your life easier, the FH Group nails it. The flat cloth fabric is durable, easy to clean, and machine washable. It is another excellent cover set brought to you by the FH Group. The universal fit consists of flat cloth material that is airbag compatible and comes with a split Bech seat cover for rear seats.
Not all cloth fabrics are easy to clean and can fit most cars, including trucks and vans. Also, this fabric is stretchy, and it allows side airbags to deploy in case of an impact. It comes with a variety of colors to choose from, and it has a 3-millimeter foam padding for extra cushion.
Extra Infina Neoprene 100 Waterproof Seat Covers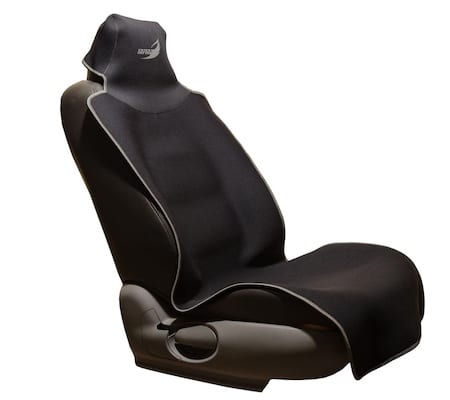 The Infina neoprene material is 100 percent waterproof, and it can fit most bucket seats to perfection. The process of customizing the fit for the seat cover is computerized, and the best thing is that it has UV rays protection, water-resistant, and fully breathable.
Additionally, this product comes with a 100 percent money-back guarantee satisfaction. The Infina brand focused their design on those young consumers that are actively practicing sports. These covers feat most cars, trucks, vans, and SUVs bucket seats. It comes at a great value, and it features an easy to install system.
If you are into Crossfit, Running, or Yoga, you are a professional athlete, this product could be of your interest. Features a luxury material design for your interior, but it also allows you to perform your everyday activities.
Complete Car Seat Cover Buying Guide
You must be aware of your car's make, model, year, and seat style. Seat styles can differ from front bucket captain's chair, front-bucket with low back and a headrest that is integrated with a high back and adjustable headrest, split-bench, plain bench, or a strong front or rear. It's unavoidable, but issues might nonetheless arise even in the event you know the year and model of your car since a particular model can have variations.
Top 5 Things to look for in a Seat Cover
Car seat covers primarily to provide the objective of protecting the seats against wear and tear, covering damage on the seats, or offering the essential comfort. In purchasing automobile seat covers, here are some considerations that have to into account.
Easy to clean
Whenever you start looking for a cover set to protect your car's original seat fabric, you should consider a universal fit cover that can be cleaned easily with a car vacuum. A waterproof seat cover can prevent liquids from penetrating your current seat fabrics. Also, the other option is to purchase a cover set that is machine washable.
Headrest Covers
Find a seat cover set that comes with headrest covers. It provides a great value while making the seat cover easy to install. Sometimes the bucket seat cover comes with the headrest cover included. This will protect your seats from wear and tear, and it will keep your car interior seats in good shape.
Easy to install
Seat covers installation will vary depending on the fabric and the model of your car. Some covers require professional installation. Make sure you read the specifications and the instructions prior to making a final purchase.
Cost
The cost would usually be one essential consideration. Needless to say, you typically get what you pay for. High-quality car covers are always expected to come with an expensive price tag. Mass-produced kinds of automotive seat covers aren't expensive but can't be expected to last a long time and can be of inferior quality.
Color and material
The headrests on the seat also have to be regarded as. You have to know if the seat belts come off or if the seat comes with an airbag, manual controls, or electrical controls. Headrests might be supported by either two posts with just one on some models. Also, the material that the car seat cover is produced should be one of the considerations also.
There is a wide variety of colors on the market today. You can pick and choose according to your personal taste. The bench black and the mossy oak are among the most popular colors for cars interior car seat protectors or car seat cushion covers. Also, try to pick a set of colors that will match your car's dash cover and steering wheel cover so the decoration can be uniform.
A car seat cover that comes with polyester fabric tends to be easier to clean than a mesh fabric material. However, polyester is not machine washable. The benefits of getting covers made out of mesh fabrics are that most of those covers are machine washable. You can add foam padding, which makes your car seat cover more breathable and comfortable.
Fabric car seat covers feature
Even though we already talked about the primary materials that are available in the market, here is a list of the top types of car cover fabrics:
Vinyl
Leather
Flat Cloth
Neoprene
Poly-cotton
Non-woven
Again the fabric is one of the most critical covers features. It will determine how much cleaning you will need to do in the future, as well as the cosmetic look of your car. If you purchase a cloth car seat cover, you might be able to throw it on your washer for quick cleaning. The polyester material is not as easy to clean as cloth.
Are neoprene seat covers good?
The neoprene covers are considered one of the top car seat covers on the market for athletes. When it comes to protecting your seat against dirt, sweat, and odors, the neoprene covers are the go-to products.
Also, the fabric is trendy because it is exceptionally durable, waterproof. It provides long-lasting protection against spills and mud. Neoprene seat covers are designed for stock bucket seats and are commonly fabricated with a saddle blanket material. Allowing these covers to be installed in your cars, trucks, vans, and SUVs.
What are the most comfortable seat covers?
Sheepskin fabric is the most comfortable for seat covers, according to all the customer reviews found online. It is very soft and fluffy. The only downside about sheepskin covers is that they are designed for cold weather, so it might not be the best seat cover to buy if you live in a hot State. Other comfortable covers are called car seat cushion cover.
Are seat covers good for leather seats?
Yes, a leather seat tends to wrinkle and peel with time and use. Using a seat cover can prevent your original seats from damage or even extreme things like a cigarette burn hole. Custom-fit seat covers are designed to protect your car seats from cracks, and they come in different colors and materials.
Tips When Choosing a Car Seat Cover
Choose a material that's tough and durable, water repellent, and could be machine washed. Supplies available in the market consist of sheepskin, which can bear to both hot and cold weather. Sheepskin can supply the warmth for winter and can be cool for summertime. It also absorbs perspiration.
Seat covers were invented to protect your seats from damaging or pealing. The original seat of your car can get ruined quickly if it does not have any seat protection. If you are using an infant car seat, then we suggest getting a cover to protect your car leather seats prior to the installation. Also, most universal cover sets fit cars that do not require to be airbag compatible.
Another item you can buy on Walmart or Amazon is the dog car saddle blanket. Even though it does not fully protect your can, it can help for the comfort of your pet during long trips. Try to choose the best material according to your interior looks. Always look for easy installation features.
Conclusion
Every driver wants to have their car seats protected. Fortunately, most of the top car seat covers are universally sized to fit most of the models. However, it is good to check all the features and installation instructions to know if the cover you want to buy is compatible with your model.
Other features to look for are saddle blanket material and machine washable material. Unless you want high end set of seat covers, then choose seat covers made out of leather fabric. The above covers retail at a reasonable price and will offer superior protection alongside ultimate comfort.
Seat covers are the best solutions to keep your car interior heated seats in good standing. Any seat covers that feature the above-mentioned material would be an easy choice to purchase. Find a set that features both the back seat and front seats as well. I hope you learn the different types of car seat covers and what to look for when buying them.