Reset an Airbag Light With OBD2 SRS Scanner Tool [2023]
One of the best features of an OBD2 scanner is that you can use it to reset vehicle warning lights. These indicators flash up when your vehicle detects problems with the engine, oil, tire pressure, SRS airbag systems, and more. Once you've repaired whatever is causing the problem, all you have to do is tap a button on an OBD II scanner, and the airbag light is turned off instantly. Can you reset an airbag light with OBD2 tool?
Not everyone has an OBD2 scanner to hand though, and if you're not a professional mechanic, it's unlikely that you'll have needed an OBD tool before. So, can you turn off the SRS light without an OBD2 code reader?
Is it possible to reset warning lights without an OBD2 scanner?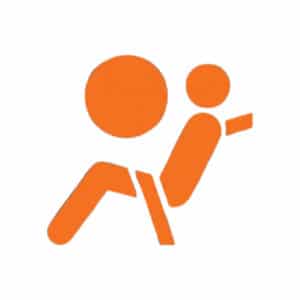 Yes, it is possible. However, it is way more difficult than using a scanner and could actually be potentially dangerous to yourself and your car. It's easy to make a mistake and have the airbag system blow up in your face, which wouldn't be too fun!
To turn off an SRS light without the use of an OBD2 scanner, you will have to fix the airbag system completely before restarting the vehicle. When the system is fully repaired, the warning light should deactivate automatically.
We'd definitely recommend using an OBD2 scanner to turn off the airbag warning light as there are so many places that you can make mistakes if you don't have one.
What's the problem?
There a few areas that might be causing problems with your SRS system. The first thing to check is the wiring system underneath the car. Any loose wires could be causing a problem with the Supplemental Restraint System (seat belts and airbags) so ensure all wires are connected.
If it's not the loose wires, it could be the SRS Clocking system causing the issue. The clocking system is located inside the steering wheel and looks after the horn and SRS functions. If you're delving into the clocking system, you should make sure to proceed with definite caution, and it's annoyingly easy to accidentally set off the SRS response, which will be a more costly repair if you do so.
You can actually remove the SRS bag using this method, but definitely follow a specific guide to your vehicle if you are doing this as it varies a lot from car to car.
There are loads of other issues that could be causing the SRS airbag warning light or SRS light to illuminate, so it's almost impossible to know exactly what is causing the problem without an OBD2 scanning device that can read the SRS trouble code.
Is it worth buying an OBD2 scanner?
The big problem with fixing the SRS system yourself is that without an OBD2 scan tool, it is extremely difficult to know what the issue actually is that is causing the airbag light to turn on. An OBD2 scan tool can read error codes and instantly tell you what is causing the SRS system's problem.
As well as being able to read the airbag codes and other engine codes (such as ABS codes), an OBD2 scan device also has features like live data streams and will feedback sensor data that can really help isolate the problem and make it much easier to repair. Freeze frame data is also a popular feature of OBD scanners.
For this reason, we highly recommend that you always use OBD2 scan tools with live data stream and error reading features whenever you want to repair the SRS components. In the long run, an OBD2 scanning device is going to save you a lot of time and potential labor costs, so it's definitely worth looking into picking one up if you need to make any vehicle repairs. Find the latest info and reviews of the best OBD2 scanners at obdstation.
Which OBD2 scanner should I buy?
There are loads of great scanners on the market these days, and nearly all of them will come with a feature that lets you turn off the airbag light on your vehicle. Although most scanners and code readers will be able to do this, some do it much better than others. In this section, we'll give some recommendations for the best OBD2 scanners that will let you turn off the airbag light easily.
Before we do, though, we need to consider what type of OBD scanner you will need. There are two types of OBD protocols, OBD1 and OBD2. Some OBD1 tools may run on vehicles built-in 1995 or earlier whilst OBD2 is for vehicles built-in in 1996 or later. Most scanning units are either compatible with OBD1 or OBD2, so you'll need to make sure you get the right one for your vehicle.
Some scanners are still compatible with both OBD1 and OBD2, but these devices are usually more expensive than the separate scanners.
Now we'll give three OBD code reader recommendations that will help you be able to remove airbag system error codes quickly, and most importantly, safely.
Launch X431

V+ Professional

Diagnostic Scanner for Your Car

The Launch X431 is an excellent vehicle scanner made by one of the most reputable and well-known business names. It's an SRS scanner, so you will be able to easily highlight any issues that you may be having with the airbag system. It also scans other car systems too, such as the transmission and emission components.
As well as being an excellent vehicle scanner, the Launch X431 also has other great features that will come in useful for future repairs. One of these is live data, which gives real-time readings about various functions and systems. This is ideal if you're running a component test, and it lets you really uncover any problems.
Overall the Launch X431 is a high-quality scanner that is suitable for the professional workshop as well as the home enthusiast. You may be able to reset most soft codes with this tool. It is capable of resetting SRS light codes that are related to most vehicles that circulate the US.
ANCEL VD500 Diagnostic Scanner for Volkswagen VW

The Ancel VD500 is a budget-friendly OBD2 scanner that has plenty of functions that you wouldn't expect from its low price point. Most importantly, it can read and clear errors from the supplemental restraint system (SRS), so it is more than capable of resetting an airbag light.
The VD500 is made primarily for the Volkswagen group of car manufacturers, such as VW, Audi, Skoda, Seat, and more. It's worth checking that the VD500 is compatible with your car before picking up an Ancel VD500.
Aside from being able to read an SRS code, the VD500 can also run tests on the tire pressure monitoring system, the O2 sensors, and the battery systems. It is also extremely easy to use with a bright LED screen and large panel buttons that are responsive and simple to use.
The device's simplicity is actually one of its best features, and you won't have to deal with any confusing menu navigation like you may with more complex scanners.
FIXD Bluetooth Adapter & App Car Codes Scanner Tool
Our final recommendation or tip is a bit of a curveball since we've gone for the Bluetooth adapter made by Fixd. This Bluetooth adapter plugs straight into the OBD port of your car, and you can then connect up to your phone or a Bluetooth compatible OBD2 scanning tool.
If you're connecting up to a phone, then you have to download Fixd's OBD app. You can run all the usual OBD functions and scan the airbag and seat belt system for any app problems. Once you've found a problem, the app will recommend possible fixes.
This is another good budget option and is an easy way to turn off the airbag light. It is one of the cheapest options if your looking to find out if there is a problem with your car engine.
Can you reset the airbag light without tool?
As we said before, it is definitely possible to turn off the check engine light, oil light, or SRS airbag warning without the use of a scanning device. However, this is really difficult since, without an airbag scanner, there's basically no way of knowing what it is that is causing the warning lamp to come on. As a result, it is very easy to spend too much time searching for the issue, only to find out you can't repair it.
On the other hand, an airbag light scanning device will be able to instantly read the SRS code and let you know the origin of the issue immediately. It's also much safer to use an SRS scan tool rather than attempt anything on your own.
Can you reset airbag light with OBD2?
Resetting the airbag warning light for the SRS system is a breeze with an OBD2 code reader. It really is as easy as pressing one button and is the ideal feature for using after you complete a repair.  It will take you just a few minutes to reset the air bag light when you used an OBD2 reset tool.
How can I bypass the airbag warning light?
It is not possible to bypass the SRS code and airbag light unless you have an OBD2 code reader. These code readers can switch off other lights as well, such as the ABS light (anti-lock braking system) or braking systems monitor.
At times the airbags sensor and the control module tend to stop working with time. That is why it is recommended that your local mechanics check the module and the sensor if the light comes on to make sure they still work. Remember that your safety comes first, here are a few safety airbag warnings for adults.
Can you clear an airbag SRS light code?
You can quickly and accurately read and clear such airbag light SRS codes using an OBD2 code reader. As long as these codes are considered soft air bag light codes, they can be cleared by these tools. If you have a problem with the air bag control module or with the clock spring on the steering wheel, then most likely, you won't be able to reset the air bag code.
Summary
As you can see, the best way to reset the airbag light of your vehicle is by utilizing an OBD2 scanner tool. These diagnostic tools make resetting the airbag light as simple as clicking a button. The air bag that is located at the steering wheel needs to be working at 100% capacity.
We recommend our readers to have a professional mechanic check the airbags and the control module. It may be the case that you may have to replace a faulty sensor or a bad control module. Most airbags are responsible for saving lives.
Last Updated on: January 11, 2023