Best Budget Car Subwoofer [Top Reviews & Buying Guide] 2023
If you want to upgrade your car system, you can opt for the best budget car subwoofers. It can be your efficient partner to enjoy listening to your favorite music.
With a decent sub, you can have a more customized experience with your sound system needs. It allows you to relax and enjoy streaming while riding in your vehicle.
There are many options of subwoofers on the market, so you should be careful in choosing the best one that suits your needs. Don't worry because your search for the best woofer will be easy.
In this post, we will provide you with a comprehensive list of the top subwoofers you can choose from for your stereo system. With that, you can have a durable sub that can offer a good value to your money.
We will also provide you with a buying guide to get the best budget car woofer that can upgrade your current one. So, you can get the best product that will offer you the highest satisfaction for your streaming.
What to look for in a budget subwoofer?
The design of the sub is an important factor in upgrading your car's entertainment. You should consider a look that will blend well with the interior of your vehicle. Also, choose a sub that has a waterproof and dustproof specs if you want to use it outdoors.
Since there are many options for reliable subwoofers, it can be challenging to choose the best one that can satisfy your needs. Worry no more because we will help you with this matter. The following are some features to look for in a budget sub.
Sensitivity  
Sensitivity is a measure of how much power it takes to make a sound. A low-sensitivity speaker will need more power to make the same sound as a high-sensitivity speaker.
When subwoofers come with a higher sensitivity rating they need less power to create a similar output amount. Unlike other models that have lower sensitivity ratings that require more power to get them bumping.
Power handling
Another factor to consider when looking for a budget sub is power. You can check its watts RMS power. As you check the subs power, ensure that the amplifier has the best power handling. Keep in mind that most subwoofers need a sound amplifier.
Every car stereo speakers have a recommended power range. You should choose a sub that matches or exceeds the RMS wattage of your amplifier. If you select a sub with a much lower wattage than your amplifier, it might not work, or it can blow your speakers.
Woofer size
You should also consider the size of your sub. If you want a vehicle audio system that can play low, loud music and comes with enough space, prefer the biggest budget subwoofer. You can opt for a good sub, 12 inch or other sizes of woofers.
Most systems come with a built-in amplifier. If your car audio doesn't, you need to buy one that is compatible with the sub you select. It would help boost the bass frequencies and give your music more depth.
Enclosure
The output of your sub can depend on the ported enclosure that it is mounted in. The subwoofer enclosure is an important factor for the amazing quality of sound. Some subwoofers come with a suspension system.
Number of voice coils
You can check the number of voice coils of your budget subwoofers. There are single voice coils and dual voice coils. A dual voice coil design has more flexibility in wiring sound systems.
Top 10 Best Budget Car Subwoofer
| Rankings | Name | Price and More Details |
| --- | --- | --- |
| #1 | Rockford Fosgate P300 Subwoofer | Click Here |
| #2 | Skar Audio SDR-151 For Sound Clarity | Click Here |
| #3 | Boss Audio CX122 Car Subwoofers | Click Here |
| #4 | JBL CT-Bass Pro12 Cheap Subwoofer | Click Here |
| #5 | Pioneer TSSW2502S4 10 inch Sub | Click Here |
We will provide you with a list of the best cheap car subwoofer on the market today. So, you can have the best car audio system that can give you incredible sound quality.
With an excellent powered subwoofer, you can experience the superb sound quality of your favorite music, podcasts, and other audio sources.
#1 Rockford Fosgate P300 Punch Subwoofer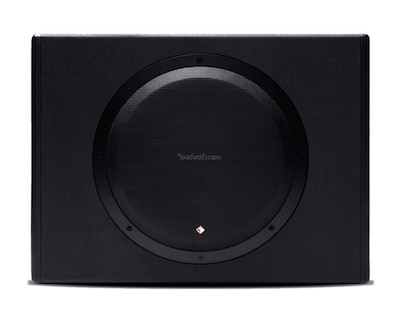 This modern subwoofer has a custom sealed enclosure and built-in adjustable bass EQ. It requires external 300 watts amp to operate the whole system. The Rockford Fosgate comes with a remote bass level controller and a built-in O °/ 180° phase switch.
It also has a long-lasting exterior that avoids bumps and scratches during the shipping procedure. The Rockford Fosgate is among the best budget subs that can provide you with deep bass sound quality. It has a thermal and detachable power connector.
The dependable subwoofer comes with 600W peak power. This Rockford Fosgate sub has a 35-200 Hz frequency response. Some experts consider it to be the best sub that offers great sound quality with a consistent and reliable performance.
You can also integrate this Rockford Fosgate p300 to OEM audio systems with RCA or speaker level signals. It is considered a global leader in the automobile audio world renovation that can offer customer satisfaction. It is a powered subwoofer that can offer you accurate bass for a more satisfying experience.
#2 JBL CT-Bass Pro12 Subs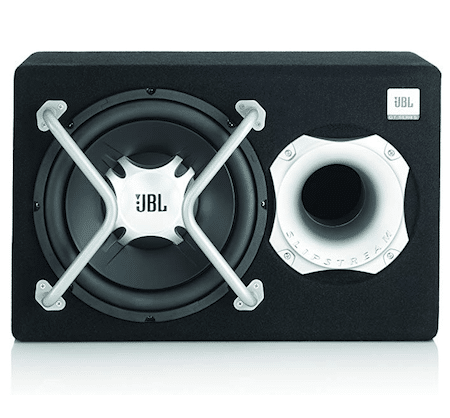 If you want a powered sub at an affordable price, the JBL CT-Bass Pro12 is the best option. It comes with an excellent subwoofer enclosure with a polypropylene cone that comes with a rubber surround that offers resonance dampening.
This 12-inch subwoofer features dual-stacked magnets that boost magnetic flux. The motion of the cone was controlled by the patented GT Bass Progressive Spider. JBL CT-Bass Pro12 can be your best subwoofer thanks to its vented pole piece that delivers an enhanced power handling.
It also helps to prevent the speaker from overheating. The product has a built-in amplifier that provides 150 watts of RMS power. It comes with 45ow peak power output. You can use a remote control to adjust volume easily.
For a deeper bass, try combining this sub with an external amp. If you're on a budget but want a high-performance subwoofer, JBL CT-Bass Pro12 is the best option. The sub also has a built-in cooling system to avoid overheating.
With that, you can enjoy listening to your favorite music while riding your vehicle without being worried about your safety. It has a reflex enclosure with a Slipstream port to avoid unwanted turbulence while using it.
#3 Rockford Fosgate R2D4-10 Prime Subwoofer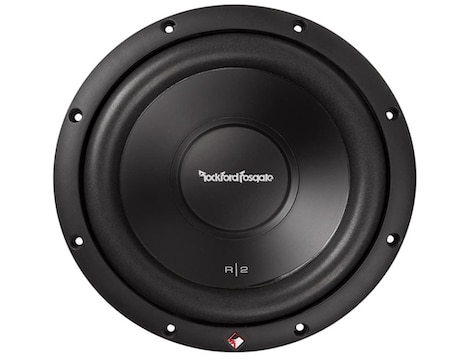 The Rockford Fosgate is equipped with more innovative features to satisfy your audio needs. It is a good quality subwoofer that has 250 watts RMS. It comes with a parabolic cone design for solid deep bass production.
The subcomes with an anodized aluminum voice coil that can resist about 100 degrees even on its full power. The Rockford Fosgate R2D4-10 Prime sub has high performance and reliability.
It is boosted by a periodic stitched lead wire technique that lowers mass and spreads stress on a greater space. It has Mica injected polypropylene cone and stamp-cast baskets with integrated spider venting.
The sub also comes with 12 AWG compression terminals. If you want to redefine your music experience, this  subwoofer is for you. It has an integrated PVC trim ring and more advanced features that can give you an superb system.
With its anodized aluminum voice coils, it can avoid overheating problems. It can be a good investment for your money. Aside from a polypropylene cone, it has a reliable quality you can trust.
#4

PIONEER TSA2500LS4

Powered Subwoofer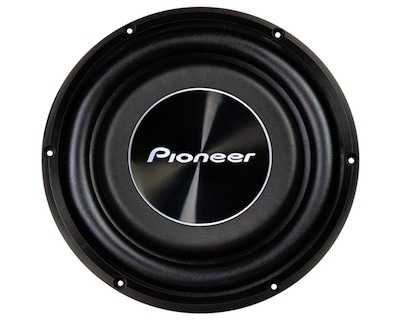 The PIONEER model is among the top powered subwoofers out there. It has a 25 – 200 Hz frequency range. It is available with a 5-year warranty, gold-plated terminals, and magnetic shielding. This 10-inch sub can create a high current of 1200 watts.
It is powered by BASH Technology and has a MICA injected molded resin, so there is no port noise. This subwoofer comes with high efficiency that can offer you a great bass response. It also features adjustable volume control for a more customized listening experience.
The product has high-level inputs, automatic signal sensing, and adjustable crossover. With its performance and quality, it can provide good value to your money. With the TS-A2500LS4 subwoofer, you can expect excellent sound quality.
It has an elegant design that can suit your taste and standards. If you want a high-quality subwoofer without spending much of your budget, this powered subwoofer is the perfect solution. It will not fail you in giving satisfying audio.
#5 Skar Audio SDR-10 Subwoofer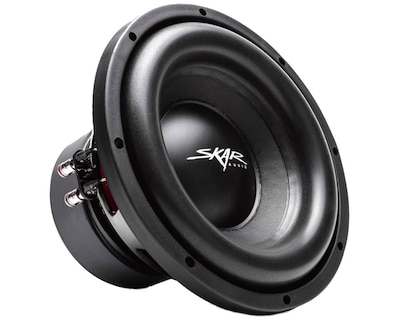 It can be your efficient partner for your car audio habit. The subwoofer features a thick foam surround with a competitive grade pressed paper cone. This affordable subwoofer can give you an accurate bass response.
It is among the quality car subwoofers in the car audio industry. The product features a low-spectrum sound profile. Also, it operates with a 2.5-inch high-temperature 4-layer copper voice coil. It has 600 watts of consistent power handling and 1200 watts peak power.
More so, It has a 28 Hz to 300 Hz frequency response and 82.5 dB sensitivity. The subwoofer also features a high flux ferrite motor and an innovative airflow cooling system to avoid overheating. With the Skar Audio subwoofer, you can enjoy listening to your favorite music safely and more conveniently.
It is a combination of function, quality, and design that can upgrade your car music experience. You will not regret choosing this car subwoofer because of its overload protection circuit and impressive high roll foam and audio quality.
#6

BOSS Audio CX122

Modern Subwoofer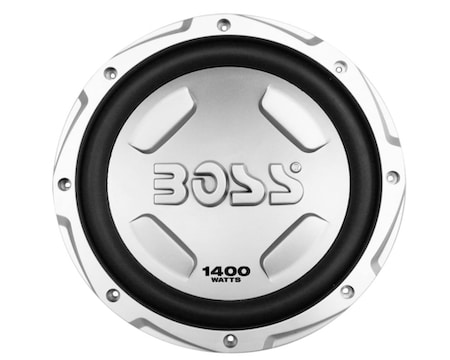 The BOSS CX122 is a naked subwoofer that doesn't need a sealed enclosure. It has a 12-inch diameter making it a distortion-free bass subwoofer. It is among those that provide excellent low frequencies of about 24 to 200 kHz making it ideal for big bass pulsations.
It comes with 5.4 inches mounting depth. You may consider a reflex system subwoofer enclosure since it works well than the solid, sealed enclosures. It features 4-ohm dual voice coils and 700 watts RMS power.
Additionally, It is among the best dual voice coil subwoofers on the market that can give you clean bass output. It has 1400 watts peak power handling. Out of all of the products on this list, these are the best car woofers for the money.
The CX122 car subwoofer is equipped with more advanced features to satisfy your audio needs. It is sensitive to 87 decibels and comes with a rugged and solid design that can match the vibe of your car. It has a superb dual voice coils feature. If you want an affordable yet quality subwoofer, this product is a great choice.
#7 Kicker 8-inch Buget Subwoofer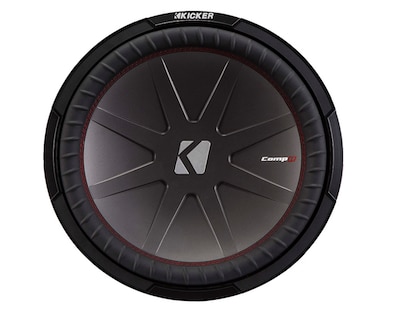 The Kicker 8-inch 300 W subwoofer is another quality product you can trust for your car audio system. It is designed with top-grade components for its reliable efficiency. The subwoofer features a magnet structure and 4-ohm dual voice coil, and 600 watts peak power.
It offers 300 watts of RMS power. It is a reliable brand, so you can expect high performance. This subwoofer is highly responsive and comes with great durability. With its 8 inches, a design's subwoofer can be easily incorporated with vented enclosures or sealed enclosures.
Furthermore, it can deliver you booming and powerful bass. Choosing this quality subwoofer can be a good investment for your car's sound system. The red stitching cone reinforcement produces an excellent output quality and efficiency that can satisfy any listener.
The Kicker 8-inch 300 W subwoofer allows you to get an affordable but versatile sound system. It can be a replacement for your broken subwoofer or can be your first-ever subwoofer to power your audio system. This powerful subwoofer will make you feel relaxed during your ride on the road.
#8 Planet Audio AC12D Subwoofer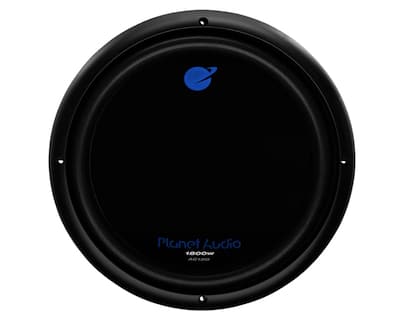 The Planet Audio AC12D subwoofer can be your powerful subwoofer that can deliver amazing sound. It comes with a polypropylene cone with a lower weighing coil. Planet Audio is a trusted brand for your subwoofer needs.
It is available in three various sizes and styles, including a 12, 10 and 8 inch subwoofer. The Planet Audio subwoofer is also available in amp combo, including 1500, 1000, and 3000 watt amps. This Planet Audio car subwoofer has 1800 watts maximum power.
The product has heavy-duty and resilient construction materials making it withstand any premature fatigue problems and high heating issues to maintain its efficiency. It has a high roll foam surround for accurate and clean bass. It comes with 750W x 1-channel RMS and 1500 watts peak power.
Plus, it comes with a 39Hz frequency response and 87dB sensitivity. The subwoofer has a dual 2-inch high temperature and easy setup. The injection molded polypropylene cone feature provides you with precise bass that allows you to enjoy listening to your favorite audio materials.
#9 Kicker Dual 43DCWR122 Subwoofer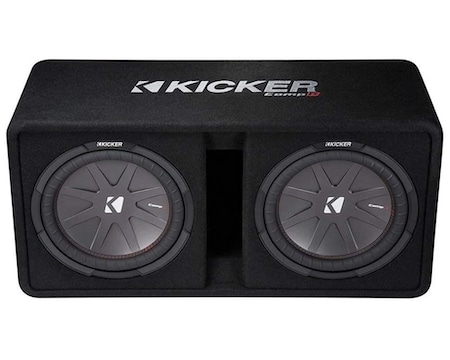 With this 12 inch loaded enclosed subwoofer, you can have amazing acoustic sound and impressive bass. It also features a long-lasting and durable polypropylene cone. It has four mounting depths and ported enclosures. It has 75-inch thick black carpeting outside.
The subwoofer has a custom-designed rear portion with an excellent top plate. It comes with a spacious top for easy handling. This subwoofer comes with a 2-ohm impedance that can pull power from a mono amp. It has a power handling of 1000 watts RMS.
You can match it to your car radio and pair it with the head unit. It has 98dB sensitivity and 2000 watts peak power. It is easy to install and has ported enclosure. Its front-facing port is designed to improve the bass output. Overall it is a good quality product you can use to upgrade your car stereo system.
The subwoofer has a solid muscular wood for extra durability and performance. If you have high standards for music streaming in your car, the Kicker Dual 43DCWR122 12 inches 2000 loaded subwoofer is the best option. It can be a good investment for your money.
#10 Pioneer TS-SW2502S4 Shallow Mount Subwoofer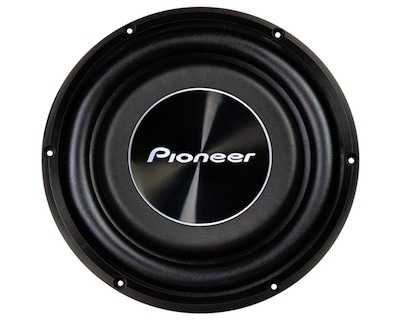 The Pioneer subwoofer is among the budget-friendly shallow mount subwoofers on the market. It has a 40hm two-inch voice coil that can offer you deep quality bass. It has mice injection-molded resin that offers accurate bass from car speakers.
Plus, this 10-inch subwoofer has 20 to 125 Hz frequency response and 1200 watts peak power. This Pioneer, 10-inch subwoofer comes with 100 to 300 watts RMS power handling. You can set it easily in a small space.
The product's cone-like surface can move more air to make higher and louder bass. It comes with 91 dB sensitivity. It has a swallow amount and compact design. Suppose you want to have a versatile subwoofer at just an affordable cost.
With its advanced features and reliable performance, the Pioneer TS-SW2502S4 subwoofer can give a good value for your money. It can be your perfect partner to enjoy listening to music and other audios while riding in your car.
Best Budget Subwoofer Buying Guide
With many options of car subwoofers out there, it can be challenging for you to get the right one. The following is a buying guide to help you get the best sub to upgrade your car experience. You can consider the following things in buying one.
It is also essential to consider the cost of the subwoofer. Make sure to purchase the one that suits your budget. Luckily, there are more affordable subwoofers that can provide you with excellent performance and sound.
Your car's audio system should be able to handle the power and bass of a good subwoofer. If you're not sure, consult with our audio specialist to find the best car woofer suitable for your car and needs.
Subwoofers are available in different designs and styles. So, you can choose the design that suits your style and needs. Some come with more air ventilation for good bass production. You can get a 10 inch or 12 inches, and more.
Subwoofers come in various sizes, so choose the best one that suits your car. With this, you have an assurance that the budget and time you invest in the product can give you the best value that you deserve for your streaming experience.
The right size of the device is important, so you can have a woofer with reliable power handling, frequency response, and performance. Usually, some subwoofers are available in 10-inch sizes come with a cast aluminum basket for extra protection.
How to get a good sound quality subwoofer?
To get the best car subwoofer for your needs, you need to determine the type of music that you usually listen to. If you're into Hip-Hop and Electronic Dance Music (EDM), then you'll need a subwoofer that has a lot of basses.
Most of the best car subwoofers usually reproduce those low-end frequencies that can give you punchy and deep bass. An all-in-one solution can be an active under-seat subwoofer.
Frequency range
The high-frequency range can give you a quality music system. You can also prefer subwoofers that can work with low frequencies. The lowest frequency that you can hear is about 20 Hz.
The suggested frequency range for a subwoofer is around 60 to 70 Hz. You can opt for products with an excellent frequency response for your sound needs. With the best frequency response, the device can deliver you the right bass amount.
Evaluate Watts RMS
Another important factor to consider in a subwoofer is power. With a powerful subwoofer, you can get a louder, deeper, and more transparent bass sound. The power handling can offer you an increased bass output.
There are several ways to determine the power of a subwoofer. The most common way is by measuring RMS. It is abbreviated from "Root Mean Square." If you a looking for a high-power subwoofer, consider a product that has at least RMS: 1000 Watts.
Not all power ratings actually mean watts, so take the time to find out what you're buying. A typical dual 4 OHM voice coil can reproduce the low bass frequencies coming from different musical instruments very well with an RMS of 100 to 300 watts.
Sensitivity range
A higher sensitivity range requires less power to offer high-quality bass. A powerful external amplifier can create a higher sensitive subwoofer.
Quality
For sure, you want to get a quality subwoofer for your car. Get a subwoofer from reliable brands. You can get high-performing subwoofers with excellent power handling. A passive subwoofer is also available on the market.
Get a model with the proper mounting depth. With this, you can easily install the subwoofer in your car. The best subwoofer is not just the one with a lot of power.
Besides making sure you select the right mounting depth, It is also important to have a product that has an excellent design and construction quality. Make sure to check the materials used in making the device. It will help you achieve a great bass in the long run.
Durability
In addition to power handling and other features, you can opt for the durability of the subwoofers. You can choose a product with excellent mounting depth. Most subwoofers come in 10 inches, which can provide you with reliable durability.
Rubber Surround
A rubber surround is a part of a speaker that helps the sound come out better. It usually surrounds the cone and helps to keep it in place.
It is also responsible for the durability of the speaker. The rubber surround usually lasts for a long time and can provide you with the best bass. Another way to go is by purchasing a sub with a foam surround.
One of the reasons to choose a foam surround is that it can provide you with better sound quality. Foam surrounds are durable and can last for a long time. They are also resistant to moisture and heat, which makes them a good choice for subwoofers.
Single vs. Dual Voice Coil
When looking for the best car subs, there are a few factors you should consider. The most important factors are frequency range, power handling, size, and durability. With these factors in mind, you can be certain that the product will offer you the best value for your money.
A subwoofer can come with a voice coil. The voice coil helps the speaker produce sound. If you're a new user, you can opt for a single voice coil. It is easy to operate compared to the dual voice coil. It can give you impeccable audio quality.
Meanwhile, the dual voice coil is more complicated to install. A dual voice coil design can also give you the best sound quality, and satisfying experience. It depends on you whether you choose one voice coil or a dual voice coil.
A dual voice coil is two coils that are on the same speaker. A single voice coil can be more difficult to install, but you might get better sound quality with it.
Summary
To sum it up, a quality woofer can be your best partner to enjoy music and podcasts as you drive on the road. With the help of this post, we hope that you have already decided which is the best woofer for your needs.
You can choose based on your budget, preference, and style of your car. Enjoy music and podcasts in your car with the best subwoofer. A sub is just what you need to get a better listening experience. Get yours today!
Last Updated on: January 11, 2023