Best Car Vacuum (Review & Buying Guide)
There is a multitude of car vacuums available on the market for car owners to choose from. Car owners want convenience, flexibility, and reliability while keeping their car clean. The vacuums we looked at in this review all meet these requirements and more. Continue to read to find out which is the best car vacuum for you.
Most of all, car owners want to be able to quickly use their vacuum to remove dust and dirt from their car's interior without having to unwrap cords, find an extension cord and spend a lot of time looking for attachments needed for the job.
For example, crevice tools that are stored on the housing are convenient and easy to connect. There are lots of buying options for consumers.
Top 10 Best Car Vacuums On The Market
| Rankings | Name | Price and More Details |
| --- | --- | --- |
| #1 | BISSELL Multi Auto Cordless Car Vacuum Cleaner | Click Here |
| #2 | BlackDecker 20v Max Flex Handheld Vacuum | Click Here |
| #3 | Dyson V7 Cordless Trigger Hand Vac | Click Here |
| #4 | Dirt Devil Scorpion Quick Flip Car Vacuum Cleaner | Click Here |
| #5 | Armor All AA255 Wet Dry Car Vacuums | Click Here |
We have looked at the top 10 best car vacuums on the market based on consumer ratings, features, and convenience. These auto vacuums have all been on the market for some time and usually have hundreds of ratings that provide confidence in the products.
Not all vacuums for cars are the same, and there may be criteria that are more important to some individuals. For example, onboard storage in your car vs. multi usability in cleaning your vehicle's interior as well as around the home. These vacuum models are specifically designed for car cleaning sessions and here they are:
1. BISSELL Multi Auto Cordless Car Hand Vacuum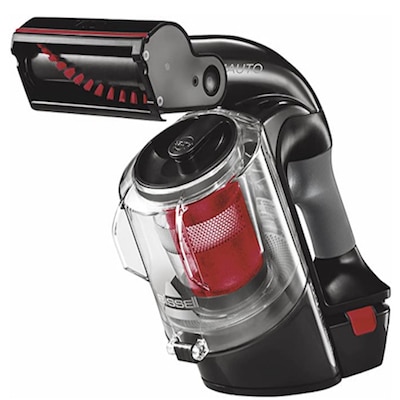 This Bissell multi auto cordless car hand vacuum comes with a 22-volt lithium battery, motorized turbo brush, two-foot extension hose, and a crevice tool. All items are stored onboard for convenience. There are also LED lights to provide illumination under seats. Reviews are positive, with 72% providing a 4-star rating or greater.
As a cordless handheld vacuum, it provides users greater flexibility than a conventional corded model. Also, the multi auto model has passed rigorous testing that allowed this brand to give a longer batterys life and optimal performance. Users love the crevice tool, which will enable them to clean tight spots between each seat.
The 20 minutes of continuous use of the battery provides the users with enough time to clean all dirt and debris from your auto. Also, the filtration system on the multi auto model works great on removing allergens. It comes with a fantastic flex hose that allows users to clean those tight spaces and other upholstered surfaces.
2. BLACK+DECKER 20V Max Flex Handheld Vacuum with Pet Hair Brush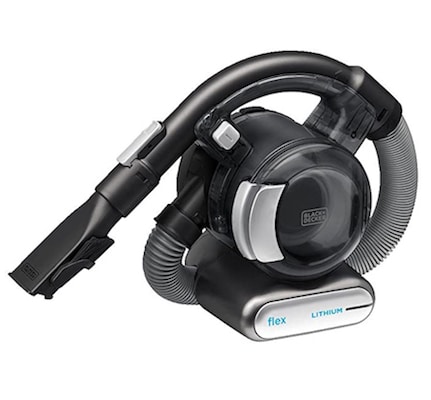 The Black and Decker handheld vacuum has a capacity of 20.6 ounces, includes a pet hair brush, with a washable bowl and filter, and weighs 3.2 pounds. The 3 stage filter system prevents dust from escaping. After 2200 hundred reviews, over 70% of reviewers provided a four or higher positive review.
Like coffee makers, vacuums are essential, especially a hand vac like the Black+Decker max lithium pivot flex which is a handheld car vacuum that provides a fantastic flexible hose to allow users to tackle your auto interiors in detail. Also, the BDH2000PL pivot hand vacuum cleaner comes with a recharging base that simplifies things for users. It provides outstanding flexibility to the end user.
This model is known because the users need to incorporate two hands when using it. The flex hose does provide ease of use when it comes to reaching weird angles, and underneath your car seat. However, it only lasts 15 minutes of continuous use for every full battery charge. Also, some users have been complaining about this particular model not having the best suction power.
3. Armor All AA255 Wet/Dry 12-volt Vacuum Cleaner

Consumers can use this vacuum to pick up both wet and dry debris with a two hp motor and a 2.5 gallon wet/dry vacuum storage container. There are 6-foot hose and a 10-foot electrical cord. Eighty-three percent of customers gave this vacuum a 4 star or greater rating. The hose can be stored inside the tank when not being used.
Although this particular Armor All model comes with a sweet handle, it is not considered a handheld model. More so, these corded vacuums give users the latest reusable cloth filters, which saves money in the long run. Be aware that you will need an extension cord when using this AA255 model since it does not include a battery.
4. Dyson V6 Cordless Trigger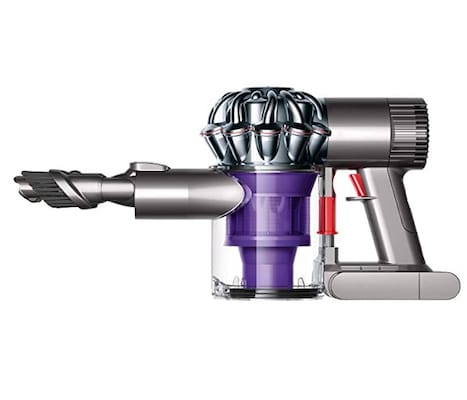 The Dyson V6 cordless trigger vacuum provides up to 20 minutes of continuous operation. Power is conserved whenever the trigger is released. The battery offers up to six minutes of power at max power mode. Seventy-seven percent of consumers gave this vacuum a four-star or higher rating.
Most users love these cordless car vacuums because of the incredible 100 AW suction power and modern look. Although it only brings two adapters, the versatility on these unique model passes any conventional hand vac. Its ergonomic design has a secure one-touch system to empty the tank and provides users with a perfect grip.
5. Dirt Devil Scorpion Quick Flip Corded Handheld Vacuum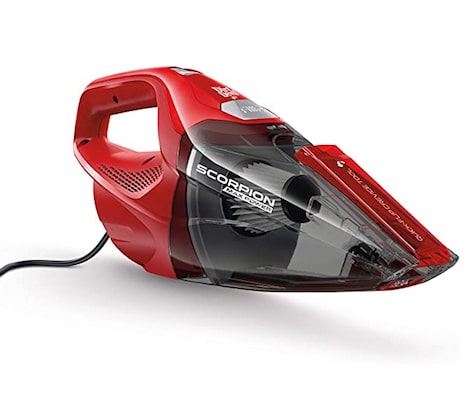 Accessories for the Dirt Devil Scorpion vacuum include a crevice tool, dusting brush, a hose, a shoulder strap, and an extension. The 7-amp motor is controlled by fingertip on and off button. The Dirt Devil Scorpion is bagless and comes with a 16-foot cord. Eighty-two percent of customers rated the Dirt Devil four stars or higher.
Most users love the 2.5-foot long hose that allows you to reach tight spots to deep clean your auto. Cleaning your car's carpet can be more comfortable with the upholstery tool. However, for a corded vacuum, it does not have the flexibility that other cordless models provide. But, we really love the rinsable filter and the overall portability of this model.
6. Dyson V7 Car Handheld Vacuum Cleaner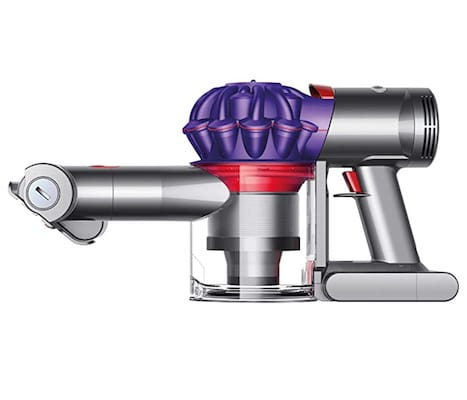 The cordless Dyson V7 handheld vacuum cleaner includes a car charger, an extension hose, a mini motorized tool, and provides up to 30 minutes of operation. The two-year warranty covers parts and labor. Seventy-nine percent of consumers rated this cordless vacuum four stars or better.
With an outstanding 15-gallon tank capacity, it could be reused several times before having to dump the trash. Although the battery only lasts for 30 minutes, with the suction power this machine provides, that is enough time to clean the entire vehicle. The high price on this item is totally worth it.
The motor that the company Dyson uses on their vacuums is unique in the market. Most Dyson models come with a two-year factory warranty that covers most parts. If you are looking for a vacuum that can be used for your house and to clean your auto, then look no further. When shopping around for a cordless option, this is the best bang for the buck.
7. HOTOR Corded Car Vacuum 4S

The HOTOR corded car vacuum comes with an extension tube, crevice nozzle, and brush. This vacuum works off your car's battery and comes equipped with a cigarette lighter plugin. Seventy-nine percent of customers rated this vacuum four stars or higher. It is lightweight, and the stainless steel HEPA filter is washable and durable.
We think that this model is an excellent option for Uber drivers. The cigarette power outlet source works for people who are continually driving around every day. With its small design, this model provides a secure storage option for those users who want to keep their auto clean at all times. Also, it comes with a handy carry bag for portability and storage. 
8. Black Decker Dustbuster Hand Vacuum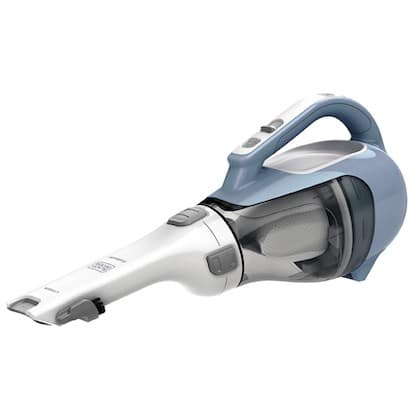 Accessories such as the brush and crevice tool are located on the Black and Decker CHV1410L dustbuster vacuum. The nozzle rotates to get into tight spaces. There is a two-year limited warranty. This cordless vacuum has an 87% four-star or better rating with over 20,000 reviews.
With over 15 watts, this model provides excellent suction performance and long life durability. The battery can hold a full charge for multiple cycles over a two year period. Also, the washable filters and bowls provide users with the ability to save money. It also comes with a charging base for ease of use.
9. Shark Rocket Pet Pro with Self-Cleaning Brushroll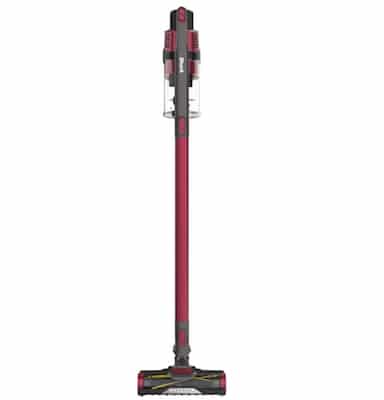 The lithium-ion battery provides up to 40 minutes of run time for the Shark Rocket Pet pro. The battery can be charged in and out of the unit. It picks up long hair and pet hair with the powerful suction self-cleaning brush roll. Eighty percent of survey respondents gave this household vacuum a 4-star rating or higher.
This particular model was designed to clean pet hair and debris from carpets. For those shopping for a vacuum that can be used to clean your car and your house, then the Shark Rocket model could be a great fit. With a HEPA filter, it allows this model to trap any allergens and dust that accumulate on those tough spots between your car seat.
We do want users to know that this product does not come with a base or wall mount. Also, it cannot stand alone against the wall, making it a little uncomfortable to store. More so, some users have complained about how difficult emptying the tank or container is due to the design. We believe this product is a great fit for a Barber or a hair salon artist.
10. HOLIFE Handheld Vacuum Cleaner

The Holife handheld vacuum cleaner comes with several accessories, including a crevice tool, extension hose, and brush. It is powered by 12V from your car's car accessory cigarette lighter with a 14.8 power cord. The filter is removable and washable. Eighty percent of customers gave this vacuum a 4 star or higher rating.
With a 100 watt motor, this machine gives users excellent suction power to clean carpets and dust on your auto. After charging the device for several hours, you can expect a 30 minute run time, which is extremely good for such a small device. It comes with three different attachments, including a liquid nozzle to clean wet surfaces easily.
Best Car Vacuum Cleaners Buying Guide
There are numerous independent guides and assessments online about which portable car vacuums consumers should consider using, to interior clean their cars. Buying guides hi-light many criteria that were evaluated and considered. While these criteria are all important, many consumers will place more value on a subset of these criteria.
For example, if there is no AC power outlet close by, it is imperative that the vacuum run on a 12-volt outlet from your car or on a rechargeable battery. Perhaps storing your vacuum in your car is one of the most important criteria, which means that even rechargeable batteries are not the right solution.
What to look for in a Car Vacuum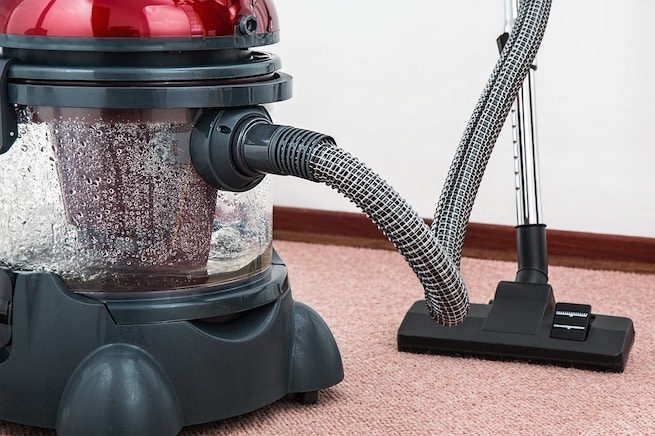 The following criteria should be considered by every consumer when they purchase a car vacuum. Compare these criteria to your specific needs and select a vacuum that meets those needs.
Vacuum Suction Power
Strong suction power is important to consider. There should be sufficient power to get the task completed quickly without needing many passes. Power is measured in many ways, e.g., amps, watts, air watts, and/or airflow. More power is always better; however, always check consumer reviews.
Tank Capacity
Every vacuum has sufficient capacity to vacuum a car even with cookie crumbs and other larger items. Some vacuums do have larger size tanks, which may be of interest to some consumers. We suggest emptying the tank each time to keep it clean.
Filtration System
Filtration of small particles may be of interest to consumers with allergies to dust and pollen. Consider a vacuum with a HEPA filter to avoid dust particles in the micron size being redistributed throughout your car as it is being cleaned.
Power Source
The power source is truly a matter of convenience. Power from a rechargeable lithium battery or your 12V car plugin lets you vacuum your car anytime, anywhere. The smaller vacuums can be stored in your car for emergency use or convenience.
Also, the corded option is always something to keep in mind if you are constantly cleaning multiple vehicles in one day. Some of our previous product recommendations include a car cigarette socket chord as a power source.
Easy to Clean
The dust storage tank should be easy to remove and empty without the need to get your hands dirty. The tanks should also be easy to wash. Washable filters may need to be replaced and/or cleaned from time to time.
Running Time
Battery-powered models should run sufficiently long enough to enable vacuuming the entire car. Most meet this need easily; however, if you have several cars to vacuum, longer run times are important.
How to Vacuum Your Car Step by Step
There is a step by step process to clean the interior of a car for car owners when they clean inside their vehicles to enable an efficient cleaning process.
Open all of the doors including the trunk
Clear out any loose trash and items that may block cleaning efforts, e.g. car seats
Remove the floor mats and wash them separately
Vacuum the floor of the car thoroughly
Make sure to also vacuum the floorboards
Vacuum the cars seats, get into the crevices and corners
Use a brush tool and vacuum the dashboard and instrument panel
Remove all items from the trunk
Vacuum the trunk
After vacuuming, thoroughly wipe down the seats, steering wheel, and dashboard to remove any dirt that was not dislodged during vacuuming.
Related article: Best Air Purifiers and Fresheners for cars.
Different Type of Car Vacuum
There are four types of vacuums that are available for use to vacuum your vehicle. Some like the shop vac and wet-dry vacuums are multi-use. Many can be used in the car as well as in your home.
Shop vac
Shop vacs are high powered vacuums used on construction sites with a larger tank, and hose to pick up dirt and debris. Their high suction power makes them very useful for deep cleaning your car mats, although they are not as portable as a car vac.
Wet dry
Wet dry vacuums can be used to vacuum liquids as well as dust and dirt. These utility wet/dry vacuums are very useful for cleaning cars after liquid spills in cars or in climates where snow and slush have accumulated on the floor of the car.
Portable handheld
Portable handheld units are ideal for car vacuums. They are small, portable, and come with several attachments. Many draw their power from the car's power system via the cigarette lighter or from a rechargeable lithium-ion battery.
Stick vacuum
Stick vacuums are suitable for household use as well as cleaning your car. The stick is removable, enabling a smaller footprint suitable for getting into the nooks and crannies of your car.
Wrapping It Up
There are several criteria consumers may want to consider when purchasing car vacs. Initially, consider how the vacuum will be used? Car only or in the house as well. Dry dust situations only or a combination of liquids and dry material. Other models to consider are the Eureka Easyclean, Bissell Cleanview Deluxe, and the Shark Navigator.
Are brushes attached and carried onboard? Do you need a unit that has its own power source, i.e., cordless handhelds that are rechargeable? Or power from the car's power system? Do they come with flexible hoses to reach hard to get at areas? Where will you store the car vacuum? Perhaps in your car, garage or in the house? Also, how long must the battery provide power before recharging?
Finally, consider reviews from previous customers for helpful hints as you narrow down your selection to help keep your car interior clean. We hope this best car vacuum guide can help you choose wisely.