Best Air Compressor for Auto Repair Shop [Top Reviews] 2023
Are you running an auto repair shop? If yes, you may need to experience the ultimate efficiency of a decent air compressor. A great air compressor plays an indispensable role in making any project more manageable and simpler than usual.
Every company puts forward its best foot, which is usually not the full story. With the many styles and sizes branded as the best, it may be daunting to select the right air compressor perfect for your work.
This article puts together the best air compressors available. They may not be perfect, but being the best bunch assures you of getting the right air compressor for your auto shop.
Top 10 Best Air Compressor For Auto Repair Shop
| Rankings | Name | Price and More Details |
| --- | --- | --- |
| #1 | Ingersoll Rand 80 Gallon Air Compressors For Spray Painting | Click Here |
| #2 | Campbell Hausfeld Air Compressor for Mechanics | Click Here |
| #3 | DeWalt DXCMLA4708065 Air Compressor For Auto Repair Shops | Click Here |
| #4 | Industrial Air IV5076055 Two-Stage Air Compressors For Body Shop | Click Here |
| #5 | California Air Tools Ultra Quiet 60 Gallon Air Compressor | Click Here |
1. Ingersoll Rand 80-Gallon Two-Stage Air Compressor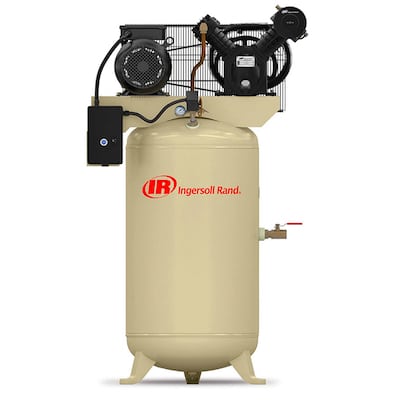 This legendary air compressor tops as the best with its incredible features that offer unprecedented auto industry performance and other demanding applications. It comes with a cast iron construction, which is highly durable. Indeed, it is rated to offer 15,000 hours of trouble-free service.
With 175-psi max pressure and 7.5-horsepower from this 80-gallon tanks, you are sure to excellently handle all your demanding jobs with greater efficiency. Get yourself a quality compressor that incorporates various features with synthetic lubricants for the most reliable performance.
The air compressor comes with a synthetic lubricant that tops for unmatched efficiency. Its performance is four times that of petroleum-based lubricants. This Ingersoll Rand air compressor easy to services, and everything about it is exceptional. Also, it has enough power to handle multiple air tools at the same time.
2. Campbell Hausfeld 80-Gallon Air Compressor for Mechanics

The Campbell Hausfeld is a suitable option for an automotive repair shop and is designed to handle a vast range of jobs. With 140-psi maximum pressure, this guarantees greater efficiency in handling all jobs like wheel rotation, grinding, and nailing.
It features an iron construction and oil-lubricated 2-stage pump, making it a great unit to work out the most demanding applications. The 240-volts heavy-duty induction motor running 5-horsepower offers sufficient pressure to operate almost all tools.
It is rated to offer 10,000 hours of hassle-free services, which is considerably longer. These 80 gallons will handle all air tools and air-intensive jobs, including wheel rotations, grinding, and painting excellently. With quicker recovery time, you will spend most of your time working.
3. DeWalt DXCMLA4708065 Two-Stage Air Compressor

DeWalt is a great air compressor that comes with 155-psi max pressure for optimal performance and incredible efficiency. At 90-psi, this air compressor pushes out 14 CFM. With a heavy-duty 230-volt induction motor, you are sure to work out all tough jobs with greater efficiency.
Being an 80-gallon tank, it will provide sufficient airflow for all air-intensive applications. Also, it comes with a full metal belt guard and an oil-lubricated pump. DeWalt runs at 4.7-horsepower for optimal performance. It can supply power to any air tool like spray gun or impact wrench.
These air compressors have an integrated, easy-to-use control panel that makes control more straightforward. For unprecedented durability and superb cooling, the air compressor comes with large intake filters and easily accessible oil fill.
4. Industrial Air IV5076055 2-Stage Air Compressor

This incredible air compressor features a heavy-duty 460 3-phase industrial class motor running 7.5-horsepower to greater performance and ultimate efficiency. This air compressor delivers maximum psi of 175; therefore, providing enough power to handle all your tasks.
Besides, it has an industrial design that keeps the motor running with minimal fluctuations. This industrial air compressor comes with an integrated for greater convenience and control. It is noteworthy that this large capacity tank is ASME certified.
It features an iron construction with a pre-wired and mounted magnetic starter. Due to the manufacturer's trust in this air compressor, it comes with a 2-years limited warranty.
5. California Air Tools Ultra Quiet 60-Gallon Air Compressor

If you are looking for a pretty powerful air compressor with minimal noise, this is your way to go. The compressor features two 2-horsepower motors, operating at 1680 RPM. At this running rate, the 4-hp will offer enough pressure to handle all your tasks.
This 60-gallon is engineered for exceptional performance and durability with ASME certification. Indeed, it can offer over 3,000 hours of trouble-free service. With its oil-free dual-piston pump, you will find it more straightforward and cheaper to maintain.
California Air tools have an excellent reputation and are designed for greater efficiency. Get superior results with less noise. These shop air compressors are known to provide the best consistent performance.
6. Campbell Hausfeld 60-Gallon Two-Stage Air Compressor

Designed for multiple prolonged jobs, this 60-gallon tank is a great option for an auto shop. It is engineered to save on footprint while offering 175-psi maximum pressure, which is significantly good for perfecting long-intensive jobs.
This cast iron air compressor comes with a heavy-duty 230-volt induction motor running 3.7-horsepower for optimal performance. With the oil-lubricated 2-stage pump engineered for durability, you are guaranteed over 5,000 hours of smooth service.
The air compressor has been tested to work perfectly in repairing engines, rotating wheels, grinding, painting, and many other automotive repair jobs. You will finish your projects within no time.
7. Powermate Vx PLA4708065 Electric Air Compressor

The Powermate is an ultimate 80-gallon shop air compressor featuring a potent 240-volt motor that delivers 4.7 horsepower. With steel and cast iron construction, the tank is significantly durable assures a better service time.
It is rated 155-psi maximum pressure, which is good and can perform all demanding jobs excellently. At 90-psi, this tank pushes out 14 CFM to power all your high-intensive tools making work effective.
Powermate Vx includes an oil-lubricated pump that is engineered for longevity and performance. Since it is from one of the brands with an excellent reputation, you are sure of exceptional performance.
8. Quincy QT-54 Splash Lubricated Reciprocating Air Compressor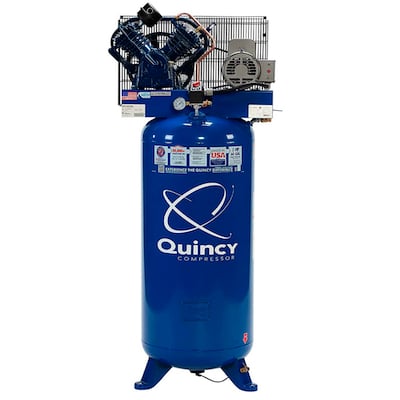 Hunting for an inexpensive yet incredible air compressor? Quincy QT-54 is a great air compressor that performs incredibly. The Baldor motor is one of its primary features and runs smoothly with minimal noise while operating at 1310 RPM.
This 60-gallon tank comes with 175-psi max pressure, and its 230-volts motor delivers 5-horsepower. It is great for greater efficiency with low running costs. It is rated 30,000 hours of trouble-free service.
It comes with a one-year limited warranty, but with the purchase of an extended warranty kit, you get a 2-years warranty for the package and one more year for the pump. Make sure you hire an electrician to install these air compressors.
9. Ingersoll Rand Garage 30-Gallon Air Compressor Shop

If you are looking for a powerful and portable compressor, this 30-gallon tank is your favorite. It comes with synthetic lubricants for incredible efficiency with a rating of 2,000 hours of excellent service between changeouts.
With cast iron cylinder and protective belt guard, you are assured of excellent durability. It is user-friendly with minimal noise and automated pressure switch control. It delivers two horsepower.
This air compressor was designed with DIYers in mind, and it offers superb handling with its ergonomic handle and semi-pneumatic tires. Get yourself relatively smaller but powerful shop air compressors.
10. California Air Tools 10020C Ultra Quiet Air Compressor

This is a performance-oriented shop air compressor featuring low maintenance costs with its oil-free pump. Though relatively smaller, 10 gallons, it is potent and delivers up to 125 psi maximum pressure to incredible efficiency when handling all your high-intensive jobs.
It is ultra-quiet, portable, and is rated to offer incredible service for over 3,000 hours. The 15-amp outlet can run continuously for about 60 minutes. It comes with a condor pressure switch 1-year limited warranty.
The oil-free dual-piston pump is designed for excellent performance and longevity. It performs pretty well compared to its peers of similar size. Although these air compressors are only 10 gallons, they provide enough power to run your air tools for short projects.
Extra Rolair JC10 2.5 Gallon Portable Air Compressor

Rolair JC10 appears last in the list but is still powerful. It features a compact design with a 2.5-gallon tank and 1725RPM motor. This means that this air compressor is highly portable and will increase the efficiency of handling your jobs.
It is designed with DIYers in mind and pushes out 2.35 CFM at 90-psi. It is an excellent choice and relatively durable as it features a cast aluminum cylinder.
Since it is super quiet, it is a good indoor option and has an oil-free pump, which is pretty inexpensive and hassle-free to maintain. Although it is a portable device, it produces enough power at 90-psi to get by in an emergency. This model can be useful to inflate car tires.
Best Air Compressor for Shop Buying Guide
Air compressors are pieces of equipment that compress and then hold air at very great pressure. They thereafter dissipate the air output at tremendous speeds. Most of the time, they are used to inflate tires, combat fires, and facilitate quite many metallurgical processes.
What to look for when choosing an air compressor
To find the most suitable air compressors, the following factors will have to be considered:
CFM Rating
This is a measure of the ability of the fan to move the air. It stands for 'cubic feet per minute.' A higher rating or designation infers a similarly higher rate of dissipating the air output.
The opposite applies to the lower rating, which infers a lower rate of dissipation thereof. The "Cubic Feet Per Minute" measurement is crucial when it comes to choosing the proper compressors for you.
PSI Rating
Next comes the PSI Max rating. This stands for 'pounds per square inch' and describes the air pressure that is dissipated by the compressor. A great appliance on the basis of this consideration has to generate the desired maximum psi levels and allow for some smooth variations.
Tank Sizes
The core of these air compressors is the tanks. These tanks are available in numerous sizes and capacities. The choice of the right gas air compressor on the basis of this consideration has to line up with the scope or the extent of the task that is to be accomplished. It also depends on how many tools you are going to be running at the same time.
Stage Type
The tasks of releasing compressed air are generally carried out in two main stages. These are the single and the multi-stage, respectively. The former bundles and tackles the activity in just one stage.
Its latter counterpart, however, breaks the process down to several stages. Make the right choice on the basis of your own expertise. Some tools perform better with dual-stage devices.
Horsepower Rating
To be able to release the compressed air, these machines derive their power from built-in motors. These powerful motors are rated as per the strength or the extent of the power they generate.
A higher rating will be useful for higher pressure outcomes. The lower rating is, however, necessary only for the lower pressure output.
F.A.Q.
We look now at some of the frequently asked questions before buying the air compressors:
What are you using the air compressor for?
As hinted earlier, these appliances are designed to tackle many purposes. Hence, the onus is on your to ascertain the precise task that you want yours to do for you. Do you just want to extinguish the fire, inflate tires remotely, or tackle a host of other chores from afar off location?
You have to assess and ascertain your own intentions first and foremost. Then, go ahead to match this purpose with the exact specialties that the compressor you have in mind can do. If possible, emphasize that which is capable of tackling many roles at a time.
How much space do you have in your repair shop?
Needless to say, these appliances will usually require some space to mount them when in use or store when not in use. You will hence have to set aside some storage spaces for the sake of containing them. To go about this, you have to first and foremost set aside the dedicated storage spaces.
Then, you have to mark out the dimensions of this space and translate the same to the precise kinds of compressors you have in mind. That way, it will be possible for you not to impose unnecessary impediments to your room and, at the same time, allow for smoother operations.
Is noise going to be an issue?
These air tools and compressors do emit some noise in the course of operating. The level of the noise output varies considerably from one appliance to another one. You have to care for and factor this as well. In case your intended locale of use is sensitive to noise, you have to insist on a quieter one.
However, any might do if you want to use yours in an area that is far detached from the mainstream. These include the parks, recreational areas, and places far removed from the ordinary home garages. Check the noise output ratings or the number of decibels these air compressors make prior to buying one.
Do you need a portable air compressor?
Do you change location every now and then, or you operate largely from a fixed locale? If you happen to move around every quite often, you want a similarly portable compressor and light enough to carry around as need be. That is to minimize the hassles you might ordinarily have to contend with.
On the flip side, a bulkier one might be useful if you plan not to shift locations every now and then. Such a piece of equipment is also less likely to wear out a bit too soon! That will also work along the way in guaranteeing you the peace of mind you badly need to soldier on.
How many gallons do you need for your shop?
Apart from the sizes of the tanks, these appliances are also capable of holding varying amounts of compressed air. It is also important to take care of this metric as well. You have to check the volumes of these tanks that are designated in gallons.
Usually, the recommended range for a shop air compressor would be between 60 gallons to 100-gallon compressors. Just to make sure you have enough power to run your tools without interruption. Tools like HVLP paint guns, impact wrenches, orbital buffers will consume lots of air pressure.
The exact volume depends mainly on the scope and the longevity of the task you have at hand. A larger and longer task will definitely require a similarly larger tank. The opposite also holds. A smaller or short-term task will usually demand a smaller and less voluminous tank.
What hose and fitting size is recommended for your air pressurizer?
Upon releasing the compressed air from the tanks, you have to channel the same to the targeted place. To do this, you have to attach a hose and some fitting to the machine. For this reason, you have to care for the size of the fittings and the other vital metrics.
A great hose has to be not only compatible with the air compressor but also be capable of discharging the required volumes of air at any given time. You have to skim the manufacturer's manual to ascertain the hose's unique specifications and the associated fittings.
Air Compressor Summary
Our peek into the best air compressors come to an end there. We have indeed struggled to belabor the subject matter in its greatest detail. Having done the much we can, we now leave it to you to implement the provisions thereof. Dragging your feet and taking too long are both not advisable.
We go over the best compressors for your shop based on power, tank size, noise, and more on our list. You need a compressor that can handle all your tools. We recommend going for an big compressor to make sure it provides sufficient power to run your tools. These are the best, and you can find them in most shops.
Last Updated on: January 11, 2023