Best 5X7 Speakers For Sound Quality [Reviews & Guide] 2023
When we talk about picking a set of speakers, the speaker's size is a major factor that potential buyers must consider before buying. The 6X9, 6X8, and 6X5 are the most typical car speaker sizes.
There are also smaller sizes like the 5 inches, and 5X7. In this guide, we will be reviewing some of the best 5X7 speakers to get you started on your purchase. Who does not love great-sounding speakers? They are durable, versatile, and create some of the best quality sounds out there.
On top of that, you will find many amazing options for new aftermarket speakers. Thus, no matter what you are searching for, there are many choices for you to choose from.
It is always best to begin small, so you can begin with new speakers. Most speaker systems in this category are coaxial speakers and are available at a reasonable price, not to mention the simplicity of the installation.
We have taken the time to search the internet for woofer cones that improve sound quality and have picked the ten that will fit every preference and budget.
What to Look for in 5X7 Car Speakers?
Most OEM car speakers are built from low-grade components to bring down the cost of production. Your stock woffers probably contain steel, paper, and other low-grade materials.
Getting a new car stereo system in the form of 5X7 car speakers is the ideal way to immediately improve your car's sound system. One of the most important things you need to look at in your car stereo is power handling.
That's measured in watts and lets you realize how much power the speaker system can handle. Does your car have a low-powered system? Then you don't need woofer cones that handle more power ratings?
Nonetheless, if the speaker system has powerful external amplifiers, you must get woofer cones whose power handling capability matches the amplifier's capacity.
When we talk about power handling, the most crucial factor to consider is maximum RMS power handling and not the peak power handling. Car speakers with a rating of 5 to 50 watts RMS are better for a low-powered car stereo than those with a rating of 2 to 80 watts.
You want to look for lightweight and stiff material for the cones and outer membranes. This will help reduce the effects of resonance and distortion in sound, thus providing you with better clarity and crispness.
Further, the materials utilized to make a woofer cone have a big effect on its durability. A stiff and lightweight material such as polypropylene must be utilized to create the woofer, as it makes the speaker more progressive.
Top 10 Best 5X7 Speaker For A Quality Sound
Woofer cones typically leave a lot to be desired. Do you extremely love music? Then you will probably upgrade the audio system of your vehicle at some point.
However, with so many options, you may not know what to pick. That's why we picked the top ten best car speakers you can consider today to achieve that impressive sound.
#1 JL Audio C2-570X Best Quality Car Speakers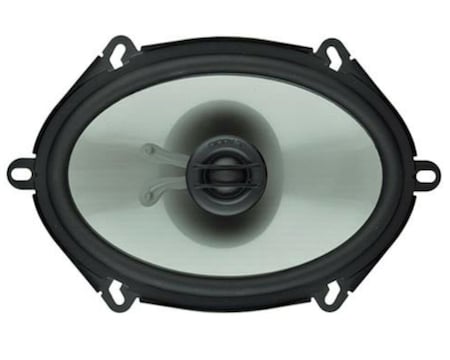 The JL Audio speakers work best in offering natural sound no matter what the frequency is. These are two-way speakers that create an acceptable sound. It also has a two-way external crossover that is perfect for merging the speakers with the head unit.
It has an aluminum alloy frame that works perfectly to keep them cool. Further, it comes with moderate accessories, which will make you play your music with the speakers effortlessly.
The power handling capacity is magnificent as well, along with four tweeter levels and three mid-range controls. This brand has a unique place in everybody's heart as they offer great acoustic and non resonant sound.
With their impedance, these speakers can definitely rattle your vehicle. The product weighs about 13 pounds and comes with a high sensitivity rating of 98 dB. By far, they are one of the best options to replace those old speakers you have installed in your car audio system.
#2 Focal ICU 570 Coaxial Speakers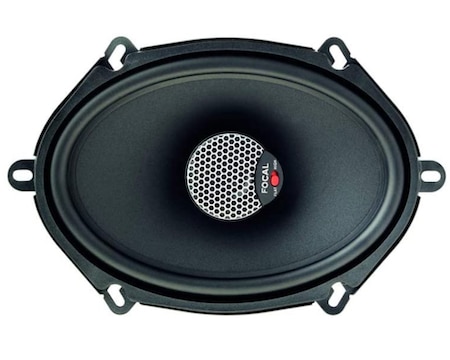 Focal speakers are sought for their natural sound. The speakers themselves are made well to meet your needs without causing disruption or distortion in the sound. The Utopia and Beryllium speakers have the fantastic acoustic qualities you want.
The Focal brand offers reliable performance if you're searching for a good replacement for your factory car speakers. It comes with hi-fi equipment and accessories, which allows you to sync your playlist along with the speakers so effortlessly.
The total range of such speakers is superior, with 60-watts nominal power and 120-watts. The acoustic insulation of this speaker helps the entire care to be loaded effortlessly with realistic sound. You can use the factory speaker wire for connecting the cone with compatible products.
Additionally, the 5-1/4″ woofer cone is made of polymer injected for superior performance and enhanced sound. You will be able to hear all the musical details once you have replaced your stock speakers with these 5X7 best speakers.
#3 Polk Audio DB572 5×7 Speaker System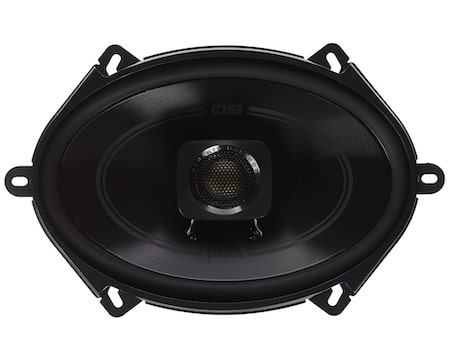 Polk Audio coaxial speakers are the best car audio speakers with remarkable technology integration. It features a high-performing audio upgrade that is best to provide top-notch quality sound. The OEM factory system in the speaker validates its results.
Polk Audio speakers are also marine certified and have an IP55 rating, ensuring that they can resist dirt and water. These Polk Audio speakers are versatile, which makes them useful for marine environments. These are another best 5X7 car speakers that will work without an intense humid and heat climate.
These cones are made using UV-resistant polypropylene woofers, improving their overall longevity. That UV resistance guarantees it won't be damaged due to intense heat when exposed to the sun.
Not only will they produce sound quality, but they will also look stylish in the car interior. This brand is truly worth it's value, and they should be considered when upgrading your car's audio system. They are compatible with most factory speaker locations and sizes.
#4 Alpine S-S57 5×7 New Speakers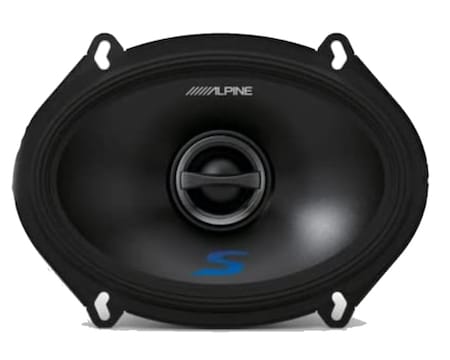 Alpine coaxial speakers are speakers made of high-quality materials. The carbon-fiber woofers offer less feedback and safeguard speakers over intense damage. The woofers are surrounded by a butyl rubber surround, acting like a protective layer.
The series of such speakers are launched with a better voice coil and amazing sound technology. It can handle 75 watts RMS and 230-watts. These OEM upgrades will work perfectly well for different vehicles.
Plus, the one-inch silk dome tweeter works well in neutralizing the sound and creating seamless quality sound. The black color speakers are simple to fix in closed rim boxes.
Not only will you be able to achieve max power output, but you will also be able to listen to a crystal clear sound. The improved aluminum dome tweeter has a waveguide design that enhances the midrange tone with its wide frequency response.
#5 Rockford Fosgate Punch P1572 5X7 Inch Speakers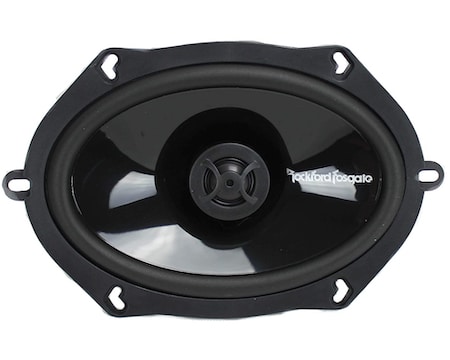 The Rockford Fosgate Punch P1572 is a mid-level speaker. At 120 watts of power and 89 decibels of sensitivity, these full-range speakers pack a punch. You would be able to appreciate all the sounds that can be heard by the human ear.
The Flex-Fit basket of this speaker enables you to adjust it after installation. You can make the necessary adjustment without even starting over. That means it's a newbie-friendly you can easily use. It has OEM adapter plates, which makes them effortlessly fit with your car's stereo.
Plus, the PEI domes tweeter perfectly works thanks to the built-in crossover. The dome is made of polypropylene and surrounded by a nice butyl rubber surround. Furthermore, that makes the process more exciting and seamless.
The frequency response production is precise, and the sound is natural as well. Plus, the FlexFit basket design allows you to replace most factory speakers with no problem.
#6 BOSS Audio Systems CH5720 Speaker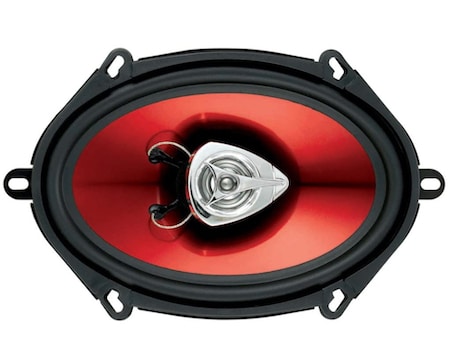 These are another best audio system, thanks to their polypropylene cones. Boss Audio is a durable speaker offering maximum resilience and durability even in harsh working conditions. It has great high-frequency drivers, enabling a user to listen to different songs without distortion.
The voice coil is high-quality and is one inch apart, allowing them to withstand extreme temperatures. The aluminum voice coil retains the sound's strength and fatigue, enabling you to play high and low frequencies of songs.
Moreover, the Boss Audio set is surrounded by a butyl rubber surround, playing a vital role in safeguarding the speakers against wear and tear. The whole speaker set enables you to use it without causing any damage as well.
Its special acoustic sound harmonizer design has the ability to offer a better sound. The cone technology is enhanced with its woofer sound system design, adding up to the list of speakers. The carbon injected cone is extremely rigid, which allows them to handle high power levels and resist damages.
#7 RetroSound R-57UK 5×7 Car Speakers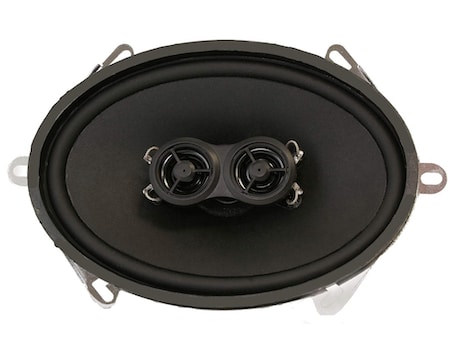 You will love these speakers due to their Mylar tweeters. Those are durable car audio systems that offer maximum resilience even in harsh weather conditions.
You'll be in awe of how transparent and clear the sound looks on high-pitch audios. The voice coils are high quality and are one inch apart, making them withstand intense temperatures. The speakers are suitable for high-quality output with less feedback.
These speakers have robust construction. You can use them without sacrificing the speakers sound. We recommend that you other speakers if you're inclined towards listening to high-pitched songs.
No matter how much power you need, these speakers will not disappoint you. They are perfect for the utmost listening experience. You can play them even in high volumes without compromising the factory stereo power output.
#8 Kicker KSC680 5×7 Car Speaker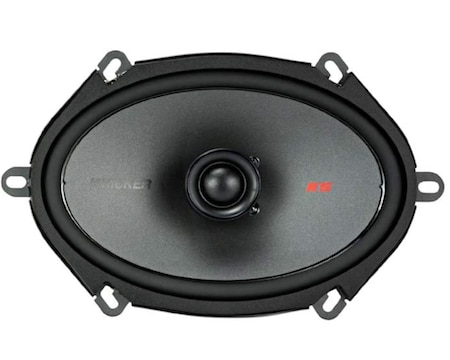 This speaker has a 45 to 21kHz frequency response. You can play different songs with such speakers on low and high frequencies, which is amazing for a shrill-free sound.
These speakers aren't that old and strive to offer enhanced voice output and great sound technology. The one-inch silk dome tweeter works well to stabilize the sound and deliver smooth output. It has moderate mounting depth, making it fit effortlessly with your vehicle's stereo space.
More so, the 45Hz to 21,000Hz is the perfect option for many cars, as it enables great output and produces frequencies. You will love how simple it is to use and is made with quality polypropylene tweeters and silk dome tweeters.
When combined with a good factory head unit, it will elevate your car's audio system power to a higher level. Moreover, its light-weight design makes it durable and simple to install.
#9 DS18 GEN-X5.7 Aftermarket Speakers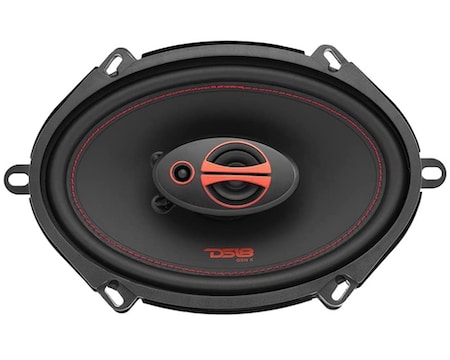 Did you know that DS18 speakers are the ideal replacement for your factory speaker? You'll love its black exterior that fits perfectly in different vehicles. We suggest this quality aftermarket speaker if you only want a unit that offers stellar performance.
This speaker set involves mid-ranges and two tweeters, offering remarkable acoustic performance. You will love how magnificent the tweeters function due to the integrated concealed crossover and have detachable protection over them.
You'll be surprised by its 165 watts peak power and 50 watts RMS. On top of that, the speakers feature a progressive design that upgrades itself based on the current technology.
These speakers have been composed of a durable metal frame, which protects the speaker from any kind of damage and power surges. The speakers are well-known for their linear output, which makes them suitable to handle high power levels.
#10 Planet Audio TRQ 573 Full Range Speakers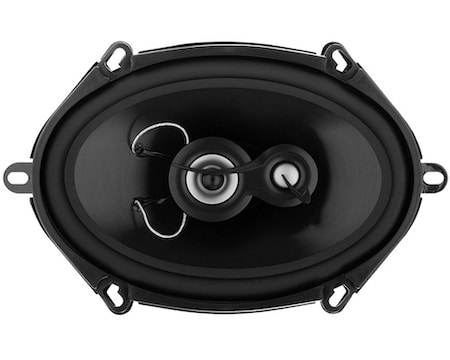 Planet Audio speakers are marine speakers with technological advancement. You will appreciate the high-performing sound upgrade of this speaker set, offering impeccable distortion-free sound.
It has black poly injection subwoofers with rubber surrounding for a protected exterior. These speakers have a good peak power of 300 watts and 150 watts RMS, offering exceptional clarity and acoustic quality. It can fit different cars as it has 84 decibels of sensitivity.
The speaker has a woofer made of solid material to improve its longevity. The rubber surrounding is the best to defend it against heat and harsh sunlight.
It is suitable for all kinds of marine environments and offers exceptional sound technology. You'll love how easy it is to install and remove the speakers. Moreover, it has a durable design and high-performing sound to elevate your factory stereos.
Best 5X7 Speaker Buying Guide
Your stock speakers might be perfect for a while, but one day you might want to replace them without burning a hole in your pocket. If your current system is not satisfactory or if you are looking to upgrade the speakers of your old stereo system, then this section will guide you through the process.
Speakers vary according to wattage and sensitivity ratings. If you have a higher wattage, then your speaker will make more noise. However, if the sensitivity is high, it will produce more sound for given input power.
You should know that some speakers require less power while others need more to achieve optimum performance. We suggest that you look into an external amp and a new wire kit.
Speakers may come with a complicated wiring process, but with the proper instructions, you can replace them yourself. If you are still not sure, then looking for aftermarket speakers that are easy to install can save you time.
There are many things you need to consider when buying the best quality car speakers to achieve crisp sound and a smooth response. Here are some of those specifications that you need to look for when buying five by seven speakers:
Types of speaker
First, there are two types of car audio speakers: full-range speakers and component speakers. The former use tweeters and woofers to cover the high, low range, and midrange frequencies, respectively. These speakers are easy to install and are more reasonable than component speakers.
When it comes to component speakers, it has a high-quality sound, clear sound that's more realistic as well. These speakers are good at creating bass. Remember, those component speakers are suitable for enthusiasts out there who want more customization options.
Nonetheless, if you're only a casual listener or a beginner, we suggest opting for full-range speakers. They are also referred to as coaxial speakers, simpler to install and let's save you more money in the end.
Sensitivity
The speaker's sensitivity rating can be related to the power handling. That refers to how loud the speaker can generate the sound. Having high sensitivity rating is not sufficient. A speaker must be able to deal with power by simply having a high rating of power handling and RMS power.
You must keep those three things in mind when getting a speaker because all of them go together. A good speaker with a high sensitivity of 90 decibels is enough. Still, if you're seeking a speaker with an average sensitivity rating, that will range from 87 to 88 decibels.
Design and Materials
This aspect might not seem essential to most people, but it is a crucial thing to keep in mind. People think that the speaker's materials and design used in it refer only to how durable the speaker is. That's somewhat true, but if the speaker uses good materials and has a great design, it will provide incredible sonic detail.
If the woofer utilizes high-quality components that can endure heat, it will create more bass and have a longer life span. Meanwhile, the tweeter must make of hard materials so it can offer you a better output.
Keep in mind that the speaker materials and design utilized to guarantee that your speaker is durable and long-lasting at the same time. Further, it also improves the speaker's responsiveness that improves your overall experience.
Butyl Rubber Surround
This is the material that surrounds the speaker cone to protect it from damage, especially when you turn up your music really loud. The rubber material has a great advantage as it gives the speaker a better bass response and clarity.
In addition, this kind of surround allows your speaker to last longer without having any problems whatsoever because of its simple design. Definitely, it is one of the high-quality materials to consider when looking for a speaker replacement for your car.
Power Handing
We already mentioned it earlier, referring to the amount of maximum power a speaker could handle before blowing out. Power handling goes together with RMS (root mean square) power rating. If both of these are in high ratings, then your speaker will provide amazing warm sound and will have a louder volume.
We recommend that you invest in a car speaker with a high RMS power and power handling rating so you can easily hear to loud music without worrying about distortion.
Frequency range
The frequency range shows how low or high the speaker can generate the sound. Having high frequencies or a good frequency range means the speaker will create a more realistic sound, bass, and treble.
Many of the good speaker brands have a dynamic range of frequencies, meaning they excel at providing more levels of frequencies to the users.
Nonetheless, if a speaker has too many high frequencies, you won't hear it as it will be inaudible. Just ensure you're getting speakers that provide semi-decent performance or something with a good frequency range, ranging from 20Hz to 20kHZ.
Summary
There you have it! We hope you find this review guide informative and useful at the same time. Keep in mind that the ideal choice of 5X7 inches best speakers mainly depends on your individual requirements and preferences.
It's nothing less than happy to have an impressive sound music experience with a speaker with rich sound and top-notch acoustic qualities. You'll thank yourself for long rides after you change your dull factory speakers with the best speakers.
We recommend that you thoroughly choose the OEM car speakers with tweeters and superior sound quality. Happy shopping and we wish you the best of luck!
Last Updated on: January 11, 2023