Best Paintless Dent Removal Tools
Paintless dent repair tools are available in all thinkable sizes and shapes. Each possesses its own unique purpose which is essential to effective dent repairs. Every PDR kit must have basic tools like glue sticks, gun and puller, rods and bars , door hooks, wires, dent repair hammer and dollies, window protector, window wedge, knock down tool, hand tool and dent lights among others.
Paintless Dent Repair is a repair process for minor dents and dings in your car. The way it works is that you either pull out the dents with glue or suction tools, or you simply knock them from behind the damaged panel.
Our top picks for the best PDR kits :
| Rankings | Name | Price and More Details |
| --- | --- | --- |
| #1 | DIY Paintless Dent Repair Kit - Gliston 89pcs Dent Puller Tools | Click Here |
| #2 | Paintless dent repair Rods Kit Car Dent Remover Kit | Click Here |
| #3 | Super PDR 68pcs Auto Body Paintless Dent Removal Repair Tools Kits Dent | Click Here |
| #4 | WHDZ 86PCS Paintless Dent Repair Tool Paintless dent Repair Rods Kit | Click Here |
| #5 | WHDZ Paintless Dent Repair Tools Kit, Tool Kit for Hail Damage Removal | Click Here |
Furuix – 68pcs PDR Tool Kit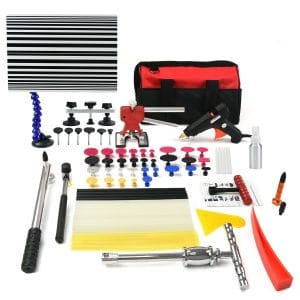 The kit includes essential tools like T-puller, dent remover, rubber hammer, dent removal pens, glue gun, knock down tool, pro tabs, glue sticks among others. The tools are easy to control and offer an easy do-it-yourself experience. The drawing gaskets come in different sizes and are used according to sizes of dents. The kit is especially ideal for sheet metal processing of refrigerator, automobile as well as washing machine. It offers a baking-varnish-free repair and guarantees that there will be damage to the paint work. It is not only environmentally friendly but it also saves you money.
Pros
Rapid dent repair
Reasonably priced
Con
Ideal for small dents
HOTPDR Dent Removal Tool (76 Pcs)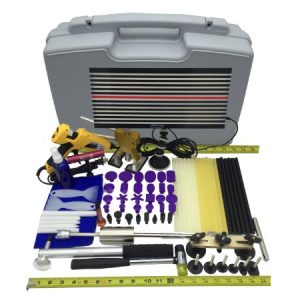 HOTPDR offers high quality and heavy duty tools at fairly discounted rates. One amazing feature about this kit is that it uses a LED line board to find dents. It offers a quick and easy way to remove dents. HOTPDR tools are remarkably designed and have smooth texture feel. The glue gun melts the yellow glue sticks in less than 3 minutes, after which it dries up in at most 10 minutes. The yellow glue provides a sturdy stickiness. The kit includes a LED line board, a 2in1 T-bar, black & yellow & white glue sticks, dent lifter, glue tabs, PDR tap down tips among other tools. The package is very eye catching and matches up to its high quality standards
Pros
Easy do-it-yourself experience
Plenty of essential tools
Con
The LED light could be brighter.
Super PDR 68 pcs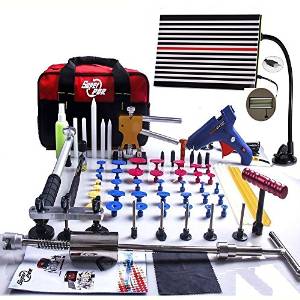 Use of this PDR kit requires basically no prior skills. It guarantees a baking-varnish-free clean dent repair without damaging the paintjob. The dent lifter can be easily controlled and has a silicone bottom that is not harmful for the oil paint and ensures maximum pulling effort is applied. The kit includes an introduction guide, nylon & metal tap down, LED line board among other important dent removal tools.
Pros
Easy do it yourself exercise
Many essential PDR tools
Con
Not ideal for truck and motorcycle dents
Super-PDR 51pcs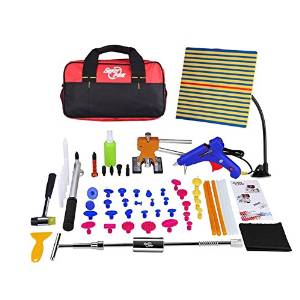 This kit is made of colorful stainless steel tools that get the job done with great ease. It is suitable for any kind of flat metal be it washing machine or automobile metal plate. Each tool is made with tempered high carbon steel to ensure durable and effective results. This PDR kit includes various drawing gaskets in an array of sizes to suit any dent size. The dent lifter is very easy to control. Super PDR tools are meticulously examined and certified for Rockwell Hardness, which is prevalent in all the tools as you work with them. The kit includes a rubber hammer, pro tabs, rubber shovel, glue sticks, dent lifter among others.
Pros
Well-built tools
51 essential tools
Cons
May require prior PDR skills
Semi-Professional 89 piece set from Gliston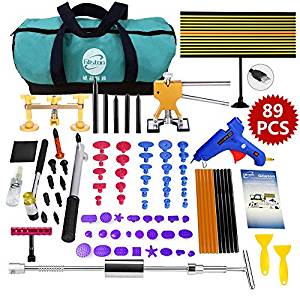 The great part of this kit is the long tools. It makes it easy to repair dents in hard-to-reach areas. All in all, the build quality of the kit is excellent and well built. It seems that this kit can last for a very long time.
Pros and Cons:
Materials are of excellent quality
Great suction
Tips are one-time use
Glue is hard to remove
The kit contains:
1tools bag
1led reflector board
1hot melt glue gun
1gold dent lifter
1bridge dent puller
1tap down hammer
1rubber hammer
5black tap down pen
1metal tap down pen (with 9 heads)
2rubber scraper
1slide hammer
1short t bar
1 empty bottle for alcohol
1black cloth
10hot melt glue sticks(5black + 5yellow)
10red flue tabs
18 blue glue tabs
24 purple glue tabs
The Top-Of-The-Line Kit from WHDZ
This toolkit is the most expensive of the bunch, but it is also huge. It contains basically everything you need for paintless dent removal. The tools are made of stainless steel, and some of the tools are made of Tempered High Carbon stainless.
Pros and Cons:
Large discount, compared to buying the pieces individually
Lots of tools to get you started
Strong rods
The grip on the slide hammer could be larger
The glue gun seems like nothing out of the ordinary
The kit contains:
21pcs PDR RODS (5A+10B+6C)
1pc PDR Light Board
1pc Dent Lifter
1pc 100W Glue Gun
1pc Metal Tap-down with 9 heads
5pcs White Tap Down
40pcs Pro Glues Sticks
56pcs Pro Tabs
1pc T-bar Puller
1pc T-Slide Hamer
1pc Tap Down Hammer
1pc Rubber Hammer
1pc Slider Hammer Lifter
1pc Bridge -Puller with 7 Pulling Tabs
1pc Tool bag
1pc Yellow shovel
1pc bottle
1pc blue cleans cloth
2pcs Repair wedge
2pcs Pump wedge
86 Piece set from WHDZ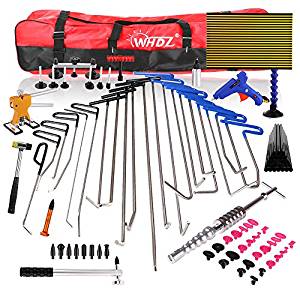 This set, also from WHDZ, contains a lot of useful tools for paintless dent repair. Particularly the slider is a great addition to the kit. In general, the set is well built, and with it you should be able to save a few buck at the body shop.
Pros and Cons:
Most of the tools are of great quality
Many different shapes and sizes, to fix almost all types of dents
The hammer in this kit is of questionable quality
Some of the tools can be too short for certain tasks
The kit contains:
1 Toolbag
21 Pdr Rods (5A+10B+6C)
LED Line Board
1 Dent Lifter
1 100W Glue Gun
1 Metal Taps down with 9 heads
10s Pro -Glue Sticks
28s Pro Tabs
1 Rubber Hammer
1 Tap Down Hammer
1 Slider Hammer Lifter
1 Bridge Puller with 7 Pulling Tabs
1 T-bar
1 Bottle
Great 37 piece set from Super PDR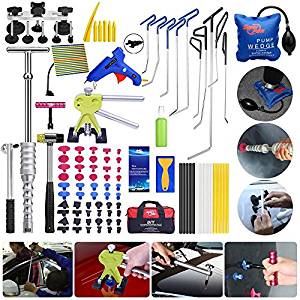 Super PDR is, in general, known for making high-quality tools. However, on this set, it appears that there may have been skimped on the quality. However, the kit is very well equipped, and you won't go short of any tools. A great addition is the Stainless-Steel Whale Tails, that make it easier to repair smaller dents. Also, the tools are easy to operate by one person.
Pros and Cons:
Lots of all-around tools at a decent price
Build quality of the tools could be better
Puller tabs break too easily
Rods kit from WHDZ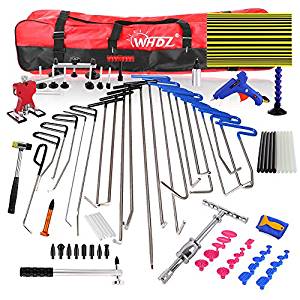 An extensive kit with a lot of different rods, this time from WHDZ. This kit isn't advisable to use as a starter kit since a lot of the standers items for paintless dent repair is not included in this kit. The tools, however, seem of a decent quality and will be a good addition to other starting kits
Pros and Cons:
Sturdy tools made out of high-quality materials
Lots of different rods for any task
Does not include as many "starter" items as other packs on this list
The kit contains:
21pcs PDR RODS (5A+10B+6C)
1pc PDR Line Board
1pc Dent Lifter
1pc 100W Glue Gun
1pc Metal Tap-down with 9 heads
5pcs Tap Down
10pcs Pro Glues Sticks
20pcs Pro Tabs
1pc T-bar
1pc Tap Down Hammer
1pc Rubber Hammer
1pc Slider Hammer Lifter
1pc Bridges Puller with 7 Pulling Tabs
1pc tool bag
1pc Yellow shovel
1pc bottle
1pc blue cleans cloth
Magnetic Roller Tip Kit – best PDR for Beginners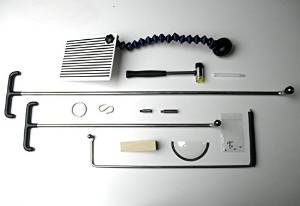 Stands out from traditional PDR kits as it allows the user to know precisely where the tool's tip is at all times. Additionally, it allows novices to remove dents without the need of sanding, filling, painting or masking. The kit is ideal for everyone including PDR trainers, car dealers, vehicle valets, body shops, aluminum cup MRT tip, smash repairers etc. The kit includes high quality polished stainless steel bars, suction cup, metal shafted hammer, tracer, tool bag among others.
Pros
Best for PDR beginners
Value for money
Con
Mainly for small dents and training purposes
Furuix PDR Kits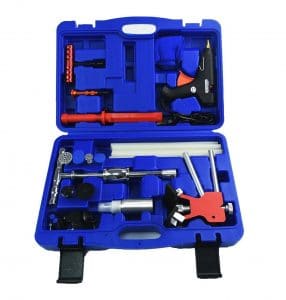 The dent lifter has a stainless steel adjustment knob and an aluminum body. The easy to use hand unit allows for controlled leverage as you remove the dents. Additionally, the dent lifter has padded feet to ensure support and max pulling action. The kit is designed ideally for hail damage and door dings. The kit includes glue sticks, glue gun, a short T-bar, gold colored dent lifter among other accessories.
Pros
Easy to use
Well priced
Dent Fix Paintless Dent Repair Kit – B-100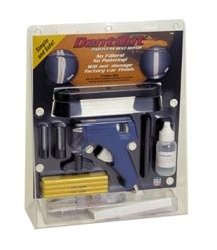 The Dent Fix PDR Kit B100 is suitable for small to medium size dents. It is very easy to use and the included cross bar allows for maximum pulling action. The set has a super bonding adhesive and release agent guaranteed to give you the best results. The kit includes two sizes of glue studs as well as a knock down tool.
Pros
Cheap
Suitable from small-medium dents
Con
Only ideal on factory paint jobs
Super PDR 40 pcs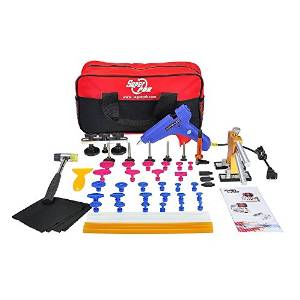 The Kit has 40 colorful dent removal tools made from various kinds of stainless steel. The tools are generally very easy to use. Use of the PDR set requires little to no skills and delivers good results on small dents as well as value for money. The PDR kit includes dent removal tools like a plastic shovel, tap downs, pro glue sticks, pulling bridge, wiper, knockdown tool, USA/UK/AU plug, pro tabs, glue gun and a hammer.
Pros
Easy to use
Reasonably priced
Con
Ideal for small to medium dents
Super PDR 22pcs

Mainly constitute of the well balanced dent lifter that has a silicone bottom that ensures firm support and durability of the tool. The yellow glue stick included in the set have low melting points and very strong stickiness ability ensuring dent repairs on any hard part of the car. The set is designed for sheet metal processing of washing machine, motor cycle as well as automobile. The PDR kit has a dent lifter, glue sticks and PDR tabs.
Pros
Widely used on many metal surfaces
High quality PDR tools
Con
Takes some time to achieve desired results
When to use PDR tools?
It is only a viable option if the paint has not been cracked. If the paint has been cracked, you need to get the area or panel resprayed, in order to prevent corrosion of the metal. Even if the paint has not been damaged, it may still not be a possibility to use PDR. If for instance some dents are too deep, or there has been created sharp edges, the damage may not be suitable for PDR. Another thing to know about the process is that it may not always have a 100% success rate. When knocking out metal you are always dealing with a ton of variables. The metal may not behave like you want it to, and the dent might not get straightened out.
However, in the cases where PDR is suitable, and you manage to do it correctly and with success, you could have potentially saved hundreds of dollars by not having to visit a body shop. And with a lot of tools on the market specially designed for paintless dent removal, you can often find a decent kit to an acceptable price (within the 150-300 dollar range). This could potentially save you for a lot of expenses at the body shop if you have a lot of smaller dents in your car. Now, usually, PDR tools are very expensive, because they are being used by the professionals. We have found a couple of different brands that target regular consumers, and we have added some of these in this article.
Buyer's guide
The most important thing when choosing your tools – apart from your budget, is how much energy you want to put in it. Some of the kits on our list today are quite extensive and could seem daunting for some. Especially if you don't really need rods in 10 different lengths and sizes.
What we have found out, however, is that while most of the rods we have seen are made from highly durable steel, there seem to be some weak spots you need to look out for, when picking your toolkit.
Some of you may wonder if you need to be a mechanic to work this sort of equipment – don't worry, you don't. Practically anyone can use these tools. However, it is worth mentioning that it should be looked at as a craft, so some may find it easier to knock out the dents in the first try, and some may never be successful with this type of repairs. Either way, you should always try to find a kit that matches your experience, and what sort of tools you already have. There's no reason that you should pay for a tool that you already have, but it would be just as foolish to buy a starter kit without several essential tools.
We have now been through the list, and you have had the chance to see some of our top picks for paintless dent removal. However, if you're not familiar with the tools we have shown you, let's just do a quick breakdown of some of the essentials:
PDR Rods
PDR Rods are primarily used for repairing dents in door panels. You slide it through the rubber window seal, and push out the dent from the inside. It is important that the rods you use are of high quality. You don't want them to break or bend while inside your car door.
Glue dent pullers
Glue pulling is a rougher method than using PDR rods and is used on the outside of the panels. This is often used on larger dents. Essentially, you glue a puller tag to the panel, and attach your slide-hammer, and pull out the dents.
Dent Lifter/bridge puller
A dent lifter uses some of the same mechanics as the glue dent puller, but is on a much lighter scale. This is used for smaller dings and dents, and instead of hammering out the dings, you mount the lifter to the puller and gently raises it up with the dent lifter. When using this tool, you should be careful of how much you raise the dent, since the two "legs" on the tool could damage the panel, if you tighten too much.
T-bar Puller / T-Slide Hammer
This is the tool that does the heavy lifting, so to speak. One end of the tool is mounted on a puller, and you use a sliding weighted handle on the bar, to hammer away from the dent, which in turn will raise it. This toolis going to take a lot of hits, so it is important that this is of high-grade steel, so that it won't break.
Pump wedge
A pump wedge is an inflatable bag that you put in the door, to create a large enough gap for you to use your PDR rods. This is an essential piece of kit, and you should always make sure that this is included in a starting kit – as well as the correct sized spacers needed for the tasks.
Conclusion
The tools that we have listed in this article is not the top of the line. There are some on the market that are of higher quality. However, these are also in a whole different price range than what we have shown. Our point with this list is to show some toolkit that can work for personal use so that you can save some money on your bills from the body shop.