6 Cool Exterior Car Accessories and Elements To Shop For
Driving cars has become a necessary evil in our lives. While it can be a fun and freeing experience, it can also be frustrating and even dangerous. That's why it's important to make sure your car is outfitted with the best possible accessories to help you stay safe and comfortable on the road.
Upgrading your car's exterior is a great way to add your own personal touch and make it stand out from the rest. Whether you're looking for new lights, different wheels, or a new paint job, there are plenty of ways to customize your car's look.
Cool exterior car accessories can range from functional to aesthetic, so it's important to choose the right ones for your needs. The goal will be to make your vehicle enjoyable and safe to drive while also adding to its curb appeal.
6 Coolest Car Exterior Accessories
Believe it or not, there are some inexpensive ways to make your car look great on the outside. You don't have to spend a fortune to get a few cool gadgets. Here are a few exterior accessories for cars to consider:
#1 Mud Flaps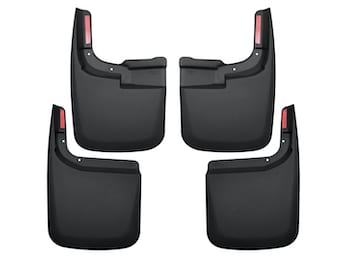 Mud flaps are one of the most functional car exterior accessories on the market. They are designed to protect your car's paint job from mud, dirt, and debris that can be kicked up by the tires.
Mud guards are typically made from rubber or plastic and can be easily installed on most vehicles. They are an essential accessory for anyone who wants to keep their car's paint looking new.
You will be protecting the body of your car, as well as the people and property around you, by preventing mud and snow from being flung into their windshield or hood.
#2 Cargo Carriers


A cargo carrier is a great way to increase the storage space of your vehicle. They are available in a variety of sizes and styles to fit your specific needs. You won't need hitches or trailers when you have a cargo carrier.
Whenever we want to go on road trips, there is never enough space in the car, so these are perfect for carrying extra luggage, bikes, camping gear, or sports equipment. A cargo carrier typically mounts on the hitch or roof of your car and can be easily removed when not in use.
If you don't have to tow a trailer for your gear, you can locate a cargo box on top of your vehicle to carry your gear around. Pick a model that comes with keys. That way, you can lock and unlock with ease at night.
#3 Nerf Bars or Running boards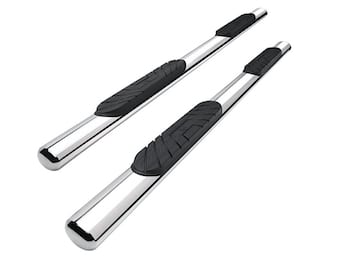 A Nerf Bar is a type of exterior car accessory that helps you get into your car easier. They are bars that go on the side of your vehicle or SUV and provide a step for you to use. If you frequently have elderly people in and out of your car's interior, this is a great accessory to consider.
Most nerf bars or running boards are especially helpful if you have a high vehicle and struggle to get into your car seat. They can also be used as a way to help get your groceries or gear into the trunk of your car.
This type of improvement is intended to give the driver and passengers an easy place to step in and out of the car.
You can find nerf bars in a number of different materials. Choose a kit from a collection that fits your vehicle, so you can reach your seats with ease.
#4 Truck Bed Covers
A truck bed cover is a type of car accessory that goes over the back of your truck. They keep things in the back of your truck safe and protected from extreme weather conditions and theft.
Truck bed covers can be made from a variety of materials, including aluminum, fiberglass, or vinyl. The metal model is durable, and it gives you more protection from the sun, but it's also the most expensive.
The fiberglass models are cheaper and still offer some protection, while the vinyl models are the least expensive. No matter which one you decide to buy, make sure the size fits your truck bed. You want to be picky as a customer, so you don't have to end up replacing it.
#5 Fifth Wheel Trailer Hitches


Adding trailer hitches to your truck is a great way to increase its towing capacity. Fifth-wheel trailer hitches are the strongest type of hitch, and they're designed for towing large trailers.
If you frequently tow a trailer, these are great exterior accessories to consider. Fifth-wheel trailer hitches were created to make towing large trailers easier, and they're the most popular type of hitch among truck owners.
Shop for hitches that you won't have to spend hours installing. Make sure that it comes with the kit to connect your car lights to the trailer so you can be safe on the road. These products will make your life much easier when towing a trailer.
#6 Exhaust Tips


Drivers who want to ride with style are prone to install different kinds of exhaust tips on their cars. It gives the vehicle a more customized look, and it also modifies the sound of your engine.
If you want to install an exhaust tip, there are a few things you need to take into account. First of all, the size has to be appropriate for your car model – you don't want it to stick out too much or be too small.
High-quality aftermarket exhausts often use stainless or aluminized steel to increase durability, preventing performance problems and exhaust leaks. Check out Monaco Motorsports or other vendors for top-quality exhaust tips.
Conclusion
When it comes to exterior accessories for vehicles, there's a lot to choose from. You can find items that are elaborated for both style and function. Turn the page and give your vehicle a look it deserves.
Look into car covers as well if you want to give your car some protection while parked outside. These are just a few of the exterior accessories to shop for as a customer, so make sure to do your research before making a purchase.
Last Updated on: January 11, 2023