Average Weight of A Car By Type | How Much Does a Car Weigh?
Why should you care how much your car weighs? There are several reasons why you might be interested in the weight of your car or one that you may consider purchasing. The average car weight varies by make, model, and year of manufacture and they have been shaving pounds every year.
A car does usually weighs between 1,610 to 4,696 pounds, depending on the type of vehicle. Overall the average weight of a car is around 2.08 tons or 4,156 pounds roughly. Knowing how much a car weighs can help in several areas.
Safety is a major concern. Smaller cars tend not to do so well in accidents with larger vehicles. Smaller, lighter cars tend to have better miles per gallon fuel efficiency.
If you purchase tools to do your maintenance, make sure tools like floor jacks are rated for the weight of your vehicle. Finally, the weight of your car is assumed to include payload, i.e. passengers and cargo. Check the weight to payload levels before you make a purchase. How do I determine the weight of my car?
How Much Does A Car Weigh?
The vehicle's weight can vary slightly even if it is the same make and model. Some of the variables include tire size, engine size, transmission, added features both before and aftermarket, the weight of the passengers, and their cargo.
Do you need to know the weight of your car because you travel over roads rated for so many pounds? Most cars are well under the weight allowed, however, if you are driving a fully loaded SUVs, or a small truck, you could be over the weight limit allowed.
The average car weighs 4094 pounds in 2018, based on reports for the US Environmental Protection Agency. Cars are getting heavier, but fuel economy is also improving.
Average Weight of A Car Based On Car Models & Types
| Vehicle Type | Model Example | Curb Weight in Pounds (lbs) | Curb Weight in Kilograms (kg) |
| --- | --- | --- | --- |
| Economy Car / Mini Car | Smart ForTwo | 1,610 | 730 |
| Compact Car / Small Sedan | Nissan Micra | 2,302 | 1,044 |
| Mid-Sized Car / Medium Sedan | Audi A4 | 3,682 | 1,670 |
| Full-Sized Car / Large Sedan | Audi A8 | 4,773 | 2,165 |
| Small Station Wagon / Hatchback | Volkswagen Fox | 2,200 | 998 |
| Mid-size or Large Station Wagon | Porsche Panamera | 4,222 | 1,915 |
| Small SUV / Compact SUV | Jeep Renegade | 3,056 | 1,386 |
| Mid-Sized SUV / Intermediate SUV | Toyota 4Runner | 4,400 | 1,996 |
| Large SUV / Full-size SUV | Ford Expedition | 5,443 | 2,469 |
| Sports Cars | Audi R8 Coupe | 3,594 | 1,630 |
| Sports Sedan or Sports Saloon | Tesla Model S | 4,561 | 2,069 |
| Supercar or Hypercar | Bugatti Chiron | 4,359 | 1,977 |
| Small or Medium-size Pickup Trucks | Toyota Tacoma | 3,915 | 1,776 |
| Full-size Pickup Truck | Ford F350 | 5,878 | 2,666 |
| Passenger Vans | Ford Transit-350 Passenger XLT Van | 6,023 | 2,732 |
| Cargo Vans | Mercedes Benz Sprinter | 4,696 | 2,130 |
| Minivans | Toyota Sienna | 4,610 | 2,091 |
Knowing the average weight of all cars in a given year is not that useful. However, reporting the average weight by car types can be more useful to consumers when one of their criteria for purchasing a car is weight.
Sedans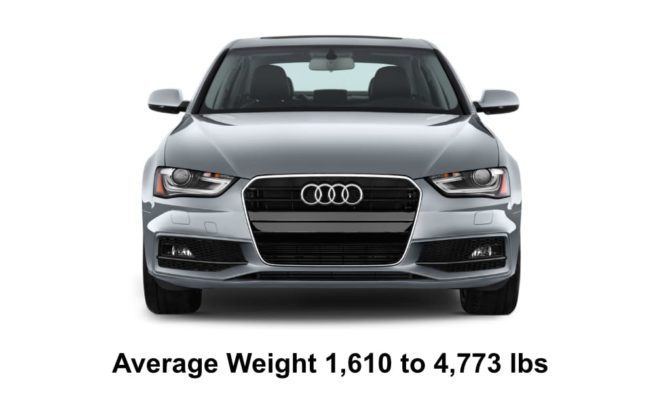 Sedans are manufactured in a variety of sizes with one or two doors and carry from two to five passengers. The total weight can vary a great deal when you consider the weight of your vehicle and what can be carried. The weights we provide in this section are curb weights only.
Mini Car / Economy Car
Mini cars or sub-compact cars are the traditional mini cars with an average curb weight of 2050 pounds, although some are lighter than this average. The Nissan Micra a vehicle in this type as well as the smart car.
Small Sedan / Compact Car
A small sedan weighs a bit more on average coming in at around 2600 pounds. The Nissan Micra could also fit in this category since it is on the heavier side of the Mini car category. these weights are curb weights which mean no cargo and no driver or passengers.
Medium Sedan / Mid-Sized Car
Medium sedans or midsize cars weigh around 3500 pounds on average. The Audi A4 is a mid-sized sedan. This is a curbside weight without any cargo or drivers. The average weight of the category can change every year as manufacturers make improvements.
Large Sedan / Full-Sized Car
Large-size sedans or full-size cars are heavy cars and weigh in on average around 4400 pounds. The Audi A8 is a full-size sedan and again this weight is curbside only. Adding luggage and five passengers significantly increases the total weight of the vehicle.
Station Wagons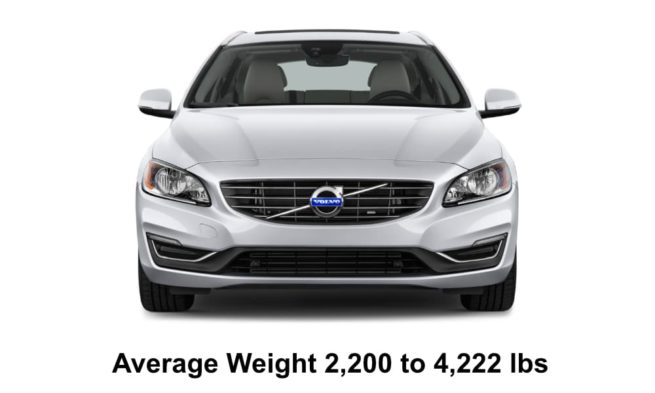 The station wagon, once a very popular car for families for cargo carrying capabilities, has gradually been replaced by the SUVs. Curbside weights are given for the weight in this category.
Small Station Wagon / Hatchback
A small station wagon can weigh in at approximately 2480 pounds. An example is the Volkswagen Fox Station Wagon model. Another is the Nissan AD Y12 Facelift Station Wagon manufactured in 2016 with 5 seats. Neither car is manufactured any longer with production ending in 2019.
Mid-size or Large Station Wagon
Mid-size to large-size station wagons can weigh as much as 5125 pounds. The Porsche Panamera 971 Station Wagon was manufactured from 2016 to 2019. Another vehicle weighing at 4552 pounds is the Mercedes Benz E-Class Station Wagon which also ended production in 2019.
Sports Utility Vehicles or SUVs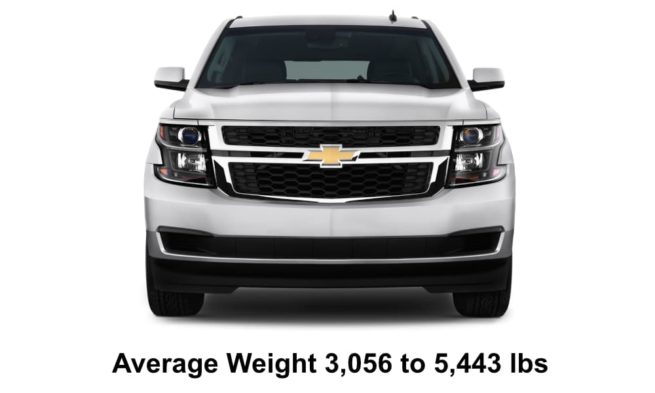 The Sports Utility Vehicle or SUVs has become very popular, replacing station wagons and family-style vans for their versatility, looks, driver visibility on the road and general sport feel while driving them. All weights are curbside weight.
Compact SUVs / Small SUVs
The average weight of compact SUVs or small SUVs weighs in at around 3300 pounds. Top-selling subcompact SUVs include the Subaru Crosstrek, Honda HR-V, Hyundai, Jeep Renegade, and the Toyota C-HR. SUV's in this category tend to align closely with compact cars.
Intermediate SUVs / Mid-Sized SUVs
The intermediate size of SUVs is what many people think of when the term SUVs is mentioned. The Jeep Grand Cherokee and Toyota 4Runner are typical of this class of SUVs. The average weight of intermediate SUVs and midsize SUVs weighs around 5300 pounds.
Full-size SUVs/ Large SUVs
Full-size SUVs and large-size SUVs weigh around 5500 pounds on average and are great if you need the room to haul large families and all of their sports toys and luggage. Examples of this class of SUV include the Nissan Armada, Ford Expedition, and Chevrolet Tahoe. Weights vary depending on the options with each vehicle.
Sport Performance Cars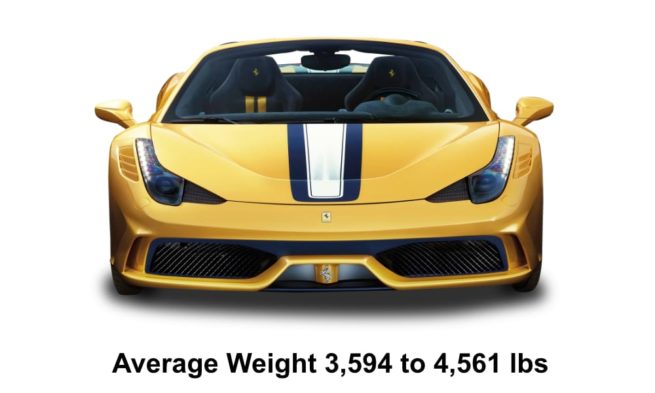 There are many sport performance cars on the market. The lighter the car and the larger the engine, the faster they go, especially in the zero to 60 category.
Sports cars
Sports cars come in all makes and models. Virtually every manufacturer will have at least one or two in their line up and then there are the specialty manufacturers whose sole purpose is to make the fastest car on the planet.
The lightest sports car made was the LCC Rocket at 800 pounds while the heaviest vehicle weighs in at 3472 pounds – the Lamborghini Aventador.
Sports sedan or sports saloon
Sedan or saloon are often used interchangeably, however, in many circles, a saloon car implies a more luxurious car. When applied to sports cars, neither is a full sports car. Instead both the sports sedan or the sports saloon exhibit characteristics of a sports car which includes styling, handling, and acceleration.
Supercar or Hypercar
Supercars are special, perhaps rare, and considered exotic. Supercars are considered world-class and provide impressive acceleration and handling. Hyper-cars are among the top performance cars in the world, produced in limited quantities and deliver performance, acceleration, and speeds at levels beyond the vast majority of cars.
Pickup Trucks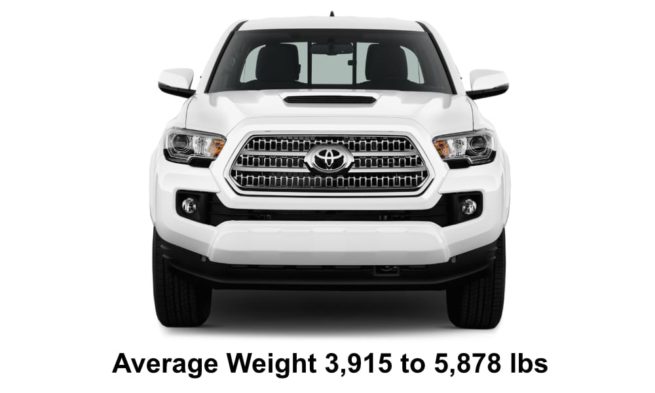 Pickup trucks come in various sizes and capabilities. Many have all of the same features as high-end cars with the added advantage of being able to tow trailers and carry a variety of payloads. SUVs and trucks are similar in this regard.
Small or Medium-size Pickup Trucks
Small or medium trucks weigh from 3300 to 5300 pounds and have a variety of options available. There are two-door and four-door models with short and long boxes for carrying tools. The weight of the truck depends on after-market additions such as payload area covers, inserts to protect the box area, etc.
Full-size Truck
Full-size trucks may come with single or dual wheels depending on the loads that will be carried. Trucks equipped to tow a fifth wheel often come equipped with dual rear wheels and weigh correspondingly more.
The average weight of a full-size truck is 6600 pounds, however, the weight can vary a great deal based on after-market additions. The current gas price is not an issue for drivers of these vehicles.
Vans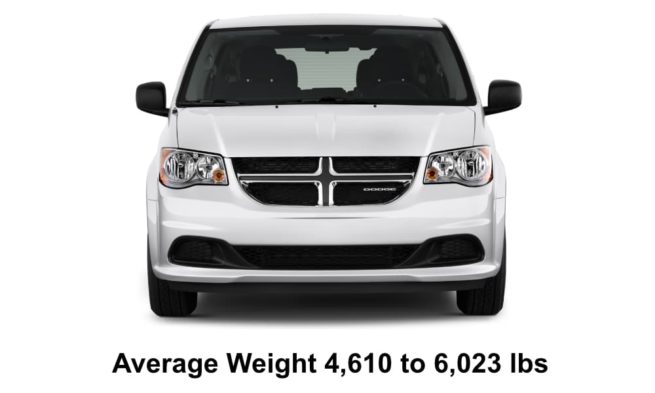 Vans, like cars, come in a multitude of sizes and are used for many different purposes. Since passenger vans can carry as many as 8 people, allowances have to be made for the weight of 8 people compared to the total carrying capacity of the van.
Passenger Vans
Passenger vans come in a variety of sizes and can carry from five to eight people depending on the seat configuration. This makes a huge difference in the curb weight as well as the gross weight, assuming eight people weigh an average of 150 pounds each. The average curb weight of all minivans from one site indicated that the average van weighs 4,522 pounds.
Vans
Vans are relatively light considering their size. The family of Ford Transit vans weighs approximately 1609 kgs at the lowest and 1963 kgs at the heaviest. This is curb weight or unloaded.
Payload weight for these vans ranges from 991 to 1560 kgs depending on the model. Owners must adhere to these weight limits to ensure safe handling and avoid mechanical damage to the suspension.
Minivans
Minivans are a great all-around utility vehicle capable of carrying passengers with ample room in the back for bags. They are a very popular vehicle for families next to the SUVs.
The average weight of minivans on the market comes in at approximately 4452 pounds. Depending on the size some can be converted to passenger vans by adding another row of seats and giving up space.
How To Find The Exact Weight of Your Car
There are several ways for determining the weight of your car. You can look online for your make and model and as long as you have standard components, the weights for base models will be fairly accurate.
Find the exact car length with a VIN decoder
There are online VIN decoders available where you can find out the exact weight of your vehicle. Don't forget to account for any after-market parts that you may have added. Your VIN can be found on a plate under the hood, inside the trunk, or on the post on the driver's side. Copy this number and input it into a VIN decoder.
Your local dealer can provide the weight of your car
Car owners can contact their local dealer for the exact vehicle weight. Provide the VIN and they should be able to provide the exact vehicle weight and length. Don't forget to take into account any after-market parts you may have added. You will need to add the weight of the components to the curb weight of the car.
Measure your car's weight with a commercial car scale
This is another way to find out the exact weight of your car. Take your vehicle to have it weighed. You might have to pay something for the service.
Junkyards and motor vehicle inspection locations often have these types of scales. If you are sitting in the car while it is being weighed, don't forget to subtract your weight to obtain the curb weight of your car.
Use a car valuation website and search your vehicle type
Drivers may also be able to use a car valuation site online. Look for your vehicle type, and you should be able to find the standard weight for your vehicle at the time of manufacture. Again, any changes or additions in parts from the standard could affect the vehicle weight at the curb.
Look for the driver's side door sticker for your vehicle weight
In some cases, there will be a sticker on the driver's side door indicating the weight of your vehicle. Another location to check is the car's repair manual in the specifications section of the booklet.
This section will have the vehicle weight, along with the length, width, and height of the vehicle. There is a wealth of information about your car in these booklets.
Definition of The Different Types of Car Weights Terms
It is important to understand the definitions of car weights and what they mean, especially if weight is a factor in your purchasing decision.
Curb Weight
Curb weight is the total weight of your vehicle with all of the options, without passengers, driver, or luggage in the vehicle. This is what the car weighs when it is empty, including the spare tire and a full tank of gasoline.
Gross Weight
Gross vehicle weight is what the average vehicle will weigh with the driver, passengers, and cargo. Average numbers are used to account for passenger and driver weight. While this number is helpful, the gross combined weight may be more helpful.
Gross Combined Weight
Gross combined weight is the maximum weight in any combination of the persons in the vehicle and cargo that the car can safely carry including the weight of your vehicle. Exceeding this number can cause poor maneuverability as well as cause mechanical parts to potentially fail.
Payload
The payload is the weight that your vehicle can carry, including the driver, passengers, equipment, pets, tools, groceries, or whatever you decide to put in the vehicle. Exceeding this weight may cause handling issues and mechanical failures.
Gross Weight Rating (GVWR)
The GVWR is the maximum weight a vehicle can carry in a safe manner, including all possible combinations of people and other items. Drivers must account for the average weight of passengers as well as the things they carry.
Gross Axle Weight
The Gross Axle Weight Rating is the amount of weight each axle can support. The rating is provided for both front and rear axles indicated by FF for front and RR for rear axles.
Maximum Load Trailer Weight
Gross weight or the trailer or Maximum Load Trailer Weight is a measurement of the total calculated weight of a fifth wheel or trailer and the cargo. The towing capacity of the vehicle is the maximum allowable weight a vehicle can tow.
F.A.Q.
The following are some of the frequently asked questions many readers have about the weight of their vehicles.
What is the average car's weight in tons?
The average gross vehicle weight rating in 2018 was 4094 pounds, or car in tons weighed in at 2.05 tons based on reports for the US Environmental Protection Agency. The average weight of different types of vehicles varies a great deal from just over one ton to over 3 tons in weight.
What is the average weight of a car in Kg?
The average vehicle's weight in 2018 was 1857 KGs based on reports for the U.S. Environmental Protection Agency. The average weight of different types of cars varies a great deal. Some weigh as little as 730 kgs.
How much does a small smart car weigh?
Smart cars have been around since the early 1990s, with some of the early models weighing as little as 1610 pounds. They have increased in weight due to more options and safety equipment. They now weigh a little over two thousand pounds.
How much does a minivan weigh?
Minivans are the ultimate vehicle for moving people and boxes. Depending on size and options minivans can weigh from 3900 to 5000 pounds, curbside weight. Drivers must pay attention to payload limits since minivans have a large space to accommodate different things.
What are the heaviest cars in the U.S. Market?
The heaviest cars driven in the US are all SUV's and they are also the largest as well. The average weight of the largest SUVs comes in around 6000 pounds and includes the Chevrolet Tahoe, the Ford Expedition, and the Toyota Land Cruiser.
What is the lightest car in the U.S. Market?
The Westfield 1600 is one of the lightest cars on that market weighing in at 1367 pounds. It comes with a 1.6-liter engine producing 195 hp and takes off like a rocket ship. The price tag is around $30k.
The 2007 Smart Fortwo is another lightweight car at 1610 pounds. Although not a sporty car, it has sold very well, and later models continue to do well, although they have gained weight. Current vehicles on the market weigh approximately 1859 pounds.
Summary
The weight and size of a car affect fuel economy, the number of passengers carried, tools that can be stowed, and overall safety. If you plan to do some of the maintenance yourself, the weight of your vehicle can also impact your tool choice, e.g. jacks to lift the car.
Vehicle manufacturers have made great strides in the past few years improving fuel efficiency while adding features and options which counters weight reduction efforts. Before purchasing a vehicle, decide if weight needs to be part of your decision criteria. Check out the weight ratings before you buy.
Last Updated on: July 15, 2022