15 Best Apps for Android Car Stereo Free & Paid For Drivers
Android Auto is great for accessing the daily tasks we need to do in our vehicles. We can answer messages, calls and check up on the weather while also listening to any kind of audio content or getting directions with Google maps!
It's easy enough that you just plug your friendly Android phone into your car via USB and get access to all these features without a hitch. Furthermore, Android Auto is an example of how technology has come so far over time. They have created such a powerful tool that includes a variety of apps to customize your experience.
You can change the output tone and interface color with ease thanks to different layout options, which change the app's theme appearance so that it looks more like an expensive car stereo system than an iPhone screen mounted onto your dashboard.
With features such as customizable theme colors and settings, Google Assistant built-in (which you need anyway if using Android), connecting music services together seamlessly from one source depending on what mood takes hold at any given moment.
There are plenty of customization options available, and it is possible to listen to music, podcasts, and more. You could find out your car's mileage or even explore new restaurants. This article will go through the 15 best apps for an android car stereo that everyone should have.
15 Best Apps for Android Car Stereo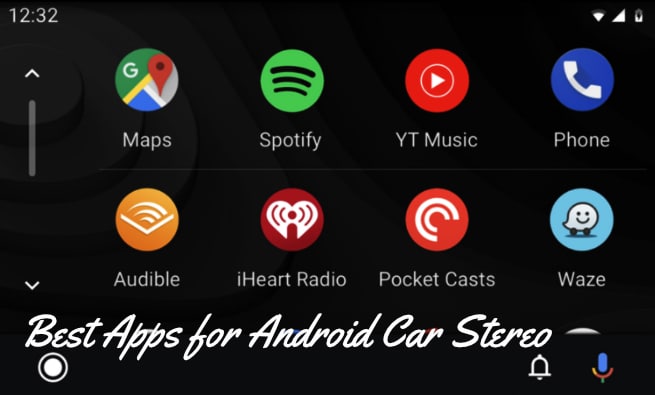 You have to be smart when you are driving and using apps. You should keep your eyes on the road! Keep in mind that you have a responsibility when you are behind the steering wheel. Now that we discussed this, lets take a look at the 15 best android auto apps that everyone should have.
Waze or Google maps
Waze is the world's largest, most in-depth community of drivers who share real-time traffic and road info to help everyone save time, money on their daily commute. It takes a little patience at first but soon, you'll be navigating your way through city streets with ease!
Get there faster with less hassle. It is easy to find out why millions of people are using the Waze app to get where they need to go, faster than ever before. It's totally free! Waze is available in more than 200 countries around the world.
The other similar app we all know, Google Maps, is the world's most popular map app. With a few taps, you can see your current location and get directions anywhere. You can also search for nearby places such as restaurants, coffee shops, or gas stations.
Spotify
Spotify is an amazing digital music service that enables you to select any song, playlist, or album and stream it right from your Android phone. Spotify can now connect seamlessly with Android Auto – meaning no more fumbling around and missing out on your favorite songs.
The benefits of using Spotify are many- they have the best selection of songs across all genres, which makes them perfect if you want more variety than what's on your phone. They also have a large library of podcasts, both live and archived- meaning you can listen to them anywhere at any time!
Spotify is available in more than 180 countries, making it the perfect app if you are traveling abroad or want music that's not typically found on other platforms such as Pandora, for example.
The best part about Spotify is when they say, "You've got the music, we've got everything else" because this couldn't be truer with their integration into Android Auto, where you get access to all these features without a hitch.
With the paid service, you get more features, including offline listening on your phone and the ability to play uninterrupted music in the background while you're on another app. Spotify is a great option and worth checking out if you have an Android auto-capable car stereo!
GasBuddy
GasBuddy is a gas app that provides users with the cheapest gas in their area, and it's only available to Android Auto. The benefits are many- you don't have to do all the calculations, they provide you with an up-to-date map of nearby gas stations, so we know where to go without wasting time driving around aimlessly looking at our phones!
There will also be discounts that make this app free, but there's no need because the GasBuddy app even has deals on food, hotels, and more. It saves us time when we're traveling because instead of pulling over for directions or hunting down a restaurant in unfamiliar territory. Gas Buddy can help us find them faster than ever before, making sure we get to our destination without any hassle!
GasBuddy has saved time and money for more than 70 million drivers around the world since 2008, which is why it's one of the best apps on Android Auto. The app automatically updates prices, so we know when to fill up no need to worry about overpaying or running out of gas in an emergency situation!
This android auto app not only displays directions to find a nearby gas station, but it also lets you know how many pumps are available, amenities like food & restrooms, and ratings by other drivers who have used that specific station before us. This way you can be sure Gas Buddy will always provide accurate info at all times.
iHeart Radio
iHeart Radio is an app that enables us to listen and enjoy the best of live radio from across the country, all on our Android phones. With more than 800 radio stations playing everything from rock 'n roll to oldies- there's never a shortage of choices when using iHeartRadio for Android Auto!
With iHeart Radio, we know what's popular because they only play the latest hits and top charts, making them perfect if you want entertainment but aren't sure exactly what type of programming you're looking for!
The best part about iHeart Radio is that unlike some of those other apps on this list, iHeart Radio provides listeners with different stations based on the genre, such as country music and pop hits, so we always have something to listen to no matter what mood we're in!
Drivvo
Drivvo is a navigation app that provides users with the fastest route to their destination based on real-time traffic and construction information. One of this program's best features is that it helps control your car expenditures.
This great app easily listens to our voice commands, has voice recognition, so we don't have to type in an address or make frequent mistakes while driving, it has maps for every major city worldwide (including rural areas) and comes preloaded with Google Play Store which saves time when downloading updates!
Drivvo uses GPS tracking, which means you can see exactly where your car's at any given moment, making sure you're never lost even if you missed a turnoff somewhere along the way. It doesn't come as default with Android Auto, but there's no need to worry because this app is free to download!
So if you're looking for an Android Auto app that will give you the best route with the cheapest gas prices and construction updates, Drivvo has got your back. The paid version of Drivvo costs $0.99 for the premium service, and there is also a free version that displays ads.
Torque Pro
Torque Pro is an app that provides the best possible engine data for cars and motorcycles. It has OBDII support, Bluetooth LE connectivity, live updates with Google Play Store permissions to warn drivers of potential issues such as low battery levels or poor fuel quality, among others.
The pixel-perfect map displays everything from our current location all the way to where we've headed, thanks to GPS tracking! It also enables users to set reminders so they never forget when it's time for a tune-up or if there's anything wrong with their car before something serious happens.
Torque Pro also comes preloaded with thousands of vehicle-specific PDF manuals, which makes them perfect for those who want more information than what's available on YouTube tutorials alone!
WhatsApp / Facebook Messenger / Telegram (Messaging Apps)
The top three messaging apps that you can install on your android auto device are WhatsApp, Facebook Messenger, and Telegram. The reason why people like these apps for messaging is that they are free to use with no ads, and the messages don't get lost in a sea of emails or texts!
These three messaging apps have all been rated as some of the best on Android, so you can be sure you are sending important information across safely without having to worry about service overages which come with many other messengers, including iMessage Viber, Skype, etc.
You'll also find group chats easy thanks to how well WhatsApp groups work together when chatting- it's never hard to find someone if we want to start up a new chat or add more friends. With any of these messaging apps you can chat with people from the whole world for free.
TuneIn radio
The best music apps specifically for Android users include TuneIn radio, which lets you stream live radio from different many. You can easily listen to hundreds of stations have been provided for the user to choose from when listening through this app.
TuneIn is an app that has a variety of stations in one place, and it's free to use- even the ads are easy on the ears as they don't last too long! TuneIn radio offers us over 100,000 episodes from 99% of podcasts out there.
Pandora
Pandora is an app that lets users listen to their favorite music through personalized playlists based on their own preferences.
You can search by artist name or song title to find our favorite albums fast without scrolling through endless lists, which would take hours. Moreover, there are no ads, so listeners don't have to worry about interruptions while trying to concentrate on their favorite songs while driving.
With Pandora, we can also create groups of friends and family to share our tastes in music- nobody will be left out or have to listen to something they don't like! Users who do not have an unlimited mobile data plan may want to use this app sparingly or find a way around the data usage, such as connecting it through WIFI.
Audible
Audible is best for all those who are looking to expand their skills or find the perfect escape with a great book. Using Audible means that listeners can enjoy books from some of the most high-profile authors, publishers, and producers in both categories, such as fiction and nonfiction.
With audible, you'll never have to worry about missed words on a page because they've already been read aloud by professional narrators, so we don't need our eyes glued to the screen at any time while driving!
Plus, it's easy – users can download an app and start enjoying audiobooks without ever having to visit a website which could be difficult during long car rides. There's an internet connection required, so if you're in rural areas without access, this may not be the best choice for your car launcher app!
Pocket Casts
Pocket Casts is an app that lets users enjoy their favorite podcasts without ever having to search through a bunch of episodes looking for what they want.
With Pocket Casts, listeners can choose their favorite podcasts and episodes to listen to later, so it's always there when they need it. The app remembers where you left off for your last episode or podcast, which is perfect if you're about halfway through an hour-long show but don't want to risk missing out on anything by closing the window!
Tidal
Tidal is an app that lets users hear music through a membership service where listeners can choose the songs they want to hear.
This app is great for those looking to hear music without any ads in between songs, and it's easy too- listeners can sign up with their phone number or email address right on the spot. Tidal offers a large variety of playlists that are updated weekly, which means new sounds/songs every time you log back into this app.
There are ads that mean listeners will have interruptions while trying to concentrate on favorite songs, and there's no offline listening, so this isn't the best choice if you don't have access to wifi!
YouTube
YouTube is an app that lets users watch their favorite shows and videos without ever having to search through a bunch of episodes looking for what they want.
With YouTube, listeners can choose their favorites from channels such as Comedy Central, Disney, or Nickelodeon, which means we never have to worry about missing out on any of our favorite shows because it's all there saved!
Furthermore, with this android auto app, we don't need headphones or a hands free device at any time while driving since speakers play everything right in front of us, so no more turning our heads back and forth trying to catch audio snippets between texting and stopping!
Requires an internet connection which means it's not a good choice for people in rural areas without access. Plus, out of all android apps, YouTube is the best app when you're looking for video content because they offer everything from how-to tutorials and debates all the way up to check out streaming events.
Scanner Radio
It's the best app for those who want to listen in on local news, police activity, and emergency information. Scanner Radio is an app that lets users explore to their favorite radio stations in their mobile devices.
You can tune in to your favorite radio station without having to worry about battery life because this app doesn't require a constant stream and will only update when there are changes.
Viper4Android FX
There are a few things we love about the Viper4Android app. It allows the users to improve the overall sound quality of their car speakers without the need to add an amplifier. This app can be installed on the mobile device, and it will then you will be able to teak the settings through your android head unit by connecting wirelessly.
Benefits of Using An Android Auto App
Adding an Android head unit to your car stereo is an excellent way to get the best sound quality and control while driving, but there are a few factors that we'll need to consider before making our purchase.
Something we love about android auto is that you have the option to choose a home screen theme that best suits your personality. With these android car stereo apps, we'll have all the latest hits at our fingertips from a variety of different genres.
We should first figure out what type of android auto apps we want, with one factor being if you're looking for music or video content since they can be streamed from many different sources like YouTube and Pandora.
Remember to always drive safely when you are behind the steering wheel and not to use your mobile device for any calls or text messages while driving. Try exploring the google assistant app to avoid distractions while driving. Congrats now you know the best android auto apps.
Last Updated on: February 17, 2023