Best Torque Wrench [Top Quality Wrenches & Buyer Guide] 2023
A torque wrench is an essential tool in any garage. It assists you with precision during assembly, making sure that nuts and bolts are tightened to an exact amount without either over or under-tightening them.
You could utilized it when you are assembling something. First, you need to choose the right one for the job because there are many torque wrenches. And then you just make sure to tighten everything without going too far or not enough.
Finding the right torque wrench can be a life-changing experience. There are many options on how to choose your torque wrench, such as considering which type of fastener you're tightening or not having enough room for an extension bar.
However, we have compiled all this information and more into one article so that choosing is easy. The best wrench will have the ability to help you tackle your chores like nothing else. Below, I've compiled my list of what is inarguably some of the very best wrenches currently available for purchase on this planet!
Top 10 Best Torque Wrenches for The Money
| Rankings | Name | Price and More Details |
| --- | --- | --- |
| #1 | ACDelco ARM601-4 1/2Inch Digital Torque Wrench | Click Here |
| #2 | TEKTON 24335 1/2" Drive Click Torque Wrench | Click Here |
| #3 | CDI 2401CI3 Drive Computorq 3 Electronic Toque Wrenches | Click Here |
| #4 | Precision Instruments PREC3FR250F Silver Torque Wrenches | Click Here |
| #5 | INDUSTRIAL BRAND CDI Torque 2503MFRPH 1/2-Inch Drive Wrench | Click Here |
1. ACDelco ARM6014 ½ Inch Digital Torque Wrenches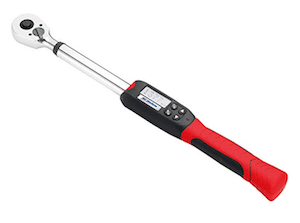 Features
Multiple torque wrench setting functions
High accuracy when tackling chores
Excellent quality assurance and high accuracy torque
The ACDelco wrench has a small LCD screen
The ACDelco digital torque wrench is constructed from metal for durability and is created to produce a more precise measuring torque with a variety of mode settings. This drive microtork torque wrench has a built-in audible buzz and LCD, which displays values in kg-cm, Nm, ft-lb, and in-lb.
Furthermore, this ACDelco torque wrench is powered with three AAA batteries. We consider this to be the best torque wrench because it has multiple setting functions, including measurement, and toque setting.
The Peak & Trace is around 10% of max torque value as well as 4 to 99-foot pounds of average torque range. With a guaranteed accuracy range of plus or minus 2% clockwise and +/_ 3% counterclockwise, this torque range is a must-have for car enthusiasts.
Of all the toque wrenches we have around, it is this one that bears the most advanced technology. Thanks to this advancement, you may be sure to enjoy similarly rewarding performances and overall outcomes. Its LCD display shows the progress of the measurements. However, it is complicated to work with, but with time you learn how to efficiently use this torque range.
Pros
Manages various mode settings
Possesses a built-in audible buzzer
Draws its power from 2 AA batteries
Cons
Slightly complicated at beginning
Costs a premium to acquire
2. Tekton 24335 1/2 Inch Drive Click Torque Wrench Set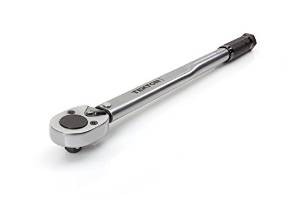 Features
High contrast which enables you to read in low lighting
Robust steel construction with a corrosion resistant finish
A reversible wrench made of chrome vanadium steel
A non-slip knurled handle that gives you that extra grip
The Tekton industry is well known for producing a wide range of quality toque wrenches, which include torque wrenches, measurement equipment, and also torque calibration equipment. Also, this Tekton 24335 1/2inch drive click torque wrench comes with a variety of specifications, and it clicks when you get the desired torque value.
Want to undertake on the nose handling with correct outcomes? Make use of this click wrench set. It does emit some clicks that alert you whenever a pre-set value is hit. Furthermore, its ratchet head is reversible and hence allows for some smooth movements in all the directions in which it is deployed.
The torque wrench has an all-steel construction that ensures its durability since its surface is corrosion resistant. It comes with an dual range scale, which enables you to read in low light. Before using these torque wrenches, you will be required to read the full manual cover to cover and understand it well.
Pros
It enables you to feel and hear when you get the desired torque value
Has a non-slip knurled handle that allows you to hold it firmly when working
High quality and inexpensive compared to other wrenches
Cons
Dropping it will brake it despite its all steel construction
3. CDI 2401C13 Drive ComputorQ 3 Electronic Torque Wrench Drive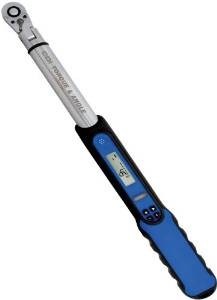 Features
Contains quick releasing button for quick switching
A rubber grip that is ergonomically designed and also non-slip
It has a 15 degrees flex ratcheting head
LED Display for giving immediate torque values
Torque range anywhere between two and twenty-foot pounds
The torque wrench is one of the essential tools for mechanics and other professionals. It helps with many tasks, but not all. For precise measuring without guessing or error, you need a true-to-life indicator that's simple to utilize in real-time situations!
Furthermore, this torque wrench is very accurate and easy to use. With the 15° flex ratcheting head, this one can swivel and hit hard in places that are out of reach for ordinary wrenches. Plus, its benefits don't stop there- with a high-quality finish on its chrome plating, you'll never have to worry about any wear or tear from heavy usage.
The design of this torque wrench is so ergonomic, and it feels like your hands are in heaven. The rubberized grip won't allow you to slip up during the entire process, and the desired torque setting will tell when it's time for a new one. No more guessing or error traditionally found when using other traditional torque wrenches.
You should consider buying this CDI 2401C13 torque Wrench because it's great at removing lug nuts from your vehicle. It is so accurate and easy to use that you'll hardly have to worry about any over-tightening issues. Plus, its chrome plating ensures a high-quality finish from heavy usage, which makes it superior in aesthetics as well as function.
Pros
It is well constructed using durable, and firm material
Has a LED screen which displays the torque values while you are working
Has the ability to take readings for later reference
Cons
This drive torque wrench is quite expensive
4. Precision Instruments Drive Split Beam Click Type Torque Wrench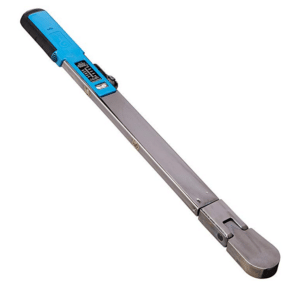 Features
Has setting locks adjusting to required torque
Comes with maximum speed and efficiency
Provides a unique and innovative torque
Doesn't require readjustment after use
Adjustment knob which can do away with tension
This Precision torque wrench can be compared to the best available because it offers a lot of value for its price tag. It is also made from high-quality materials, which enables this accurate torque wrench to work well in tight spaces and handle some jobs better than other tools on the market.
Moreover, these beam style torque wrenches will tighten your lug nuts a whole lot easier. They have an ergonomic grip for comfortable handling, and you can reach those hard-to-get places with them as well. It's also made with hardened chrome vanadium steel that's precision-machined for accuracy and stability.
The perfect torque wrench for the repetitive task that you've been working on is a torque wrench. If it's your time to get this done, pick one of these up and end what will hopefully be an easy tightening action with some style. The wrench has a positive locking mechanism to ensure consistent performance each time you use it.
Plus, the 3/8 adjustable wrench is the perfect tool for any home improvement or automotive project. The torque setting locks on, and it has an ergonomic design that's easy to grip under wet situations. It also comes in a variety of lengths, so you can find one just right for your needs!
The precision instruments torque wrench can help you loosen lug nuts and bolts easily. It can tighten or remove the bolts of a wheel much faster and easier than anything else. Its lock pickup is nice and tight, thus making it easy to operate. Will all these torque specs, your gonna be able to get the maximum torque with ease.
Pros
The torque wrench is firm, light to use, and it is very strong
Easy to read thanks to its well-encrypted numbers
Offers a high level of accuracy and only gives the desired torque value
This wrench has elaborate springs and dials
Cons
The wrench only works in a clockwise direction
Cannot be used to torque on left-hand thread fasteners
5. Snapon Industrial Brand CDI Adjustable Torque Wrenches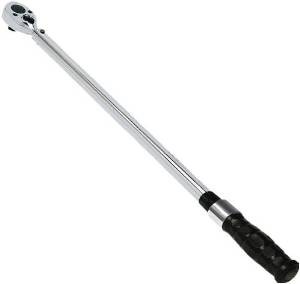 Features
Has two directional standardized dual scales
The torque wrench has a single scale that is laser marked
Its torque ranges from plus or minus 30 to 250 ft lbs
Quick release buttons and tighten fasteners
This CDI 2503MFRPH torque ½inch drive adjustable micrometer torque wrench has a calibrated dual scale and functions in double direction and has a locking system with spring load pull down lock ring. The CDI torque wrench is manufactured to be fast, easy to set, and read. It is easily readable due to its bright and distinct markings.
It is also an adjustable wrench that comes with quick releasing buttons that provide excellent tighten fasteners, an ergonomic comfort grip, and easy socket removal. The proper torque range of this wrench is 30 to 250 foot-pounds. The industrial brand CDI adjustable torque wrench is around 21.2inches by 2.8inches by 2.4inches and weighs 4.3 pounds.
Additionally, this torque wrench has buttons that allow a quick to loosen up feature which enables immediate retention and release of sockets. The well known CDI Snapon torque wrench is undeniably a great torque wrench available amongst all the brands in the market today because of its enhanced specifications, ease of use among other pros.
Pros
This lug wrench is very accurate.
Has high quality and is inexpensive.
Easy to set up because of its ergonomic design.
It is compact and lightweight.
Cons
It's plastic handle is quite uncomfortable and also slippery.
It might be a little challenging to read in low lights.
6. Tekton 24340 ½-Inch Drive Click Torque Wrench

Features
Calibrated dual direction
Faster, accurate and easy to set
Easy reversible ratcheting head
Comes with quick-release buttons
The Tekton drive click torque wrench is constructed with durable steel and has no plastic parts to wear out. This accurizing torque wrench has a range of 25-250 ft.-lbs. The Tekton drive click wrench has a high-contrast dual-scale which is easy to use even in low light and a reversible ratchet head that drives in both directions & calculates torque in a clockwise direction.
This 1/2inch torque wrench tool is around 26inches by 3inches by 2.5inches and comes pre-calibrated to plus or minus 4% accuracy. The reliable mechanical operation inside the handle produces a click when the desired torque is reached to ensure parts are correctly secured without damage. It can be calibrated in both directions.
Pros
Faster and easier to set up.
Contains numerous markings.
Manages more accurate values.
Exudes an ergonomic comfort grip.
Cons
Breaks easily under its own weight
Yields reduced returns on investments
7. Capri Tools 31103 1/2 Inch Drive Torque Wrenches

Features
This tool comes with a diamond contour grip
This wrench has spring-loaded pull-down ring
Specially engineered ultra-smooth torque dialing
High accuracy and a positive locking system
The Capri Tools drive torque wrench is constructed from aluminum with a matte finish and diamond sure-grip made of lightweight impact resistant materials for a firm ergonomic hold. This torque wrench brings an ultra smooth torque dialing, rapid torque change with spring loaded pull down, and secure torque setting with positive lock mechanism.
Additionally, this drive torque wrench comes with a dual torque range of 30-250 ft-lbs and an accuracy of +/- 4%. A custom fitted high-impact storage case is included. Out of all the wrenches we have around, it is this one that provides the tightest grip. It is subsequently more comfortable and handy to make do with.
Pros
Provides vivid and clear readings
Exudes variable torque rating
Manages a torque tolerance at +/- 4%.
With a NIST traceable certificate of calibration
Comes along with a high-impact case for storage
Cons
Slightly confusing at first for a simple user
Demands some expertise to handle
8. Neiko 03727A ¼ Inch Drive Beam Style Torque Wrench

Features
0-80 in/pound in 1 in/pound increment points
Ambidextrous (clockwise or counter-clockwise)
0-9 nm in .25 Newton meter increments
It has standard and metric readings for a accurate torque
The drive beam wrench has +/- 4% accuracy calibration
The Neiko Drive Beam Style torque wrench is versatile and can be used on motorcycles, bikes, cars, boats, and much more. This torque wrench is convenient as it is ambidextrous for clockwise and anti-clockwise purposes. The Neiko drive-beam style torque wrench is universal with both standard and metric readings.
This torque wrench has a range of 0-80 ft/lb in 1 ft/lb increments and is manufactured with an accuracy of +/- 4%. Searching for a wrench to deploy to the using of many people? This is the one we would vouch for. It is ambidextrous in the sense that it may be used by both the left and the right-handed persons conveniently.
Pros
Requires no conversion charts
Delivers precise torques with lots of accuracy
Highly versatile in nature and fits any budget
Works in various places including to remove a head gasket
Useful in the clockwise or counter-clockwise applications
Cons
Only for professional
Demands great care and maintenance
9. GEARWRENCH 85077 1/2-Inch Electronic Dial Torque Wrench

Features
72-tooth ratchet head works with most wheel locks
+/- 2% to +/-3% accuracy counterclockwise direction
Delivers five measurement units of torque
"Target torque alert" great for removing tires
5° swing arc to achieve better accuracy
Wanting to leverage the latest innovations in torque measurements? Set your eyes on the GearWrench electronic torque wrench. It incorporates the latest tools and technology mix to enable the attainment of this end. These particular GearWrench 857077 wrenches come in the form of the micrometer and are, as such able to take the minutest of impacts.
Because of this, it is also looked upon in applications that demand extreme accuracy. What's more? These wrenches are also available in the fixed and flex heads respectively. They subsequently give you the freedom to select that which is great for you. The grip allows you to keep your hands firmly in place.
Pros
Oil and solvent resistant handles
Protected from harmful agents
Delivers readings in variable units
Ensures a more precise fastener torque level
Cons
Unsuitable for light everyday tweaks
Hardly fit your normal circumstances
10. ACDelco ARM6013 3/8 Inch Digital Torque Wrench


Features
2 – 37 foot-pounds wrench narrow torque range
This socket wrenches come with a LED flashing/ buzzer alarm
The dial type wrench comes with multiple setting functions
Guaranteed Accuracy Range of ± 2% clockwise ± 3%
Meets or exceeds ASME B107.14-2004 and ISO 6789 standards
For your professional and precise fastening, you need no better friend and companion than this one. It stands taller among the other digital torque wrench tools. In its entirety, the torque wrench is manufactured using sturdy specs. This gives it the strength, support, and vitality necessary to be able to do a comparatively great job.
Moreover, it is also calibrated to see to it that you enjoy only truly accurate measurement outcomes. The calibration further goes to eliminate any ambiguities that may usually come by. It is operable in both the clockwise and counter-clockwise directions.
Pros
Greatly expedites the automotive tasks
Generates and gives forth more precise torque
A built-in audible buzzer expedites the work
The LCD display showcases your values
Cons
Too slim to carry around easily
May not fit certain working environments
Best Torque Wrenches Buyers Guide
A torque wrench is a vital part of the toolkit of a serious at home mechanic. Most precision lug nut and bolt application have a set quantity of torque that needs to be applied to it; too little or too much torque can cause them to damage or become loose.
That is where finding the best torque wrenches comes in. A torque wrench is a unique easy-to-use precision instrument used for adjusting and setting the tightness of bolts and nuts to your desired value.
What To Look For in a Torque Wrench Tool
Anyone looking to purchase a torque wrench should go through the reviews we have provided above and select a torque wrench that fits your need. If you have had the chance to perform mechanical repairs, then you realize how important this park tool is.
Torque measurements
Torque is a twisting force that turns or rotates an object like a lug nut or bolt. Unlike horsepower, torque can still be exerted on an entity even if it does not move. You measure torque in pounds-feet or "ft lbs," meaning a force in pounds acting on the end of a shaft measured in feet. For example, if you put 100 pounds of power on a 2.5 feet-long wrench, then you are putting 250 ft lbs of torque onto the bolt.
Range and Accuracy
The accuracy of a drive microtork torque wrench is tested in terms of "Indicted Value" or "Full Scale". The result has a big difference as indicated value accuracy indicates an allowable error at the set point on the wrench, while full-scale accuracy indicates the eligible error over the full-scale range of the park tool. For a more accurate approach, select a wrench with flex head.
Types of Torque Wrenches
Torque wrenches come in a variety of shapes and sizes, each with same necessary capabilities but slightly different operating principles. These are the four main torque wrench:
Drive Split Beam Wrenches
The split beam style torque brings a sealed ratcheting head making maintenance easy. You can adjust it from the top of the scale to the bottom within seconds, and the range is also easy to read. The split-beam wrench torque provides accurate reading and stress-free performance. With the drive split-beam torque wrench, you don't have to release the torque after use.
Break-Over Torque Wrenches
The Break-over torque wrench allows accurate mating force when disassembling and assembling coaxial connectors. Break-over torque wrenches have a unique feature of "breaking" at the pivot point once the preset torque value is reached, preventing you from over tightening the connector. These torque wrenches are elaborated with durable wrench heads connected to handles for better handling.
Drive Click Torque Wrenches
The click style torque wrench is the most common and widely available torque wrench. Click type torque wrenches use a clutch mechanism that is calibrated to measure foot pound gains accurately. This wrench uses a ball detent as a clutch. The spring releases itself and forces the ball detent out of its place, causing an audible click when it detects that the requisite amount of force has been used.
Electronic Torque Wrenches
The electric torque wrench has a digital screen which allows you to view an accurate representation of torque. These types of torque wrenches use strain gauges, which are attached to the torsion rods. Electronic or digital torque wrenches are capable of storing dimensions made in an internal memory device; the dimensions can later be viewed on a computer or printed.
Due to the various materials, types, and sizes that other torque wrenches can be made of, there are several factors to consider before selecting a wrench. Some of the factors to take into account when getting a wrench includes; the accuracy of the wrench, material used in construction, ratcheting of the wrench, scale readability, and handling.
Identify the Type of Wrench to Use
One should first identify the type of wrench to be used for a specified type of job; pipe wrenches to be used for drainage connections and common use wrenches for loosing nuts and bolts. A wrench with a correct structure should be selected to avoid sudden movement, and one should also wear protective safety gear on the face in case of shreds or tumbling objects.
Damaged wrenches should be appropriately discarded. An impact wrench with a firm grip should be used instead of an imbalanced handle if possible. Fast movements should not be used when pulling a wrench instead of a slow, and steady pull should do it.
When using a ratchet wrench support its head when using socket extension as is has a ratcheting head. In case one has to use an adjustable torque wrench when turning, the direction of the turn should be towards the permanent jaw, it helps the operator to adjust the torque settings as needed.
Torque Wrench Settings
Handling riflescopes and other firearms mounting should be done perfectly, and this can only be achieved if an accurizing torque is used. Wrenches should be well cleaned after use, and pipe wrenches teeth are sharp and oil-free to prevent slippage and injuries. Preset torque wrenches enable torque settings hence improving control of the bolting process when dealing with bolts.
When torquing lug nuts and bolts that need up to 600 foot-pounds of pressure, a performance tool is most efficient for this type of work. For sockets and handles with extensions bar requiring adjustment of the wrench; the best tool is a wrench with a flex head.
Here's a video from ChrisFix that explains how to use a torque wrench:

Tip: Don't use these wrenches as a breaker bar.
FAQs
Let's take a look now at some of the questions that are frequently asked with regards to this subject matter:
When do I need to use a torque wrench?
While fastening the bolts and the screws. It gives the operator the leeway to set the perfect torque that is subsequently crucial insofar as the tightening of the same is concerned. While at it, the wrench also minimizes the efforts you would most always expend to have your way.
How often do I need to calibrate my torque wrench?
Generally, you are required to calibrate your torque wrench after every 5,000 cycles or after every 12 months, whichever comes first. It is only by adhering to this stringent routine that you will be able to maintain yours in the proper functional state.
Conclusion
I hope you enjoyed this complete buying guide, including everything you need to consider when buying a wrench. According to the desired torque, accuracy, handling, and style, you will be able to determine what type torque wrenches or wrench sets you should buy.
If you are looking for a wrench buy one that has a certificate of calibration. Most home improvement stores usually carry these tools. When it comes to car repairs, this is one of the best hand tools you can have on your garage. We recommend not to use these wrenches as a breaker bar.
Our top pick is the CDI Snapon based on current online reviews and mechanics input. Read customer reviews, now you know how to pick the best torque wrench.
Last Updated on: January 11, 2023