Best Suction Cup Dent Puller [Reviews & How It Works] 2023
A suction cup dent puller is a device to remove dents from your car without damaging the surface. It works by creating an airtight seal on the outside of the dent, which causes pressure inside. Over time and with enough force, that pressure will pop out the dent in your vehicle!
If you have ever been in a situation where you don't have much money, and you need to remove dents from your car's body, then you know it can be incredibly difficult. These are great tools that everyone should have in their garage!
In this post, we are going to show you the best suction cup dent pullers on the market and how they work. Furthermore, we will also give instructions on how to use them for maximum effectiveness.
What are suction cup dent pullers and how it works?
A suction cup dent puller is a tool that you can use to remove dents from your car's body. It works by applying pressure and pulling the backside of the dent out in the opposite direction, which should cause it to pop right out. It is important to note that most of these pullers are suited for large dents.
The way this device operates is it uses vacuum power to create suction on both sides of its pad (typically made out of rubber). This causes it to adhere tightly against any surface when applied over a small area at low air pressure. Using this dent pulling tool does not require any drilling.
To use it properly, you will need to find where on your vehicle that has been damaged by either another car or just by a regular object. Place the suction cup dent puller onto the damaged area. Then, apply pressure to the back of it and begin pulling on it in a general direction that is opposite from where the dent damage has occurred.
What to look for in a suction cup dent puller?
Some of the features you should look for when shopping around for suction cup dent pullers are their durability and versatility in the size.
You want them to last as long as possible while doing this type of job without breaking apart or not fitting small dents on other areas because they might have trouble fitting into the jaws. Here is what you should consider when buying suction cups:
Durable
One of the most important features that people look for its durability. You want your tool to last as long as possible while doing this type of job, and it should be made out of tough materials like metal or durable plastic so that it can withstand all types of pressure without breaking apart.
Versatile Size 
If you purchase an item with one size option only then, chances are it will not work well on smaller dents in other areas because they might have trouble fitting into the jaws. Try to purchase a dent repair kit that has different sizes available!
Locking action
The higher the amount of pressure that it puts out, the more effective it will be at getting your dent popped back into place! The double handle design features a strong grip on any surface for maximum leverage while pulling a dent.
Great value for the money
You want to find a suction cup dent puller that is affordable and worth your hard-earned dollar. It's about finding one with enough power for both car and truck panels. You want something durable yet easy-to-operate, so your own hands can do the work!
Top 5 Best Suction Cup Dent Pullers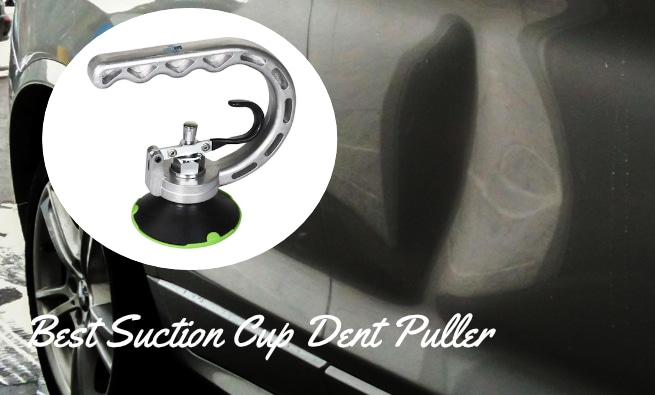 #1 FIRSTINFO Pneumatic Air Suction Slide Hammer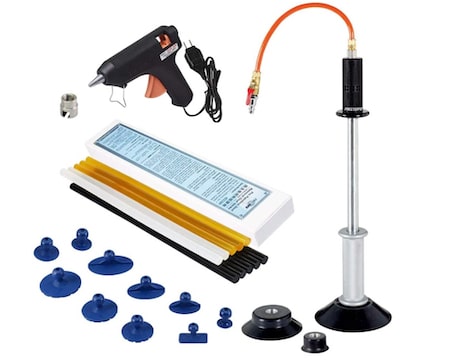 The suction created by this device should allow you to remove dents without any issues successfully. It has an ergonomic handle that is easy to use, and the suction cup can be used on either your car or truck. The only downside with this device is it might not work as well for smaller dents on cars because of its size limitations.
It's a good idea to quickly vacuum out all dirt from under the dent before using this suction cup. Otherwise, you will have more trouble getting a tight seal around the outside of it! The dent repair kit comes with a glue gun, glue sticks, and glue tabs. It is important to note that you will need an air compressor to attach it to the valve for this dent puller to work.
Some dent pullers can be quite large, and the lightweight size saves space! The size makes the tool easy to use and reduces the opportunity for damaging other items if this device were to accidentally fall out of place or roll away. Clean the area so you can get a smooth surface for better pulling pressure from the suction cup.
The weight is very light, which means it won't put too much strain on your wrists when using this dent puller. You'll have an easier time pulling those stubborn dents with less effort involved! Makes pulling simple and easy. Provides the best value, and you will get your car's exterior looking like new again in no time.
#2 IMT T-Bar Suction Cup Paintless Dent Repair Kit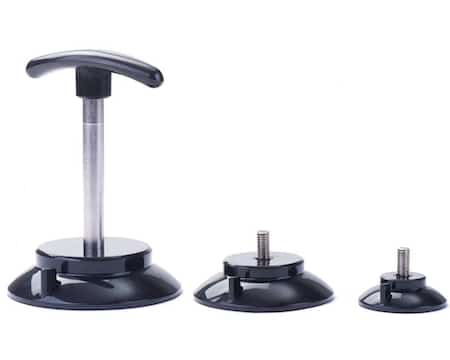 If you need to repair medium sized dents, this dent puller is the perfect tool for you. It is very versatile and can be used on your car or truck without any problems at all! The dent pullers are made out of rubber which provides a tight seal when applied over small areas, as well as being durable to withstand the pressure with no problem whatsoever.
Remove door dings with ease, thanks to the sturdy suction cup compact design. It can be used on a variety of surfaces. You can pop out those medium and shallow dents with no problem at all! The repair process with this type of suction cup is super simple.
You can get the dent out without damaging your car's paint when you use this dent puller. Over time and with enough force, pop out the dent in your car without causing any damage, so there is no need for painting or auto body shop work afterward.
Enjoy getting those dents fixed right away instead of waiting weeks for them to be repaired professionally! You can easily use one hand to create the pulling action on this dent lifter. The three different adaptors allow you to use them on a variety of surfaces and dent sizes.
#3 Kaisiking Yellow Suction Cup Dent Pulling Tool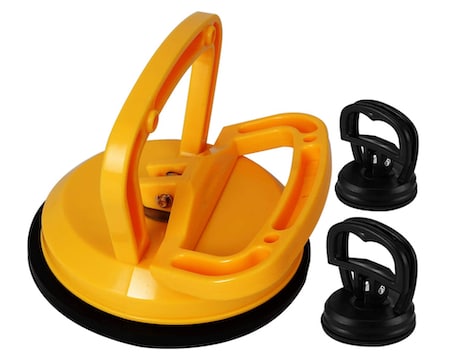 Expect this dent puller to be made out of rubber, with both sides being covered in its pad-like material. This device will create enough pressure on that dented area so that it adheres tightly against all surfaces. That's how you know it will work well on any car, truck, or motorcycle panel!
It has a double handle design which provides maximum leverage when pulling to remove that dent. The grip is very easy on the hand and wrists, so your hands don't have to do all of the hard work alone! It can even be used as an emergency dent lifter for large dents located on washing machines.
Pull those dents out without damaging paint by using this suction cup because the pads are made from high-quality rubber. With some practice, you'll be fixing dents in no time at all, thanks to its simple one-handed operation. Great device if you want something quick and easy, not too complicated.
By far one of the best price out of all the tools out there. This is the perfect dent puller for those people that need something to be compact and lightweight. It can also be used by beginners or professionals alike!
#4 FIRSTINFO Powerful Glass Suction Cup Dent Lifter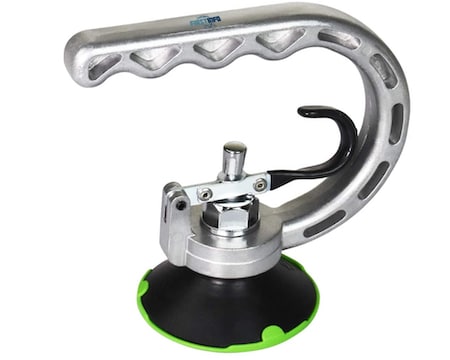 This type of dent puller is excellent for removing dents on any hard surface. It does not require an air compressor to operate as some other models do! With its patented design, it can be used on just about anything and in a variety of situations.
Furthermore, this suction cup is made out of high-quality rubber, which guarantees it will never break or crack when pressure is applied. They're also durable enough to handle the pulling force needed without tearing off prematurely, so you'll get your car's exterior looking new again with this device!
Expect the handles to provide safety because there won't be much strain put onto your wrists while using them. And thanks to their lightweight nature, these devices are easy to carry around as well as store. You can use it on a variety of surfaces, but best used for cars with large dents.
You don't need to be an experienced professional in order to fix dents because the repair process is simple and easy. Pulling out those pesky door dings isn't hard when using these types of devices! All that's required is having enough force applied over time, which will pop out any dent located in your car and truck panels.
#5 Inscape Data Mini Suction Cup Handle Lifters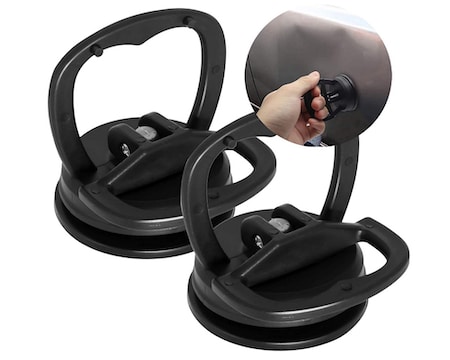 The suction cups are made from high-quality materials that will not break or crack when applying pressure. They can be used on a variety of surfaces but best for cars. It has a lightweight design, so it's easy to carry around and store!
Moreover, the handles provide safety because there won't be much strain put on your hands while using them. And thanks to its low price, this is an excellent device if you just want something quick and simple without too many complicated parts.
This type of dent puller also features maximum leverage, which makes pulling the dent easier on your wrists. With some practice, this suction cup should work well enough even though it may have trouble with those pesky dents located in hard-to-reach areas.
Don't be fooled by the size, and this is one of the best suction cup dent pullers on the market! You can also use it if you are a beginner or professional, thanks to its simple design. This device does not require an air compressor, so you don't have to worry about any noisy machines in your house.
The shell is made of aluminum alloy, which makes these tools durable and long-lasting. The lightweight size saves space which is perfect for those people that need something small to store in their car. With a low price, it's hard not to buy this device because you definitely will get your money worth out of these tools!
How to use a suction cup dent puller?
The costs for dent repairs at a body shop are also a thing to think about. You can save money if you decide to fix the dent in your car by yourself. However, repairing dents is not always an easy task to do.
This particular dent puller is not recommended for body panels that are curved like the hood or the fender. The suction cup may not be able to adhere as well on these types of surfaces and might pop off when pulled.
Furthermore, this type of dent puller can't do any damage to your car if it falls or rolls away for whatever reason, which makes it a lot less risky compared to other methods out there!
Here is a step by step guide on how to use a suction cup:
Before repairing dents, it is always best to clean the area.
Apply a little bit of Windex to the cup to help it adhere better and increase pulling force for removing dents.
Place one pad of your tool over the area where there is a dent in need of repair.
Attach it to some type of hose (the best option would be some sort of compressed air or electric-powered pump).
Turn on the power so that pressure can build up within the device's rubberized pads.
After this has been done, just wait for about five minutes before using it again because then you'll have enough pressure built up inside its surface to fix dents easily!
By following these steps, you can pull dents out without damaging your car. It is recommended that you use these tools in a ventilated area or outdoors. You can also use it on panels of washing machines, refrigerators, dishwashers, and other types of metal surfaces with no problem at all!
Should I purchase a DIY dent repair kit instead?
It is almost impossible to remove small dents with these suction cup tools. Most beginners or people who don't have much experience repairing cars would have a hard time using them the first time.
It may be smarter to purchase a DIY vehicle repair kit because you'll also have the tools for other types of dent repairs. Furthermore, If you're looking for something more versatile, then the DIY kit might be your answer.
A dent repair kit typically includes a glue gun, glue sticks, slide hammer, and other tools that can make pulling simple. Not having the proper tools to repair your vehicle can be discouraging and frustrating. This DIY kit is the perfect solution for those looking for a great value.
You have to take into account all of the accessories that the dent repair kit has before making a decision. You'll also get an instruction manual for easy reference, so you don't have to worry about messing up your vehicle and then not being able to fix it!
Can you pull a dent on a plastic bumper using a suction cup?
Yes, the suction cup will work on plastic bumpers as well. However, there are other methods that are better for fixing dents on bumpers. One of the best-proven methods to remove dents on a plastic bumper is by using a heat gun.
Applying heat in a circular motion around the dent will soften the plastic and make it easier to hammer out the dent from the inside. On the other hand, using a suction cup will take more attempts to remove the damage on your bumper.
It is best to purchase heat guns and slide hammers if you are looking for an easy way to repair dents on bumpers without any problems whatsoever! But if you decide to go with a suction cup, make sure you get one that can attach to any surface area.
When you buy a slide hammer kit, it will come with a glue gun, glue sticks, and some tabs, which can be build up a ton of pressure that pops out dents. This will give you more flexibility, and it will be easier for you to repair dents on your car.
Conclusion
A suction cup is a great choice for someone looking to fix damages on their car without the need for more complicated tools. It offers an easy way to remove dents from your vehicle, but you have to take into account some drawbacks before making this purchase.
Look for DIY kits instead of these types of tools because they come with all sorts of other accessories that would make pulling out dental easier! It will also give you access to a lot more different types of repair methods than what's offered by just using a suction cup for everything. For more info connect with us using the contact page.
Last Updated on: January 11, 2023