PDR Glue Stick Color Guide: Everything You Need To Know
Choosing the right PDR glue stick color can be a difficult task. It is important to know what temperature-based colors work best for your area. If you are unsure, our new PDR glue sticks color guide will help you decide which one is best! This guide breaks down all of the information about PDR glue sticks and how they function so that anyone can use them properly.
Before you start buying expensive paintless dent removal tools, you should really learn how such dent pulling tools work. Removing dents is time-consuming and requires a lot of skill.
What are PDR Glue sticks?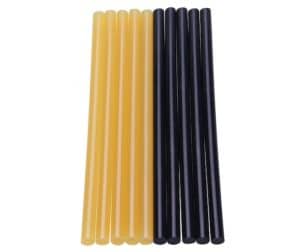 Paintless dent repair glue, better known as PDR glue sticks, is a type of glue that is heated up and used in combination with other tools to pull dents out of a car. These sticks are made specifically for paintless dent removal, and they are used in different auto body parts such as:
Fenders
Door panel
Hoods
Quater panel
Bumpers
The PDR glue sticks come in different colors, so it is important to know what each glue color is used for. This guide will break down how the various temperature-based colors work and when they should be used!
What type of glue sticks to use on the dent puller?
Most PDR techs will use different colors based on the outdoor temperatures. When you go to purchase a PDR kit, there may be times when the glue that comes with it would only work so far. For those looking to get professional results, it is important to know what you are using on the dent puller.
The actual color of the glue that you should use will depend on where you live. However, the color on the different dent tabs doesn't necessarily mean anything in specific.
Anson PDR company has put together a list of the different tabs to use based on the type of weather conditions.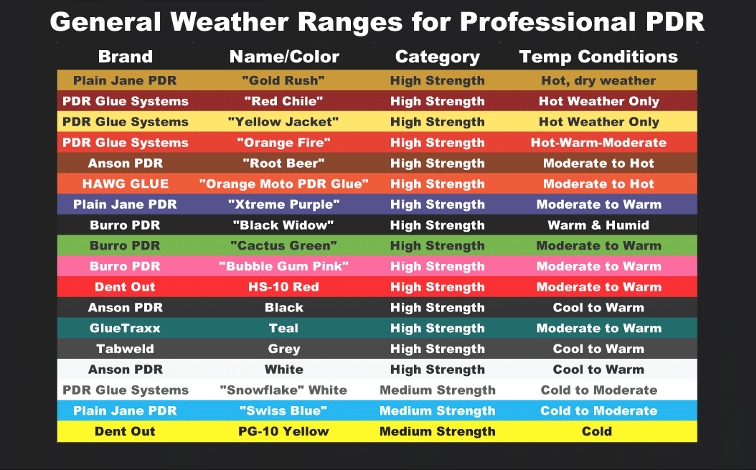 A hot glue tab should be used under a temperature range of 85 degrees to 100 degrees Fahrenheit. For cold weather, you should use cold glue tabs with a temperature range between 20 to 50 degrees. For warm to moderate temperatures between 55 to 80 degrees, the warm glue tab should be used.
Where can I find good quality PDR glue brands?
Now that you understand the difference between using a hot dent stick and a cold dent stick, you can go and find the right glue stick for your repair job or business. There are many brands that sell PDR sticks on the market.
Some of the best dent repair suppliers are the following:
Most of their supplies are created with the highest standards for those looking for a wide range of dent repair solutions. They have different tools that come in different shapes that will allow you to pull any dent out of your vehicle.
How do I choose the right glue gun for my PDR glue?
PDR glue guns come in two different model types, which are corded or cordless. These glue guns will make the process of PDR easier and more efficient. It all depends on your preference as to which type you want to use for your project.
If you have access to a wall plug, then a corded option is the best for you. The corded glue gun will provide more power and heat to your PDR project without having to worry about running out of battery.
On the other hand, the cordless option is best for people who don't have access to a power outlet. It is also great if you are looking for an all-around glue gun that can allow you to remove dings and dents while you are on the road providing services.
Can I use regular glue sticks for PDR?
No, unfortunately, those standard glue tabs that you find at a local store do not have enough pulling adhesive to work on metal. Not all glues are designed for metal surfaces.
Dent glue pulling requires a bit more effective and higher-quality adhesive. PDR adhesives are designed specifically for automotive applications and can be found in a variety of colors.
What can I do if my Paintless Dent Repair glue is not sticking?
The number one reason why your PDR glue does not stick to the car panel is because of the quality of the glue. If you are using low-quality glue, it will not adhere to the metal surface.
Another mistake many people make is that they forget to clean the surface before trying to remove dents from their car. Before you try to pull the dent out with a glue tab, it is important that you clean the area.
The third most common reason PDR glue does not stick is if you are heating up the glue with the wrong temperatures. In order to do a good job of removing dents with the glue PDR method, all of the previous steps must be completed.
What is the difference between black and yellow glue sticks?
It's important to know the PDR glue stick color temperature-based colors you need before purchasing any so that they will match your climate. The black tabs are designed for cool to warm temperatures.
And the yellow tab, also known as "hot glue," is designed for those who are working in hot weather temperatures. Both of these sticks are flexible and will work well for standard usage.
Does glue pulling really work on dents?
Yes, glue pulling is a well-known method that is proven to work. The adhesive sticks have worked diligently in the past and have proven to do so with effectiveness. The procedure can be done without a peel or scratch on the paint surface.
First, the PDR technician has to verify if the damage is repairable. If so, then the technician will use a heat gun to apply glue via special tabs. Next, the dent is pulled back into shape using a variety of glue pulling tools.
After the tool applies the pulling pressure, they spray alcohol and proceed to remove the glue using a glue remover. No matter what vehicle panel has the dent, the process is the same, and it is repeated until the panel is completely repaired.
Summary
It is important to find a glue gun that allows you to load the glue and then trigger the nozzle with ease. The right glue color tab will allow you to pull out your dents no matter what weather temperatures.
When you need to repair a dent on the road, it is important to have different color glue tabs in your bag. This will improve your effectiveness when it comes to removing dents.
Last Updated on: November 14, 2022