Best PDR Glue Sticks [Different Color Reviews & Guide] 2023
What exactly are PDR glue sticks? Paintless dent repair glue sticks are a type of hot melt adhesive that can be used in combination with other tools to pull dents out of cars. These PDR glue sticks are made from different materials and have different colors, which means they come in varying sizes as well.
They also range in temperature, so it's important to know what the project you're planning on completing requires before picking one up. You use these PDR glue sticks by melting them with a hot-melt gun that can either be corded or cordless.
Most people, especially PDR techs, have trouble finding the best PDR glue sticks because they don't know what to look for. This is why we created this list of the top ten PDR glue stick reviews!
What to look for when buying PDR glue sticks?
The first thing you want to do when buying PDR glue sticks is figuring out what type of project you're going to be working on. The color should match up with how hot or cool the project will be. Here are some of the most important things to consider when buying PDR glue sticks:
The Brands Quality
Not all brands of glue sticks are the same. There are a handful of PDR glue brands that you're going to want to steer clear of. With time and experience, you are going to know which brands are best for your type of work. Find a brand that has a quality control process in place and that you as a technician will be able to use without problems.
Working Temperature
Each color of the PDR glue stick is going to be designed with a specific working temperature. The higher the temp, the more brittle and less malleable it's going to be.
For example, solid black glue sticks are known to work best in hot temperatures. On the other hand, the snowflake white glue sticks are known to work best during cold temperatures.
Glue Strength
The color of the glue stick will not only define the weather it can be used in. But it also defines how strong the glue is going to be. For example, the cactus green is known to have high strength, while the Swiss Blue is known to have medium strength.
Removing difficulty
If you purchase a low-quality adhesive, you are going to have a hard time removing the dent or other imperfection. The material will not come off easily, and it might even leave a mark on your car's surface. Glue sticks should have an easy release, but still, they need to have enough strength to allow you to pull the dents out.
Now that you understand what to look for, it is time for you to choose the right glue for your needs.
Top 10 Best PDR Glue Sticks For Car Dents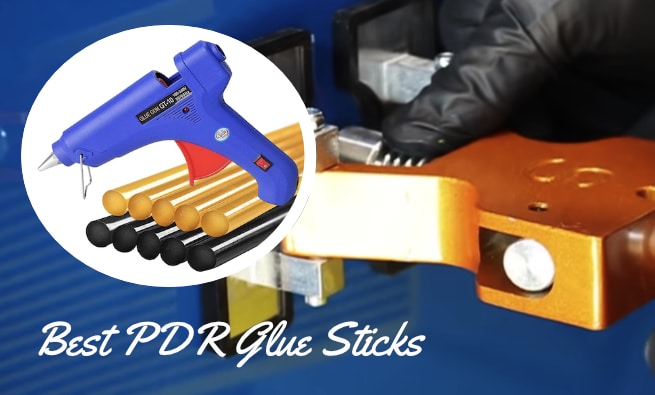 1. Tab Weld Gray PDR Glue Sticks For Car Dent Repair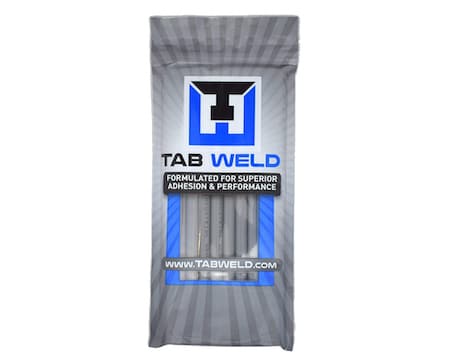 The Tab Weld Gray sticks are made from a high-quality resin that has medium strength. They are easy to handle and can be easily cut with scissors when you need them in different sizes. Also, they come in packs of ten, and they are wrapped tightly, so they stay fresh until the moment you want to use them.
You can expect a medium to high strength grip performance. It will stick to the panel but will have an easy release. If you have used a low-quality adhesive before, you will notice the difference right away after your first pull. To remove, simply spray isopropyl alcohol and peel with your fingers.
When removing these sticks, you won't need to use a thick metal to poke around the edges. This is a plus because it allows you to prevent scratches on the paint surface. The best part about this color is that it can be used in warm to cool weather.
2. Gliston Paintless Dent Repair Glue Sticks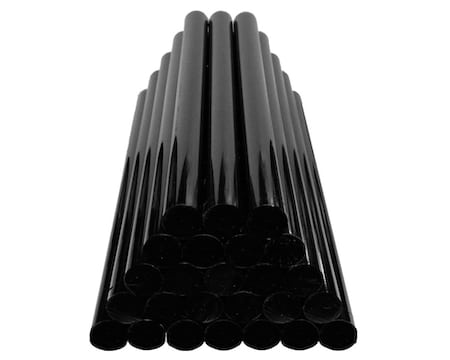 The Gliston brand is known to be consistent, and it supplies lots of different paintless dent repair tool kits. When it comes to their adhesive formula, it is flexible, and it is known to be very easy to work with.
You can expect a medium to high strength grip from these tabs. When you are pulling a dent with this glue, it will be difficult for the paint surface to scratch off because of its overall quality. This is a great adhesive because it applies smoothly and easily, without clumping up or getting too runny.
Their black formula has known to work well when you are located in an area that has a hot or humid temperature. Overall it is a great product that you should try if you are going to be working under the heat. When buying this product, you will put your money to good use, so it is a worthwhile investment.
3. Tequila Tools White Collision PDR Glue Sticks
Tequila tools are one of the best brands when it comes to PDR glue sticks. They have a wide variety of tabs that can work under different degrees of temperature. Customers love their PDR Collision White version because it has an easy-to-apply formula that dries quickly and peels off easily.
Most of the time, you won't even need a glue remover tool when you use this product. It is not a glue that you will find in any of the dent puller kits that are out on the market. It is known to work at its best when working on a 75-degree day and in direct or indirect sunlight.
If you are a picky customer, this will satisfy your needs. The bond of this PDR glue stick is strong, and it can be used with most of the hot melt glue guns on the market. Also, It is known to work on metal surfaces and does not leave any residue behind when you peel the glue off of your car.
4. Top Secret PDR Glue Summer Red – Best Hot Melt Glue Stick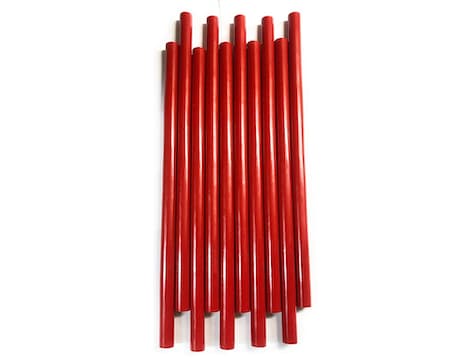 The best part about this product is the variety of warm weather where it works well, which makes it great if you live in a state with lots of sunshine like Florida. It comes with 10-inch sticks, which are great for PDR technicians that use lots of glue on a daily basis.
These sticks are known to work on warm surfaces, all while being easy to clean up if you need to peel them off your car after it has dried. Also, the bond this PDR glue stick creates is strong, which means less time repairing dents on your vehicle.
The manufacturer recommends using panels that stay at around 90 degrees of temperature. You will need to cool the panel if the temperature exceeds 90 degrees. It comes with helpful instructions that you can review for best use.
5. Tequila Tools Fire PDR Glue – Best Yellow Glue Sticks
Tequila tools make glue pulling a cinch with their Fire PDR glue. It comes in a bright yellow and easy-to-find package which makes it simple to locate when you need it on the job site. This PDR glue stick also has a longer shelf life than other brands since it's not as sensitive to exposure which means it can last a long time before expiring.
When searching for answers to what are the best PDR glues, this brand was one of the top search results. It seems it's not just a great stick, but it's also a great PDR brand that is well-loved by technicians.
Before just buying a PDR stick, it is important to consider the temperature they can handle. If you have a job that keeps your panels at a cool to warm temperature, this PDR glue stick would be something worth testing out. Try it with your favorite paintless dent repair puller.
6. QLOUNI 15pcs Black Glue Sticks Dent Removal Tools Set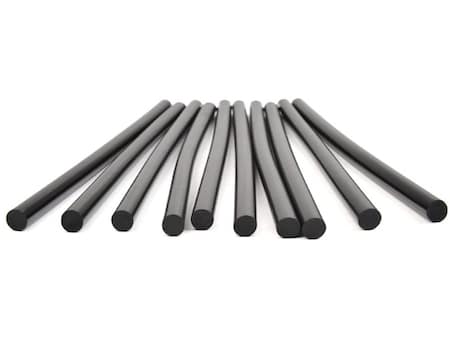 Most of the hot glue packages come with ten tabs. However, the QLOUNI company offers 15 tabs per package. That's five more in every pack you buy. As far as strength goes, this PDR glue stick seems to be as strong as any other.
This PDR glue stick is perfect for beginners as well as seasoned pros that want to try something new. These are also great if you're fixing up a few dents on the side of your car and don't need many sticks at once. If you are working with a bridge dent repair puller, this glue tab is a perfect choice.
QLOUNI makes its sticks out of an environmental EVA material that is non-toxic and recyclable. Not only are they more environmentally friendly, but these PDR glue tabs also contain a higher level of strength. You won't require the use of heat to soften the glue after it dries.
7. Top Secret PDR Orange Glue Sticks Paintless Dent Repair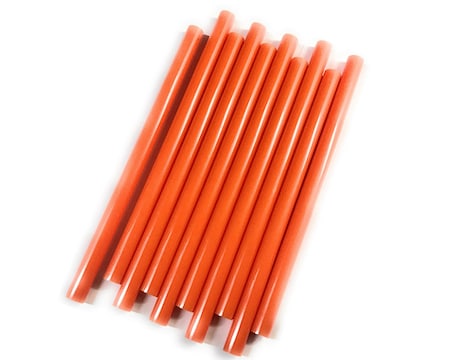 It is no secret that this glue stick sample pack is one of the best ones on the market. This pack contains a set of ten high-performance orange glue tabs that can melt quickly and are easy to remove from the car's paint.
The manufacturer recommends using this glue with large pulling tabs. As far as panel temperature goes, you can use them when working on a panel that is around 70 degrees. Basically, these glue sticks are best used if you live in an area with moderate to hot temperatures.
It is considered a high-strength stick, and it is worth the money. They take a little more time to dry than usual, so you'll need to plan accordingly. It's also not as strong if used outside in super cold temperatures. Try to use them under warm conditions for the best results.
8. JMgist 20pcs Paintless Dent Removal PDR Glue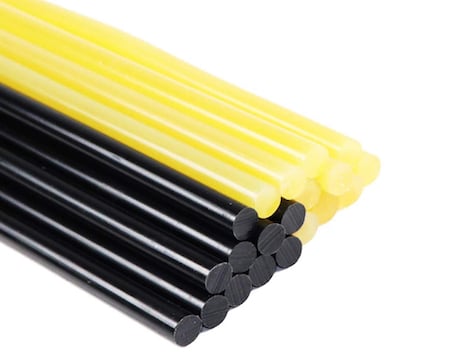 JMgist provides 20 units in this package. It is very easy to use, and it's not too difficult to clean up afterward. When you use the glue, it dries relatively quickly, which makes it a great solution for those who need to remove a dent in less time.
The package contains a combination of ten black sticks and ten yellow sticks, which is amazing because it allows you to work under different weather situations. The yellow sticks will work under hot and dry temperatures and the black under warm and humid temperatures.
When it comes to return on investment, this package is of great value. It's not the cheapest product out there, but it will provide you with enough sticks to last for quite some time. Cleaning them requires only alcohol, which means saving on other expensive tools.
9. Cactus Green Paintless Dent Repair PDR Glue Sticks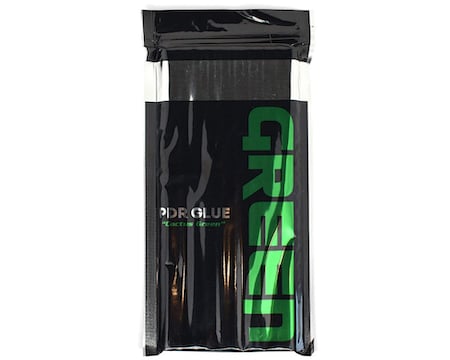 The Cactus Green glue is known to work well when using a slide hammer or any other PDR tool. It is specially formulated to work under warm and humid temperatures. These professional-grade tabs are also the best when it comes to adhesion and durability.
This package comes with ten sticks which means there is no room for testing. However, you won't need to buy more anytime soon because these sticks are known to have an excellent pulling performance. It is not a glue that can be found in regular dent repair kits.
You will have to purchase this package if you are looking for glue that can be used in all types of PDR situations. Cactus Green is known to work well if you like in a moderate to warm environment and is one of the best choices for PDR jobs. The glue shrink wrap in this package has a nice tight seal.
10. Manelord Car Body Paintless Dent Removal Glue Sticks With Glue Gun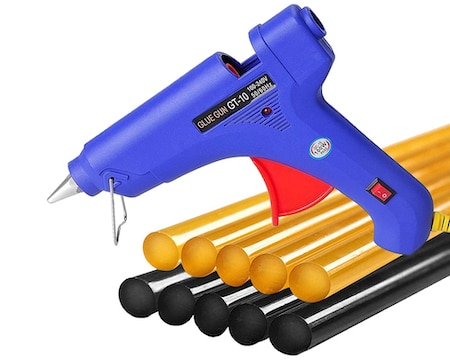 This kit from Manelord comes with a hot melt glue gun. You can use this glue in any situation, and it will not crack. There are ten sticks that come with the kit, which is a good amount for someone who wants to remove multiple dents.
It is a reliable option for both metal and plastic surfaces. The color of the sticks is yellow, and they seem to work well when the panel is around 70 to 85 degrees of temperature. So if it is summer, you might want to be careful when using this. It is not easy to clean up the glue, so make sure that you have a wet rag and some alcohol.
The Manerold brand is known to have decent quality, so if you are on the market for PDR glue sticks, then this could be an option. Additionally, the color is easy to see, and they work in most situations. You can't go wrong with this PDR glue stick.
Best PDR Glue Stick Buying Guide
The best thing you can do is keep an eye on the temperature that you will be working in when deciding what type of PDR glue stick to purchase. Most brands have done a great job of assigning the correct color to each PDR glue stick.
When it comes time for your next dent repair job, do not hesitate to purchase one of the best PDR adhesive sticks on this list, and you will be sure that you have everything needed to get the perfect result. You just need a cordless or corded glue gun to melt the glue, and you are ready to go.
The type of PDR adhesive stick that you buy will also depend on the body part that you will be using it on. In most cases, you are going to want a PDR glue stick that is strong enough to pull the dent out of the body part that you are going to be working with.
What type of glue gun should I use to melt glue sticks?
When working with PDR sticks, you want to make sure you buy hot melt glue guns. These come either with a corded or cordless use. You will want to make sure that you get the right type of glue gun for your work. We recommend checking out the Elimadent 20V Hot Glue Gun.
Can I use regular glue sticks for PDR?
No, regular glue sticks are not strong enough to use for PDR. You need an adhesive that creates a strong bond when heated, and paintless dent repair glue sticks are perfect for that. There are many different brands on the market to choose from, but not all of them will work well with your situation.
Can you remove hail damage using PDR glue?
Yes, you can remove dents caused by hail damage using glue tabs. However, most PDR techs will prefer to use other PDR tools such as rods or slide hammers. With the help of a rod, a reflector board, and some PDR lights, you can do a very good job of removing dents.
The location will determine if the use of glue sticks will be the best for you. PDR glue is not a magic wand that can remove anything, but it does work well with certain situations. Contact a local body shop if you need to know more about PDR services.
Summary
The PDR glue sticks are the best option when you want to remove damages on doors and other parts of your vehicle. They come in different colors, and each color has a specific temperature that they work at, so it is important for the user to know what type of color to use.
Paintless Dent Repair Glue Sticks can do some great things with your car's body, including removing hail damage or dents caused by sharp objects. You can achieve great results when the glue sticks are heated up and used in combination with a slide hammer, reflector board, and some PDR lights.
Last Updated on: January 11, 2023