Best PDR Light Boards & Reflector Boards: 2023 Top Reviews
If you landed on this page, then most likely, you are looking to get better results when it comes to removing dents. Most technicians will tell you the best way to be successful is by using PDR lights.
PDR lights are a great way to make sure you get the perfect dent repair job every time. There are so many different ways that these boards can benefit technicians when they're performing their job.
Some advantages include being able to see dimples on metal surfaces easily, distinguishing raised dents from recessed ones much more quickly, as well as not having any reflections or glare coming off the surface, which would make it difficult to work on.
You can use them in any situation, whether it's what you're working inside or outside, and they help you improve your workflow. They come in different models, so we've compiled some reviews of the best PDR light boards for your convenience!
What to look for when buying PDR lights?
PDR lights offer a number of different features that make them better for the job. Some of those include:
Surface area
A large, wide surface area on which to bounce light in order to cover more ground.
The surface of the board as well is also important because it's going to affect how much light will bounce back and forth off of it. Some boards use a white or sandpaper-like material for this which helps light reflect evenly.
Distribution of brightness
Lights with an even distribution of brightness across the board and not just one spot or certain spots – this means that you won't have any dark areas where it's difficult to see what's happening.
You want to look for a line board that has different light settings, so you can repair any dent no matter what color the car is painted.
The type of gooseneck
Adjustable goosenecks so you can focus the lights wherever they need to be without having them pointing at parts that don't need an inspection. Find a board that you can adjust easily to get that perfect reflection of the dents you're working on.
Power sources
The power source is also something to keep in mind – some have an external power cord, while others are battery-powered. You can save money if you purchase a board that is compatible with your current power tool batteries.
Best PDR Light Board For Paintless Dent Removal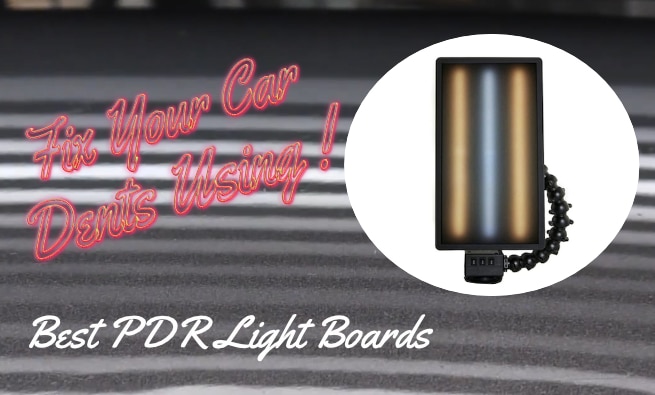 1. Dent Magic Tools 14-Inch Light Boards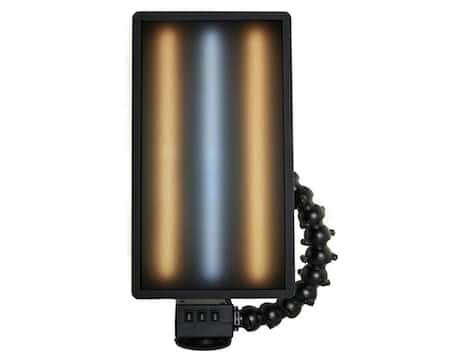 These reflector boards are made to allow for optimal visibility, especially in dark areas. It should have an even distribution of brightness across the board and not just one spot or certain spots – this means that you won't have any dark areas where it's difficult to see what's happening.
An important feature to note about this line board is that it has a built-in dimmer switch that can be operated with fingers. This gives you the flexibility to make adjustments on the fly.
The unit brings adjustable goosenecks so you can focus the lights wherever they need to be without having them pointing at parts that don't need to inspect.
It's also strong enough that it won't break when dropped – an important feature for those who work in dealerships. Something to keep an eye on is the option to use Dewalt 20V batteries. Which means that if you already own other Dewalt tools, you can probably use the same batteries.
2. WHDZ LED Double Panel Reflector Boards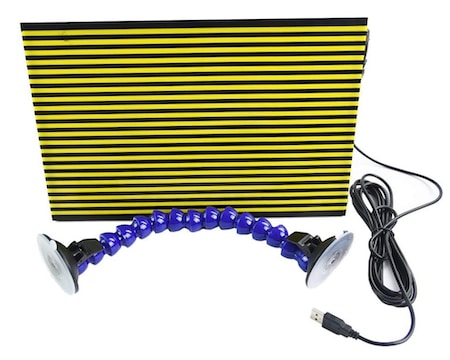 This reflection board was built with a sturdy aluminum construction that can withstand the rigors of daily use without showing signs of fatigue, and it's small enough to store in tight spaces when you need some extra space on your bench.
What is the best part about this line board? The price, you won't have to pay a lot of money for it which is great if you are on a tight budget. The gooseneck has an articulating head that can rotate, so it's easier and allows you to view and inspect different areas of the dent on vehicle parts with angled surfaces like fenders and doors.
A versatile feature of this reflection board is the yellow and white double panel. This can help you repair dents in a car when working under multiple lighting conditions. Another crucial feature of these light boards is the suction cup base.
Most users love the suction cup of this unit because it doesn't scratch any surfaces, and it's made out of a super soft material that won't hurt your car's paint job. It is designed with lightweight aluminum construction, and you can quickly fix a car dent just by aligning the reflected lines of the board.
3. Dentmagic Tools 13-Inch Line Board with LED Lights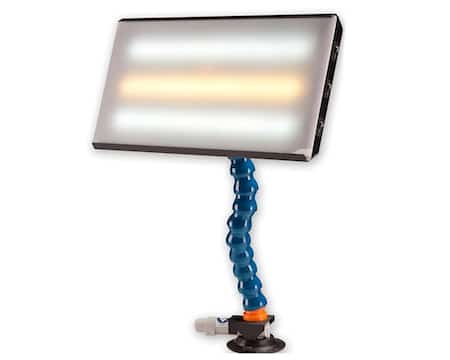 An excellent choice for paintless dent removal because it uses a white paper-like material that helps reflect light evenly, making them a more desirable product. When you're inspecting dents, the last thing you want to see is a hot strong light in your eyes.
These reflection boards have high-quality LED bulbs on each side of their surface to prevent this from happening. The good thing about this reflector board is that it's lightweight and compact enough to fit into a PDR toolbox.
Also, they come with a suction cup that allows you to fix it securely in place, so they never slip out during repair procedures. If you are trying to search for a line board that has durability, this is a perfect option for you. A great product that works well with the PDR process because of its high-quality metal casing design.
You would need to be careful when working with this reflector board because the casing is a bit harder than other boards. It also has three lighting settings (warm, cool, and bright), which comes in handy when working on cars at night because they can use them as spotlights to illuminate dark areas! If you're in buying the best boards, then try these first!
4. WOYO PDR Line Board For Paintless Dent Repair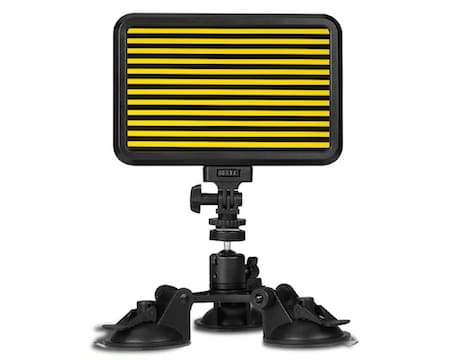 WOYO PDR line boards have a special LED lighting system that allows a color temperature from around 3200K to 5600K, which is perfect for working on different colored cars. The lightweight design also makes this product a desirable one because it is super easy to carry.
WOYO made these PDR tools for those who are interested in a compact design. This light board is extremely portable, so you can take them anywhere ‍— even if you work at home! This allows for various car repair jobs around your shop. You won't have any problems with bending or breaking because of how durable these are made.
They can take some heavy use without getting damaged easily at all! What is the best thing about this board? It has an integrated suction stand for hands-free operation. This means that you can work on your vehicle without having to hold a reflector board in an uncomfortable position.
5. DentMagic Tools Paintless Dent Repair LED Light Stand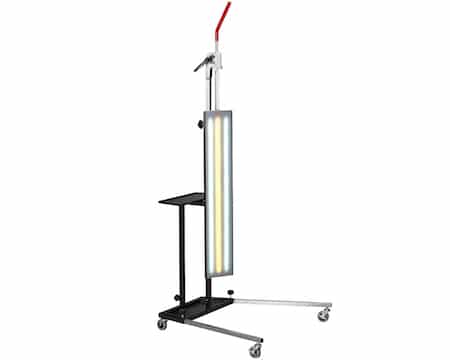 Great fit for those shop owners who are looking to upgrade their current lighting system or those who have dent repair issues due to lack of adequate lighting. This product provides up to 1700 lumens per square foot – that's way brighter than most other products out there!
If you really want to able to see what you're doing, then it's a good idea to invest in these light stands. With the amount of light that it emits, it is almost guaranteed that you will be able to fix any car dent. It rotates 360 degrees and can be fixed in a straight position by adjusting its base and arm.
These LED Light Stands have been engineered with the best features available on the market today. No extra plugs are needed as this one comes with an external power supply that can run off either 120v or 240v. However, the price is very high, so if you're looking for a cheaper option, there are other ones.
How to use PDR light board
Now that you know how to search for the right line board for your situation, it is time to learn how to use it. As you know by now, the paintless dent removal process is fairly complicated, so you will need to have patience.
Follow these steps to use the light board in an efficient way:
1. Clean the area you want to work on thoroughly. Avoid mistakes by making sure there is no dirt or glue residue on the surface of your vehicle when you start pushing out dings.
2. Place the board so its top side faces upwards, and turn it on by pressing the power button at its base (or if mounted in an arm, then turning its knobs). The light should come on instantly but for best results, let it warm up for 30 seconds before use.
3. After, use your equipment to identify the mark of a dent, adjust the light according to the reflection of the dent.
4. Now it's time to start pushing on the car dent. Use your PDR tools to apply force on the distorted lines.
5. When you're finished working, turn off the power switch for safety reasons before moving around any equipment.
You are now ready to start your work on the next dent. Try not to over-push the dent, or you might cause more damage to the car. When it comes to PDR dent repair, you want to make sure you do not overwork the panel.
Last Updated on: January 11, 2023