How to Clean Car Windows Without Streaks
A film of dirt and grease can build up on the windshield of your car. Whether it is the environment, dust, or even bird poop, it can be challenging to see, especially at night, if there are streaks on your windshield. The interior of your automotive glass windshield can also become dirty from smoking, from outgassing from the dash under hot conditions and dirt blown at the inside of the windshield from the AC or heating system. These streaks and film on the glass can make it challenging to drive at night due to glare from oncoming headlights. You can do your auto glass detailing at a much lower cost. A cleaned window is so much easier to see out of. Continue to read so you can learn how to clean car windows without streaks.
Cleaning the front windshield without leaving streaks
The first step to cleaning the windows of your vehicle is ensuring you have the proper tools for the job. These tools comprise of, towels and cleaners. Most of us like crystal clear windows but try to escape their cleaning. Streak-free car windows improve visibility through them and even compliment a shiny body.
Though it seems a laborious process, cleaning car and truck windows is a relatively easy task. As long as you have proper tools, cleaning the windows is a straightforward task. Try out this, and I am sure you will make your windows clean and have streakfree results.
Watch this quick video from ChrisFix on how to clean your front windshield:
Tips on how to clean the front windshield without streaks
Always use clean microfiber towels to avoid leaving lint on the glass or scratching the car. Paper towels can be used but may leave lint on your glass. Only clean half the window at a time and use standard glass cleaner. Using the cloth, rub in circles, don't forget the corners or the trim at the edge of the window. Use a new section of a towel whenever you see dirt building up on your microfiber towel. Finish by rubbing up and down the window with a clean towel
The next step uses a clay bar to remove those difficult to remove particles on the glass. Rub the clay bar again in circles, moving to a new section only when the bar moves freely with no resistance. Use your favorite glass cleaner and wipe clean once again using clean towels to get your windshield perfectly clean. Finally, dry with a dry microfiber cloth to remove any lint or remaining particles from the glass. Clean the rubber seals around the window to complete the job.
Complete the job by applying the wax onto the glass and buffing it after the wax has dried. Never use steel wool or a straight edge to avoid any risk of scratching the glass. Clean the wipers with glass cleaner and clean towels as well. Avoid using alcohol, which could dry out the rubber.
Common types of car window cleaning products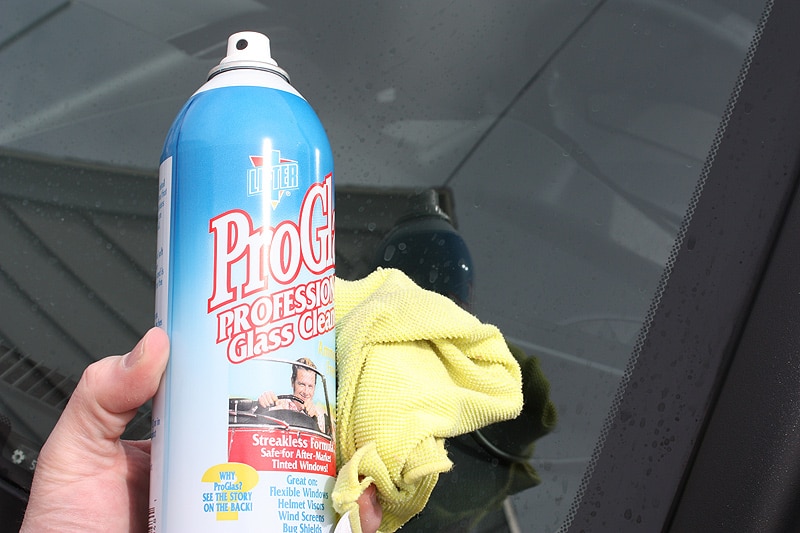 There are a variety of cleaning agents and products available to clean your windshield. Readers can use microfiber towels that absorb moisture, clean your windshield thoroughly, and do not leave lint on the glass. Use a superb quality glass cleaner to clean the glass, as mentioned earlier. Car owners can use the same wax they use to wax their cars for the windshield. Many people find that wax works better than Rain-X and lasts longer as well, although there is more work to apply and remove the wax from the glass.
Some of the products used to clean the front windshield are very similar to the one's used to clean hard water spots on a car. Cleaning your car window is extremely important so you can have a clear vision of your surroundings. Here are come of the leading products you can use when you are trying to clean your windows without leaving streaks:
Microfiber towels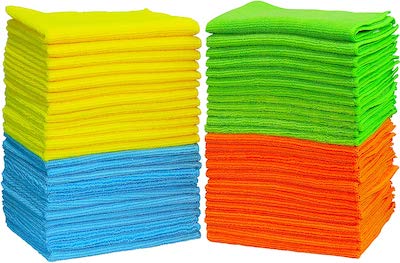 One should choose enough microfiber cloths while cleaning the windows. Although most people liked newspapers, experts do not recommend them if you want a clean window with no streaks. Paper towels are not good at cleaning the windows as they mostly leave streaks.
The towels used should be surgical or microfiber towels. Both of these types are lint-free and highly absorbent. These characteristics ensure that the towels absorb all the cleaner from the window and leaves a streak-free glass. Microfiber towels are also gentle in scrubbing the car windows.
Auto detailers recommend the use of at least for towels in cleaning car windows. Use two towels for washing, and the other two are used drying the class.
While cleaning the towels, one should not use fabric softeners as they will cause streaks while cleaning the glass later. The towels should not be washed with other towels as that may also cause streak remains while washing the glass.
Distilled water
Distilled water is a perfect cleaner to deal with tinted windows. It is cheap, readily available, and odorless, unlike other cleaners. The most significant disadvantage is that it cannot remove oily spots and will leave smudges. Try to use warm water when you are trying to clean any glass surface. You can purchase a spray bottle to administer the amount of water that you need to get your windows clean and with streakfree results.
White Vinegar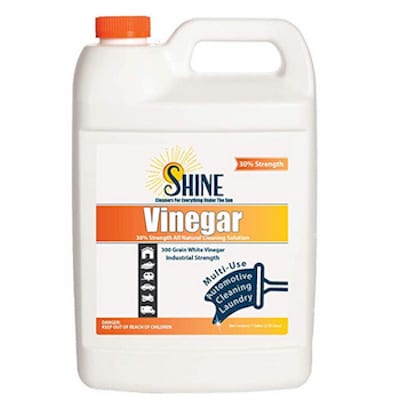 White vinegar based cleaners are safe for the environment. Vinegar is also an excellent cleaner as it kills bacteria and mold. Its tolerance to tints makes an ideal car window cleaner. It's a disability to remove oil-based stains on windows makes it not a choice to use for oily glass. The smell might also be harsh to other people.
ZEP Glass Cleaner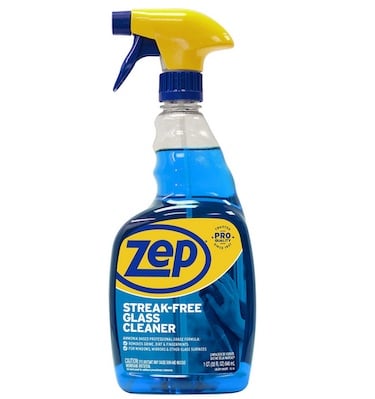 ZEP glass cleaner is available in stores as well as online. Their products are available to clean many different items, including car windshields, motorcycle windshields, bike parts, and much more. Use their drop-down menus to select the products suitable for cleaning your windshield.
This cleaning product has a sweet smell and works very well on dirty windows. It removes all the oily stains, and with proper cleaning techniques, no streaks will remain on the glass. It is a biodegradable cleaner. The ZEP cleaner is well known to be used for cleaning the inside car glass, windshield, and window.
Black Diamond Quick Glass
Black Diamond Quick Glass claims that consumers can have streak-free glass that also resists soil, grease, and water spot build up on the windshield. This product can also be ordered online for delivery to your home or office. Again use this product following the steps outlined earlier for the best results.
Though the smell is a bit harsh, this cleaner removes grease and other notorious stains in a glass without leaving smudges. When you know how to clean windows without streaking, this will surely not leave any streaks.
Invisible Glass Premium Glass Cleaner


Invisible premium glass cleaner is another car and glass cleaner product that is very popular with car enthusiasts. This Invisible Glass brand can be used to clean your car's window following the steps outlined above. This product can also be purchased online for delivery to your home or office.
The invisible glass cleaning solution fragrance is not very strong. Though more expensive, this streak-free product is good at cleaning and leave no smudges on the windows.
Clay bar

A clay bar is very useful to remove all of the small hard to see particles that are stuck to the windshield. Rub in a circular motion until the bar moves freely before moving onto another section. After using the clay bar, apply glass cleaner to the glass and clean the windshield with clean towels once again. Your car's window should be perfectly clean on the outside with no streaks.
Car wax
Using car wax or car polish on a windshield helps to bead up water and also helps to stop bird poop from sticking on the windshield. Use regular car wax and apply in a circular motion until the entire windshield is covered. The car wax should be dry before you attempt to remove it. This can take five minutes or more depending on local weather conditions. Test the wax to ensure it is dry before buffing it with a microfiber towel again moving in a circular motion and finishing with a clean towel in an up and down motion.
Other essential cleaning products for front windshield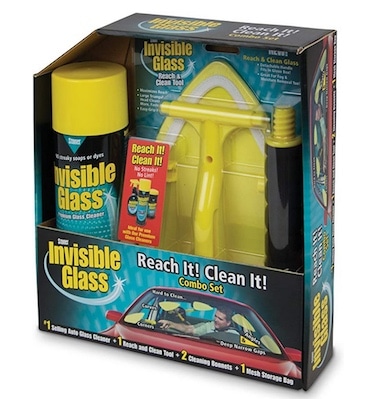 Times, one requires other tools to make the car window cleaning task excellent. These tools may include a clay bar and a car wax paste. There are tools that are designed to reach the edges of the windshield or other windows that you may not reach with your bare hand. We found that the Invisible Glass reach and clean tool kit comes in handy when cleaning the interior windows.
After gathering these essential tools for cleaning windows, you should seek for the technique. Different people have different approaches to cleaning car windows. Others prefer starting with all windows from inside while others prefer starting from outside. The difference in attitudes should not affect the degree of cleanliness. All the same, you just have to ensure the windows are streak-free.
Other tips for cleaning car windows without streaks
Even with the best of the best car glass cleaner, with no proper towels and techniques, one may not manage to clean the glass to crystal clear perfection leaving no streaks. Hopefully, here you can learn to know how to clean car windows without leaving streaks. This approach should be appropriate only if you use the proper tools. Keep in mind that cleaning your windows may be time-consuming.
With a final clear glass with no smudges and streaks, you can feel proud and a sense of belonging. It also helps any driver have a clear view of the road. Here are some crucial tips before you start cleaning your front or rear window:
Don't roll down your windows after you wash them. Wait until the cleaning process is completed, and the windows are dry.
Some people say that it is good to use more than one cleaner for the best result. This type might be somehow expensive.
Spray the window cleaners directly onto the outside window and use water as the second clear. The use of water and vinegar will ensure streak-free windows at a relatively low cost.
Some detergents might temper with the rubber used to hold the window in position. The cleaners used should, therefore, be rubber friendly to ensure that it does not temper with rubber. Avoid using rubbing alcohol to clean the rubber of the windshield wiper blades.
Some places like front windshield corners are hard to reach cleaning inside of the windshield. These parts necessitate the use of special automotive glass cleaners designed especially for the task.
How to clean the inside of car windows
Cleaning the inside of your cars windshield can be difficult and awkward. It is not easy to reach some areas of the glass, and then there is the steering wheel in the way. Clean the inside of the windshield from the passengers seat to gain easier access. However, if the inside is not cleaned as well, there may still be streaking and a film on the glass that can be seen, especially at night.
The residue on the glass can be caused by several sources. For example, an oily film from off-gassing from the interior vinyl dash and cars interior fabrics is caused by the hot sun baking the dash. Also, smoking leaves an oily residue on everything. The AC and heating systems can also deposit particles on the glass.
Always clean the outside of the windshield first. It is much easier to see streaks on the inside when the outside is already clean. This applies to all interior windows.
Here's a quick video from ChrisFix on cleaning the inside windows:
Follow this steps for a streak-free result
Start by using a microfiber cloth to clean the inside of the windshield. Use a circular motion and then an up and down motion to finish. Change the cloth for a clean one whenever the cloth is dirty. Avoid allowing the cloth to touch the dash since the cloth will pick up contaminants from the dash and may transfer these contaminants to the glass. You may have to use a back hand method to reach some of the more challenging areas of the windshield.
Next, use a Mr. Clean eraser or alcohol to further clean the glass. If you use alcohol, spray it onto the cloth to avoid dripping onto the dashboard. Again, clean the glass in circular motions followed by up and down motions. Always dry the windshield and do not allow the cleaner your using to dry on the windshield.
For the final step, use your favorite glass cleaner to complete the job. Spray the preferred glass cleaner onto the cloth and use a circular motion to clean the glass. Always monitor your cloth, and it is beginning to show dirt, flip it, or get a new one to continue cleaning. Dry the glass and observe for any areas that may need touching up.
Tips for cleaning tinted car windows
There are several standard tips that will help you achieve a clear windshield without the telltale streaks that show up at night from oncoming headlights from vehicles.
Always use a clean cloth to wipe the windshield, microfiber clothes that do not leave lint
Always wipe the glass in a circular motion, follow by up and down motion
Avoid drips on the dash which could leave stains
Spray directly onto the cleaning cloth and not on the windshield
Use good quality cleaners
Clay bars can remove many hard to remove specs on your windshield
Clean the automotive glass in the shade avoiding the hot sun
Applying wax to the windshield can last longer than products like Rain-X
Use a backhand method to clean the interior glass of the windshield
The tinted glass should be treated more carefully when cleaning, window tinted glass can be damaged by some cleaners, this includes tint glass and invisible glass products
Use glass cleaner to clean the rubber on the windshield wipers; alcohol may dry out the rubber
Microfiber cloths work best, have lots of them on hand to do a thorough job.
Wash your car in the shade to avoid premature drying
Choosing a window cleaner for tinted windows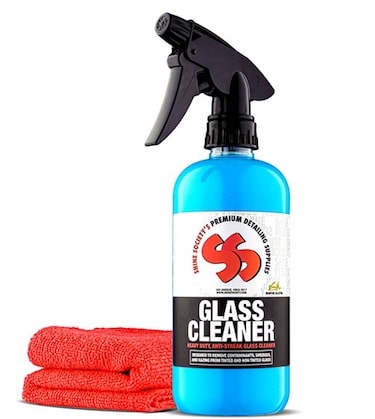 Everyone has different stories of their search for the best cleaners in the market. There are many types of cleaners, depending on the ingredients used in their manufacture. This variety also diversifies the type of stains they clean in the car window. Although nowadays most cleaners remove a lot of stains, there are other cleaners that do not remove some stains like oil based stains. A cleaner composed of a mixture of water and vinegar, for example, does not remove oil based stain in a window unless it has an aftermarket tint.
One should choose a good cleaner that suits his/ her taste. You should take your time and read the ingredients before making any purchase. A good cleaner has chemicals that are not harsh and does not leave smudges and streaks on the window. We found the Shine Society product suitable for both car window tinted and non-tinted.
Cleaners that contain ammonia, alcohol, or detergents are not the best as they mostly leave streaks or smudges. A good cleaner should also not temper with the window tint film.
Things to avoid when cleaning car windows
There are several things to avoid when cleaning car windows:
Do not allow the cleaning clothes to touch the dash to avoid picking up contaminants
Do not use alcohol to clean the windshield wipers, using alcohol for wiper treatment may dry the rubber out
Make sure the wax is dry before wiping it off the windshield, wet wax can leave a smudge
Just like car washing, whenever you are cleaning your vehicles windshield stay out of direct sunlight to avoid premature drying
Do not allow the glass cleaner to dry on the windshield
Do not use dirty clothes to clean windows, change them often
Do not use steel wool or sharp edges to clean the glass to avoid scratching the glass
Test drive your car at night to observe your clean windshield. Many drivers will be amazed at how clean the glass is and the reduced glare from oncoming traffic. Drivers will appreciate your auto detailing efforts with clean glass.
Conclusion
Usually, one should apply the cleaner onto the window directly, not on the towel. The towel should be used to spread the cleaner on the glass. Also, it is highly recommended that you start from the edges towards the center. Up-and-down or sideways motions should be used while using the cloth to wipe during cleaning. Be careful with tint film as it can come off with some products.
Cleaning car windows in the sun is a bit hard. One should, therefore, find a bright spot to clean the glass windows. Some streaks may not even be visible in sunlight. So, you should choose a shade to make your environment comfortable. Don't forget to clean the windshield washers to keep your front windshield glass surface as clean as possible. You can apply the same method to clean the rear window as well.
Read our latest post on how to remove hard water spots from your car's paint. Also, don't forget to do special wiper treatment to the rubber seal around the automotive glass.