What Size Air Compressor Do I Need to Paint a Car? [SOLVED]
Having the right tools at hand always makes the job easier and usually improves the overall quality of the job. Trying to make do with an underrated compressor, and poorly matched to a paint gun can not only ruin the paint job, but it may also make it even impossible to paint a car. So, what size air compressor do I need to paint a car?
Air compressors can also be used for a variety of other tasks around the workshop. Before you settle on an air compressor, list the tools that might run off compressed air to ensure the air compressor you purchase will meet all of your needs.
There are several factors to consider when it comes to purchasing an appropriate size air compressor for painting cars: the size of the tank, the compressor CFM rating, the air pressure rating or PSI, the amount of horsepower, and how it runs. It is recommended to purchase 60 gallon compressors or higher capacity to achieve consistency in your car painting jobs.
Should you get a belt-driven air compressor and reciprocating or rotary screw air compressor? Also, is this a single small auto painting job, or will you have multiple large painting projects involving the entire car? Air compressor sizes vary a great deal from small portable models to large fixed in place models.

Powermate VX PLA4708065 80 Gallon Air Compressors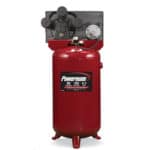 Compressor has an oil-lubricated pump
Used with most automotive spray guns
Features 155 max psi pressure and 14 CFM
Air compressor body consist of full cast iron
Does the air compressor need a specific amount of horsepower?
A low horsepower machine that can deliver sufficient CFM and pressure should be more than sufficient. Remember that horsepower is the amount of work that can be accomplished, in this case, the air compressor.

For most do it yourself mechanics, the air compressor is going to be used for a variety of tasks around the shop. While a small HP compressor might meet the needs to paint your vehicle, a more powerful machine can usually run other power tools that are acquired from time to time.

Think long term and the different tasks you may need an air compressor for. Going with a larger horsepower machine is usually the best choice as long as you do not break your budget.
What amount of pressure (PSI) does the air compressor need?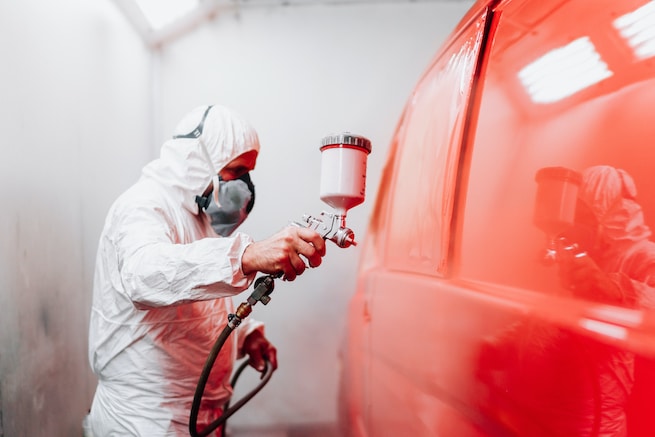 Essentially you need to match the amount of air pressure or PSI ratings to the paint gun you plan to use. Typically, a high volume, the low-pressure spray gun can run on 10-15 PSI, and most air compressors can easily handle this level of PSI.

Getting the PSI level right is one of the most important factors when it comes to painting a car. There are other elements as well; however, to achieve an even coat of paint, it is important to match the air compressor PSI with the requirements of the spray gun and the type of paint being used.

If you are planning to add a clear coat to your paint job to protect your paint and give it a nice finish, experts suggest increasing the PSI from the 15 PSI range to 20 or 25 PSI range.

Always follow the instructions included with the spray gun kit and the requirements of the type of paint being used. If the pressure dropped while painting, the results would be less than satisfactory.
Does the tank size matter when it comes to painting a car?
The tank size does matter. A small tank could cause an uneven flow of paint, leaving an undesirable paint finish, which would require re-sanding and repainting.

Most experts suggest that purchasing an air compressor with at least a 50-gallon air compressor tank is sufficient. However, tanks with 60-gallon air compressors or more are preferred.

If your budget allows, purchase the largest tank you can afford and store in your painting area. Are you planning to do a lot of painting using the air compressor?

You will be more than satisfied with a larger tank and the results you can achieve compared to using an air compressor with a smaller tank. Smaller compressors are typically used to inflate car tires with a nail on them.
What does CFM rating mean?
CFM is the number of cubic feet per minute the air compressor can deliver to the paint gun. It is important to match the CFM rating of the air compressor to the paint gun and also have sufficient capacity to deliver a quality paint job.

Many body shops utilize compressors with a 14 to 18 CFM rating. If you are doing straightforward touch-ups and cosmetic enhancements, you can probably survive with an air compressor that delivers low CFM.

However, for larger jobs, a higher rated compressor should be used. Otherwise, you may find that the paint job is not uniform across your vehicle. Some areas of your car are better painted than others. Base coats and clear coats should also be applied using compressors with a higher CFM.
How many CFM do I need to paint a car?
Professionals use air compressors with a CFM of around 14 to 18 CFM and paint guns that also have similar ratings. These compressors deliver a uniform paint job across the entire surface of the car. Also, base coats and clear coats require higher CFM ratings to deliver uniform coverage.

In many situations, consumers are retouching their vehicle and just need to paint a small area. Perhaps touching up a fender or door panel that was scratched. Air compressors with lower CFM ratings of around four can be used.

Although more expensive, it is often better to purchase an air compressor with higher tank capacity and CFM ratings, since you never know what paint jobs are in your future.
Recommended air compressor sizes based on the type of spray guns
It is important to match the spray gun with the compressor specifications. Having mentioned this point, readers should be aware that matching a professional spray gun with a smaller capacity air compressor, e.g., tank capacity and CFM rating is also possible.
Operators cannot run the spray gun continuously or nonstop. They will need to stop painting for a short time while air pressure rebuilds in a smaller tank.
Air compressors for HVLP spray guns
Porter Cable 80 Gallon Single Pass Air Compressor

Suitable air compressor to paint cars
Equipped with synthetic oil for long life
Compressor comes with Iron crankcase
Stainless steel leaf valves & tank pressure valve
HVLP (High Volume Low Pressure) spray kits operate at a lower pressure; however, they need a high volume of air to convert the paint to an aerosol as it is sprayed onto the surface of your car.
Higher CFM air compressors are required to work with HVLP spray painter guns. Note the spray gun paint kit's specifications to ensure your air compressors and spray gun specs match.
Automotive HVLP paint sprayers have several advantages. There is less overspray allowing for more accurate painting and single-pass techniques.
There is also a reduction in overall air pollution, and materials are utilized more efficiently. HVLP spray guns can handle primer, paint, and clear coat finishes making it a favorite of refinishing specialists.
Air compressors for LVLP spray painters
Campbell Hausfeld HS5180 Air Compressor for Cars Paint

Recommended for automotive latex paint
Comes with 14 CMF and 175 max psi
Used with an HVLP gun for painting your cars
Can be used with different automotive tools
LVLP or low volume, low-pressure spray guns can work well with most air compressors. Even the less expensive air compressors will work well with this type of spray painters.
Before buying a less expensive air compressor to match with an LVLP spray gun, take a moment to consider what other tasks you may use the air compressor for.
Sometimes spending a little more on better quality, the high capacity machine will save you money in the long run.
Also, 

LVLP spray guns do not require a high capacity compressor, they work well with clear coats, work well with thinner paints, and have a smaller fan pattern than HVLP spray guns.
A smaller fan pattern means that it will take longer to cover a large surface area. Cheap compressors like the California air tools 5510se or the Rolair vt25big would do the job.
Can you paint a car with a portable air compressor?
Portable models can be used in spraying paint on your car provided that they deliver sufficient CFM, air pressure, and have sufficient capacity. Using a smaller HP wheeled portable compressor to paint provides flexibility if you need to move the air compressor around the shop.
Painting cars one day, removing tires the next, and other repair jobs requiring the use of compressed air to run various tools allow you to obtain more use of your investment for a variety of tasks.
If you have a dedicated paint shop, a fixed or stationary industrial air compressor with a sufficient length of air hose will do the job just fine. When you buy an air compressor, make sure it includes a limited warranty in case you need to replace the air tank.
Look for moisture trap and lubricated pump in the features.
 Also, a compressor for car paint requires oil to prevent piston friction, so make sure you get the best synthetic oil possible.
Wrapping It Up
Higher capacity tanks, coupled with larger horsepower and CFM, give the user more flexibility in terms of spray gun choices as well as other uses around the shop. Professional auto body and paint shops usually opt for large stationary air compressors.
In contrast, occasional refinishing enthusiasts opt for portable units that can be moved around the shop to the location they are needed. The size of your budget may dictate the capacity of the air compressor chosen. Consider all of the uses you will have for the air compressor and spray guns.
Match the pressure, the CFM, and tank size to the tools you will be using to ensure completing the job professionally. When purchasing an air compressor for painting, you need to do your research. For more popular posts, follow our links below.
Last Updated on: February 10, 2023