Average Length of A Car Based On Types [How Long Is A Car?]
Few consumers consider how the length will affect parking or whether they will be able to safely park their vehicle in their garage. The average lengths of cars provided in this post are just that, average. If you are concerned about length, check the actual length of the car under consideration before buying your vehicle.
The average length of a car is about 10.5 to 16.8 feet, or 3200 to 5120 mm. An Audi A4 is considered to be the average car length as computed by the NHTSA around 14.7 feet. Basically, the length of your car is determined based on the distance between the front bumper and the rear bumper.
So, the type of car or size class affects the average car length. Always calculate two extra foot on either end minimum to provide room to remove items from the trunk and pop the hood to check the engine oil.
Homeowners typically use their garages to store many things, including their vehicles. It is important to confirm before buying a vehicle that the garage is large enough to fit your new vehicle if you plan to park it in it.
Average Length of A Car Based On Different Car Models
| Vehicle Type | Model Example | Length Feet | Length MM |
| --- | --- | --- | --- |
| Economy Car / Mini Car | Smart EQ ForFour | 11.47 | 3495 |
| Compact Car / Small Sedan | Toyota Yaris | 12.94 | 3945 |
| Mid-Sized Car / Medium Sedan | Audi A4 | 15.62 | 4762 |
| Full-Sized Car / Large Sedan | Audi A6 | 16.20 | 4939 |
| Small Station Wagon / Hatchback | Volkswagen Golf GTI | 14.00 | 4268 |
| Mid-size or Large Station Wagon | Volvo V60 | 15.18 | 4628 |
| Small SUV / Compact SUV | Honda CR-V | 15.09 | 4600 |
| Mid-Sized SUV / Intermediate SUV | Ford Explorer | 16.57 | 5049 |
| Large SUV / Full-size SUV | Chevrolet Tahoe | 16.83 | 5131 |
| Sports Cars | Porsche 911 | 14.76 | 4499 |
| Sports Sedan or Sports Saloon | BMW M5 | 16.11 | 4910 |
| Supercar or Hypercar | Bugatti Chiron | 14.64 | 4462 |
| Small or Medium-size Pickup Trucks | Toyota Hilux | 17.47 | 5325 |
| Full-size Pickup Truck | Dodge Ram 3500 | 20.81 | 6343 |
| Passenger Vans | Ford Transit Passenger XLT Van | 22.00 | 6706 |
| Cargo Vans | Mercedes Benz Sprinter | 18.50 | 5640 |
| Minivans | Honda Odyssey | 15.58 | 4750 |
Modern cars vary in length a great deal depending on the make and model of the car type that consumers are considering. Most buyers focus on the options, the price, and how great the vehicle looks.
The following dimensions provide average vehicle length according to the different car models. Always check the actual length of the actual vehicle before signing on the dotted line when making your purchase. Car lengths vary by make and model. Never rely on average car model size length and height ranges; always verify.
Sedans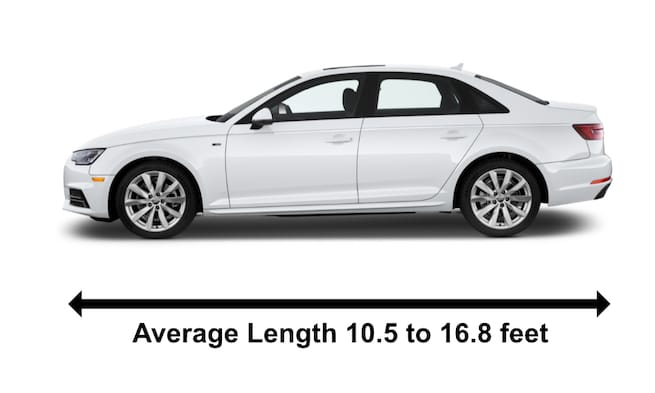 Sedans are typically described as vehicles with four doors, a traditional trunk with an average boot capacity with a range of vehicle sizes from Mini up to full-size vehicles.
Mini Car / Economy Car
The length of a mini car or economy car is 10.5 ft. Adjustment should be made if your mini car has a hatchback and you want to be able to open the hatchback with the garage door open. Examples of mini cars can be the Smart ForTwo and Mini Cooper. These cars are also referred to as urban cars.
Small Sedan / Compact Car
Small sedans or compact sedan vehicles like the Honda Fit and Toyota Yaris have a length of 14 ft 8 inchs on average. Again any that have a hatchback or a towing hitch may need more space to be allocated if you need to park in a shorter parking space. They are considered to be great city cars.
Medium Sedan / Mid-Sized Car
Medium Sedans or mid-sized vehicles like the Honda Accord have a length of 15 feet 10 inches. Their size takes up a little more space, so the garage is less usable for storage. Trailer hitches and bicycle racks can add another foot to two feet to the overall length.
Large Sedan / Full-Sized Car
Large sedans or estate cars and full-sized vehicles like the Chrysler 300 are on average 16 ft 8 inchs long. These type of cars is often used as executive cars. Most garages are on average only 20 ft long. This makes a tight fit for anyone trying to park a full-size vehicle in their single or even double-car garage.
Station Wagons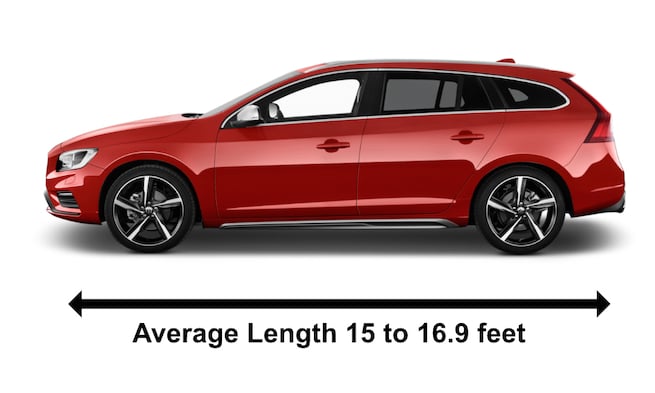 Station wagons are a mix of the sedan and SUVs. Instead of a trunk, they have a hatchback while retaining the lines of a sedan. They are not as popular, having been replaced by SUVs.
Small Station Wagon / Hatchback
Station wagons are sometimes referred to as small hatchbacks. Compared to the larger wagons, the smaller ones have less storage capacity that makes it less practical to transport groceries and vacation material. Their lengths are similar to a mid-size vehicle. Approximately 15 ft ten inches, not including room for the tow hitch or the rear door opening.
Mid-size or Large Station Wagon
A mid-size or large station wagon is also known as a large hatchback. Generally, the larger wagons have more storage capacity than the smaller ones for transportation of sports gear, groceries, or vacation gear. Their car length is similar to a full-size vehicle. Approximately 16 ft eight inches, not including room for the towing hitch or rear door opening.
Sports Utility Vehicles or SUVs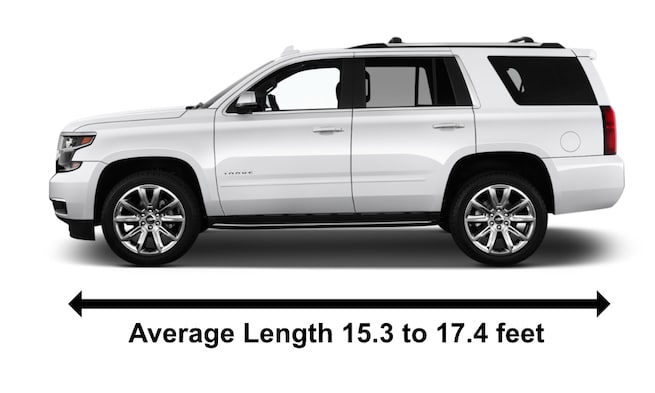 SUVs or sport utility vehicles are taller, boxier, have higher ground clearance, and elevated seating for the occupants. The SUVs length for the cargo area is usually larger than a comparable sedan with a hatchback design.
Compact SUVs / Small SUVs
Compact SUVs vehicles are also called compact crossover SUVs. Some examples can include the Toyota RAV 4 and the Honda CR-V. The car length is approximately 15 ft, 3 inches, not including the rear door, which leaves little room for accessing the storage area with the garage door closed.
Intermediate SUVs / Mid-Sized SUVs
The mid-sized SUVs have more interior space and can hold more cargo. Examples include the Honda Pilot and the Ford Explorer. The average car length is approximately 16 ft, 4 inches, not including the rear door. There is little room for accessing the storage area with the garage door closed.
Full-size SUVs/ Large SUVs
Full-size SUVs are larger and can carry large cargo loads. Examples include the Chevy Tahoe and the Ford Expedition. The average car length is approximately 17 ft, 4 inches, not including a tow hitch or the open rear door. Most people do not park these vehicles in single-car garages due to limited space.
Sport Performance Cars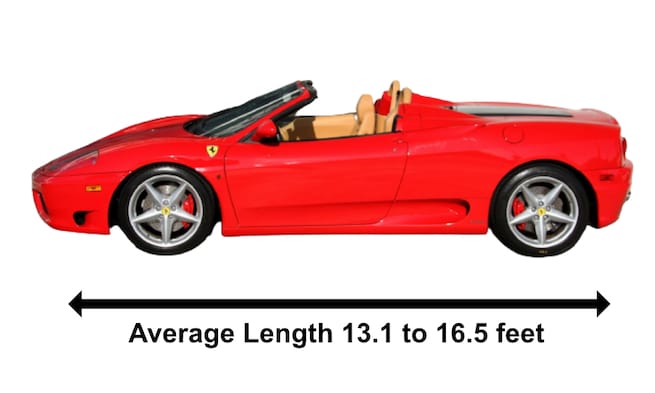 Sport high-performance vehicles are the sportiest, hottest, cool-looking, most expensive, with powerful engines and the fastest cars available. Muscle cars are often considered part of this category.
Sports Cars
There are many different types of cars that are considered sports cars. Chevrolet Corvette, and Porsche 911 are examples of such automobiles. Average lengths vary from 13.1 to 16.5 ft, depending on the make and model of the vehicle.
Sports Sedan or Sports Saloon
The term sports sedan or sports saloon refers to vehicles that come with high performance and handling features. Examples include the BMW M5, the Dodge Charger, and the Mazda 6 MPS. These vehicles have similar lengths to full-size sedan vehicles.
Supercar or Hypercar
The top 1% of cars driven on the road are supercars and hypercars. Ferrari's 458 is the epitome of a supercar, although its engine does not match the 1500 horsepower of Bugatti's Chiron hypercar. The size of these vehicles is immaterial since they are usually parked in secure, environmentally controlled garages in many cases.
Pickup Trucks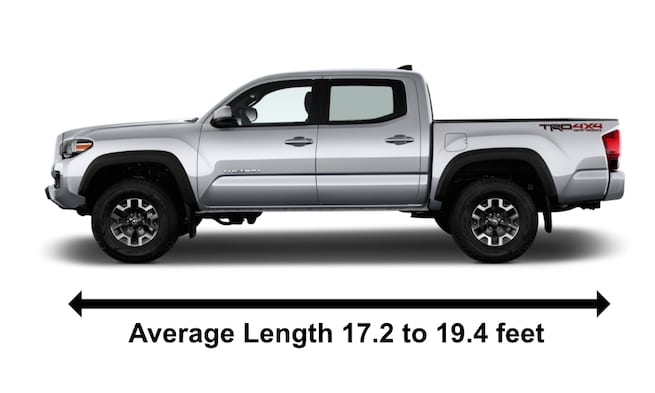 A pickup truck is a four-wheel drive vehicle that has an open bed, which can be enclosed with various add-ons, and a forward cab seated two to four people. They are considered utility car models. However, increasingly come with all of the latest options.
Small or Medium-size Pickup Trucks
Small to medium-sized pickup trucks include the GMC Canyon and the Toyota Tacoma. The average car length is 17 ft 9 inches. Pickup trucks often have tow hitches that extend up to a foot or more from the rear of the truck to pull trailers.
Full-size Pickup Truck
Full-sized pickup trucks include the Chevy Silverado and the Ford F-150. The average car length is 19 feet 6 inches. Pickup trucks often have tow bars that extend up to a foot or more from the rear of the truck for trailer attachments.
Vans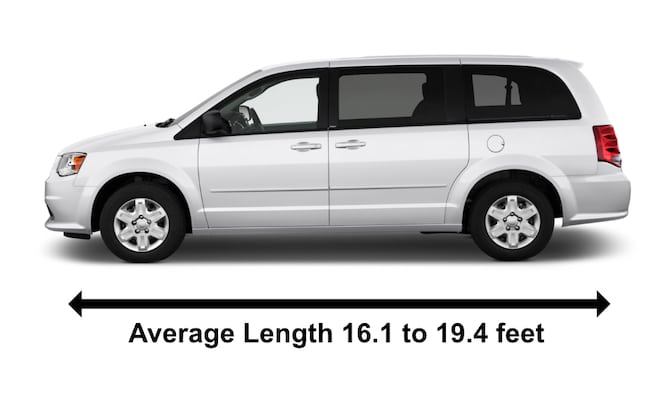 Vans come in all sizes and types. Some are used to transport people, while others are purely for the transportation of cargo. They vary in length.
Passenger Vans
Passenger vans are set up with several rows of seats, one row of folding seats, or perhaps bench seats. A large van can hold 10 or 12 people comfortably. Large families, school buses, hotel buses are common users of this type of van. Typical lengths are 16 ft 10 inches.
Cargo Vans
Cargo vans are multipurpose vehicles used to transport cargo and vary in length. A cargo van can be used by small business owners for delivery purposes. They can be configured in a variety of ways and are very versatile. Typical lengths are 19 feet 4 inches to 24 feet long, and they have plenty of interior space.
Minivans
Minivans are very popular with young families. These vans are versatile, have space in the back for transporting suitcases, groceries, sports equipment, and more. The seats in the back may fold down to make room for cargo, and they can carry six or eight people comfortably. Typical average lengths for minivans are 16 feet 10 inches.
How To Find The Exact Length Of Your Car
There are at least four methods for finding the exact length of any car that you may be purchasing. Always add at least 2 feet on all sides to accommodate accessing the trunk and hood.
Find the exact car length with a VIN decoder
Vin decoder tools can be purchased. Type in the VIN into the tool and obtain all of the vehicle specifications. Typical specifications provided include Basic data, engines, transmission, standard specs, optional specs, generic equipment-optional and standard, colors interior and outside, and safety equipment. The vehicle length is included in the standard specification section.
Find the width and length of the car at the dealer
A dealer can provide all the specifications if you are interested in buying a car and were concerned about the length of the car. New car data sheets include this information, and a manual for a used vehicle also contains all of the specs, including the length of the car.
Measuring the length of your car manually
One of the simplest ways to find the vehicle dimensions is to measure the car yourself. Simply use a long tape measure and stand at the front of the vehicle. Measure the length of the car with the measuring tape by running it beneath the car. To ensure an accurate measurement, you may want to have someone hold the tape measure for you.
Look up your vehicle's length on a car valuation site
Vehicle valuation websites are another great method to obtain details about the value of specific cars based on mileage, age, and options. Some websites may provide details about options and specifications on particular vehicle models. Always check the length of the actual car being purchased for aftermarket changes.
What are the minimum car dimensions for parking spaces?
Parking space standards vary significantly, depending on local guidelines and the type of parking -parallel parking, perpendicular parking, commercial parking, mall parking, or private parking spaces.
The minimum length of parking spaces ranges from 16 to 20 feet deep and widths from 8.5 to 9.0 feet, and larger retailers are offering larger spaces to accommodate bigger vehicles.
How long is a small car?
Smaller vehicles can be fourteen feet eight inches in length. There are five feet leftover in a 20-foot garages for storage when you are driving a small or compact vehicle. Full size can be almost 17 feet in length, while full-size trucks are 19 feet six inches in length. SUV's which are very popular, vary between 16 Ft- 4 " to 17 feet 4 inches long.
What is the average length of a family car in meters?
Family cars include sedans, SUV's and vans are typically 15 feet and 10 inches or approximately 4.8 meters to 17 feet and 4 inches or 5.3 meters in length. Compact cars are approximately 4.8 m in length.
What is the average car length with the trunk open?
The car length does not change with the trunk open unless the vehicle is an SUV, hatchback, or station wagon. The rear door opening at the back can add an extra three or four feet to the length of the SUV. When loading or unloading an SUV with the garage door closed, car owners should account for the additional length.
Summary
Car owners can avoid surprises when they bring a new vehicle home by measuring their new car first and assessing if they will be able to utilize the front porch to park their vehicle. Insurance companies may charge more premiums for cars parked outside in unprotected spaces.
Are you wondering what a good length for my car is? Evaluate the lengths list of cars that we have provided in our previous table and choose the right size car for you. Vehicles like the Audi A4 are considered to have the average car length. For more car repair tips, follow our blog.
Last Updated on: November 17, 2022