10 Essential Things to Consider When Buying a Car (New or Used)
Many people make mistakes during the car purchase process. You should never buy a car without doing your research first. This means knowing what kind of car you want, what features it should have, and how much you're willing to spend.
Once you have this information, you can make a better business transaction and avoid paying too much for your new vehicle. Getting a good deal is going to involve some work on your part, but it will be worth it in the end.
You do not want to end up paying top dollar for a vehicle that you do not enjoy driving.  So, what are the things to consider when buying a car? We've put together this list of some of the most important factors to keep in mind while you are car shopping.
10 Tips To Consider During The Car Buying Process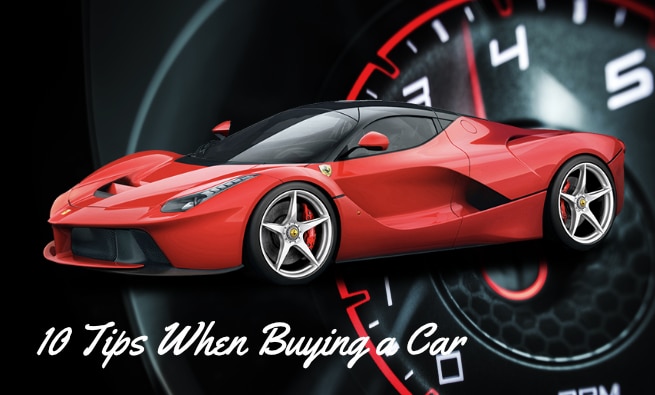 Some people buy cars based on emotion, while others make logical decisions. If you are the type of person who gets caught up in the moment, it is best to step back and think about what you really need and want in a car.
It is up to you to decide what is best for you and your current financial situation. The following tips can help you get the best deal on the perfect car for you.
#1 Identify The Type of Car That You Need
When people go thru major life changes, they usually decide to downgrade or upgrade their cars. The first step is to determine what kind of car you actually need. This might be based on your current lifestyle and needs.
As a car buyer, you will want to identify these things so you can decide on the body style, manufacturer's warranty, and other features that will either be a must-have or nice-to-have.
For example, do you need an SUV because you have a family and need the extra space? If you are single and live in the city, maybe you don't need a huge vehicle and can get away with a smaller luxury car. You can always test drive different types of cars to get a feel for what you like and then begin your search from there.
#2 Find Your Car's Trade-in Value
The estimated trade-in value of your current car will play a role in your budget for a new car. You can find this information online from websites like Edmunds, Nada Guides, or Kelley Blue Book.
It is important to remember that trade-in values are not always what you will actually get for your car. If the car requires only minor cosmetic repairs, consider performing them yourself to boost the car's net value.
The dealer may give you a low-ball offer in order to make more money off of you. Before accepting any offers, you need to evaluate all your options. You can visit companies like CarMax or Carvana, which will give you a fair price for your car without any negotiating.
You can also find private buyers who might be willing to pay more for your car. However, this process usually takes longer and is more work than trading it in.
No matter what route you decide to go, knowing the trade-in value of your car will help you determine how much money you have to put towards a down payment on a new car.
#3 Check Your Credit Report
Your credit score will impact the type of car loan you are able to get and the interest rate that you will pay. It is a good idea to check your credit report before you start shopping for a new car. This way, you will know what lenders are going to see when they run a credit check.
If you find any errors on your report, you can dispute them and have them removed. This will help improve your credit score and save you money in the long run.
You can get a free copy of your credit report from each of the three major credit bureaus once per year. Also, you can get yourself a free account on Credit Karma or Experian to find out your credit score and get personalized recommendations for improving your credit.
#4 Evaluate Your Auto Loan Options
Now it's time to finance. Basically, You can choose between two different financing options: direct lending and dealership finance. Direct lending is a great option if you're looking for quick cash.
You can borrow from banks, finance companies, peer-to-peer financing, and credit unions. The drawback? You have to make time and take the hassle out of getting your loan approved by dealing directly with lenders in person or over email.
Financing a new vehicle through the dealership can be an attractive option for many people because they offer incentives such as cash back, lower interest rates, and even trade assistance if you use their services.
#5 Find The Best Interest Rate Possible
The annual percentage rate (APR) is the cost of borrowing money from a lender, expressed as a percentage rate. This is the rate you will pay if you choose to finance your car through a dealership or direct lending institution.
The lower the APR, the better. You can get pre-approved for an auto loan before you start shopping for new cars. Another thing to consider is putting a larger down payment upfront. This way, you can arrive at a smaller loan amount and get a lower payment.
You can also try to get a shorter loan term so that you pay less in interest over time. However, this will likely increase your monthly payment. You can also search online to try to find the best auto loan rates. Many websites offer tools that can help you compare rates from different lenders.
#6 Define Your Best Monthly Payment Budget
You need to know how much money you can realistically afford to spend on a specific car. This number should take into account things like your monthly income, current debts, and other financial obligations.
Once you have your budget or target price, you can now review the specific models that fit your needs. This is where you can start to narrow down your choices.
Keep in mind that your monthly payment should not exceed 20% of your monthly income. This will help ensure that you can afford your car payments and still have money left over for other things.
#7 Decide Between A New Car Or A Used Car
New and used cars each have their own set of pros and cons. It is important to evaluate your needs and decide which type of car is right for you.
If you don't need a brand new one, a vehicle with minor cosmetic repairs needed can be a great find. Just make sure to have a certified mechanic check it out before you finalize the sale.
#8 Check The Vehicle History Report
Used cars can come with a lot of baggage. That's why it is important to do your homework and get a Vehicle History Report (VHR) on any used car.
Knowing the car's history can help you avoid buying a particular vehicle that may have been in an accident or had mechanical issues in the past.
The report will also show you the car's title history, past owners, and repair history. It is recommended to read car reviews or unbiased Consumer Reports online before making a decision as well.
#9 Negotiate A Final Sale Price
Try to get the best price possible on the used car you want. This means negotiating with the dealer or private seller. If you're financing through a dealership, they may be more willing to find ways to reduce the overall costs help you get to your desired monthly payment.
Ask if you have to pay additional fees such as a "documentation fee" or "dealer prep fee." These fees are not required, and you should not have to pay them. Your goal should be to reduce the entire cost of the purchase price, so you can save money.
#10 Get a Car Inspection Done
This step only applies when you are buying a car that is used. Those who are looking into brand new models can likely skip this step.
Before you finalize the sale, have a certified mechanic check out the vehicle. They will be able to identify any certain car problems that may exist.
This inspection can help you avoid buying a car that needs a lot of repairs. It is worth spending the money to get and used vehicle that is not going to give you problems in the near future.
Owning Versus Renting
Deciding if you are getting a leased vehicle or buying one outright is completely dependent on your personal circumstances. Leasing a car may make more sense if you only need it for a couple of years or if you're not sure how long you'll need it.
It can also be a fantastic option if you don't have the money saved. Remember that there's generally a fee involved for terminating a car lease agreement early. They also give you the option to purchase the current vehicle that you have leased.
What to Know Before Buying From A Car Dealership?
It's best to be cautious when it comes to car buying. Only use car makes with a good reputation if you wish to be safe. Neighbors can direct you to a car dealership or even a salesman that they've had a great experience with.
Make sure to test drive any used car that you're thinking about purchasing. When negotiating for a car, don't be afraid to quote an amount that's lower than what you're willing to pay. This way, you can eventually settle somewhere near your target price.
Last Updated on: March 20, 2023