What to Do After Buying a Used Car From a Dealer? | 10 Steps
The auto industry is a huge business, with many people buying and selling cars every day. We hope that you did the research on your used car before purchasing it and that you reviewed things like routine maintenance logs, accident reports, and vehicle registration.
Yes, you will save money buying a used vehicle from a dealer instead of a private seller, but you will probably need to handle the necessary title and registration paperwork on your own.
Now that you found yourself a used car, you're probably wondering what the next step is. It would help if you did some things after buying a used vehicle, whether you bought it from a dealer or a private seller. Here you will learn what to do after buying a used car from a dealer.
10 Things To Do After Buying A Used Car From Dealer or Private Seller
If you buy a used vehicle from a dealership, you will probably get a good temporary registration tag for around 30 days. But you'll need to go to your closest DMV and get an official car transfer to get it properly registered in your name.
# 1 Transfer the title and registration
Title transfer requirements vary by state, so be sure to check with your local DMV (the state's department of motor vehicles) or DOL (Department of Licensing) for the specifics on what you need to get a title transferred.
Ensure the seller has official statements from the bank and other liens, verifying that all past loans are paid off. Contact your local state agency for more information about what's required for a title transfer.
#2 Complete safety and emissions test
A completed emissions test might be required to register your car, depending on the state in which you live.
Emissions tests typically cost around $25 on average and involve hooking up your car to a machine that gauges the amount of pollutants coming from the car's exhaust.
If your car fails the test, you might be required to get it repaired before registering it. Safety inspections can cost around $15 on average and usually involve a visual inspection of the car's brakes, lights, and other safety features.
#3 Get auto insurance
You'll need to insure your new car, and it's a good idea to shop around for the best rates. Be sure to compare rates from different insurers and get quotes for the coverage you want.
The laws on the road vary from state to state, but in most cases, it is illegal for a non-insured person (such as someone who bought their car used) without an appropriate license or car insurance.
When buying a used car, it's important to get an insurance quote beforehand so you know how much your coverage will cost. Review the insurance policy with your agent to understand what is and isn't covered.
If you're financing your car, the lender will likely require that you have full coverage insurance. Go with a reliable insurance company and make sure you get liability insurance coverage that's right for you and protect other drivers.
#4 Search for recalls
Check with the previous owner or dealership to see whether recall repairs have been completed. If you have no idea how to go about this step, you can have your mechanic check for you during the inspection process (which we will get to shortly).
If there have been any unrepaired recalls, you can file a complaint or simply go to the dealership for further maintenance recommendations.
Also, ask about your service intervals to find out things like oil changes, tire rotation, maintenance schedule, or necessary repairs.
#5 Get your permanent license plate
Many dealerships offer temporary tags, but you'll eventually need a final license plate for your car. There is even an option to get license plates at some dealerships to do this process quickly and easily.
The process will vary by state, but you must have the title and registration paperwork with you when you go to the DMV or DOL. Be sure also to have proof of your insurance ready as well. When submitting the DMV paperwork, here is a list of stuff that you may require:
Bill of sale with the purchase price and vehicle identification number or VIN included
Safety and emissions pre-purchase inspection with a certified mechanic
Proof of insurance and that you have paid the sales tax
A secure clean title that has no other lien holders or prior loans listed on the back of the title document
Current odometer reading
A valid government-issued ID
Proof of address where the vehicle is going to be registered
Your application for a new title or registration fee
In some states, you will also have to provide a smog certification. After the DMV or DOL processes your paperwork and issues you a new title, they will keep the lien-free title and mail it to the lienholder or owner.
Some of these steps are mandatory, especially if you are getting a bad credit car loan. Lenders will want to see that you have a clear title and proof of insurance to protect their investment.
#6 Read the owner's manual
Reading the owner's manual is a great way to know how your vehicle works. You can find out what the dashboard lights mean when your vehicle needs regular maintenance or what kind of oil to use.
This is also a good time to get familiar with the features in your vehicle, such as Bluetooth or navigation. Typically it is located in the glove box compartment, and it is something that you might want to check during the full inspection of the vehicle.
#7 Get your car inspected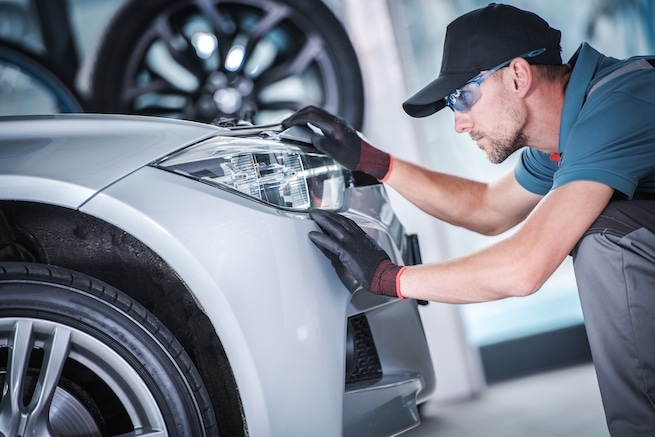 If you didn't get a vehicle history report (VHR) or if you want a second opinion, it's a good idea to have your vehicle inspected. They can check for any potential red flags, such as fluid leaks, brake wear, suspension, and issues with other major systems.
It's good to bring your mechanic along when you go for a test drive. This way, they can check under the hood while you're driving and get a feel for how the car drives.
A full inspection will likely be a requirement on used vehicles so you can legally drive your car on the road. Consider getting a Vehicle Service Contract (VSC) from the dealer to help cover expensive repairs down the road.
#8 Schedule Maintenance
Either if you are buying a used car or a new car from a dealership, try to get the best deal possible that fits your budget.
You should include regular maintenance check-ups on the deal. This way, you can change the oil when needed and change the tires when they need to be replaced.
#9 Got to a Trusted Mechanic
An independent professional would be a viable solution if you did not purchase a new vehicle. When buying a car from a private person, it is best to tow the vehicle to a local body shop you trust.
This way, you avoid any potential danger of being scammed by someone selling you a car with problems like bad spark plugs or a failing transmission.
#10 Secure All The Paperwork
Loan documents, the car title, and proof of insurance should all be in a safe place. The glove compartment is not the safest option. Keep these items in a fire-safe box or a home safe.
If you have an e-title, keep printed copies in case the power goes out. Here is a list of what you should have on hand:
Bill of sale with sales tax information
Financing documents
Tax receipts
Bills for proof of address
Insurance documents
Copy of registration
Handicap parking permits (if applicable)
Warranty information (if available)
Maintenance records (if available)
Permanent tags once you drive transfer
Before you go and transfer the title, make sure there are no liens listed. Remember to read the owner's manual of your new vehicle and get to know the features it offers.
Purchasing a used car from a private seller can be a great way to save money. Just be sure to do your research and inspect the vehicle before making any decisions.
Auto insurance is required in most states, with the exception of New Hampshire. For specific information about temporary tags or to consult what your state requires go to your local motor vehicles DMV.
Last Updated on: March 2, 2023