Best Portable Car Jump Starters (Buyers Guide) 2020
At times, you may experience problems with your car engine failing to start. It could be that you left your car headlights on the whole night and the battery is entirely dead such that the engine cannot start. Here is were having one of the best portable car jump starters on your trunk can come in handy.
What do you do when you find yourself in such frustrating moments? The most common things that people do when they are faced with such a situation is looking for another car so that you can start your car engine.
Things have been made easy because there are many portable car jump starters that you can carry with you anywhere in your car to avoid those agonizing moments when the car is producing mocking sounds without moving.
Top Picks For The Best Portable Starters On the Market
| Rankings | Name | Price and More Details |
| --- | --- | --- |
| #1 | NOCO Genius Boost Plus GB40 1000 Amp 12V UltraSafe Lithium Jump Starter | Click Here |
| #2 | BEATIT 800A Peak Arteck Car Jump Starter | Click Here |
| #3 | Clore Automotive Jump-N-Carry JNCAIR 1700 Peak Amp Jump Starter | Click Here |
| #4 | Stanley J5C09 Power Station With Air Compressor | Click Here |
| #5 | DBPOWER 600A 18000mAh Portable Booster Pack | Click Here |
After spending a lot of hours researching, I have come up with a quality portable car jump starters that will be great for your car. The devices work incredibly well, and you can rely on them even for an emergency.
Enjoy reading the following portable car jump starters, and I am sure you will get the most suitable product that will meet your needs and requirements.
1. NOCO Genius Boost Plus GB40 1000 Amp 12V UltraSafe Lithium Jump Starter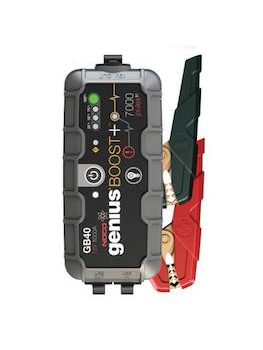 Among the most affordable NOCO Boost products, this is considered one of the best lithium-ion batteries jump starters that can provide up to 20 jump starts on a single charge. The GB40 booster device comes with an integrated LED flashlight, and multiple charging ports to charge any USB mobile devices including I-phones, I-pads, Android Phones, tablets, and more. We like this booster pack so much that it made our top pick.
With 100 cold crank amps of peak, the UltraSafe battery charger can jump start most 6 liters gasoline engines. For price, reliability, and safety, we consider the NOCO Genius Boost Plus GB40 our  first pick for the best portable car jump starters. Also, light weight and portability is why we consider this device our top pick among all other vehicle jump starters on the market. It can make up to 20 jump starts in a one single charge.
2. Stanley J5C09 Power Station 1000A Peak Car Jump Starter with Builtin PSI Air Compressor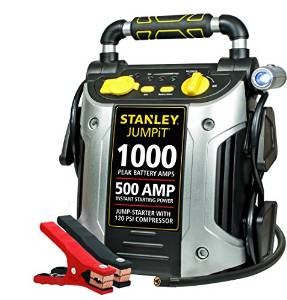 Start your car with his quality car jump starter that is designed to meet all your needs. This portable device has 500 amperes instant starting bolt power, and it comes with a built-in psi air compressor. The Stanley J5C09 is a great product that puts the safety of your battery first because it has a reverse polarity alarm system accompanied by a rubber molded top mount to provide the best grip.
This device is designed with a top-notch battery that provides reliable power to run the piece of equipment. Also, the Stanley J509 is equipped with industrial psi air compressor system and an impact resistant case. Furthermore, this booster pack comes with a 12V DC outlet that can be used as an USB power port, meaning you can also charge all kinds of mobile devices. Out of all models available on the market this is the most versatile booster pack.
3. Rugged Geek RG1000 Safety Plus Jump Boxes and Air Compressor

The rugged geek jump packs are our third selection for a multi-system choice that includes a psi air compressor. Also, the RG1000 is considered one of the most popular models that include a sufficient amount of power to most cars and trucks. This portable car jump starter has great customer reviews, and it also comes with two USB power ports that can powerall mobile devices in case of an emergency.
For the most part, the rugged geek jump boxes are considered a reputable, established brand with special vital features like an integrated LED flashlight, adjustable battery clamps, and short circuit protection. With excellent size, this portable charger leads as our third top pick for size, protection, safety cables, and peak starting amps capability.  Great booster pack combination to have on your garage.
4. JumpNCarry JNC660 1700 Peak Amp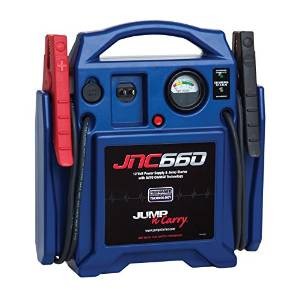 This booster pack product is among the best portable car jump starters that you can buy for your car. Also, this device weighs only 18 pounds making it easy to carry around with ease. The JumpNCarry JNC660 provides a power supply of 12 volts, which enough to charge your mobile devices without having to start your car engine. It is an excellent product for personal and professional uses. Also, this product has over 1700 peak amps and 425 crank amps that can charge most lead acid batteries that come in most gasoline or diesel engine cars.
The machine comes with heavy duty cables that you connect to the battery so that you can start your car when the battery is too low. With over four thousand positive product reviews, we can say that this battery jump starter is one of the leaders in the industry. We really like the shape of the design, specifically the handle that allows users to carry with ease. Furthermore, this brand has been on the battery chargers market for more than 25 years providing excellent products and different models of battery chargers that can help users in an emergency.
5. NOCO Boost Pro GB150 4000 Amp 12V UltraSafe Lithium Jump Starter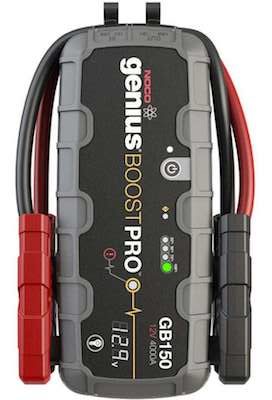 When it comes to the top of the line portable charger, the NOCO Boost Pro GB150 is considered one of the best portable batteries jump starters in the market. This booster pack is an all-in-one portable charger with an outstanding 4,000 amps of peak. With this amount of power, you can charge up to 10L Gasoline and Diesel engines. Outstanding smart charging port that works better than any of the old phone chargers.
But it does not stop there, and you can also connect any lead acid battery to the NOCO Boost HD Pro GB150 without any worries because it has reverse polarity protection. This means you can recharge tables, smartphones, or any USB portable device. Also, it brings a built-in LED flashlight just in case you need to charge your car battery at nighttime. The booster pack is roughly 7 x 12 x 3 inches, making it easy to store either under the car seat or in some glove box compartments.
6. DBPOWER 600A 18000mAh Portable Car Jump Starter

If you are looking for the most affordable and small portable charger, then the DBPOWER 500A battery jumping power tool is a great fit. This portable car battery jump starter has enough cranking power to jump start up to 6.5L gasoline engine and up to 5.2L diesel engine. The DBPOWER 600A peak is recommended for people that need a small size battery charger that can fit in a glove box. Also, this is a portable device that can fit perfectly well in your pocket for easy transportation, and it comes with an LCD display.
The DBPOWER portable jumping booster pack is also equipped with an LED Flash Light, USB2 and Type-C USB ports capable of charging electronic devices four times faster than a regular power bank. When it comes to safety, this small portable charger has gold battery clamps that can be easily attached, and also they have short circuit protection, over-voltage protection, and peak current protection for your safety. We recommend this device because it is considered to be the best lithium ion jump starter that you can find on the market.
7. Jump-N-Carry Ultraportable Jump Starter with Light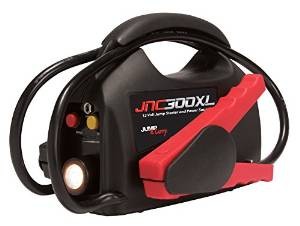 Start your car battery with this fantastic device that is highly rated and offers that best performance. This device weighs only 9 pounds making it easy to carry conveniently. Moreover, it provides you with 900 peak amperes. We like this mini jump starter because it is very light weight, and it comes with a practical LED light in case you need to use it at night.  The 27 inch AWG cables together with the 225 crank amps that makes it stand out from all other battery chargers on the market.
You can easily store this portable car jump starter anywhere and use it anytime you need to start your car. What's excellent is that this device is equipped with a high-intensity flashlight that makes it possible to use the device at night. Also, these particular Jump-N-Carry models of jump starters where designed to achieve a combination of portability and power to charge most lead acid batteries in case of an emergency. We like that for a small size this product offers a lot of power, and safety.
8. Schumacher

DSR115

DSR ProSeries 2200 Amps of Peak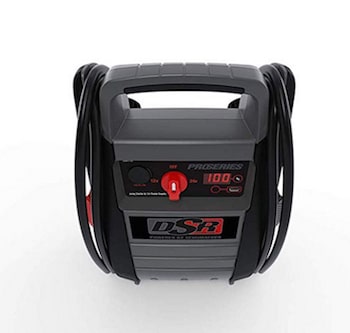 If you are looking for a car jump starter that will provide you with style and high functionality, this is the best product to consider buying. We included the Schumacher portable jump starter because it is well known in the automotive industry with statistics that can back up good performance. With over 4400 peak amps this jump starter can charge standard lead acid batteries, and also a big truck with diesel engine
The device offers 12 volts of power, and it is lightweight, making it portable. This device has a beautiful design that includes 3-ampere internal charger and copper jawed clamps to provide reliable performance. Also, the new re-designed Schumacher DSR115 product comes with an USB power battery charger for mobile phones. We like the top handle shape on this product, thus it allows you to apply a firm grip when charging your batteries.
9. Jump-N-Carry JNCAIR with Different Power Source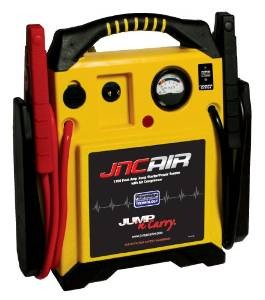 Jump-N-Carry JNCAIR can start gas and diesel engines. You can jumpstart a car, diesel engine truck, boat, motorcycle, and ATV with a single charge. It has an extra-long 68″ cables battery cables that you need to plug in, attach it to your car, jumpstart yourself, no problem. Not only do we like these looks from the Jump-N-Carry models, but also the material used and the technology behind these battery charges gives us the confidence to recommend them without hesitation.
We think this is another fantastic car jump starter from this brand that you can consider buying. It has a power of 12 volts and delivers 1700 peak amperes. Also, this product was 68 inch long jumper cables with PowerJaw clamps that optimizes the use of these battery chargers. Furthermore, it features a rubberized base that was design to provide extra stability. The 1,500 positive customer reviews and ratings makes this product rate the top 9th pick in our list for portable jump starter.
10. Weego JS12 Portable Charger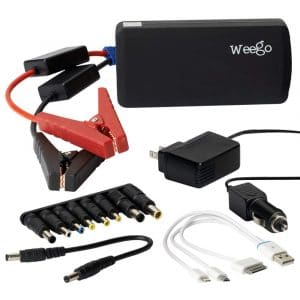 Last but not least, you can use this well constructed portable car jump start to start your car anywhere at any time. You can jumpstart your car with a pocket-sized battery jump starter. I mean this is pocketable. This comes with a bag, and you can stuff all the accessories in it, and store it in your trunk. And when you need a jumpstart, you can do it yourself.
This is a 12,000 milliamp-hour battery. It will also charge all your gadgets. It comes with a handy cable that has lightning micro USB and a 30 pin adaptor so you can charge your iPhone, your tablet. Anything you want to plug into a USB here. An overall amazing portable battery charger for a incredible cheap price.
This portable lithium ion jump starter will last a thousand charge cycles, and it takes about three hours to recharge. It comes with a wall plug to charge it, or a car 12-volt adaptor plug to recharge this. Also, it's got a LED flashlight on the front that will light up your battery if you need to do this at night, and it also will do a strobe to signal for some help.
Extra Pro Schumacher SC1309 6/12V Wheeled Automatic Charger

In case that you are looking for a more professional portable charger, then the Schumacher SC1309 is a reliable power tool that you should evaluate in depth. It comes with a multi-stage charging feature to provide precision and accuracy that can lead to overall better battery life after charging. Best product to consider when looking for a professional automatic battery charger.
The smart charger comes with an advanced diagnostic testing tool to help you diagnose any electrical problems either with the battery or the alternator. This is a heavy duty charging unit perfect for starting trucks, SUVs or any larger heavy equipment engine vehicles. It also has a retractable handle with wheels making it the least of the portable chargers on our top picks.
Buying Guide For Portable Jump Starters
A few years back, the car jump starters were a little oversized. However, with the advancements taking place in the technological sector, they have been able to come up with portable car jump starters that you can even carry inside your pocket. Some devices can act as air compressor, power bank, and a jump starter at the same time. Isn't it crazy?
It is an essential device that will significantly help you in case of an emergency. This is why we think that every car owner should have a portable car jump starter in their cars. Also, If the product offers a built LED light, and USB power charger then this can be very useful when you go on long road trips.
What Exactly are Car Jump Starters?
For jump starter newbies, it is essential to understand the products in details so that you can get the best for your car.
A car jump starter is a device that is designed to act as the battery of another vehicle. The device is equipped with its own alligator's clips so that you can attach it to the battery of your car.
They are also called battery chargers, and they are designed to provide enough power to the batteries so you can jump start your vehicle without connecting jumper cables to another automobile battery.
Why Own a Car Jump Starter?
Portable car jump starters are a necessity these days. If you forget to turn off your cars indoor led lights overnight, then you can expect a dead battery the next day. Here is where car battery jump starters come in handy for quick charging. Also, make sure you select a battery booster with a builtin led flashlight in case you have to use it at night time.
If you are planning on going on a long road trip or camping trip, we strongly recommend for you to buy a battery charger. Choose a versatile product that can act as an power bank, air compressor, and it can also start you auto if you run into a dead battery situation. Wouldn't it be great to have a battery charger that can do all those things?
Can You Charge an iPhone Battery With a Jump Starers?
Yes. Some portable jump starters allow users to charge their iPhone with USB ports. With technology evolving now you can get a portable jumping power pack like the DBPOWER 500A that will not only charge your car's battery, but it will also serve as a battery charger any electronic devices via USB ports. I call it the all in one lifesaver power bank because it also includes short circuit and reverse polarity protection.
How to Find the Best Portable Jump Starter?
Having a portable car jump starter is very convenient when it comes to carrying it around with you. The best portable car jump starters should not only help you with your car but also should assist you in almost every situation.
Some of the things that you need to look at when you are purchasing a car jump starter include the following;
Portability:

When buying a car jump starter you should evaluate the size and weight of the device. With tecnology improving you can find very portable battery jump starters with enough power outputs to crank any standard battery.

Air Compressor:

Our second top pick the Stanley JC509 jump starter pack comes with a built-in compressor in case you need to inflate your vehicle tires. Amazing to have both tools in on simple battery pack charger.

Versatility:

Depending on the type of jump starter that you are purchasing you can get different features like USB powered ports to charge your mobile phones or any electronic device.

Warranty:

Some car battery chargers come with factory defects therefore getting a jump starter with a lifetime warranty can be a plus to any mechanic that uses these machines on a regular bases.

Safety features:

Make sure that the clamps that comes with the jump starter can attach safely and secure to the battery terminal. Also, you can find starters with peak current protection included.

Durability ease of operation:

Mechanics need a durable trickle charger with flexible booster cables that can provide safety and ease of use at the same time.

Builtin LED Lights:

Lights are a must when it comes to purchasing a portable car jump starter. Sometimes you can get stuck on the side of the road at night and here is where the LED lights will come in handy.

Crank Amp Rating:

No all batteries require the same amount of starting power. So make sure that the jump starter that you choose comes with enough cranking amps to charge your car's battery successfully.

Customer reviews:

Although we provide the essential information about the top battery chargers on the market, it is also of good practice to confirm customer reviews, ratings and comments on other websites like EBay and Amazon.
Is the LCD Display Important?
You can start your car anywhere when the engine fails to start. All the above-reviewed car jump starters will work perfectly well. You can check price on Amazon by clicking the above pictures or links. We recommend getting a starter that has an LCD display in case you need to use the portable charger at night.
Some of the devices have LCD screens for efficient performance, durability, and ease of use, to mention a few. Additionally, they come at affordable prices, and they are also from reputable brands. Get any of the above devices to help you start your car when the engine fails without the need of a jumper cable, and also charge your mobile device with smart charging Dual USB outputs.
Conclusion
Many are the time's vehicle owners faced with embarrassing situations on the road when their car stops. You can avoid such moments if you equip your car with proper portable car jump starters. The Jumpncarry jump starters brand is very reputable to charge all types including the leadacid batteries, and antigravity batteries. If you need a psi air compressor, then the Stanley J509 Power Station is your best choice.
With this smart technology, there is no need for a jumper cable anymore. I hope you enjoyed this jump starter buying guide with everything you need to know about how to choose the proper portable power charger.
Tip: Check our related articles like How to Flush a Cooling System.