Best Portable Car Jump Starters [Review & Buying Guide] 2023
You may experience car starting problems at least once every other year. It could be that you left your car's headlights on the whole night, and you come to find that the battery is entirely dead. Here is where having one of the best portable car jump starters on your trunk can be lifesaving.
What do you do when you find yourself in such frustrating moments? The most common thing that people do when they are faced with such situations is to look for another car so that they can try to jump-start the engine.
Things have been made simpler because there are many jump starters that you can carry with you anywhere in your car to avoid those agonizing moments when the car gives you problems to start.
After spending a lot of hours researching, we have come up with a few high-quality jump starters that will be suitable for most car owners. These units work incredibly well, and you can rely on them even for an emergency.
How to Find A Portable Jump Starter?
If you're always on the go then a portable jump starter is perfect for your lifestyle. These units are lightweight and compact, which makes them easy to carry around with you wherever the universe takes you!
The top-rated jump starter should never let down when the time of solving any of those pesky car problems arrive unexpectedly. Some of the things that you might want to look at when you are purchasing the best jump starter include the following;
Portability
You've got to have the right tools for the job. A car battery jump starter is no exception, and you want one that's going to meet your needs without being too heavy or cumbersome.
If you're like me and are always on-the-go then a smaller compact jump starter might be what you need with enough power output (or at least an adapter) so it will work with any standard battery out there today!
Air Compressor
Air compressors are used in many industries and for various purposes including inflating bicycle tires, and powering pneumatic tools like nail guns and paint sprayers.
If you don't have one yet then it's time to get one! You'll never want to go back once you start using your new air compressor! They're easy to use – just plug them in when needed and they do all the work for you.
The Stanley JC509 jump starter pack is an amazing purchase with it's built-in compressor, and in case you have to inflate your vehicle tires. The convenience of having both tools all rolled up into one device can't be beat!
Warranty
A car jump starter is outstanding for emergencies. They can be used for jump starting vehicles, truck, boat or RV when the battery is dead and you're miles away from the city. You never know when an emergency will happen so it's best to be prepared with a reliable jump starter that can protect you.
Some car battery chargers come with factory defects therefore getting a car battery charger with a lifetime warranty can be a plus to any mechanic or vehicle owner that uses these units on a regular bases.
Ease of Operation
When it comes to maintaining your car, there are a few things that you should always keep in mind. One of these is the fact that having the right tools will make any job easier and safer for both yourself as well as others who might be working with you on projects around your vehicle.
You may have to think about what features you want in your portable jump starter. For example, would you use two USB ports for charging your phones? If so, then it's important that the you look for these features in the specifications.
How many times have you been left in a pinch, trying to find some outlets on the wall of your garage? You need a durable trickle charger with flexible booster cables that can supply safety.
Built in LED Lights
Have you ever been in a situation where it is shadowy and you need to jump start your car? You can't see anything, so how are you supposed to connect the cables?
That's why you should look for built-in lights when you are buying a jump starter. This will illuminate the dark roads and make it easier for you when attaching battery terminals.
The last thing that anyone wants is to be stranded at night with no lights or being able to see what they're doing. With this feature, there's no need to dwell on not being able to do what needs done because of darkness. It'll keep you illuminated until your car starts up again!
Crank Amp Rating
The cranking amp (CA) rating of a jump starter refers to how many amps it has at its peak power. This number is important because if you have an engine that needs more than what your battery can produce, then you need to use a CA rated higher than the engine's requirements. If not, then your car won't start and will just keep clicking.
No all batteries require the same amount of power. So make sure that the jump starter that you select comes with enough cold cranking amps to charge your vehicle's battery specially if you live in a cold weather area.
Top 10 Best Portable Car Battery Jump Starters
| Rankings | Name | Price and More Details |
| --- | --- | --- |
| #1 | NOCO Genius GB40 1000 Amp 12V UltraSafe Lithium Jump Starter | Click Here |
| #2 | Clore Automotive Jump-N-Carry JNCAIR 1700 Peak Amp Jump Starter | Click Here |
| #3 | Stanley J5C09 Power Station With Air Compressor | Click Here |
| #4 | DBPOWER 800A 18000mAh Portable Booster Pack | Click Here |
| #5 | NEXPOW Car Portable Power Station Jump Starter | Click Here |
Enjoy reading the following portable jump starters, and I am sure you will find the best and get the most suitable product that will meet your needs and requirements.
1. NOCO Genius Boost Plus GB40 Jump Starter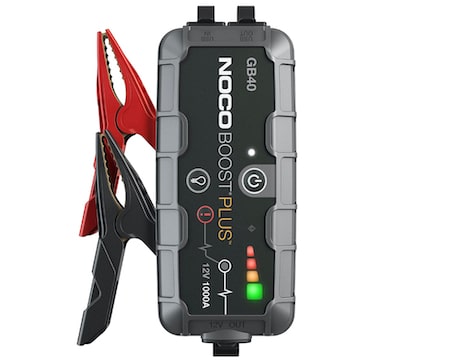 Features
1000-amps from this lithium jump starter
Rated for mid-size gasoline motors
Sparking-proof tech for extra security
Multi mode led flashlight of 100-lumens
The NOCO Genius GB40 is an amazing jump starter that can get you back on the road quickly. It has a powerful battery pack so you can charge your devices when needed, and it's very compact, which makes them easy to store in your car or take with you.
One of the most affordable and dependable products from this brand, this lithium-ion unit offers 20 jumps on a single charge. It has an integrated flashlight as well as multiple charging ports to power up any USB device, including iPhones, iPads, Android Phones, and more!
Additionally, the light-weight and slick design of this device make it one of its best features. The fact that It can make up to 20 jumps is a huge benefit. This starter also has an advanced security system that prevents reverse polarity and sparks from occurring when using the override function.
The editor likes this booster pack so much that it made it to the top of the list. With 100 cold crank amps of peak, the UltraSafe battery charger can jump start most 6 liters gasoline engines. For reliability–the NOCO Genius GB40 is our first pick for the best portable jump starters!
Pros
Starts the dead batteries pretty smoothly
Compact yet powerful stature
Jump-starts 20 times on a single charge
Suitable for gasoline motors
Boasts of the spark-proof tech
Amazing water-resistant enclosure
Cons
Slightly complicated to a simpler user
May cost a lot to deploy for use
2. Stanley J5C09 Power Station 1000A Peak Car Jump Starter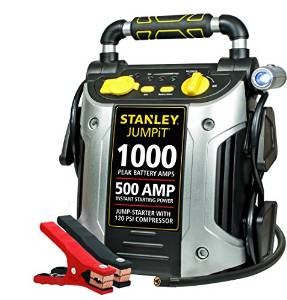 Features
Loaded with 1000 peak amperes
500 amps of charging potential
Bad connectivity polarity prevention
Built-in 12V DC outlet and USB port
The Stanley J5C09 Jump Starter is your ultimate car emergency device. It's compact, and has 500 amperes of instant starting power so you can get back on the road in no time at all. More so, it has a built in battery in case your car battery dies in the middle of the road.
Plus it has a built-in air compressor to inflate tires or other equipment and even includes reverse polarity alarm system for safety when hooking up jumper cables to battery terminals – which means that this little jump starter packs more punch than any big box store bargain item!
The Stanley J509 is the perfect solution for those looking to run their equipment without thinking of their battery status. It is equipped with a top-notch industrial psi compressor system, an impact-resistant casing and other features that make it more than just another average booster pack!
It is the perfect jump box for those who need a unit capable of both inflating tires and jump start car batteries. This is the most versatile model for the money, with an extra cable to plug directly from your home's outlet or if you're in dire straits – use it as a backup battery! The battery can hold up to 30 days depending how much use you get out of it.
Pros
Delivers awesome jump-starting ability when triggered
The flashlight illuminates you well in the fog
Can supply energy to different type of electronics
The battery booster comes with a compressor
Cons
Model is a bit too heavy for some fokes
Cannot be stored on the glove compartment
3. Rugged Geek RG1000 Safety Plus Jump Boxes and Air Compressor

Features
Amazing jump starter of 1000 amps
Battery lasts for a long period of time
Metal frame clamps for

more power
These car battery jumpers are our third selection for a multi-system choice that includes a psi air compressor. The RG1000 is considered one of the most popular models that include sufficient capacity to start just about any car. Which means it is suitable for those who find themselves on the side of deserted highways with nobody else around.
These Jump Packs has an excellent amount of extra juice in order to help you return home or make necessary repairs along your journey; this unit also has two jumper cables with heavy duty clamps so they'll work even if there's minimal clearance between vehicles as well as characteristics such as LED indicators which turn off when charging starts ensuring no accidents happen!
It has positive customer feedback, and it also brings with a few USB connectors that can charge-up all devices if an emergency surges. For the most part, the rugged geek jump boxes are considered a reputable, established brand.
Additionally, the jump starter has sufficient power to the compressor, so you won't need a cigarette socket wire connection. The size of this battery booster is excellent, but it has a few special features that make it our top pick for peak starting amperes.
The short circuit protection safeguards your unit from getting damaged by the battery clamps if you accidentally touch them to each other while connecting a cable or plugging in an adapter. For those who know how important good cables are when charging batteries, the feature will be invaluable!
Pros
Boosts the trucks and vehicles alike
Suffers no sparks or risks of bad connections
Has extended length cables for flexibility
Cons
Lacking in the sophisticated features
May not tackle more advanced vehicles
4. JumpNCarry JNC660 Portable Jump Starter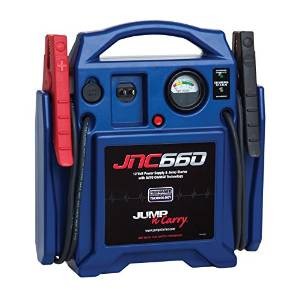 Features
Superior 1,700 peak amps
Very reliable integrated 22Ah battery
Incredible 2 AWG heavy-duty cables
Internal battery provides long service time
The JumpNCarry JNC660 is a portable jump starter that you should have for your vehicle. It weighs only 18 pounds, which makes it portable to take around easily, and provides (12 volts) to reboot devices without the need to start up your engine! It has an LED battery gauge that monitors the voltage, current, and power in amps.
You don't have to agonize about starting your car when the battery is too low with this heavy duty jump starter. It has over 1700 peak amps and 425 crank amps that can charge most lead-acid batteries, which are found in just about every gasoline engine-powered vehicle on the road today.
This car jump starter will give you peace of mind knowing that any emergency situation won't leave you stranded thanks to its portability, no matter where you are located when something goes wrong! It has heavy-duty cables, so you only need one connection point for all of your charging needs!
Not only does it jumpstart vehicles, but it charges phones too without having to agonize about finding outlets. You can do so through the DC jack designed specifically for powering devices like laptops or those who have gone dead on you.
Overall this brand has been producing quality products and different types for 25 years now, so you know they are going above and beyond when they make their chargers! Most experts agree that this battery jumper from A+ Plus is one of our top picks because not only do users love its shape (with an ergonomic grip), but the company offers lifetime technical support.
Pros
Notifies you of the progress of the charging
Delivers consistent unmatched output
Manages a long service time due to special battery design
Cons
The weight is not the best
Does not fit in the glove box compartment
Cannot support other accessories than the vehicles
5. NOCO Boost Pro GB150 UltraSafe Lithium Jump Starter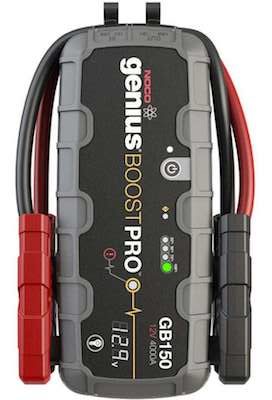 Features
Can boost-up most batteries
Unique spark-proof technology
Protects against bad connections
Integrated flashlight of 500 lumen LED
When you need to jump start a car, the NOCO Pro GB150 is considered one of the top car jump starter in the market. This jump box can recharge the battery of gasoline engines up to 10 liters with an outstanding 4,000 amps. Weighing only 13 pounds, this jumper will not be too heavy to carry when needed.
It has USB-C charging ports that work with the latest mobile cables. But you can also recharge tablets, smartphones, or any other device. Additionally, the GB150 has a 100W AC inverter outlet at 120VAC which means you don't need any adapters! It is able to handle up to three devices at once because of its dual-use capability as long as they have their own charging cables.
But it does not stop there, and you can also connect any lead-acid battery to the NOCO Boost HD Pro GB150 with no worries because it has reverse polarity feature. With the amount of power this unit is equipped with, you can use them for jump starting vehicles, truck, motorcycle, or any other vehicle with a large engine.
Plus, it includes an easy-to-read color charge status indicator and automatic charger shut-off protection. The built-in LED flashlight will keep you safe if you need to recharge your car battery at nighttime, and also it has a hard water-resistant rubberized cover that prevents any scratches. The size of these portable jump starters makes them easy to store either under the seat or glove compartment for convenience!
Pros
Manages a whopping 40 jumps per cycle
Compact enough to handle around nicely
Rated for diesel and gasoline engines
Safe enough to carry about easily
Cons
Has limited voltage
Disparages those without the necessary skill and expertise
6. DBPOWER 800A 18000mAh Car Jump Starter

Features
Powerful jump starter and compact in nature
Brings two USB-C charging slots
High quality overload protection
The DBPOWER 800A is a great option for those looking for an affordable and small jump starter. These powerful jump starters will help you to start up your gasoline engine or diesel motor if it's not running, so you don't have to worry about being stranded on the roadside in need of assistance!
It has sufficient capacity that can be used with engines from 7-5 liters as well–making this one versatile little tool. DBPOWER 800 amp peak is the lightweight battery charger for those who need a high-performing and compact car accessory that can fit in most glove boxes.
The design of this portable jump starter is sleek and fits nicely into your glove box. It has an fantastic display that shows how much power it has left, so you'll know when to connect to the outlet! The DBPOWER portable jumping booster pack is also has an LED Flashlight, USB2, and a USB-C port that can charge electronic devices four times faster than a regular power bank.
Plug in this battery pack and have no worries about your car's battery sparking. It has gold clamps that attach easily, short circuit protection for ultimate peace of mind, and a lightweight design that can be stored anywhere from under the car seat to on top of the dashboard or glove compartment!
Pros
Incorporates both power and compact
Has a special charging port for fast charges
Small enough to fit your glovebox and back pocket
Discharges power for up to 20 jumps per cycle
Cons
Exclusive to smaller mid-size vehicles
Has fewer limited output slots
7. NEXPOW 1500A Peak 21800mAh – Best Portable Jump Starters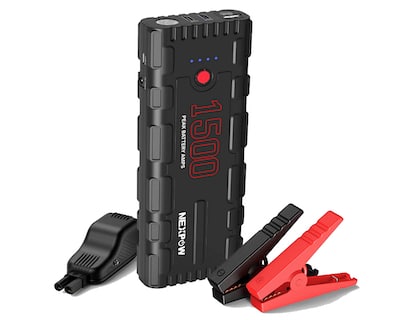 Features
Powerful 12 volts and 1500 amps peak power
Capable of charging most mid-size car batteries
Multiple USB ports to recharge many devices
Up to a year long-lasting standby battery time
Jump starting your dead car battery with this fantastic device that is highly rated. Your vehicle's car battery starter should be lightweight as this one, under 2 pounds making it easy to carry conveniently! Moreover, you will have 1500 peak amperes at your disposal in order to recharge any battery of most vehicles!
The NEXPOW 1500A is compact and portable, and it can be conveniently stored anywhere. You can use this device to jump start your car when you are on vacation away from home and need help quickly loading up before heading out for good! It is an essential accessory to keep around in case your battery dies on you.
If you are looking for something lightweight but powerful enough to start a 6.5-liter gas engine, then this little lifesaver may be just what you need! The stylishly smart cables have powerful cranking amps capabilities, which makes this portable jump starter stand out from the other ones.
Additionally, it has a high-intensity flashlight that will illuminate you at nighttime, and it includes an adapter for recharging while you sleep! These portable jump starters are for anyone who likes to be prepared. It has everything you could need in case of an emergency, and the power that it offers can give you the confidence to start your vehicle safely.
Pros
Small yet powerful in equal stature
Delivers 30 times of charge per charge
Properly designed to discharge its duties well
Ergonomically designed for comfortable handling
Cons
Its brand is fairly new to the industry
Sustains damages easily when fidgeting
8. Schumacher Rechargeable AGM Jump Starter
Features
Qualcomm Quick Charge 3.0 port
Comes with extra 2.4A USB power port
Integrated lithium polymer long battery
Spark-free protection for protection
If you're looking for a car battery jump starter that will give you with style and high functionality, this device is an excellent portable car jump starter to consider buying. We included the Schumacher portable jump starter because it's well known in the industry with statistics that can back up its good performance!
The Schumacher jump starters are a great choice for people who want to be able to jump start their car in any situation. Whether your battery has died, or if you have an emergency roadside need, this device will come through for you! It includes features like 1200 peak amps of power (compare that with its competition at 800) which makes it fantastic for those cold starts.
You can also charge devices from your portable battery pack via a USB port while on the go! The jump starter can charge standard lead-acid batteries and also diesel engines of 8 cylinders! Not only does it have 12 volts of power that's lightweight enough to carry around in your trunk, but this device includes a 3-ampere internal charger and copper jawed clamps – so reliability has never been easier.
The device has a built-in air compressor that reaches over 100 psi in just a few seconds, so you don't have to worry about lugging around an air pump! Furthermore, the new Schumacher SL1327 car jump starter is designed with safety features like reverse polarity protection and overload protection. It allows you to charge your battery without having to worry about short circuits, making it reliable!
Pros
Jump starts your 8 cylinder car a bit faster
Protects your car's interior from all possible damages
Properly illuminates any environment
Boasts of the latest spark-free technology
Manages more charge cycles per unit time
Cons
Cannot be stored under the seat
Quite expensive to operationalize
9. NEXPOW Portable 12v Battery Booster

Features
Super Intelligent clamp and jumper cables
Reverse polarity and 8 other protection tech
Multiple USB Type-C output slots
Has a flashlight with SOS signal
The NEXPOW portable 2000A can start both gas and diesel engines. It brings with sufficient power to start up anything from a large diesel engine truck, boat, motorcycle or ATV with just a single charge! It's battery cables are long which means that you never have to worry about far distances.
We love these looks from the NEXPOW models, but also the material used and technology behind these battery charges gives us confidence to recommend them without hesitation. Reliability make this starter one of our top picks among all other vehicle jump starters on the market.
This model is the ultimate portable jump starter for your USB Type-C device, and car battery. The clamps are ultra safe, and optimize usage of these chargers in extreme weather conditions. For a reliable jump start or just an emergency charge on the go, this power pack has you covered!
Pros
Packed with lots of security features
Provides a faster charging undertaking
The portable jump starter contains numerous output ports
Cons
Cannot bear harsh impacts
Sustains damages when exposed to high heat
10. Weego 44.1 Car Battery Chargers

Features
2100 peak amps and 440 cranking amps
Patent Smarty Alligator Clamps
Brings an LED flashlight of 500 lumens
Starts 3.5L+ diesel engines and 7L+ gas
The Weego portable starter is a pocket-sized battery jump starter, allowing you to start your car anywhere at any time. With this kit inside of its storage bag and the ability to charge two devices simultaneously, it's an indispensable device for everyone who enjoys being on the go.
This portable battery charger is great for charging gadgets on-the-go with a 2100 milliamp hour lithium ion battery and 440 cranking amps. It has an amazingly handy cable that has lightning micro USB and 30 pin adaptor so you can charge your tablet.
Additionally, the power of this jump starter lasts up to 24 months, and it takes about 3 hours to recharge. Your car battery can be charged with a wall plug or with the 12-volt adaptor plug if needed. The LED light will light up the trail in front of you at night for emergencies, and it has an extra feature that does strobe flashes as well!
Pros
These jump starter are verified and independently lab-tested
Protections against spark and over-heat
Longer standby power for up to 24 months of non use cycles
Engineered and tested to combine efficiency and durability
Cons
Demands some expertise to handle
May disadvantage those without the necessary expertise
Extra Stanley FatMax J7CS Portable Jump Starter With Air Compressor

In case that you are looking for a more versatile battery booster, then the Fatmax J7CS is a durable power tool that you should evaluate in depth. It has a multi-stage charging feature to provide precision and accuracy that can lead to overall better battery after charging.
These jump starters can jump start mid size cars, small SUVs or any large equipment engine vehicles. It also has a retractable handle with wheels making it the least of the portable chargers on our top picks. A 120-PSI compressor also forms a vital aspect of this jump starter. With this, you can inflate the tires at extremely low pressure and stature.
The only one that is similarly simpler and has a limited capacity of this kind may be handy. Its power output is a paltry 700 amperes and delivers a total of 350 instant amps. Best portable jump starter to consider when looking for a more versatile automatic battery charger.
Pros
Advices when there is an improper connections
Clamps securely on your battery
Able to inflate tires as well
Gives off power output when needed
Cons
Not the best proof against sparks
Demands excess care and attention
Best Portable Jump Starter For Cars Buying Guide
A few years back, the portable jump starter was a little oversized. However, with the advancements taking place in the technological sector, they have been able to come up with portable jump starters that you can even carry inside your pocket.
Some units can act as air compressor, power bank, and a mini jump starter at the same time. Isn't it crazy? It is an essential device that will significantly help you in case of an emergency.
This is why we think that every car owner should have a portable jump starter in their cars. Also, If the jump starter offers a built LED light, and USB power charger then this can be very useful when you go on long road trips.
Any of the preciously mentioned units will help you even if you have a dead battery.
What Exactly are Car Battery Jump Starters?
For jump starter newbies, it is essential to understand the products in details so that you can get the best for your car. A car battery jump starter is a device that is designed to act as the battery of another vehicle. The device has its own alligator's clips so that you can attach it to the battery of your car.
Most jump starters are also called battery chargers, and they are designed to provide enough power to the batteries so you can jump start your vehicle without connecting jumper cables to another automobile battery.
Why Own a Portable Jump Starter?
A car jump starter is a necessity these days. If you forget to turn off your cars indoor led lights overnight, then you can expect a dead battery the next day. Here is where car battery jump starters come in handy for quick charging. Also, make sure you select a battery booster with a built in led light in case you have to use it in dark scenarios.
If you are planning on going on a long road trip or camping trip, we strongly recommend for you to buy a battery charger. Choose a versatile product that can act as an power bank, air compressor, and it can also start you auto if you run into a dead battery situation. Wouldn't it be great to have a battery charger that can do all that?
With technology evolving now you can get portable jump staters like the DBPOWER 500A that will not only charge your car's battery, but it will also serve as a battery charger any electronic devices via USB ports. I call it the all in one lifesaver power bank because it also includes short circuit and reverse polarity protection.
Can You Charge an iPhone Battery With a Jump Starers?
You can charge your mobile devices with a portable jump starter. They bring special slots for you to connect your cable and take your battery level to 100. It's the right solution if you don't want to wait hours on end for your phone to recharge.
Get the power back in your life! Boost that battery level with a jump starter so you never miss a call, text or email again! Never worry about running out of juice when there's no outlet nearby. This is the ultimate accessory for any smartphone user who needs their phone at all times!
Is the Jump Starter Screen Display Important?
This makes it easy for jump starting your car anywhere when the engine fails to start. All the above-reviewed car battery boosters will work perfectly well. We recommend getting a portable jump starter that has an screen display in case you need to use the portable charger when is really foggy outside.
Some of these units have LCD screens for efficient performance, durability, and ease of use, to mention a few. Additionally, they come at affordable prices, and they are also from reputable brands.
Get any of the above devices to help you start your car when the engine fails without the need of a jumper cable, and also charge your mobile devices with special charging Dual USB outputs.
Summary
Many are the time's vehicle owners faced with embarrassing situations on the road when their car stops. You can avoid such moments if you equip your car with the best jump starters.
The Jump-n-carry jump starters brand is very reputable to charge all types including the lithium ion batteries, and anti-gravity batteries. If you need a psi air compressor, then the Stanley J509 Power Station is your best jump starter choice.
With this smart technology, there is no need for a jumper cable anymore. I hope you enjoyed this jump starter buying guide with everything you need to know about how to choose the proper jump starter. If you run into a repeated dead battery situation check the car's alternator for problems.
Look for a smart charger that comes with an advanced diagnostic testing tool to help you diagnose any electrical problems either with the battery or the alternator. You can find today's best deals on the previous reviews.
Last Updated on: January 26, 2023