Best Car Batteries For The Money [Top Reviews & Guide] 2023
Car batteries are essential items that allow your vehicle's engine to keep running. If you go to work every day, a car might not be a want to you but a necessity. Having a car may be vital to you. To keep your vehicle on, one must find a battery that can fit your budget.
Are you a car owner who has been seeking the best batteries? We are glad that you have landed on just the right page. Our explanations here below endeavor to pick and examine the top car batteries that you can possibly purchase now.
You need a battery that are effective and that last longer. Therefore buying a high-quality product is of priority. Continue to read our car battery reviews on our top picks for the best car batteries for the money.
What to look for in a car's battery?
There are factors to consider when you are selecting a new battery. Listed and explained below is a list of all that you probably have to look for in a vehicle battery of choice:
Right Types And Size
If you want to replace your vehicle's battery, you should go through the vehicle's manual first before purchasing a new replacement. Asking a mechanic the right sizes and types before buying a replacement is another option if you do not know which batteries to buy. The standard battery fit is the first thing you should consider.
Group Number
The group number refers to the manner in which the particular battery is categorized. It showcases the physical dimensions of the battery concerned. These include such metrics as the length, width, and height of the battery. It also indicates how likely the battery shall fit in your specific car model.
Power source
Like any other piece of electronics, the standard batteries derive their power from external sources. Many do so from chemicals, quite a bit from Lithium-ion, some from Chlorine, while others from acid. Choose the cranking amps which you may conveniently replenish after it has fully depleted.
a.  Cranking Amp (CA)

Cranking amps measure the amount of power your battery may exude to start your dead car battery under room temperature and pressure. It measures the number of amperes that a lead-acid battery, operating at 32°F (0°C), can exude for around 30 seconds and maintain the same for no less than 1.2 volts per cell.
b.  Cold Cranking Amps (CCA)

The cold cranking amps CCA, on the other hand, defines the ability of a battery to start an engine in freezing temperatures. It showcases the number of amperes that a 12 volts battery has the ability to deliver at 0°F for no less than 30 seconds while at the same time maintaining no less than 7.2 volts.
Vibration Resistance
Vibration resistance is often referred to as the ability of a battery to withstand an intense vibration, which arise mainly from the rugged terrains and the poor road conditions.
The ideal automotive battery chargers ought to be manufactured using the most durable materials to be able to guarantee this benefit. The feature also reduces maintenance costs.
Minutes Reserve Capacity
Minutes reserve capacity is a measure of how long a fully charged battery is able to retain the amount of charge before requiring a complete replenishment. Needless to point out, the ideal battery has to possess a more extended battery reserve duration. This is to negate the need for constant recharges every now and then.
Top 10 Best Car Battery For the Money
| Rankings | Name | Price and More Details |
| --- | --- | --- |
| #1 | Odyssey PC680 AGM Designed Battery | Click Here |
| #2 | Mighty Max ML35-12 12 Volt 35 AH SLA Battery | Click Here |
| #3 | Optima Batteries 8040-218 D35 YellowTop Battery | Click Here |
| #4 | Exide Edge FP-AGM24F Flat Plate AGM Battery | Click Here |
| #5 | XS Power XP750 Special Edition Professional AGM | Click Here |
1. Optima Batteries RedTop Starting Battery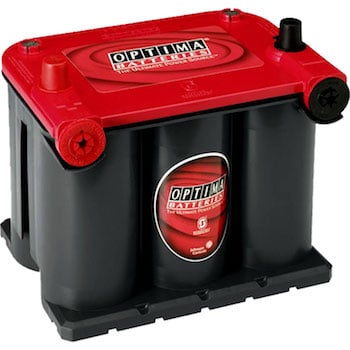 Longer journeys have the temptations of demanding too much charge on your part. You can never pick any conventional batteries at random, as the chances are that you just won't receive the performance outcomes you are desiring. It is considered the best overall car battery.
As a way forward, we opine that you lay your hands on this one. They are known to perform well under the freezing cold. Most batteries tend to lose power over time. However, the RedTop Optima Battery has proven records to be a high performance battery.
With a reserve capacity of about 100 minutes, this cheap battery guarantees constant performance regardless of how much you take using it. The item has a cold cranking ampere rating of about 800. That makes it awesome and reliable in starting your systems.
Even in bad climate conditions, you may count on the apparatus to deliver reliable starting power for you. The thickness of the materials that make its stature also sets the batteries apart from the others. More so, the battery is 15 times more resistant to harsh impacts.
These Optima Car Batteries are maintenance-free, vibration-resistant, and spill-proof. It features an optimized design for starting, charging, and high-current discharging applications. The Red Top is perfect for extreme temperatures to -40 degrees F.
2. XS Power D3400 XS Series AGM Battery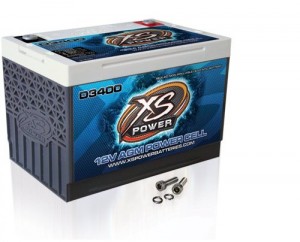 This car battery bears the 12V rating. It is subsequently powerful enough to provide sufficient electrical energy that your car's engine and infotainment systems badly need to start out. The rated car battery goes further to bear the 65-ampere rating that supplies enough amps to operate your parts.
The make of the battery comes in the form of the absorbent glass mat or AGM. This entails the suspension of the electrolytes located in the fiberglass. It is largely noted to be pretty efficient insofar as the dissipation of the output is concerned. To add to that, the make also minimizes the loss of the amperage while in transit.
Overall, the battery is properly-sealed and is completely spill-proof. A well-regulated valve also adorns the top thereof to aid with the channeling of the flow of the amperage to the other components considerably. Its structure is also strong enough to prevent any possible damages that may arise from intense vibrations.
It has long battery life. It can supply the boost needed to start your car and other parts in your vehicle. Its frame is strong enough that it won't break if it gets hit with a lot of shakes. This car battery is maintenance-free because it won't spill. It also will work for vehicles with high demanding audio systems.
3. Odyssey Automotive and LTV Battery Model 65PC1750T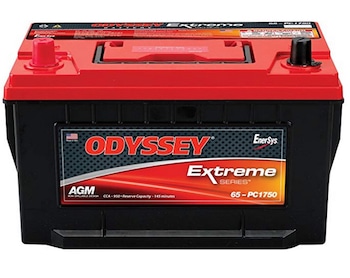 Seeking an auto battery to start the massive heavy commercial vehicles? Seek none other than this one! It has the capacity to generate sufficient power to engage the heavier commercial vehicles with absolute ease. Then again, it manages rapid recovery after an initial start.
The Odyssey batteries brand in and of itself is also quite reputable. Many people have noted their products to last longer and also manage prolonged periods of excellent performance. On the same note, those products also call for limited repairs and maintenance on your part. That drives down the ultimate costs of operations overall.
At its core is the AGM (absorbed glass mat) design. This prevents the emergence of the acid spills, corrosions, and other agents of damages that consistently arise over time. Its tough nature also sees to it that the sealed batteries last pretty long.
Moreover, these car batteries are made from materials that are completely recyclable and safe for the environment. It is 100 percent maintenance-free because it doesn't leak any chemicals, which is excellent for marine usage. This car battery offers a lot of boost as it has a 12-volt rating.
4. ACDelco Professional AGM Automotive Batteries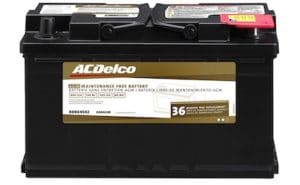 Could it be that you are looking for a set of batteries to use consistently for a prolonged duration of time? If you are, we would wish to draw your attention to this set of auto batteries. Its interior comprises a high-density negative paste that takes too long to fully deplete.
Given its too long length of depletion, the paste lengthens the life of the batteries. On the same note, it also bolsters the total sum amount of cycles that the batteries may operate throughout their lifetime. Its Calcium lead positive grid boosts the conductivity of the batteries while minimizing resistance.
The structure and the make of the ACDelco 94RAGM battery are not left out either. It does bear a Vent cap that has an extra hard design to minimize the likelihood of the leakage of the acids. Even if you have to shake and fidget the battery for too long, rest assured it won't sustain premature damages.
It is considered a maintenance free battery and, therefore, does not need regular checking and charging. The AC Delco batteries are manufactured to last longer than traditional flooded batteries, and they can be mounted in any position. Make sure the battery terminals are clean before mounting the battery. If acid does leak out, clean the area thoroughly before installation.
5. Odyssey PC680 Best Rated Car Batteries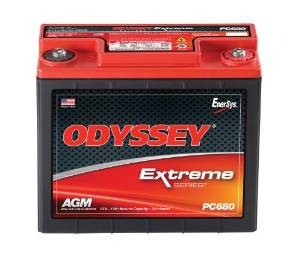 Is your research for the right battery mainly dictated for use in the sedan vehicle? Pick and subsequently make use of this set of batteries. It is on the whole smaller, more compact, and well able to meet the needs of a sedan car conveniently. Its longevity of service also sets it apart from others.
The battery lasts a whopping 3-10 years in its entirety. While at that time, the battery saves a considerable amount of time and cuts down the down-times by a significant margin as well. When compared to its cheaper counterparts, this one manages a 70% longer life cycle.
All throughout its makeup, the battery is tough enough to dampen all forms of vibration and the damage that may come along. In doing that, it stays longer and pushes down the overall costs of repairs, operations, and maintenance. All these add to your elevated experience.
It is an excellent replacement if your car battery stop working or if it has a short lifespan. With the Odyssey PC680 battery, you can do whatever you want without worrying about a battery problem because this new battery is consistently performing well. It is also constructed with advanced materials and technology for its maximum performance, safety, and protection.
6. ACDelco Advantage AGM Battery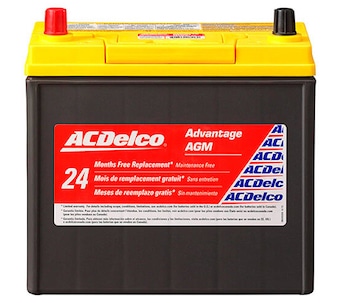 Planning to take on a treacherous route or terrain? This is the set of batteries to lay your hands on. It does come about in some durable design. Thanks to this durability, the car batteries stand taller than all the common forms and spates of damages that may be leveled against it.
Particularly, the batteries stand taller to the risks of a heavy vibration that arise whenever a vehicle plies a treacherous and undulating terrain. Its interior possesses the calcium-alloy material grid. The role of the grid is to facilitate the flow of the output. Being resistant to corrosion, the interior also lasts fairly long.
In the course of doing that, it maximizes the cycle life of the batteries while at the same time driving down the likelihood of the consumption of water. These two combine to lengthen the lifespan of the battery overall. When fully charged, it has a long battery life.
This AGM battery performs well in extreme temperatures. It operates well even at 40 degrees below zero Fahrenheit. It is an outstanding choice for people who live in cold areas. Overall one of the best car battery brands car owners can buy is these AGM batteries.
7. Diehard Advanced Gold AGM Car Batteries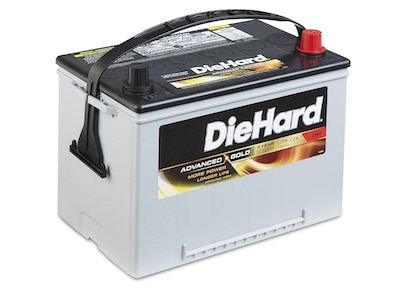 Of all the batteries we have in place, this is the one that resists any vibration well. As a matter of fact, this AGM design battery manages a whopping 20X more vibration protection than any other that be. With this elevated protection, it manages twice as long a cycle as well. This is also the same manufacturer that makes Duralast batteries.
Its capability to stem the possible vibration damages is not all that it has to offer. The Diehard batteries also come about in a spill-proof design that protects the acid from spilling off unnecessarily. That means it guarantees the exceptional performance you need regardless of the nature of the terrain at hand.
Courtesy of its enhanced electrolyte suspension mechanism, the battery absorbs a higher level of the electrolyte while at the same time offering added protection to the internal components well. Hardly does it also suffer the menace of electrical shorts that characterize other batteries of its kinds?
This car battery is best for cars that need durability and dependability. These high quality batteries are designed to have a higher cranking power. Put these in your car or truck if the engine is having difficulty starting up during cold weather days. Consult with a mechanic if your car's charging system fails after installing it.
8. Kinetik Hc2400

Absorbed Glass Mat AGM Car Battery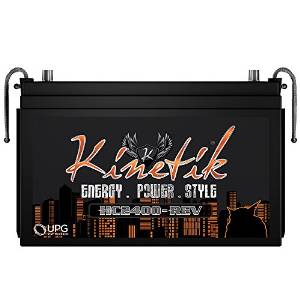 The Kinetik brand is well known for its longevity. Is it not amazing for you to tap into these twin benefits yourself? One sure way of achieving this end is to settle for this particular AGM battery. This battery embodies the latest AGM technology and it outperforms others when it comes to the battery's life performance.
Chief of these is the existence of more plates. This large amount allows for the concentration of energy, which in turn leads to more powerful operations thereafter. That is not all, though. The structure of the battery is such that it does not spill any acids unnecessarily.
To add to that, the battery itself may be mounted in just about any position for easy use. It hence goes that it retains its strength and stature regardless of how much fidgeting and impacts may be leveled against it. These are the exact same ingredients you may need for long-term services.
Plus, the overall battery life may be rated at just over three years. The onset of signs of wear and tear begins much later than that. Even then, the battery still retains its strength and ability to perform. It has also been long proven that it is not susceptible to difficulties, particularly to AGM batteries.
9. Optima Batteries D35 YellowTop Dual Purpose Car Battery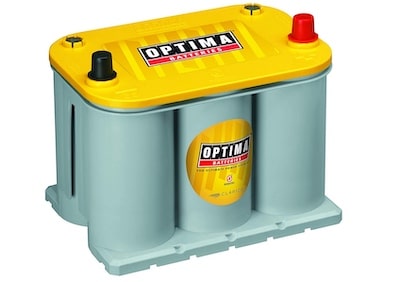 Wishing to use your batteries in severely bad climate? This is it! On the whole, this battery is optimized for such kinds of times as it delivers optimal starting power well. Going beyond that, the item also delivers extra performance when engaged for the job in ways that surpass the ordinary batteries.
One sure advantage of this battery is that it pairs and channels the power output to many accessories and extras. Most important of these are the running headlights, audiovisual systems, hydraulics, and stereo systems. You hence have it for the taking if you have the infotainment systems in mind.
Courtesy of its unique SpiralCell technology, the item generates a consistent gush of clean power output. That goes a long way in guaranteeing your own safety as you go about its use. Moreover, it also comes in handy during the particularly cold winter months as it works pretty well.
However, these automotive batteries have a tendency for deep discharges; hence you might have problems when trying to jump-start once it looses power. You can check your owner's manual to see if this type of battery is compatible with your vehicle. They are also considered a maintenance free battery.
10. Mighty Max ML35-12 12 Volt 35 Car Battery

For your own maximum convenience, you need a battery that you may use indefinitely for a longer duration of time. Set your eyes on this rechargeable variety. Thanks to its recharge capability, the battery allows you to replenish the charges consistently over a longer duration of time.
Apart from the fact that you may recharge it, this battery also has the added benefit of being stronger and tougher. Its make is on the whole quite tough and able to resist all forms of shocks. This trait also goes a long way in enabling you to derive maximum utility from it.
What's more? The item is designed in a manner that enables it to deliver consistent outcomes in both the high and the low-temperature settings consistently! The only maintenance-free car battery that has a direct fit replacement for your dead battery, with no modification required.
It has a 30 day free replacement period and a T3 battery terminal. With a 12 Volt 35 AH rating, this battery has twice the power of regular batteries. You mustn't forget to check the compatibility of this battery with your vehicle model before making any decision about acquiring one.
Best Car Batteries Buying Guide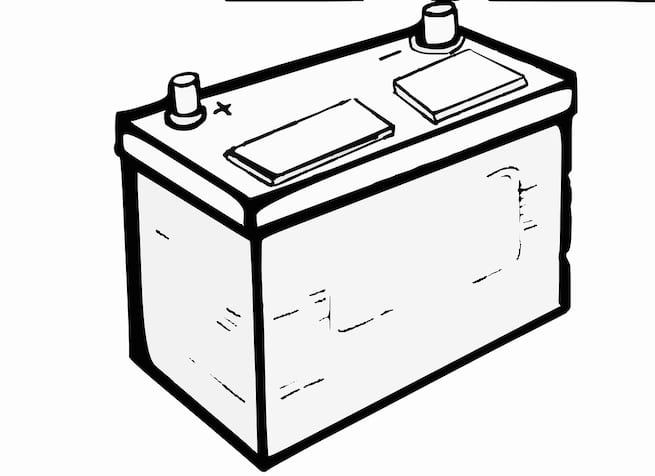 Selecting the best car battery brand might be hard, but with the help of these features and factors to consider, you will be in a position to choose the best option for your car from the list above.
Finding the right car battery is obviously the first and by far the most crucial step towards leveraging the benefits of these electronics.
It is impossible to find a good car battery for your use without receiving appropriate guidance to that end. That is why we devote this segment of the discussions to just that.
Some car batteries can withstand low temperatures, while others cannot. You should also know that car batteries are designed differently in the automotive industry.
To some products, heat is a problem, and other batteries can withstand extreme weather conditions.  Before you buy a new car battery, try to find out the expected life span of the vehicle's battery. A car cannot do without a car battery, so it is advisable to choose the best car battery possible.
Be careful of your consumption, and utilize energy wisely. If you are too stingy, the electrolytes inside the batteries will drain you over time, even when it is idle. Most cars need a new one if they have not been used for long periods.
If your car does not start and the check engine light on your car is not on, you probably need jumper cables or jump starters for your vehicle.
Different Types of Car Batteries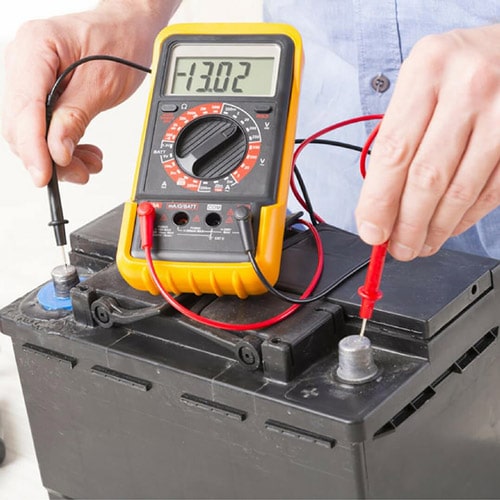 Like any other piece of electronics, car batteries come in different forms and types. We want to look into these differences here to know just how relevant each type may be to you. It is essential to follow these explanations keenly as they are the ones that determine, to a large extent, your perfect choice.
Flooded Lead Acid Batteries
As the name implies, the flooded pure lead-acid battery is design to draw power from an electrolyte solution. It is this solution that triggers a chemical reaction to produce the required electrons. Once the charge depletes, the flooded battery is recharged by connecting to the reverse current.
They are cheap but potentially injurious. As such, they demand absolute care. A conventional battery usually does not perform as well as other top batteries. Also, they are known as SLI batteries, commonly used to start, run, and maintain a charge cycle.
Conventional lead acid batteries are more commonly known as (wet cells), and the main application is for automotive vehicles. These traditional batteries are one of the world's most preferred rechargeable batteries, commonly used in many applications, including power backup systems for telecom relay stations, traffic signal lights, and various consumer products.
Absorbed Glass Mat (AGM)
The term AGM stands for 'Absorbed Glass Mat.' This is a specific type of lead-acid battery that performs particularly exceptional in low temperatures. It also enjoys the benefit of a flat self-discharge rate. This is a battery you want to make use of if yours is a car that is too heavy for lighter gold AGM batteries.
Deep Cycle batteries

A deep cycle battery is the one that is used to propel a vehicle from one point to another. It has a higher charge capacity and also tends to last much longer than your ordinary battery. Recreational vehicles, boats, and surfs are the essential vehicles that rely heavily on this kind of battery.
Lithium-ion batteries
Also called a Li-ion battery, the lithium batteries are a portable gadget that is used to supply power to small electronics and power equipment. Unlike the power-cells batteries, this battery recharges and is hence reusable for many applications. It finds applications mainly in power equipment and small vehicle type.
Dual Purpose Battery
Going by its name, the dual-purpose battery is used for tackling two purposes at a time. This is to means that it is a jump starter for engines but, at the same time, is also able to power the vehicles entirely from the start to the destination. It is appropriately designed to handle prolonged applications.
Flat Plate AGM
The flat plate AGM closely resembles the standard AGM battery. However, it differs from the other AGM battery in the sense that it comprises numerous flat plates that separate the electrolytes.
Owing to this unique structure, these premium AGM batteries are capable of handling multiple tasks and applications simultaneously.
How to Choose The Right Battery For Your Car?
When buying car batteries, you want to choose the right one for your car. You also have to figure out the prices, size of the car, power output, and the kind of task you intend to devote it to. Most car batteries come with a 12-month free replacement warranty.
You are going to have to rely extensively on the car batteries reviews of past users and the offerings of the various dealers. That way, it will be possible for you to find the one which is the most affordable.
The battery in your car is like an organ. It's a life-saving device that keeps you going when nothing else will, and it can be the difference between getting to where you want to go or staying stranded on the side of the road for hours. If a replacement period is not offered, this could be an issue if your AGM battery dies.
If anything goes wrong with the battery, you will hear a slight beep sound from it to let you know something is wrong with the car battery. If this happens, check your car's electrical components or electrical system for any faults and then contact an auto mechanic.
Here is a quick video that can help you better understand how a car battery works:
Difference Between Wet Cells vs A Dry Cells
Wet cell batteries is the first type of battery-powered battery. It is typically found in electric utilities, energy storage, and cell phone towers. The battery contains a fluid electrolyte, for example, corrosive sulfuric acid, a destructive, hazardous fluid.
A dry cell battery contains no liquid. These types of batteries are more modest; for example, the antacid or lithium particles are typically utilized in versatile hardware, for example, cars, telephones, and workstations.
Conclusion
Remember to check your owner's manual if you do not know what type of battery you should get for your car. Cars like the Toyota Prius use maintenance-free batteries, but it is vital that you understand what kind of battery your car needs.
Also, you might need some jumper cables or a trickle charger to start your car if it has a dead car battery. Check the top terminal, cranking power, and pressure monitoring to decide what size and type do you need to buy. Car battery chargers or trickle chargers are great to have on hand.
You can also find these batteries at your local Advance Auto Parts store. Last, we recommend reading our recent post on car seat covers or the best vacuum cleaner. There are plenty of car battery brands and battery manufacturers out there like the Everstart batteries, so pick wisely.
Last Updated on: January 26, 2023