10 Best Coilovers For BMW E36 3 Series (Buying Guide)
Revving engines, gripping corners, and an exhilarating driving experience—are the hallmarks of the legendary BMW E36. But what if you could take that exhilaration to the next level?
Enter the world of coilovers—the ultimate upgrade for your beloved Bimmer. In this guide, we'll unveil the top contenders, the titans of suspension technology, as we explore the best coilovers meticulously designed to transform your BMW E36 into a road-hugging, performance-driven masterpiece.
Get ready to unlock a new realm of driving pleasure as we navigate the thrilling world of the best coilovers for BMW E36.
Top 10 Best BMW E36 Coilovers For Daily Driving

Once you've established your budget and identified your car's primary purpose, you can confidently select a coilover kit that aligns with your needs. This guide aims to assist you in making an informed decision, ensuring you find the perfect coilovers for your BMW E36.
#1 Maxpeedingrods T7 Coilover – Best For BMW Daily Drivers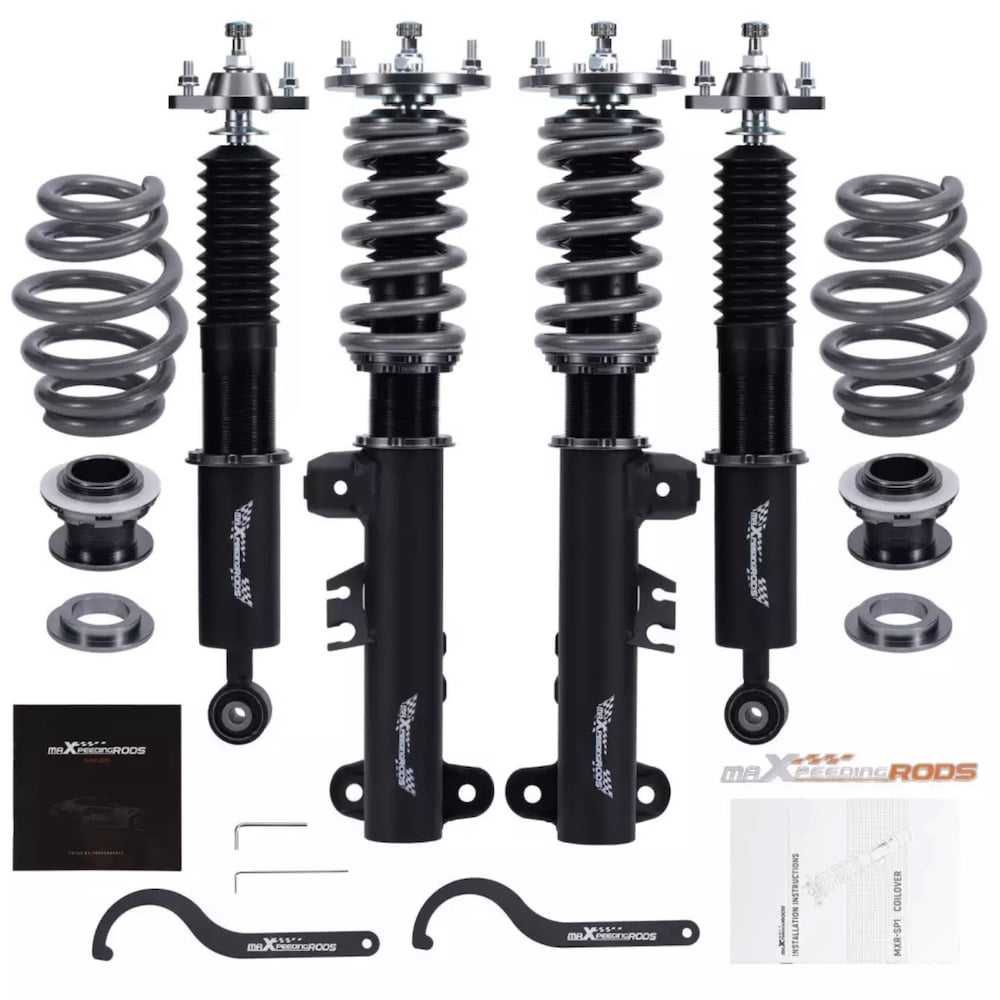 The MaXpeedingrods COT7 coilovers are a great choice if you're looking for an affordable option that still performs well. They are ideal for daily driving on a budget and can even handle a few track days. These springs let you lower your car's front by 7.09 inches (180mm) and the rear by 7.20 inches (183mm).
Priced under $550, they offer excellent value compared to more expensive suspensions that cost around $1000. Despite being the cheapest option on the list, they are surprisingly good in build quality and ride comfort. I used them on my own 328i and found them a solid choice.
The MaXpeedingrods COT7 coilovers have some noteworthy features, such as adjustable ride height, twin-tube dampers for a smoother ride, durable gold zinc plated housings, progressive elastomer bump stops for added comfort, and even a 3-year warranty.
Considering their price, finding a better option than these coilovers is hard. This particular brand has been in the strut tuning scene for quite some time now. Overall their shock and spring adjustability is a great option for your BMW 3 series.
#2 BMW E36 BC Racing Coilovers With Camber Plates

Looking for an affordable yet performance-driven suspension upgrade for your BMW E36? Look no further than BC Racing coilovers. These mid-level shocks strike a perfect balance between street performance and occasional track use, all at a reasonable price point of around $1,195.
BC Racing coilovers feature monotube shocks, ensuring enhanced durability and performance. With 30 levels of adjustable dampening, you can tweak your E36 suspension to achieve the ideal balance between comfort and handling. They allow you to adjust the external reservoir to achieve the desired height adjustment with ease.
Moreover, BC Racing offers an optional feature called "Extreme Low," which allows you to drop your car an extra inch for that aggressive stance. Additionally, if you're looking for a more performance-oriented setup, you can upgrade to Swift Springs, further enhancing your E36's capabilities.
#3 Raceland E36 True Coilover With Great Quality

These budget coilovers provide an excellent balance between street performance and achieving that stylish stance. With prices ranging from $419 to $449, they won't break the bank.
Raceland cheap coilovers feature a twin-tube design with pre-set dampening. This design ensures a comfortable ride quality while significantly improving the stock suspension performance. They offer one of the lowest ride height adjustability ranges, allowing you to achieve your desired lowered look.
It's important to note that Raceland coilovers may not provide the highest level of performance compared to more expensive options. However, for most E36 owners who don't track their cars, these coilovers offer an ideal solution. They balance affordability and performance enhancement, making them a popular choice for E36 enthusiasts.
#4

Bilstein BMW E36

Coilover Kit For

Ride Comfort

The Bilstein coilovers are an excellent choice for people who drive their cars daily, both on the street and occasionally on the track. These new dampers can lower your car's height by 1 to 3 inches or even up to 5 inches if you choose the Super Low option. The price range for these coil overs is around $799.
What makes Bilstein stand out is its commitment to quality. They have put a lot of effort into creating a top-notch coilover kit, and this is evident from the positive reviews they have received from satisfied customers online.
They go the extra mile by testing their suspension components in races and using a shock dyno to ensure that every damper matches within a 3% tolerance. Each coilover kit is carefully assembled by hand at their facility in Virginia, USA, ensuring excellent quality control.
Another advantage is that their modular kits allow you to upgrade to 2-way dampening adjustment and external reservoirs without buying completely new equipment. To demonstrate their confidence in their product, it offers a 5-year warranty, one of the longest in the industry.
#5 Megan Racing Euro I Street – Best Budget Coilover

The Megan Racing Euro I Street and Euro I Coilovers are great options for people who drive their cars daily but enjoy occasional track use. These coilovers don't lower the car's height, so if you're not interested in lowering your vehicle, they are a good choice. They are priced at $999, making them a budget-friendly option.
Megan Racing is known for producing affordable coilovers that provide good value for the price. Many people use their adjustable coilovers on the track and in everyday driving situations and are satisfied with their performance and comfort.
If you can't afford the more expensive BC Racings, the Megan Racing coilovers are a solid alternative. The Euro I Street model includes features like adjustable ride height lowering, 32-level dampening adjustment, monotube dampers, aluminum strut mounts, and sway bar end links on specific models. They also offer a one-year warranty for added peace of mind.
#6 KW V3 E36 Coilovers With Height Adjustability

Are you looking to take your BMW E36 to the next level of handling prowess without breaking the bank? Look no further than the KW V3 coilover kit. These advanced street and dedicated track coilovers are the best of top-of-the-line shock upgrades, offering exceptional performance without venturing into overkill springs that cost upwards of $3,000.
The KW Clubsport coilovers feature a monotube design, ensuring superior performance and durability. Plus, their independent dampening adjustability sets them apart, allowing you to tune both compression and rebound dampening separately. This level of control enables you to tailor your E36 springs to your preferences and driving style.
#7 Ksport Kontrol Pro – Best Suspension Setup For The Money


Ideal for street cars that will be used occasionally on the track, these shocks come with adjustable lowering springs. You can lower your vehicle by up to 1-3 inches (25-75mm) or go even lower with the Extreme Low kit, which can reduce it by 2-4 inches (50-100mm) below stock height. The price for these coilovers ranges around $1062.50.
Ksport is a reliable choice if you aim for coilovers within the $1000 price range. They have a background in motorsport, with their drift team that used a 350Z with a Chevy 6.7L stroker V8 engine.
Although an entry-level kit, Ksport has designed the Kontrol Pro coilovers to handle street and track conditions, these coilovers are suitable for those on a budget, offering the necessary performance. They also have a 12-month warranty, including anti-rust paste for the threads.
Key features of the Ksport Kontrol Pro coilovers include adjustable ride height, 36-level dampening adjustment, monotube shocks with separated oil and gas design, camber adjustable pillow ball strut mounts, and the use of rust-resistant and lightweight materials like 6061-T6 billet aluminum and zinc electroplated steel.
#8

Rev9 R9-HS2-024 E36 Coilover

– Best For Better Ride Quality

Introducing Rev9 Coilovers, an excellent choice for everyday drivers who occasionally hit the streets and tracks. These coilovers allow you to lower your car by up to 3 inches (75mm), and their Super Low kit can go as low as 5 inches (125mm) below the stock height. Priced at $532, Rev9 offers a competitive alternative to well-known brands like BC Racing.
What sets Rev9s apart is their commitment to quality. While their suspension is made in Taiwan, they have a facility where they assemble each kit by hand.
They rigorously test every damper on a shock dyno to ensure they meet a 5% tolerance. With strict quality control and fast turnaround times (even for custom kits within ten days), Silvers prioritizes customer satisfaction.
The Rev9 coilovers are their entry-level option, similar to the Fortune Auto 500's modular design. You can upgrade to 2-way dampening adjustment with external reservoirs. Customers have praised these shocks for their positive performance and budget-friendly pricing.
Key features include ride height adjustment, 24-level dampening adjustment, and an 18-month warranty. Silvers also offers custom spring rates, valving options, Swift Spring upgrades, and various rear options.
#9

Godspeed MSS0940

E36 Budget Coilovers

The Godspeed E36 Coilovers are famous for budget-conscious car enthusiasts. They come with 32 levels of damping adjustment and have a monotube construction, which helps with performance and durability. The front spring rate is 8kg/mm, while the rear spring rate is 10kg/mm. These struts are specifically designed to fit BMW E36 models.
In terms of value for money, they are highly rated, indicated by the four-fire emoji rating. They are suitable for street driving, track days, and even drifting. However, if you're looking for springs for intense track use, you might want to consider something more specialized.
Compared to the BC BR coilovers, a popular choice in the same price range, the Godspeed springs have similar adjustability and quality. However, if you prefer a more tried and tested option, the BC BR kits might be worth considering.
#10 Solo-Werks S1BW001 S1 E36 Coilovers With Lowering Springs

These dampers are made by Solo-Werks and are designed specifically for BMW E36 cars. They have 24 levels of damping adjustment and use a monotube construction. The front spring rate is 8kg/mm, while the rear spring rate is 10kg/mm. They are rated as good with three fire emojis regarding value for money.
While the Solo-Werks S1BW001 S1 E36 Coilovers are visually appealing and well-built, we believe that if you prioritize performance, the KW V3 coilovers might offer better value for the price.
Remember that the Solo-Werks S1 Coilovers can be purchased from the provided link. These suspensions collaborate between this company and Fortune Auto, producing a high-quality, attractive product.
What to Look For in BMW E36 Coilover Kits
Choosing the perfect coilovers for your BMW E36 can be daunting, but fret not! There are two key factors to consider that will guide you toward the right choice:
Budget
Your financial plan significantly determines which coilover kit is suitable for your E36. Remember, as the price increases, so does the ride quality and performance of the coilovers.
It's essential to balance your budget and the level of performance you desire.
Intended Use
Consider how you plan to use your street car. Are you primarily using it for daily commuting, hitting the occasional track, or aiming for that low and sleek look? Different coilovers are designed to excel in specific areas.
Some prioritize track performance, while others focus on providing a more comfortable ride for daily driving. Knowing your car's primary purpose will help narrow down your options.
Build Quality
Remember that while it's possible to find coilovers that offer a mix of features, they often have trade-offs. For example, a coilover may sacrifice ride quality or durability to achieve multiple objectives. Therefore, it's crucial to prioritize your requirements based on your budget and intended use.
Benefits of Getting Coilovers for Your BMW E36 Car
Getting shocks for your E36 can offer several benefits:
Enhanced Performance
A new strut can improve handling and responsiveness, allowing you to take corners with increased confidence and precision. They reduce body roll, improve traction, and enhance overall stability, resulting in a more engaging and enjoyable driving experience.
Adjustable Ride Height
Customizable spring rates allow you to customize the ride height of your E36. This adjustability lets you achieve the desired aesthetic look and provides practical benefits. You can lower the center of gravity, which improves stability and reduces weight transfer during acceleration, braking, and cornering.
Customizable Dampening
Shocks often come with adjustable dampening settings, allowing you to fine-tune the suspension to your preferred comfort and performance levels. You can independently adjust the huge range of compression and rebound dampening, tailoring the ride quality to your preferences and driving conditions.
Improved Suspension Tuning
Dampers provide the opportunity for more precise suspension tuning. With adjustable spring rates and dampening settings, you can optimize the suspension for various driving scenarios, such as daily commuting, spirited driving, or track use. This flexibility enables you to strike the right balance between comfort and performance.
Durability and Quality
A coilover kit is typically built to higher standards compared to stock suspensions. They often feature superior materials, such as high-quality shocks, corrosion-resistant components, and firmer coil springs. This results in improved durability and longevity, ensuring that your E36's suspension can handle the demands of spirited driving or track use.
Personalization
Coilovers offer the ability to personalize your E36 to your unique preferences. You can fine-tune the suspension characteristics to match your driving style, adjust the ride height for a more aggressive or refined appearance, and even choose different color options for the coilover components to add a touch of customization to your vehicle.
Frequently Asked Questions
Q: Will Z3 Coilovers fit an E36?
No, Z3 coilovers will not directly fit an E36. While the BMW Z3 and E36 share some similarities in their platforms and suspension components, they have different dimensions and mounting points. Therefore, Z3 struts are specifically designed to fit the Z3 chassis and may not align correctly with the E36 suspension components.
Q: Do E36 coilover kits fit compact?
Yes, E36 coilovers are compatible with the BMW E36 Compact model. The Compact is essentially a hatchback version of the E36 chassis, sharing many of the same suspension components as the sedan, coupe, and convertible models. Therefore, springs explicitly designed for the E36 chassis will also fit the E36 Compact.
To ensure a proper fit, the dampers you choose are labeled or advertised as compatible with the E36 Compact. Additionally, it's always a good idea to consult with the manufacturer or a trusted automotive specialist to confirm compatibility and address any specific concerns you may have regarding installation or performance.
Final Thoughts
In conclusion, upgrading to the best coilovers for your BMW E36 unlocks a world of enhanced performance, customizable ride height, improved suspension tuning, and overall driving satisfaction.
Experience the ultimate combination of handling precision and personalization with the top coilover options tailored for your E36. The Fortune Auto kit is also a great option to evaluate, as it offers a balance of comfort and compression with its adjustable damping system.
No matter which option you choose, upgrading your BMW E36 with high-quality springs will take your driving experience to the next level. Most of the items on the previous list have tons of happy customers who have seen significant improvements in their cars' handling.
Last Updated on: May 25, 2023